9 Snowman Decorations For The Christmas Season
Winter and Christmas decorations are all about the cheerful, bright, and friendly characters! Adding this decor can make any room feel more festive and charming, no matter what design style you have in your home. Snowman character decor is a great choice for decorating because it can stay up in your home all season long, even past Christmas. Here are 9 snowman decorations for the Christmas season.
---
Snowman Accents For A Winter Themed Kitchen
Kitchen linens, accessories, table decor, and accents can all make your eating area feel more warm and welcoming. The simplest accessories can make a huge difference in your kitchen and dining room. Decor such as hand towels, a table runner, place mats, or a rug can all make your kitchen feel more festive for Christmas and for the entire winter season. These accents can be combined with other decorations to create a full fledged winter theme. Add some bright winter cheer this season with some snowman kitchen and dining room accents!
LED Holiday Snowman Table Runner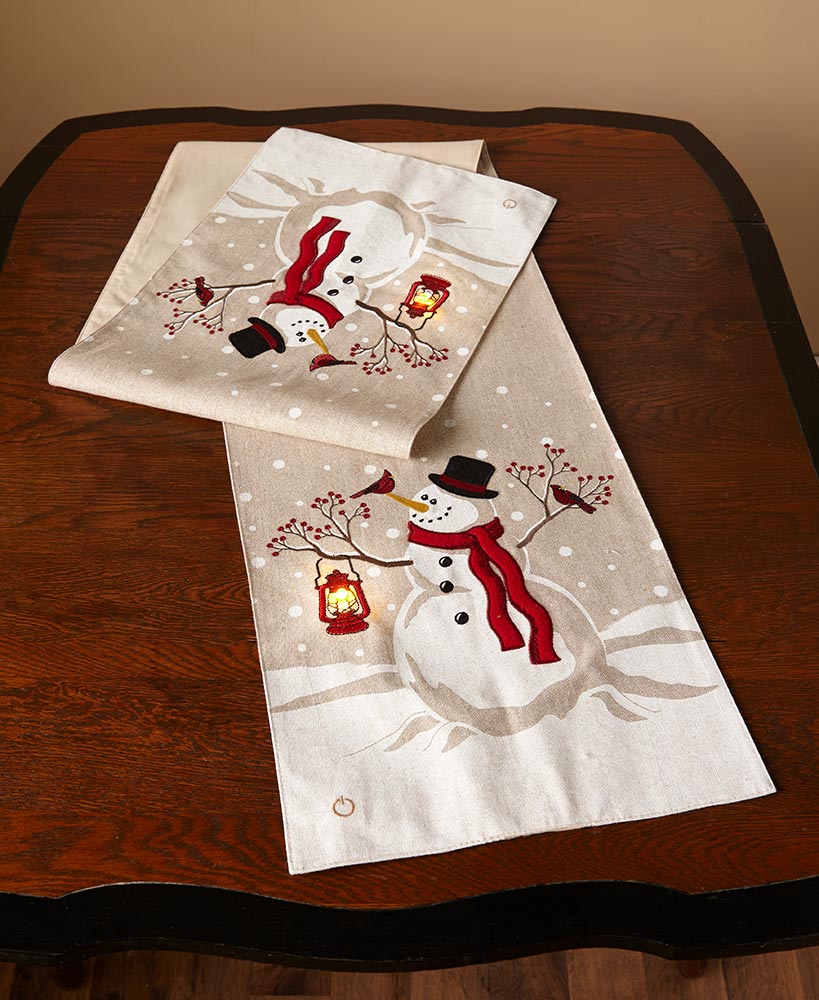 Brighten up your dining table this winter with an LED Holiday Snowman Table Runner!
Lay out this table runner to set up a winter theme in your dining room or kitchen. Then, add other winter or Christmas accents to the table such as snowman plates, fake snow, and snow dusted brush trees. Make sure to also add some LED candles to complement the light on the runner!
Snowman/Reindeer Flatware Holders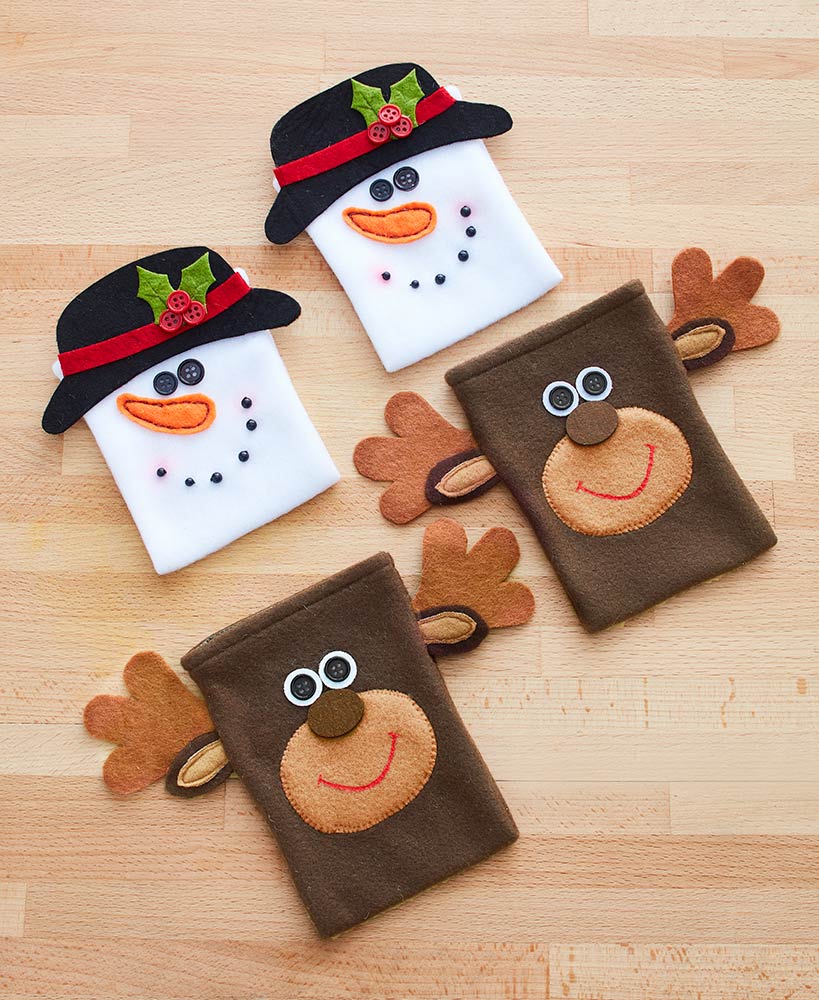 Create festive and fun place settings with the help of these Snowman & Reindeer Flatware Holders!
Place some silverware inside of the holders and set them on top of winter or Christmas themed plates. Set up red or white napkins at eat setting to match. To continue the whimsical theme on your table, display snowman figurines as a centerpiece and use snowman shaped cups!
Have a Heart Christmas Kitchen Collection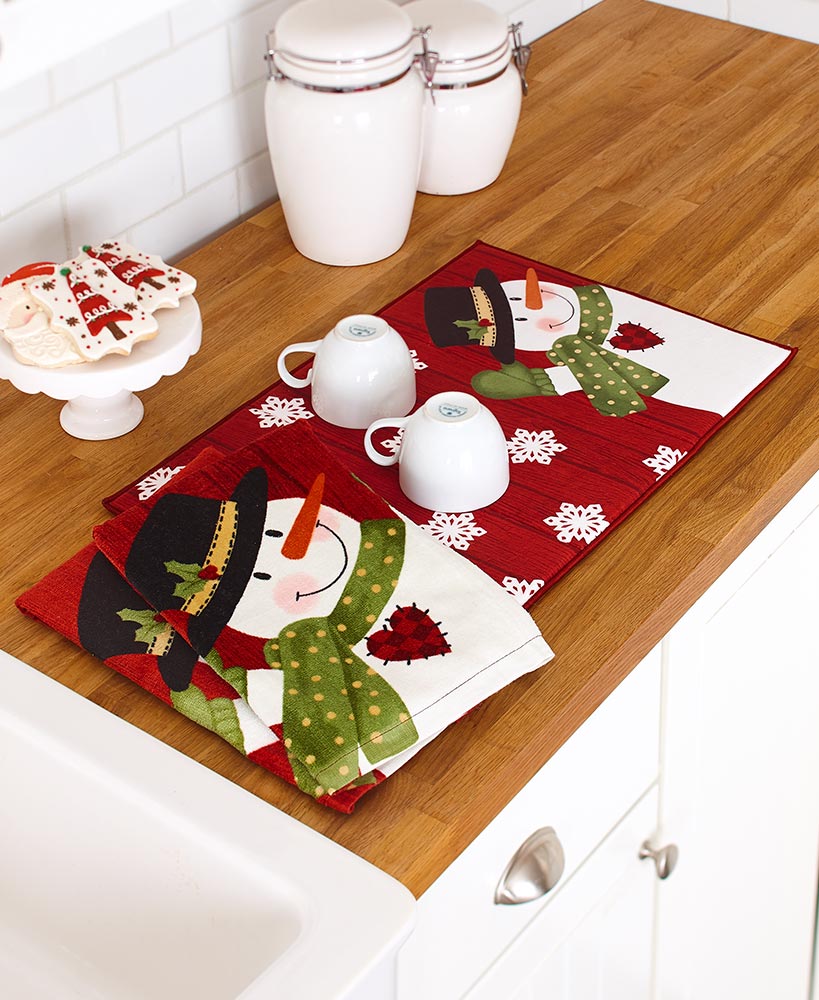 Decorate with country charm this winter with the Have a Heart Christmas Kitchen Collection!
Set up the drying mat, towels, and rug in your kitchen to add function and style. Fill the rest of your kitchen with other country style accents such as winter flowers in a rustic vase or planter, a country Christmas block sign, rustic snowman canisters, and more!
---
Snowman Figurines To Display Around Your House
Figurines and tabletop decor can add a lot of personality and charm into any room of your house. Snowman figurines can be especially charming due to their friendly smiles and cheerful demeanor. These small snowman accents will look great displayed on any surface such as your coffee table, mantel, entryway table, kitchen counter, and more. Check out these adorable snowman figurines to display around your house this winter season!
Woodland Snowman Figurines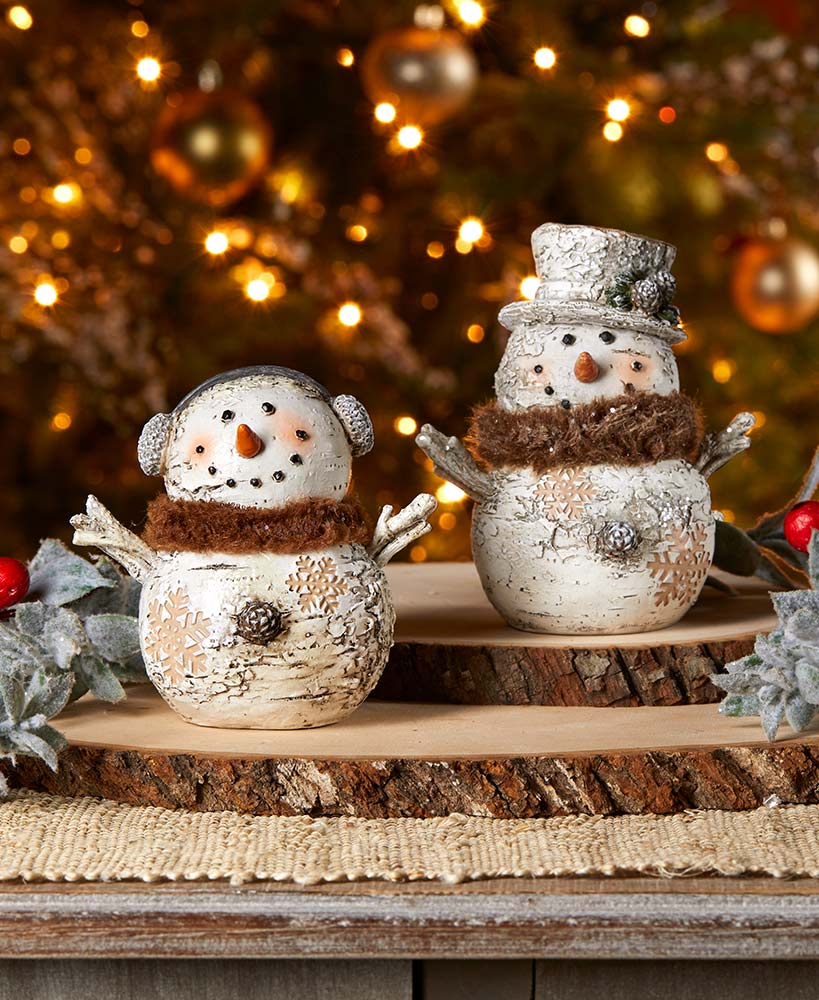 Set up a winter lodge theme in your living room with these Woodland Snowman Figurines!
Place these snowmen on top of a wooden tray on your coffee table. Add some pine cones to the tray, along with some frosted greenery. Continue the theme with some snowman or woodland animal throw pillows, a faux fur throw blanket, and some rustic lanterns throughout the room.
Plush Snowman or Ornaments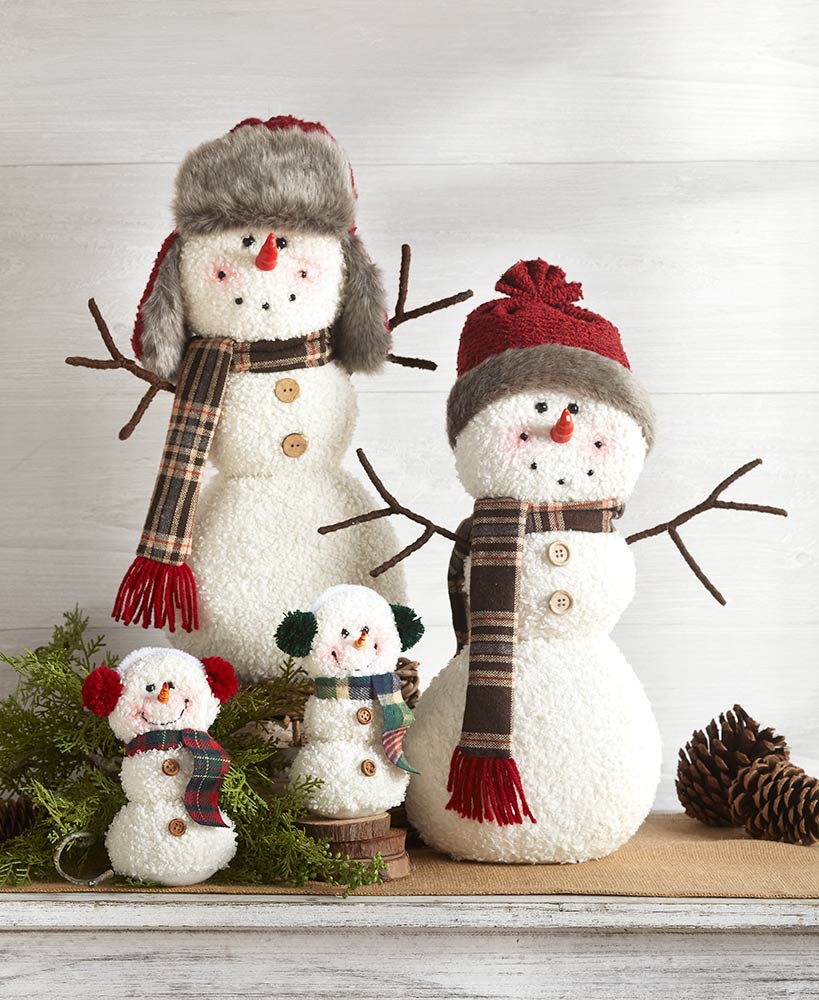 Add some cute and friendly cheer to any area of your home with a Plush Snowman or Ornaments!
Create a fun winter display on your mantel by starting with the plush snowmen. Next, place a bowl of pine cones, a winter sentiment sign, and some other snowman figurines on top of the mantel. Lastly, set up a frosted winter garland around the edge of your mantel to tie the winter scene together!
Shelf Sitter with Dangling Legs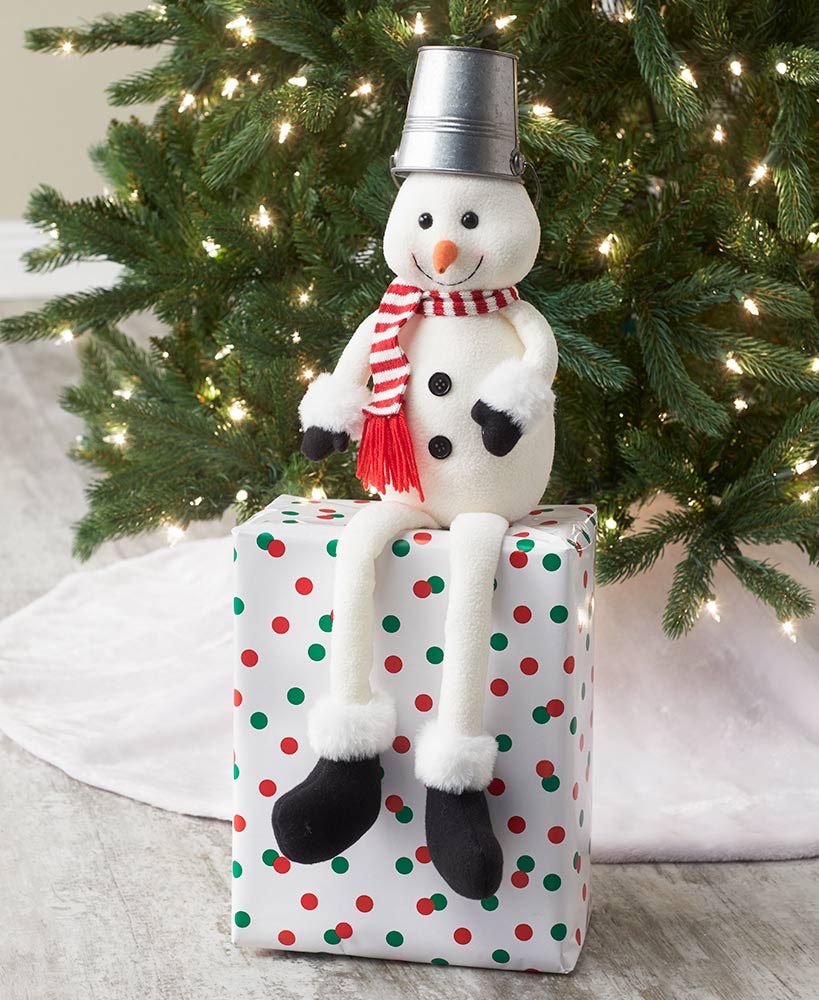 Bring a friendly face to your winter and Christmas decor spread with this Shelf Sitter with Dangling Legs!
Set up a winter entryway table by sitting this plush snowman on the edge. Then, lay some faux snow across the table with pine cones and lighted decorations. Display a winter wall sign above the table for some extra cheer. You can also set up a small Christmas tree near the table and decorate it with a winter wonderland theme!
---
Snowman Serveware For Your Winter & Christmas Meals
Whether you have dinner parties or just enjoy having festive meals with your family, themed serveware and dishes can make your meals feel even more special! Snowman serveware is a fun choice for your winter and Christmas themed kitchen. These serveware items can be very fitting for the entire winter season and can be displayed as decorations when not in use. Add these snowman items to your serveware collection this winter!
Snowman Cheese Board and Spreader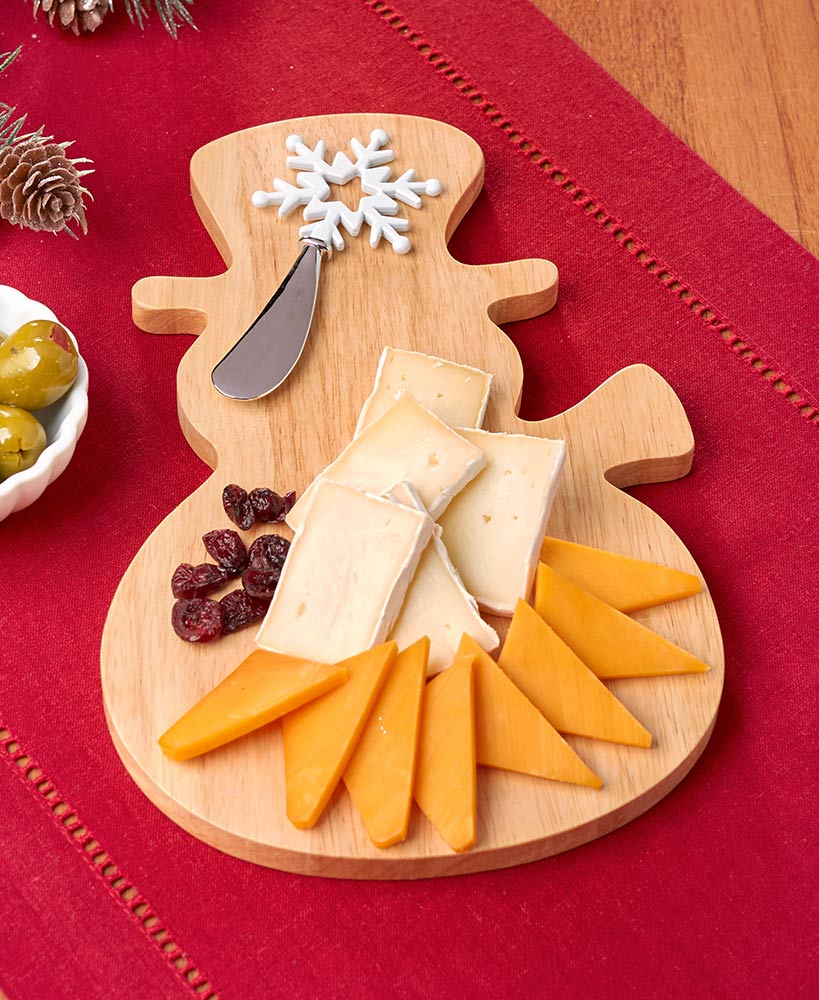 Serve up some cheese in festive style with this Snowman Cheese Board and Spreader!
Use this cheese serving board on your dining table with a snowman or winter patterned table runner, festive wine glasses, and themed appetizer plates.
Snowman Cutting Board and Spreader Sets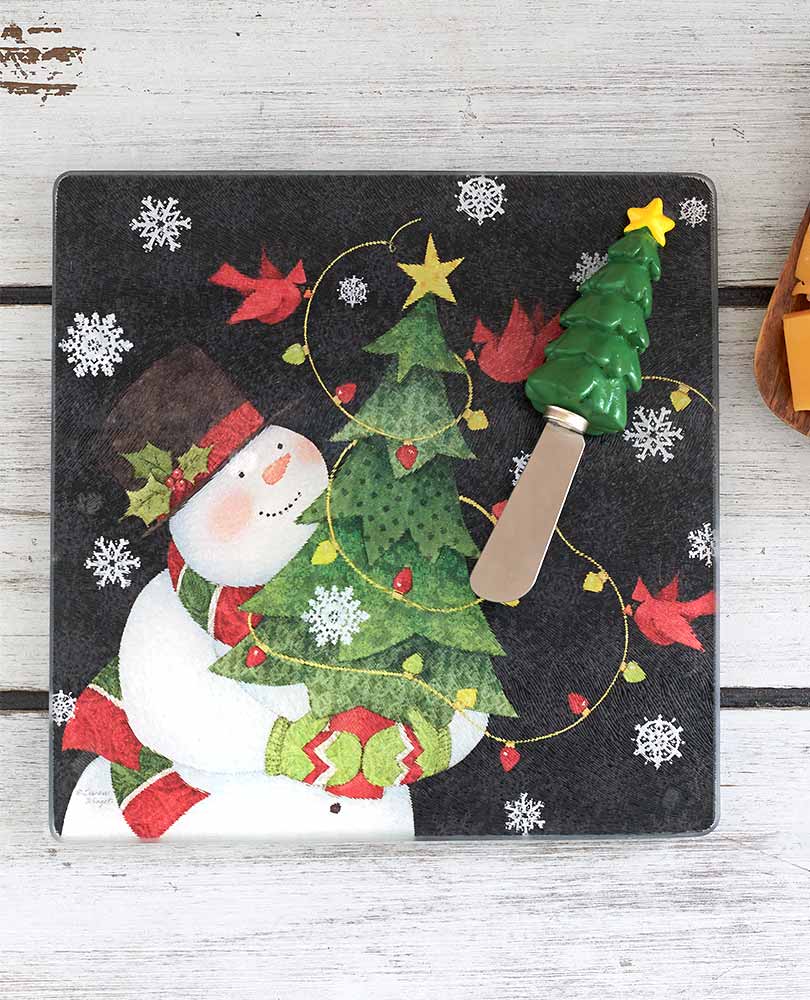 Prepare and present your delicious foods with this Holiday Cutting Board and Spreader Set!
When you're not using this to prep and serve food, display it leaned against a shelf in your dining room or kitchen with snowman figurines and accents.
---
Want even more snowman decorations and winter themed accents? Shop our selection of Christmas Decor & More to find tabletop decor, bed and bath collections, ornaments, outdoor accents, and much more to transform your home for the winter season!
---
Read Next: 7 Classic Christmas Decorating Ideas For Your Living Room