7 Farmhouse Christmas Decorating Ideas For Your Kitchen
Combining the farmhouse decor style with festive Christmas cheer can result in a homey and welcoming space. Create a beautiful look in your kitchen this holiday season by decorating with these two elements. Here are 7 farmhouse Christmas decorating ideas for your kitchen.
---
1. Dress Up Your Cabinets With Festive Christmas Wreaths
Make your cabinets look unique this Christmas season by decorating them with festive cheer!
Wreaths are the easiest way to quickly transform the face of your kitchen cabinets without overcrowding your space or overdoing the holiday decor.
Aim for holiday wreaths that include red berries, poinsettias, pine cones, or other Christmas themed accents such as ball ornaments.
You can attach the wreath to your cabinets by using removable hooks, or you can tie a ribbon to the wreaths and tape it to the top of your cabinet doors.
These Sets of 2 Cabinet Wreaths are the perfect addition to your farmhouse Christmas kitchen! Featuring a plaid pattern on the ribbon, they'll match with any other festive decor.
Sets of 2 Cabinet Wreaths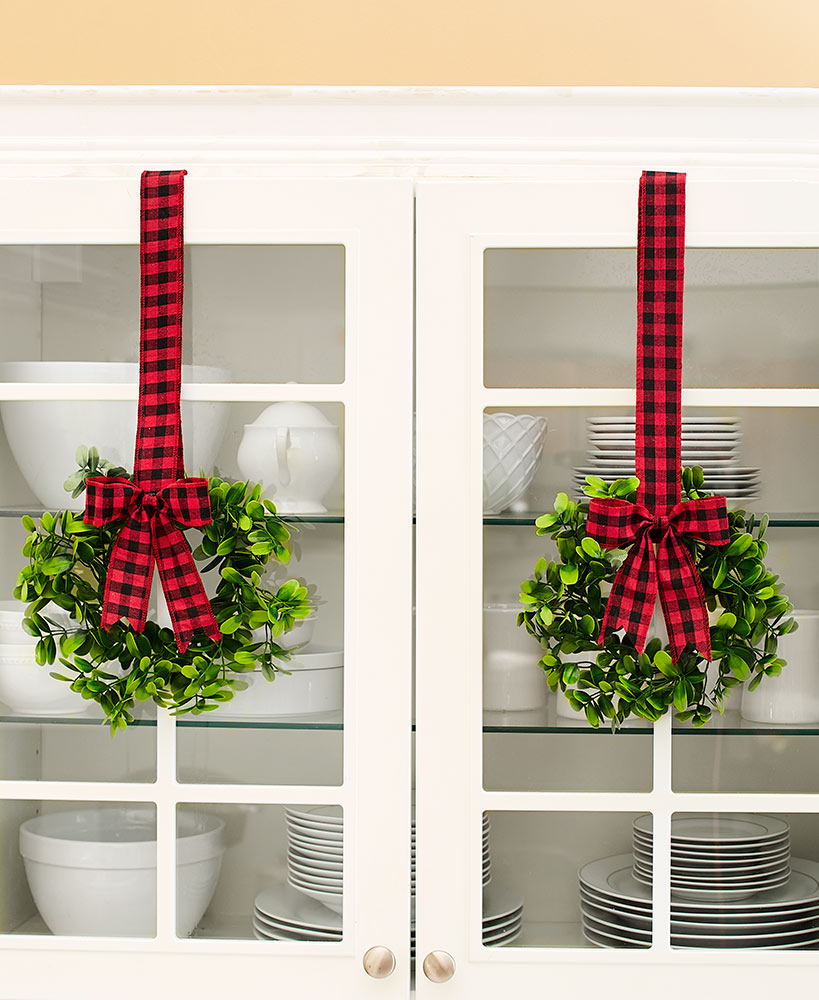 ---
2. Add Some Warm Lighting To Your Kitchen With Decorative Lanterns
Kitchens usually have bright lights in order to increase the functionality of your everyday cooking tasks.
While the bright lights are great for meal prepping, you can also bring in some warm lights to create a peaceful holiday scene in the evening.
The simplest way to add warm lighting to your kitchen for Christmas is through decorative lanterns! Find lanterns that are decked out in holiday cheer such as plaid ribbons, greenery, and Christmas colors.
Place lanterns around your kitchen on the counters to add a warm farmhouse Christmas feeling. You can use LED lanterns or you can even use ones with holiday scented candles. Mix in some other lighted decor to add to the warm glow!
This Seasonal Themed LED Lantern is a wonderfully cheerful addition to your kitchen! Featuring a jolly snowman candle and evergreen sprigs, use this lantern as a festive centerpiece.
Seasonal Themed LED Lanterns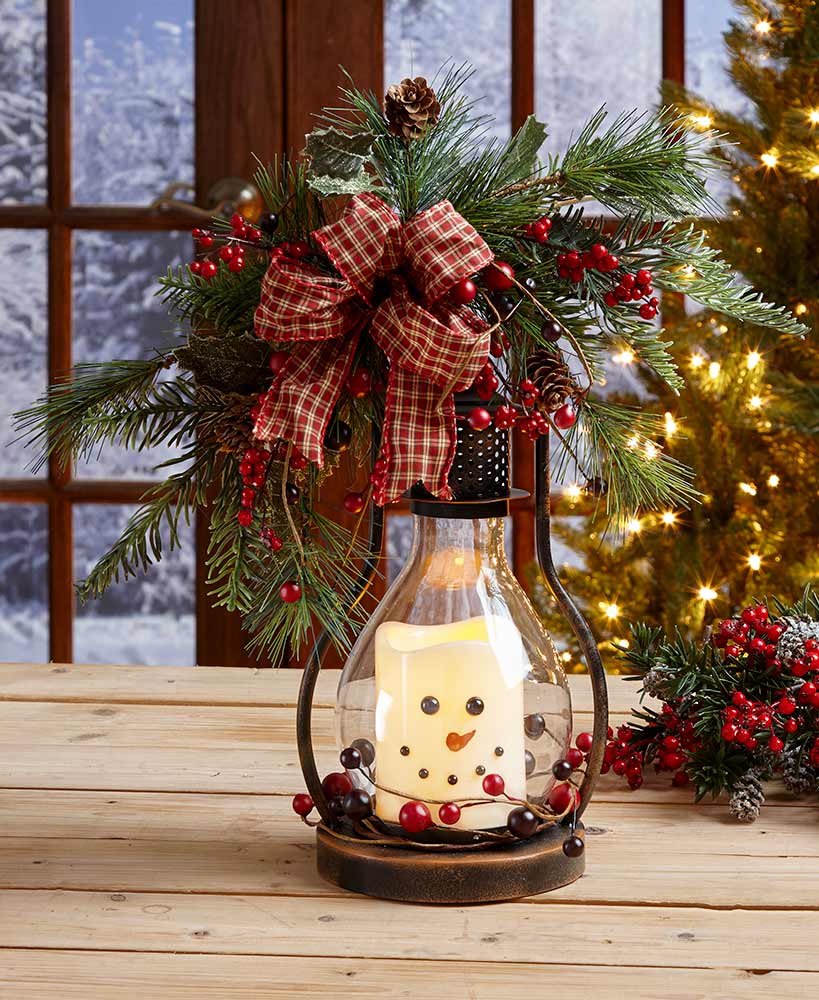 ---
3. Decorate Your Kitchen With A Mix Of Farmhouse & Christmas Symbols
When it comes to farmhouse Christmas decorating ideas, the easiest method is to combine the main symbols of both styles!
The farmhouse decor style typically features symbols such as red trucks, farm animals, barn stars, and windmills.
Christmas decor showcases the classic holiday symbols and characters like Santa, elves, trees, stockings, and snowmen.
Decorate with a healthy mix of farmhouse and Christmas accents in your kitchen to achieve a balanced look. For instance, you can lay down a red truck rug and use Christmas tree hand towel. Just make sure to stick with the same general color scheme.
The Vintage Country Kitchen Collection already sets you up with a great balance of farmhouse and Christmas! With the design of red trucks and Christmas trees, you can transform your kitchen this holiday season.
Vintage Country Kitchen Collection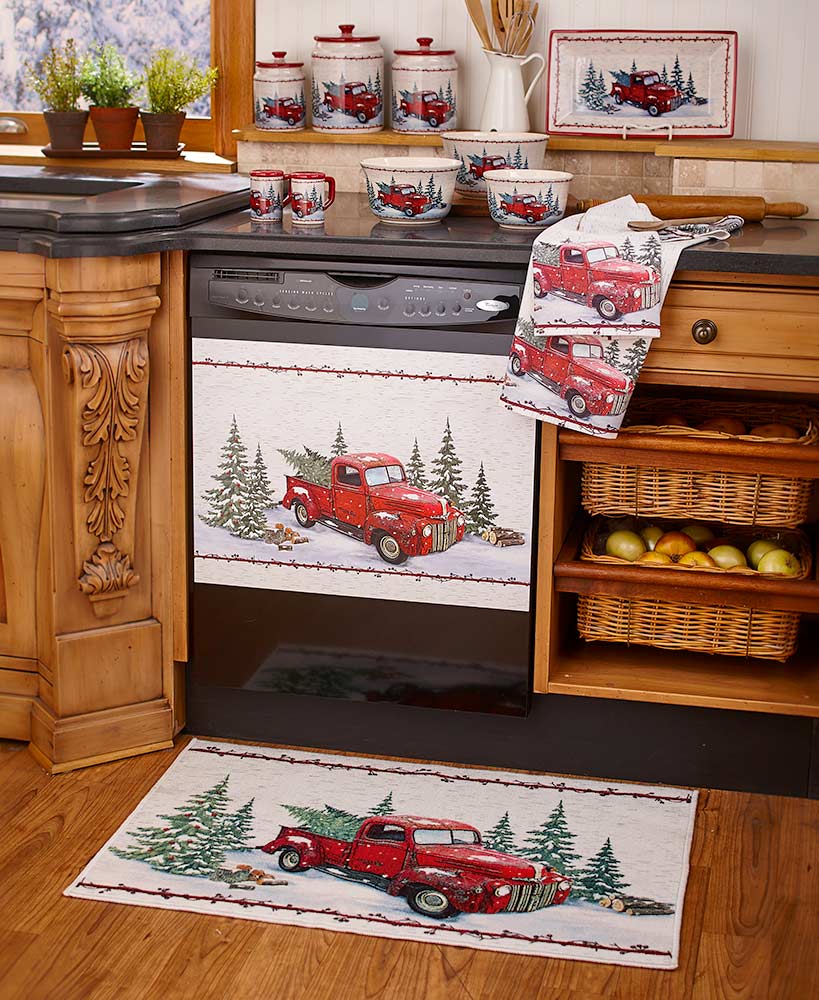 ---
4. Bring The Joyous Spirit Into Your Kitchen With A Small Farmhouse Christmas Tree
Who says that Christmas trees are only for the living room? You can decorate for the holiday season by incorporating a small Christmas tree in your kitchen!
You'll want to start by choosing a tree that is small enough for your space. You can place it in the corner of the room, or you can even decorate with a mini tree on top of your counter.
Next, dress up your tree in the farmhouse style. Include symbol ornaments such as farm animals, barn stars, windmills, and red trucks. You can also use ornaments made of rustic materials such as galvanized metal and weathered wood.
Lastly, add some finishing touches with a plaid tree topper or a plaid ribbon tied around the tree. This pattern blends in nicely with the farmhouse Christmas theme.
This 4-Ft. Lighted Country Christmas Tree is a great fit for your kitchen! Simply add your own farmhouse ornaments and it's ready for display.
4-Ft. Lighted Country Christmas Tree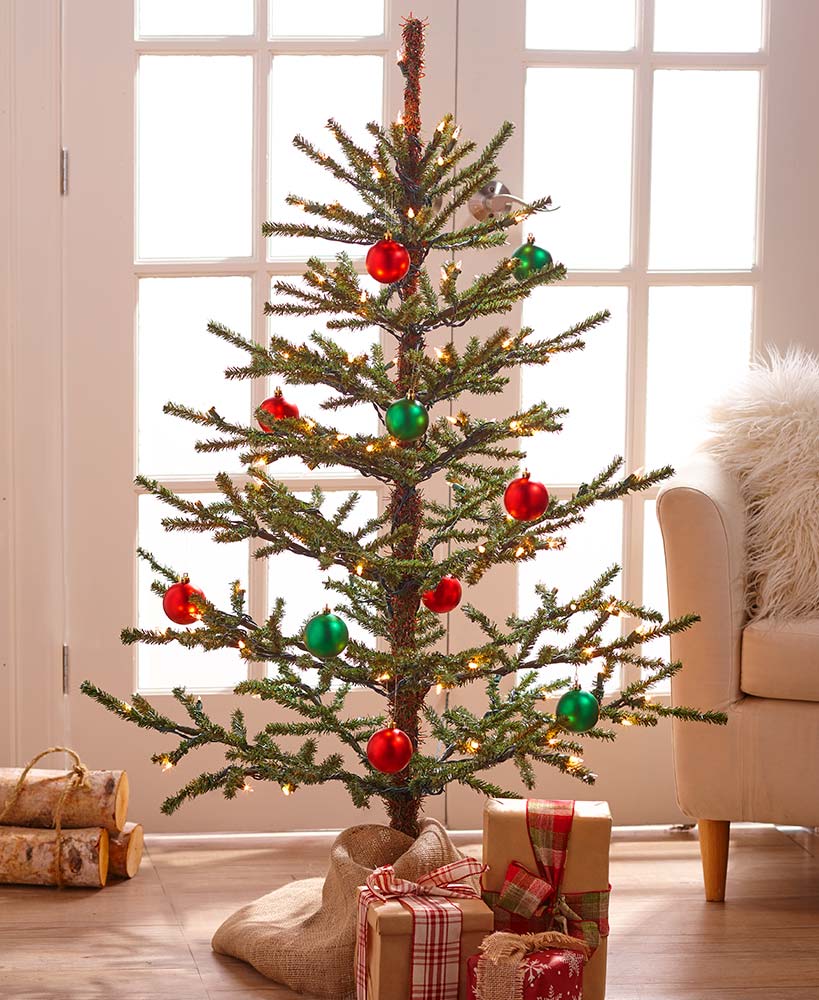 ---
5. Use Decorative Trays To Add Function & Style To Your Farmhouse Christmas Kitchen
The best way to decorate your kitchen while keeping it neat and tidy is to use a combination of function and style!
Decorative trays are a great way to have this combination in your kitchen. While you're not using them to serve food and drinks, you can display them on your kitchen counter.
Get the farmhouse Christmas look with a decorative tray that combines farmhouse materials with holiday symbols and sentiments.
For instance, you can find a rustic wooden tray that features a Santa or Christmas tree design. When not in use, display the tray on its own or fill it with pine cones and potpourri.
This Winter Wishes Wooden Tray is a decorative holiday farmhouse accent you can display in your kitchen with other cheerful decor!
Winter Wishes Wooden Tray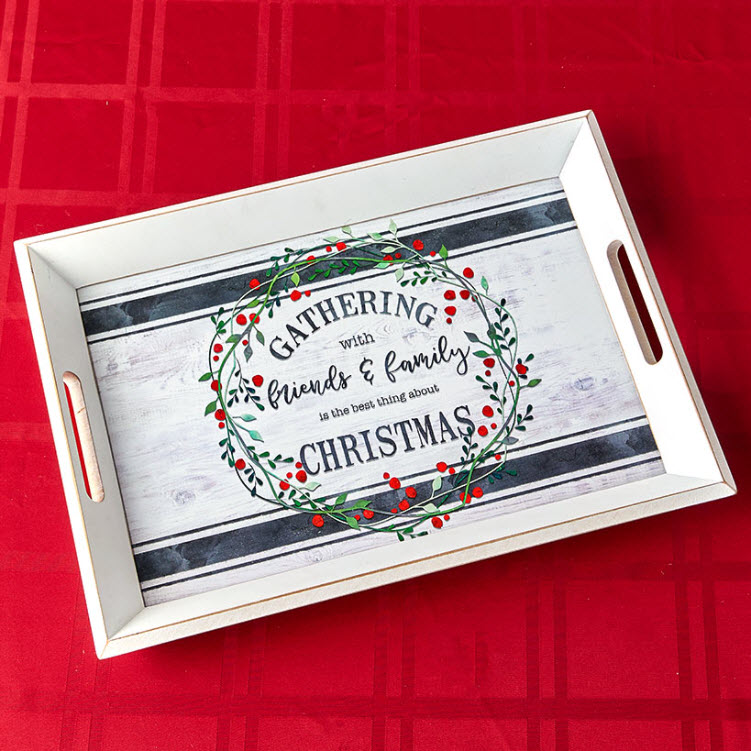 ---
6. Make Your Kitchen Table Festive With A Farmhouse Christmas Centerpiece
In order to add some Christmas cheer to your kitchen and eating space, you'll want to dress up your table in special holiday style!
Start with an eye-catching farmhouse Christmas centerpiece. This can include a mixture of Christmas colors, plaid patterns, holiday characters, and farmhouse symbols.
Then, complement the centerpiece with matching table linens, place mats, dishes and serveware. You can even leave this decor on display while you're not eating at the table.
You can even include a farmhouse Christmas centerpiece in the middle of your kitchen island. This is an eye catching way to start the theme in your kitchen.
These Christmas planters are a fun mixture of charming and cheerful! Display these on your kitchen table or kitchen island for a farmhouse holiday look.
Set Of 2 Christmas Planters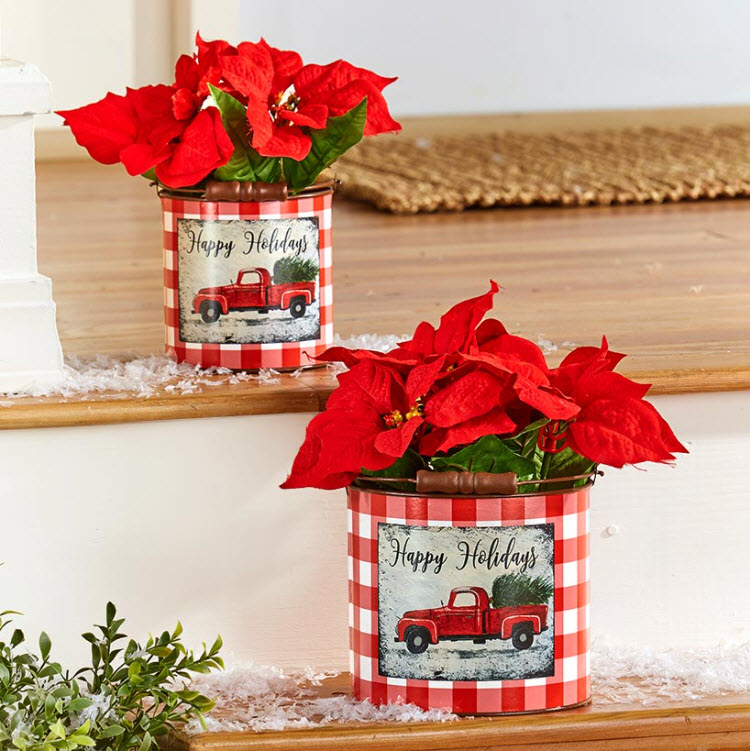 ---
7. Swap Out Your Kitchen Containers For Farmhouse Christmas Themed Ones
Just like some of these other farmhouse Christmas decorating ideas, this one combines function with style!
A quick way to change up your kitchen for the holiday season is to swap out your everyday kitchen containers with themed ones instead.
Store your baking ingredients, silverware, mixing utensils, and other essentials in farmhouse holiday themed containers and bins on your counters for an instant transformation.
You can even display some of these containers on your kitchen table to hold items such as napkins and seasonings!
This Set of 3 Decorative Metal Gift Bags are great for storage or display in your farmhouse Christmas kitchen!
Set of 3 Decorative Metal Gift Bags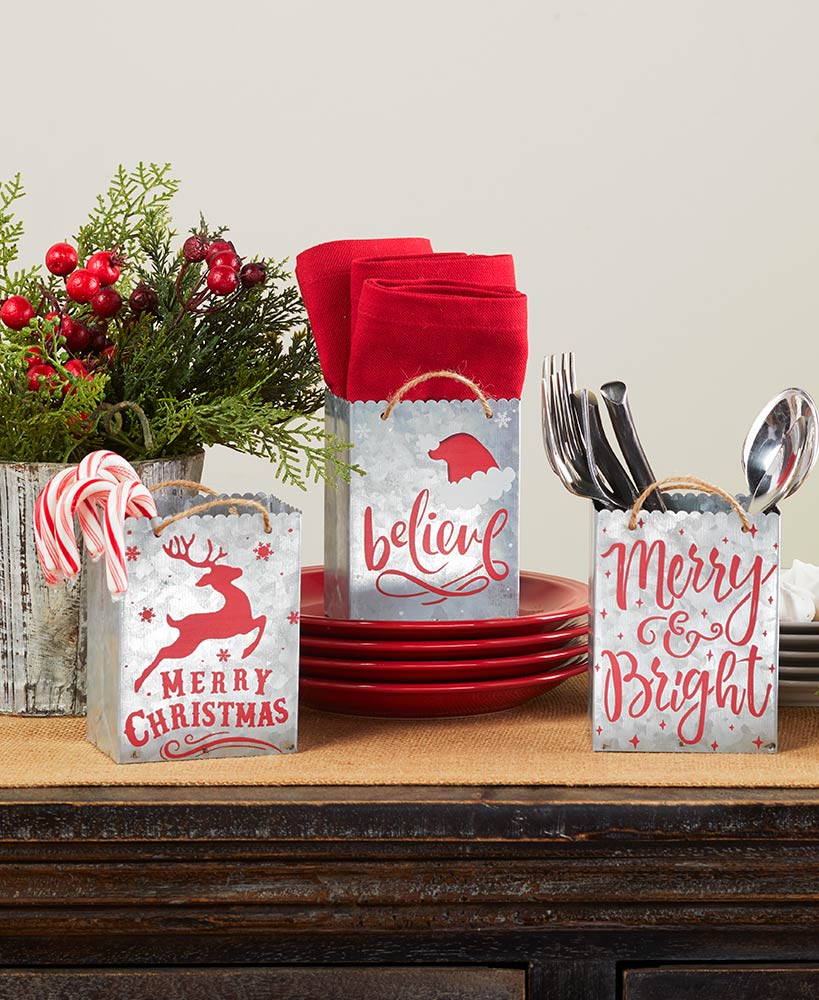 ---
Looking for more holiday decorating inspiration? Shop our selection of Christmas Decor & More to find festive decor, kitchen accents, bed and bath collections, outdoor displays, and much more!
---
Looking for even more ideas? Check out these 7 Country Christmas Decorating Ideas!