9 Lighted Christmas Decorations That Will Brighten Up Your Home
Lighted decorations can add an extra magical and bright appearance to your holiday themed home! With the help of lighted holiday decorations and fun accents, you can add a cheerful glow to the inside and outside of your house this Christmas. Here are 9 lighted Christmas decorations that will brighten up your home.
---
Lighted Tabletop Christmas Trees
Christmas trees are a staple of the winter holiday, so why not add some extra trees to your holiday spread? Decorative tabletop trees can add the festive holiday spirit into any room in your house. Display these lighted tabletop Christmas trees on your mantel, coffee table, entryway console table, kitchen island, or on any other surfaces in your home.
Retro Lighted Tabletop Christmas Trees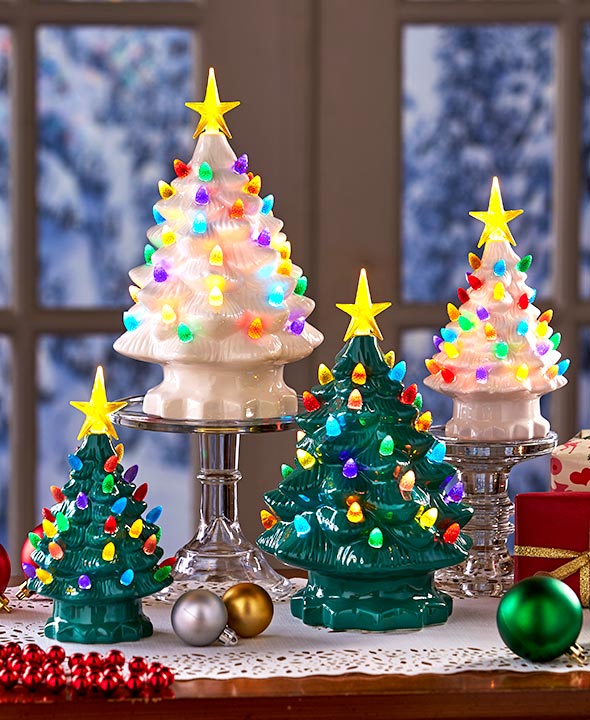 Decorate in vintage holiday style with these Retro Lighted Tabletop Christmas Trees!
Use these retro trees as a dining table centerpiece. Simply place some on top of glass pillar candle holders in the middle of the table. Complete the look with a white lace table runner, some vintage character figurines, and retro themed place mats. You can also add some retro wall art!
Festive LED Lighted Glass Christmas Trees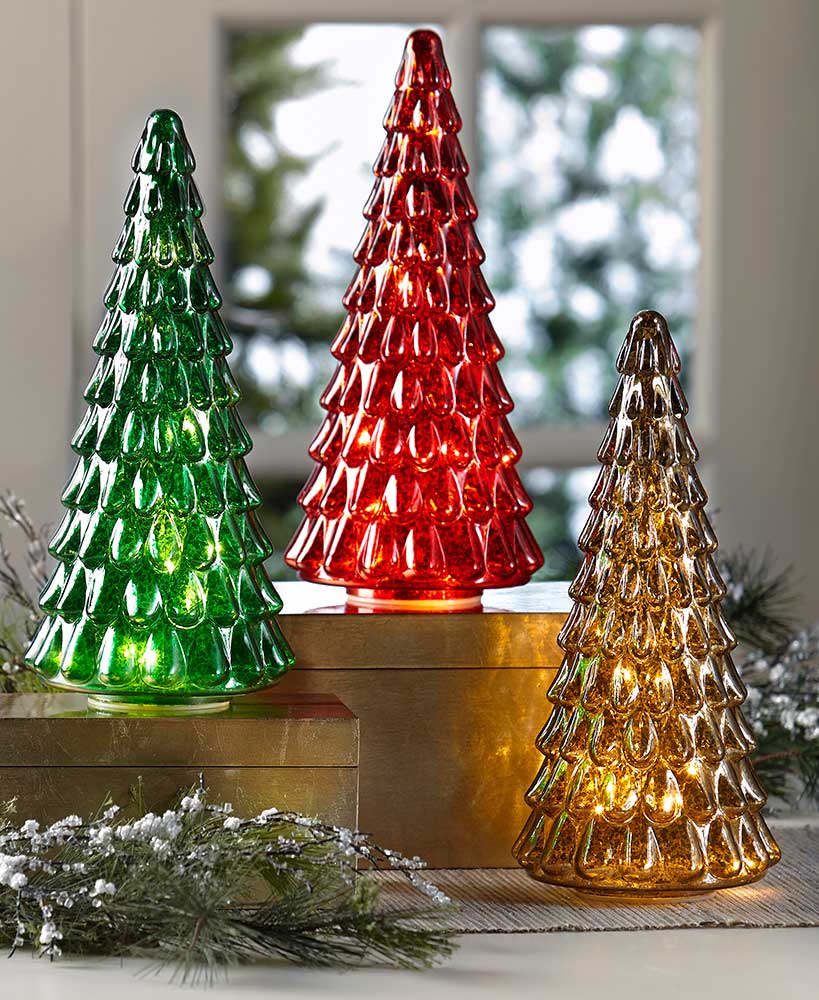 Add a classic Christmas look to your space with these Festive Lighted Glass Trees!
Create a beautiful display on your mantel. Start with a snow dusted Christmas garland draped across the mantel. Then, add the lighted glass trees. Bring in a vintage holiday sentiment sign and a vintage Santa figurine. Complement with other vintage decor in the room!
Set of 6 Color-Changing Table Trees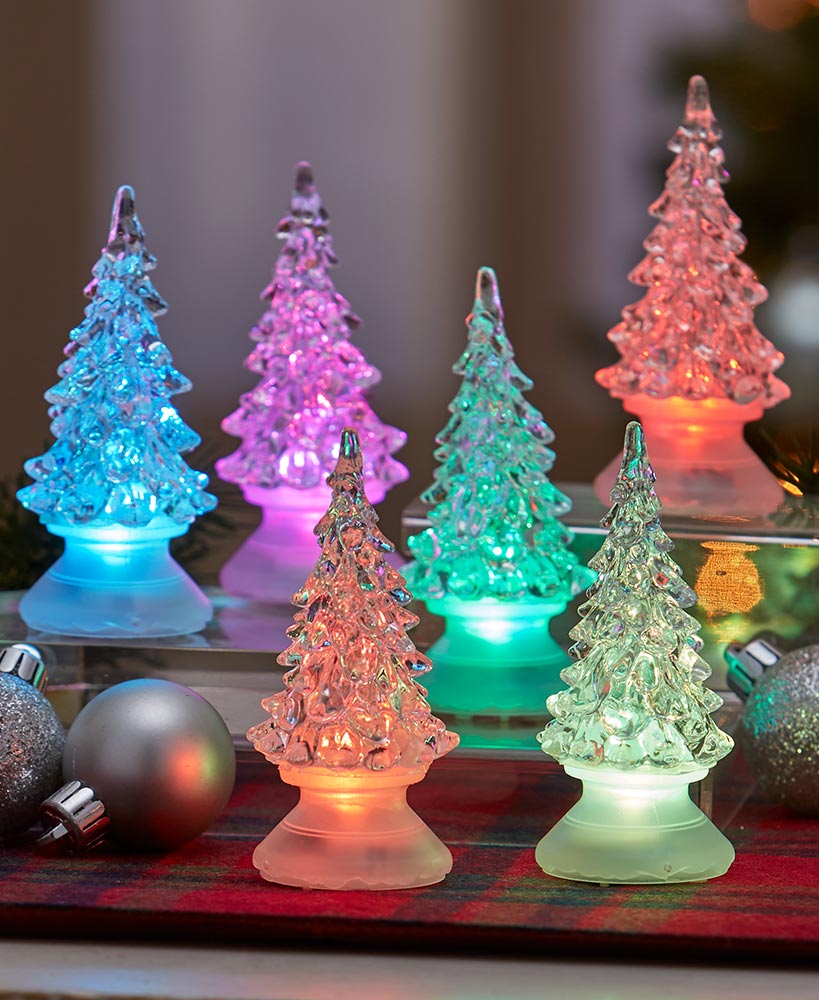 Create a spectacle and colorful scene with this Set of 6 Color-Changing Table Trees!
Incorporate these beautifully lighted trees into a Christmas village spread on an entryway table or on the mantel. Along with the trees, decorate with some lighted ceramic gingerbread houses, miniature Christmas characters, and a snow dusted table cloth.
---
Lighted Christmas Accents & Wall Art
Accents and wall art can bring some extra cheer into your home and give any room a distinct personality. These festive accents will look wonderful when combined with Christmas trees and other large decor. Decorate your home this holiday season with these lighted Christmas accents and wall art!
Fiber-Optic Lighted Santa Wall Hanging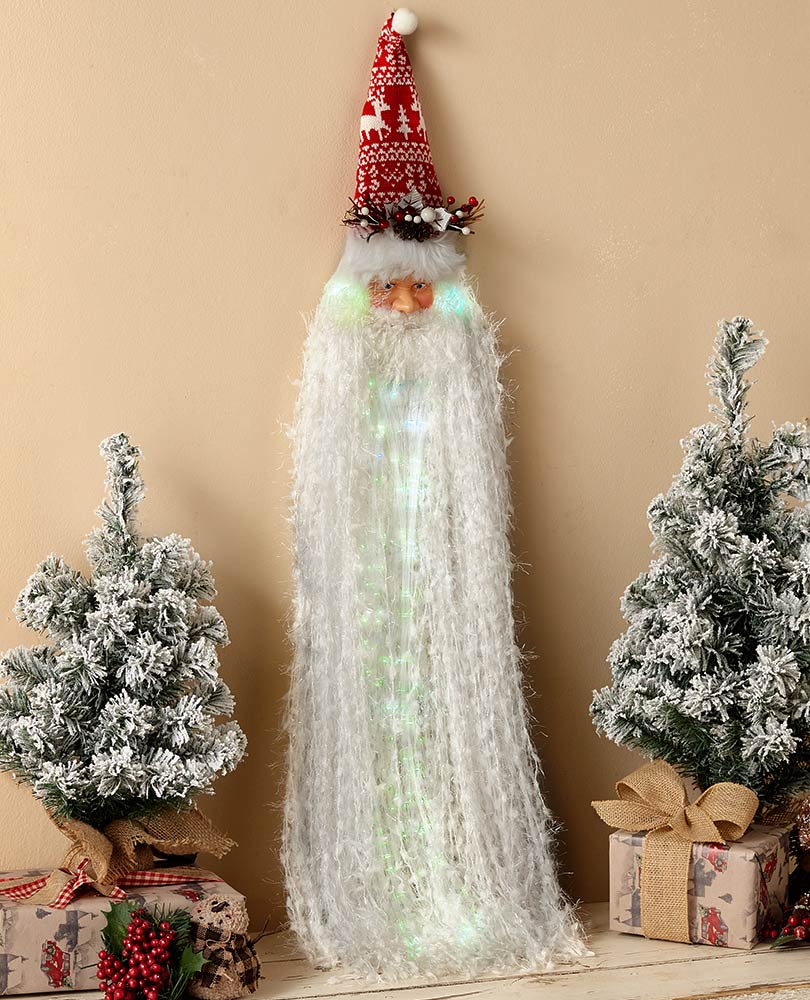 Decorate in vintage Christmas style with the Fiber-Optic Lighted Santa Wall Hanging!
Hang this Santa decoration up on the wall above the mantel. Accent the rest of your mantel with other vintage style decor such as retro tabletop trees, sentiment block signs, and other vintage character decor.
Sets of 3 Lighted Gift Box Decor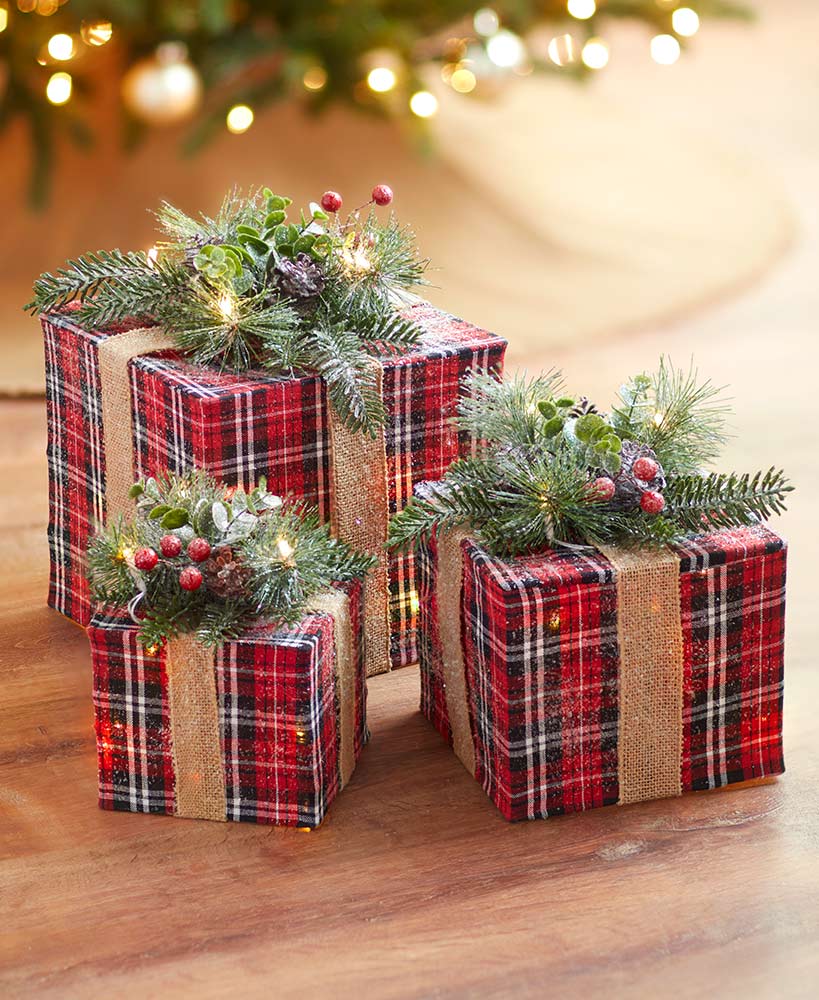 Add a classic Christmas touch to any area of your home with this Set of 3 Lighted Gift Box Decor!
Place these decorative gift boxes underneath your Christmas tree, on top of your mantel, or on an entryway table. Coordinate these boxes with other plaid decorations and faux greenery.
Fiber-Optic Holiday Canvas Wall Art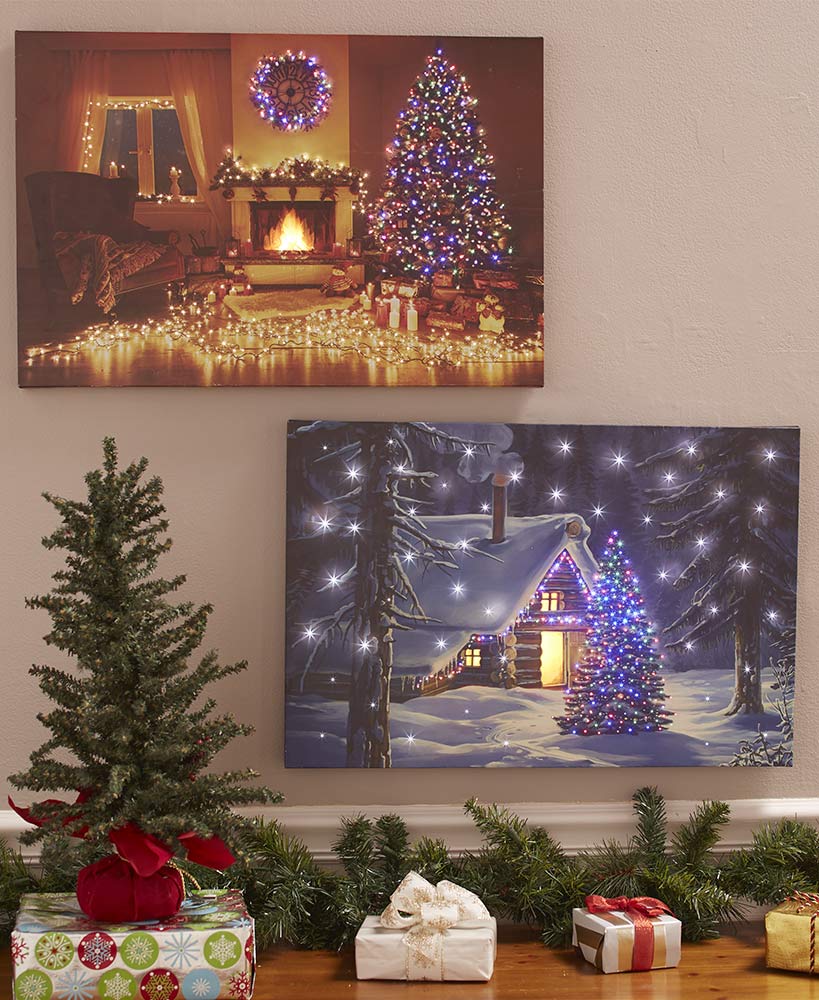 Bring some stunning artwork to your home with this Fiber-Optic Holiday Canvas Wall Art!
Display either of these wall art pieces in the living room. Continue the cozy Christmas theme with Sherpa throw blankets on the couch, snow dusted brush trees on the mantel, and a selection of pillar candles.
---
Outdoor Lighted Christmas Decorations
Lighted decorations can brighten up your front porch, front yard, or backyard in the nighttime. These lighted decorations will add some mystical and magical elements to your outdoor space. Create a bright and beautiful spectacle with these lighted outdoor Christmas decorations!
Solar Candy Cane Stakes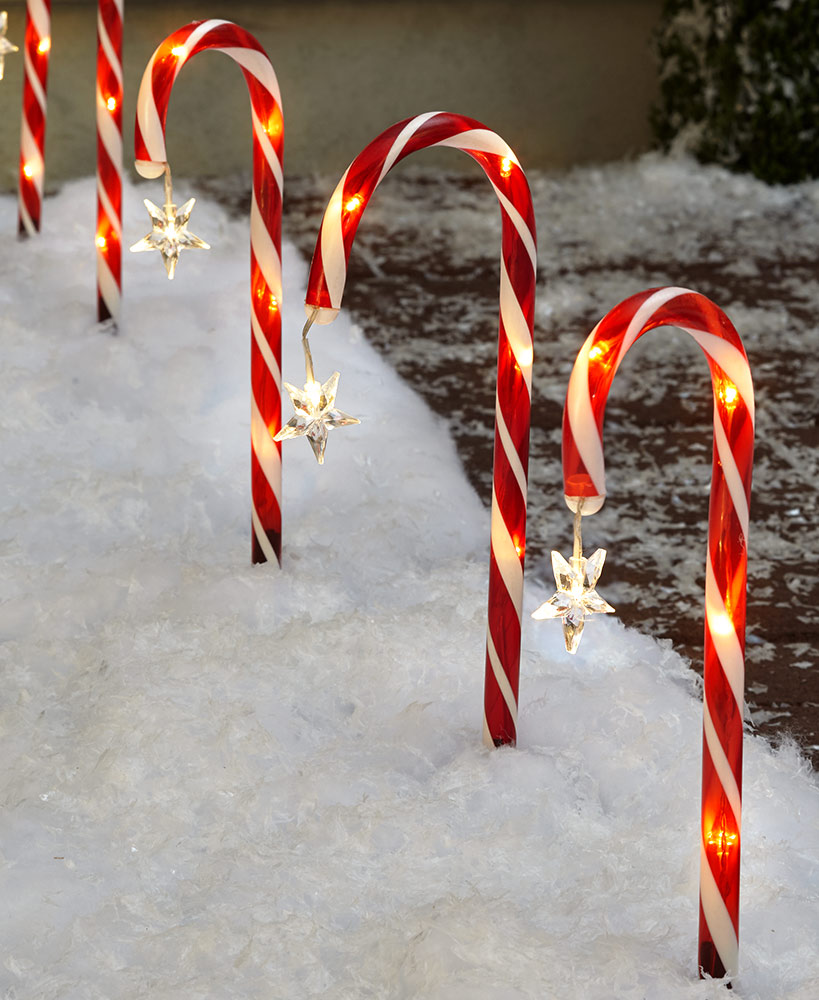 Set up a fun candy land theme with this Set of 8 Solar Candy Cane Stakes!
Place these stakes along the pathway to your front porch. Decorate the rest of your porch with the same theme through gingerbread houses and candy accents. Include these symbols through a doormat, wall sign, string lights, and outdoor throw pillows.
65″ Lighted Christmas Trees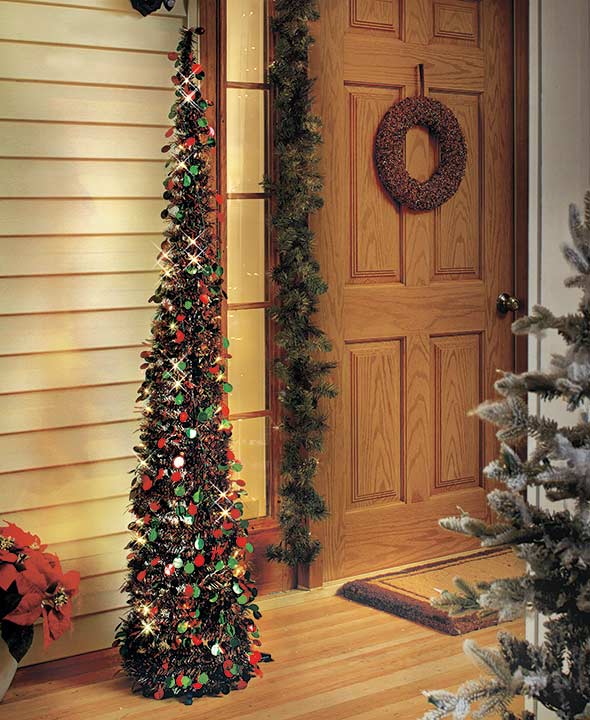 Bring holiday cheer to small spaces with a 65″ Lighted Christmas Tree!
Set up the tree under a covered porch near the front door. Add even more greenery by hanging a wreath on the door and a lighted garland wrapped around the porch posts. Bring in a classic Christmas themed doormat to complete the look.
3-Pc. Lighted Deer Family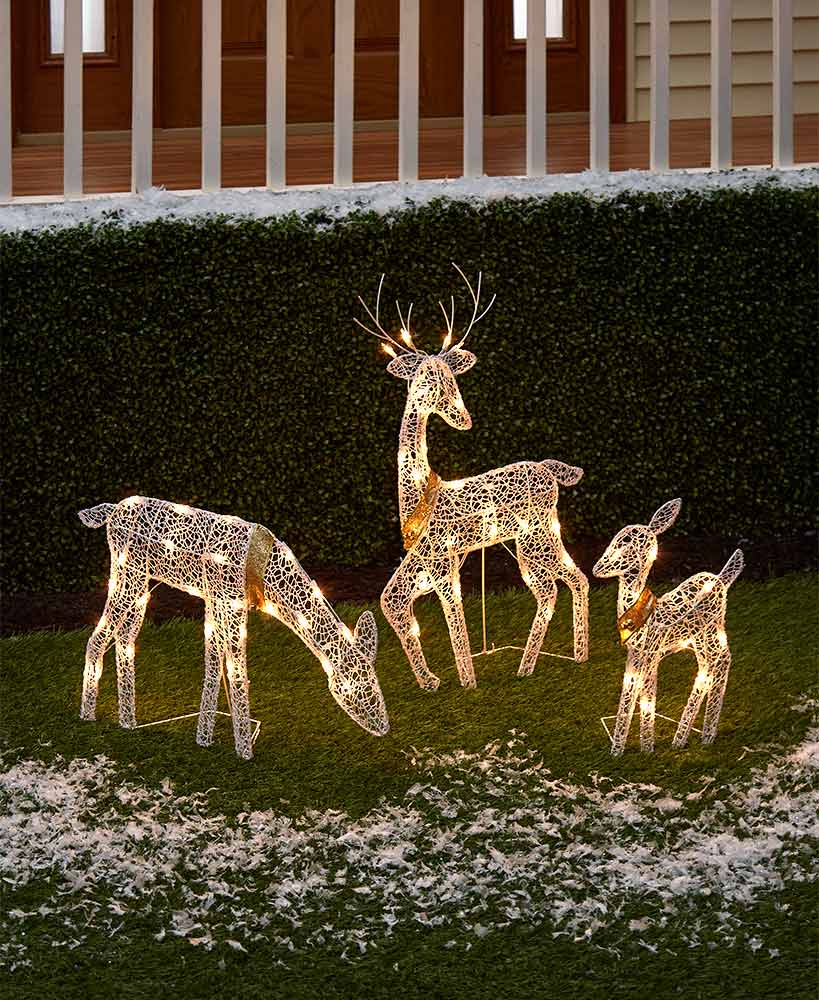 Brighten up your lawn in holiday fashion with this Lighted Deer Family!
Display this deer family on your front lawn for a fun look. Add some other classic Christmas decor to your yard such as Santa yard stakes or an inflatable snowman. Wrap your porch railing with twinkly string lights to match the brightly lit scene.
---
Looking for even more lighted Christmas decorations? Shop our selection of Christmas Decor & More to find lawn ornaments, tabletop accents, festive wall art, string lights and more!