7 Country Christmas Decorating Ideas
The country Christmas decor style is the perfect choice if you want a charming, welcoming, and warm home. This style features rustic materials, themes of nature, animals, plaid patterns, and warm colors. You can easily bring the country Christmas theme into any area of your home, no matter how big or small you want the theme to be. From decorating a country Christmas tree to rustic accent ideas and more, here are 7 country Christmas decorating ideas for a charming holiday season.
---
1. Create A Country Christmas Tree Theme
---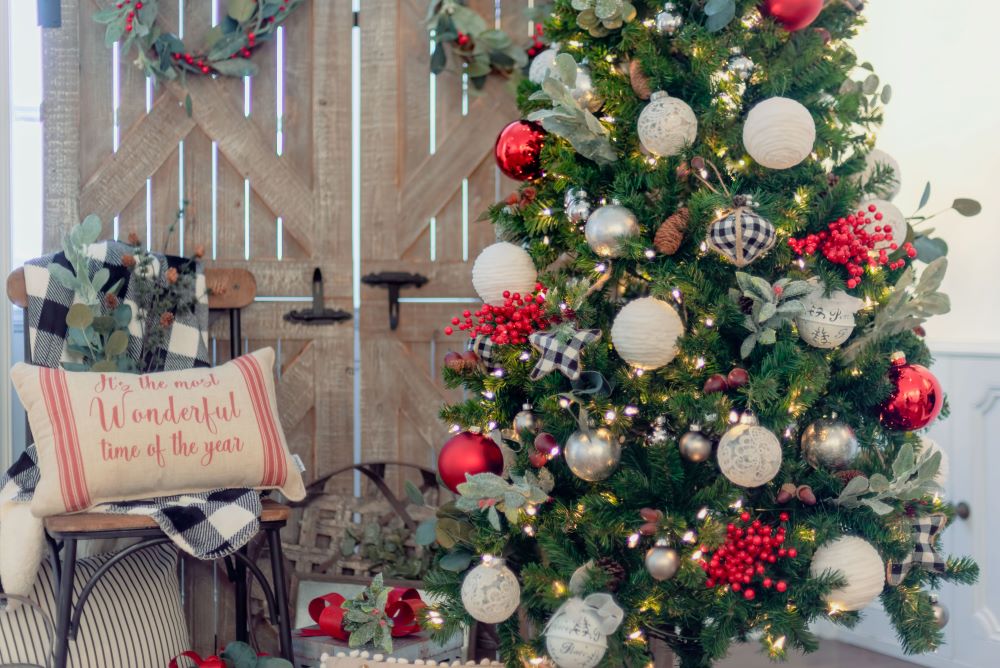 Your Christmas tree is a great starting point when creating a country Christmas decor theme. Creating a theme for your tree can make it look extra unique and festive. It can also help you establish the theme in your living room or other areas of your home to make your Christmas decor flow seamlessly.
Country Christmas Tree Decor Ideas
A country Christmas tree gives off a charming, warm, and rustic appearance. There are many different types of Christmas ornaments, lights, and tree decorations that can help give off the country style theme. This theme works well with a traditional green tree but you can also use a white tree for a unique spin on the theme. Check out some tree decor ideas below for a country Christmas style.
Ball ornaments
Rustic wood ornaments
Galvanized metal ornaments
Charming sentiment ornaments
Plaid ornaments
Warm colored string lights
Burlap ribbon
Barn house tree topper
Burlap tree skirt
---
2. Fill Your Home With Rustic Christmas Accents
---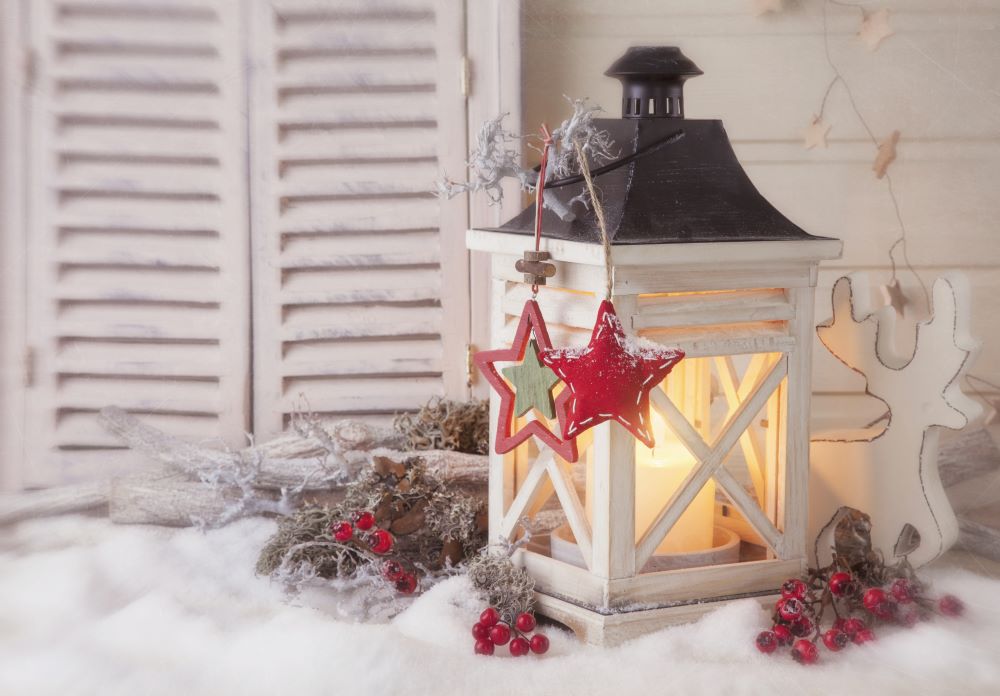 A big part of the country Christmas style is the use of rustic materials. Rustic elements can help give your space a homey and charming appearance, which is the main appealing part of the country style. Include rustic style Christmas decorations around your home to achieve the ideal country Christmas theme throughout your space. You can easily do this through small accents in each room.
There are so many different types of rustic accents you can use in your country Christmas decor theme. These accents should be geared toward winter themes and charming elements for the ultimate Christmas appearance. If you're not sure where to begin with your rustic accents, check out some ideas below for inspiration.
Rustic Christmas Decor Ideas
Wooden Christmas tree figurines
Galvanized metal or rustic wooden tree collar
Lanterns and lighted decor
Barn stars
Galvanized metal Christmas sentiment signs
Wooden reindeer and Santa figurines
Rustic ornaments on the Christmas tree
Galvanized metal tree figurines
---
3. Decorate Your Porch In Country Christmas Style
---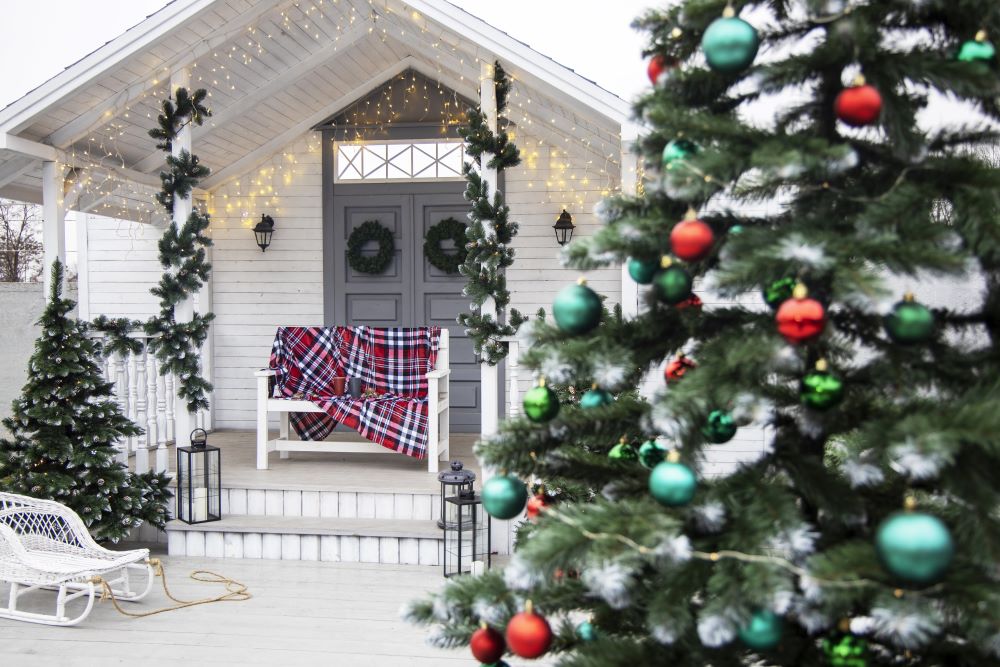 When decorating your home for Christmas, make sure to include your porch in your decor plans. Decorating your porch with a country Christmas style can instantly make your home look more charming and unique. It can also help you establish the theme throughout the rest of your home and make the decor flow smoothly.
Country Christmas Porch Decor Ideas
There are many different directions you can take when decorating your country Christmas porch. One thing to keep in mind is your use of rustic materials and the buffalo plaid pattern. Using these two elements as your main decorations will help you create your holiday theme in style. Check out some ideas below to get started.
Rustic solar lanterns
Buffalo plaid throw pillows & blankets
Leaning wooden sign with charming holiday sentiment
Warm colored string lights
Charming Christmas sentiment doormat
Outdoor Christmas tree with country ornaments
---
4. Set Up A Country Christmas Decorative Tray
---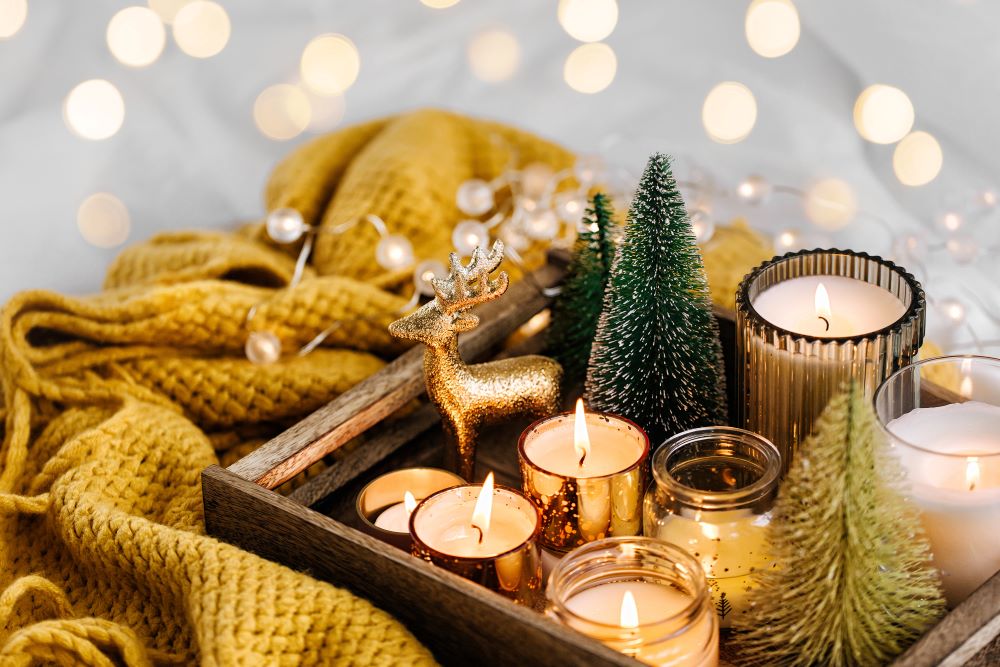 Decorative trays are a great way to show off decorations without making a space feel too overcrowded. Use a decorative tray to accent your country Christmas theme in almost any room. You can place a decorative tray at the foot of your bed, on the coffee table, in the center of the kitchen island, on the bathroom counter, on top of an entryway table, or in other areas of your home. Check out some tips below for creating a country Christmas tray.
How To Decorate A Country Christmas Tray
Start with a rustic tray, such as a wooden one or galvanized metal one.
Place some candles or small lanterns inside. Use rustic candleholders or wooden lanterns for the country look.
Then, add some Christmas brush trees or wooden tree figurines.
Add some other small accents such as wooden reindeer figurines, a classic Santa statue, or little elves.
Finally, fill in any empty space with pinecones or faux snow for a wintery touch.
---
5. Create A Country Christmas Seating Area
---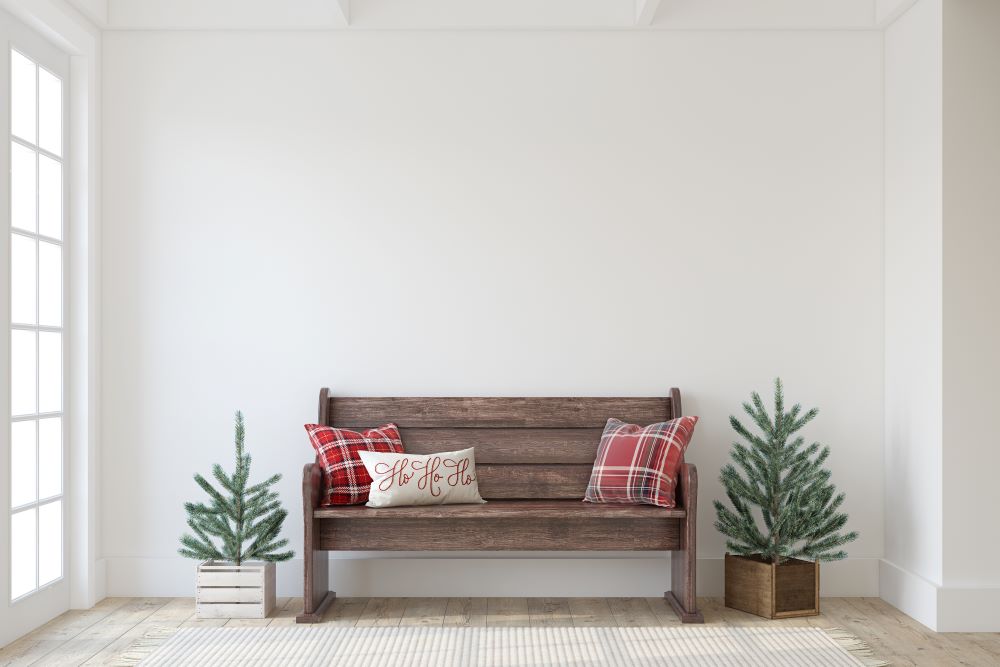 A big part of the Christmas and winter season is making your home feel comfy and cozy throughout the cold weather. A great way to make your home feel extra warm and comfortable this holiday season is to set up a seating area. Create a country Christmas seating area to make the theme flow nicely throughout your home and to make it feel extra charming.
When creating a country Christmas seating area, you can either transform a seating area you currently have or you can set up a brand new one for a stylish and comfy look. Consider setting up a seating area in your entryway space, in the corner of your living room or bedroom, or even at the end of the hallway. Find an open area to work with, even if it's small. No matter what size your space is, the steps below will help you get started on setting up a country Christmas seating area.
How To Set Up A Country Christmas Seating Area
Start with a comfortable bench or chair. A wooden bench works especially well for a country Christmas theme.
Add some buffalo plaid throw pillows, along with Christmas sentiment pillows. Make sure to also add a cozy plaid blanket.
Place a comfortable rug underneath your bench or chair. Use a Christmas themed rug for some extra charm and cheer.
Set up a small Christmas tree in the seating area. Use a tree inside of a wooden box and decorate it with rustic ornaments.
Hang up a wooden Christmas sentiment sign above the bench.
Finally, add some festive lights to make the space feel extra warm and cozy.
---
6. Incorporate Plaid Into Your Country Christmas Theme
---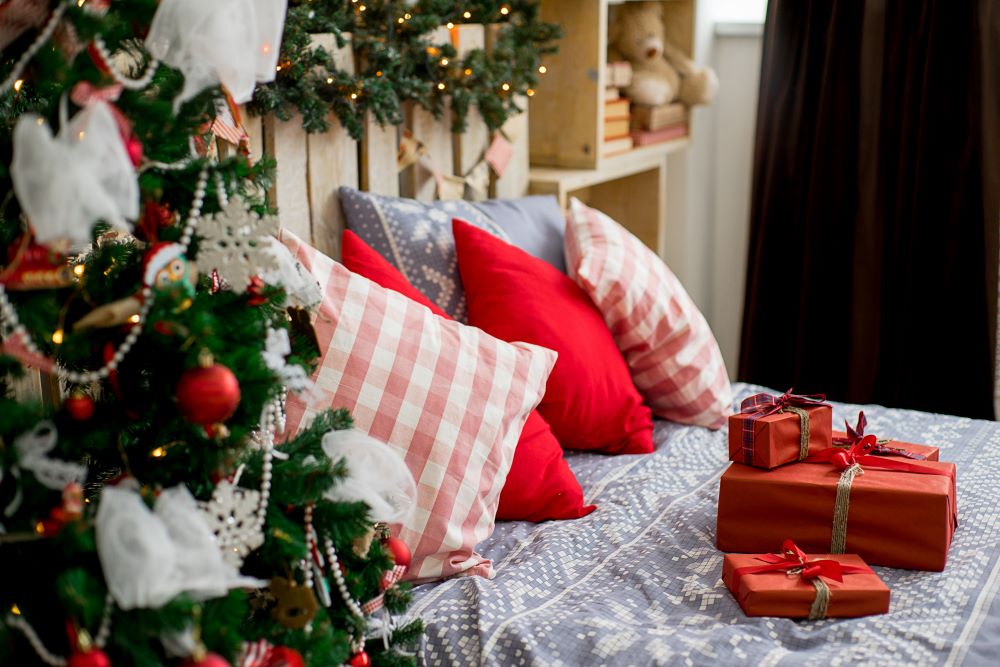 As mentioned in these other country Christmas decorating ideas, the buffalo plaid pattern is a great element to include with this theme. It gives off a charming and homey feeling that can make your home feel extra magical and bright for the Christmas holiday. Decorate with buffalo plaid patterned accents to make your country Christmas theme feel complete.
Buffalo Plaid Country Christmas Decorating Ideas
There are so many different ways to include buffalo plaid in your home for the country Christmas theme. Filling your home with this pattern is a great way to make your space look extra festive for the holiday season. Use this pattern as your main decor pattern to emphasize the country style. Check out some ideas below for how to include plaid in your home.
Throw pillows on the couch or bed
Bedding
Tablecloth or table runner
Doormat or kitchen rug
Hand towels
LED candles
Ornaments
---
7. Decorate Your Christmas Dining Table With Rustic Country Theme
---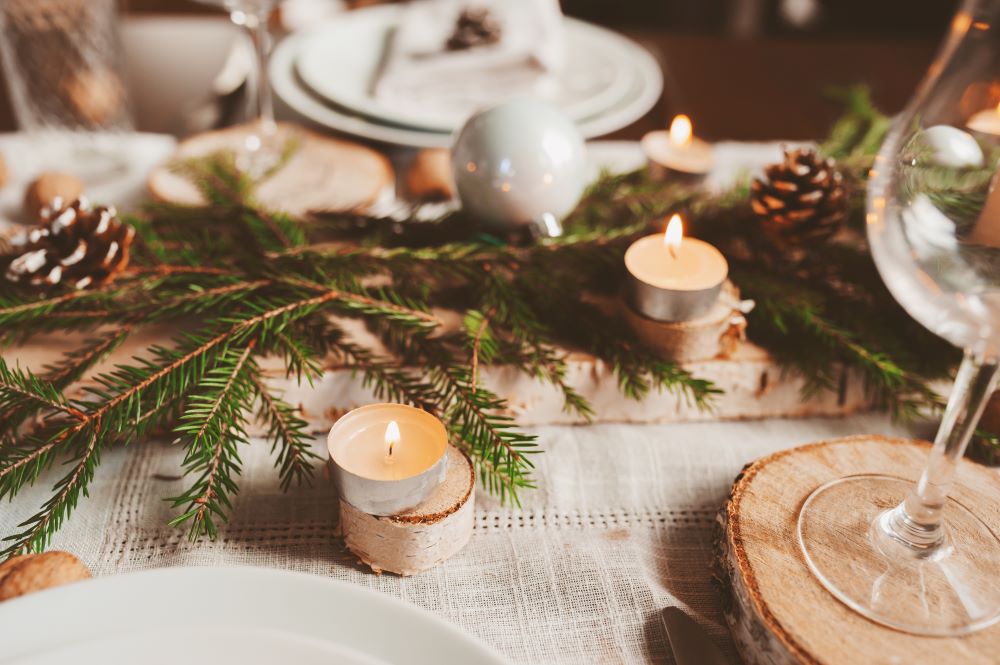 Your dining table is another big part of your Christmas theme. Not only do you want to create a beautiful Christmas dining table for your holiday dinner, but you also can create a festive table to display all holiday season long. Set up your country Christmas theme on the dining table to get a charming scene.
What To Include On A Rustic Country Christmas Dining Table
You can include a large variety of table decorations to get a rustic country theme for your Christmas dining table. Whether you're setting up for a special dinner, or just want to display the theme throughout the season, check out some ideas below to get started on your decorating.
Burlap or plaid table runner or tablecloth
Wood log drink coasters
Branches and pinecones
Rustic wood candleholders
Buffalo plaid patterned plates
---
Inspired by these country Christmas decorating ideas? Check out our selection of Christmas Decor & More for even more inspiration! Find tons of decorations for any Christmas theme including pre-lit Christmas trees, festive home collections, bedding, ornaments, mantel accents, and much more to transform your home.