7 Red Truck Christmas Decor Ideas
The fun thing about Christmas decor is that you can create so many different themes based on your style. No matter what Christmas theme or style you choose, you can still get a festive and jolly looking space for the holidays. If you want a versatile symbol or element for your Christmas spread, consider decorating with a red truck theme. The red truck symbol is a great choice to incorporate into a vintage, country, or classic Christmas theme. Whether you want a full red truck theme or just want to incorporate it in subtle ways, here are 7 red truck Christmas decor ideas to fill your space with this holiday season.
---
1. Create A Christmas Red Truck Theme In Your Outdoor Space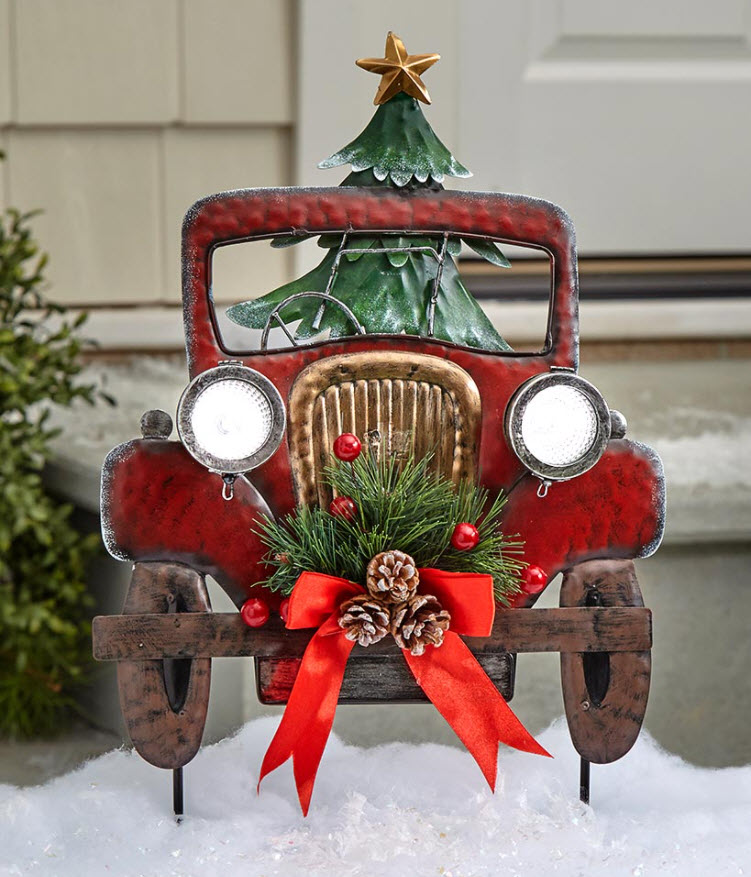 When it comes to decorating for Christmas, a great place to start is on your porch and in your yard. Setting up a red truck theme in your outdoor space is a great way to set the scene for a charming and festive home.
There are so many ways to incorporate the red truck symbol into your outdoor decor to help transform your space for the Christmas season. Whether you want a classic Christmas wonderland or a vintage style, you can easily use red truck decor to get the look you want.
Red Truck Outdoor Decor Ideas
You can find so many different types of red truck decorations for your porch and yard. Check out some ideas below for inspiration.
Yard stakes
Throw pillows
Wall sign
Red truck planter
Garden flag
---
2. Set Up A Vintage Christmas Bedroom With Red Truck Bedding & Accents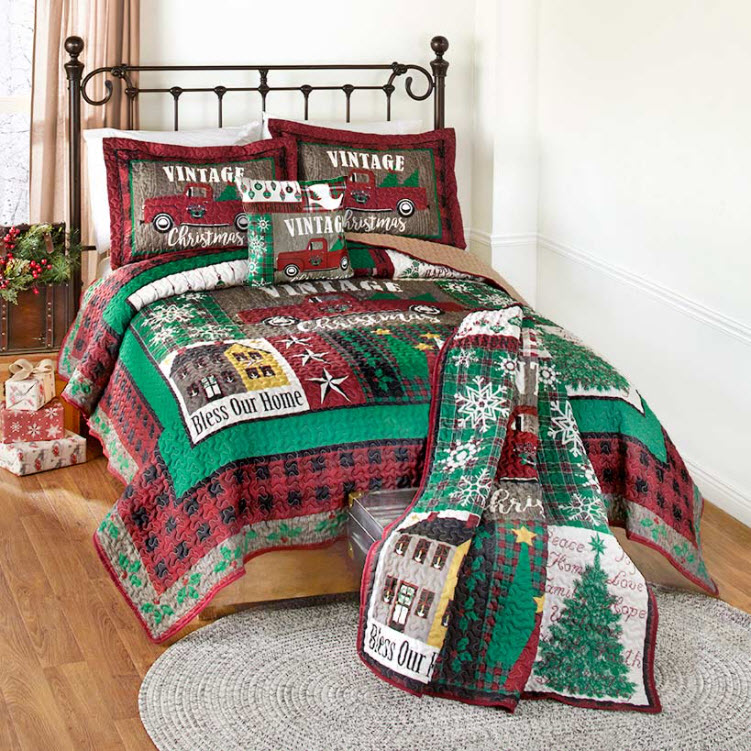 A vintage Christmas theme is a great choice if you want a nostalgic and happy appearance in your home. The vintage style features classic Christmas symbols, rustic materials, and warm and neutral colors.
The red truck theme fits in well with a vintage Christmas style because it matches a lot of the main elements of this decorating style. You can easily create a vintage Christmas bedroom with the use of red truck accents.
Start with a red truck bedding set or throw blanket to set the stage for the rest of the room. It's a bonus if the bedding also features a plaid pattern or a neutral colored background, like beige.
You can then bring the red truck symbol and other vintage Christmas decor into other areas of the room to complement the bedding. For instance, you can add a rug with a vintage Christmas design on it, place a lighted red truck accent on the dresser, and hang up red truck or plaid curtains. Play around with your space to transform it for the holiday season.
---
3. Use Red Truck Serveware & Dishes For A Country Christmas Theme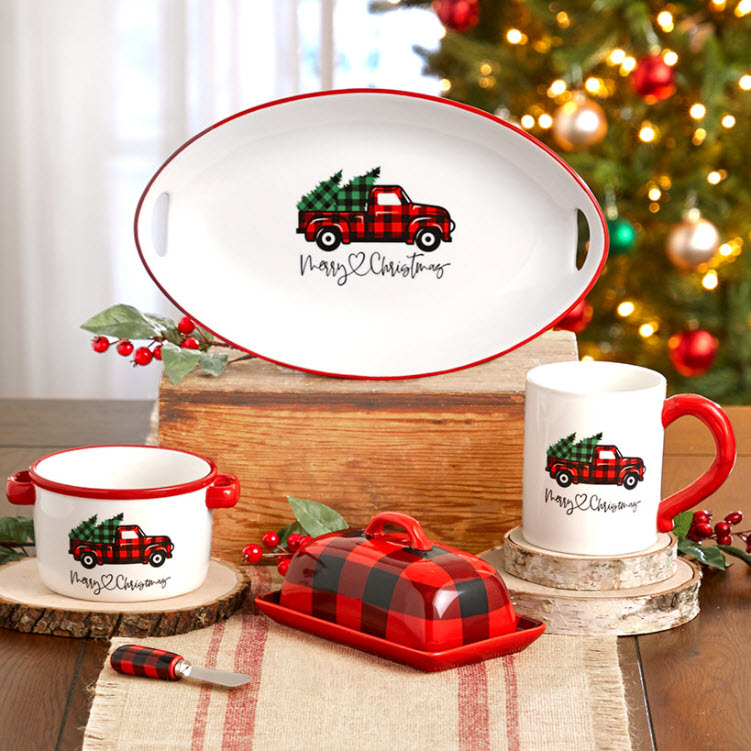 Another great way to establish a red truck look for Christmas is to use serveware and dishes with the symbol on it. This works especially well with a country Christmas theme because you can combine rustic country accents with your serveware for a complementary look.
You can easily incorporate red truck serveware and dishes into your Christmas meal or into any other gatherings you have during the holiday season. However, you can also put serveware on display when you're not using it. Check out some ideas below for inspiration.
How To Decorate With Red Truck Serveware
Display a red truck serving platter on the kitchen island with accents inside.
Set up a red truck bowl on the coffee table filled with pinecones.
Show off red truck coffee mugs around the kitchen or on shelves.
Set up your dining table with red truck dishes for a festive look for the whole season.
Use plate stands to display red truck plates on the entryway table.
---
4. Set Up A Charming Red Truck Themed Christmas Tree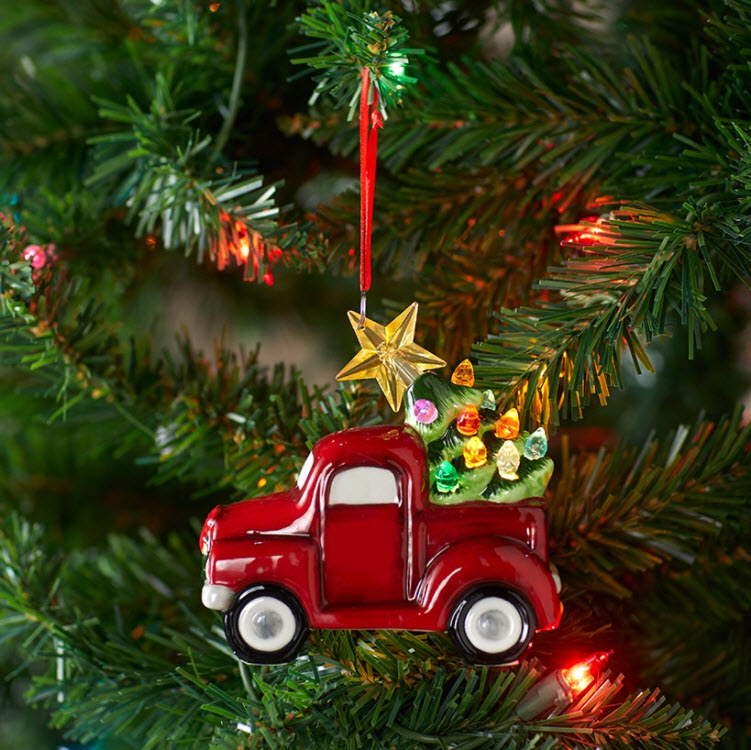 In addition to filling your home with a red truck theme for Christmas, you can also use this theme for your Christmas tree. Having a themed Christmas tree can make your space look extra charming and special for the holidays.
Setting up a red truck Christmas tree is an easy and fun transformation. Simple include a mix of red truck ornaments, a themed tree skirt, and a matching tree topper. Fill your tree with mostly red truck decor to really amplify the theme.
In addition to filling the tree with red truck ornaments, be sure to also include some other ornaments and accents to balance it out. For instance, include red string lights to match your theme, and throw in some country or vintage ornaments to give your tree some variety.
Make sure to include red truck decorations in the room nearby the tree to make the entire theme come together. This will give you a well-rounded charming appearance.
---
5. Decorate Your Bathroom With A Red Truck Theme For Christmas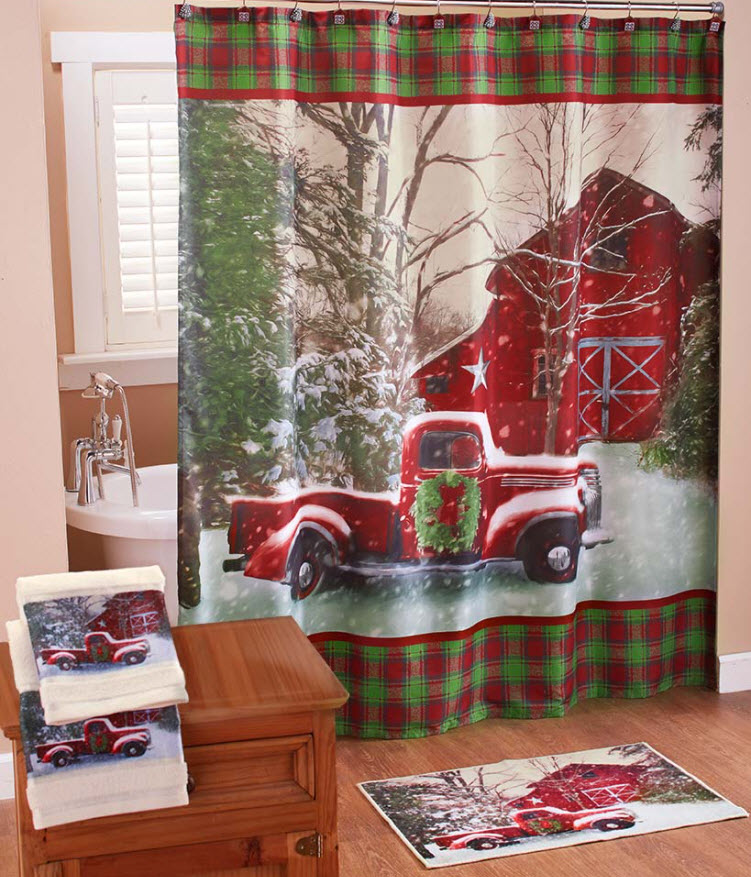 To continue the red truck theme in your home, you can also bring this style to your bathroom for Christmas to elevate your space. You can easily set up a red truck country theme for a charming and festive bathroom.
Start by setting up a red truck themed shower curtain – this is going to be the main visual centerpiece of the room for your theme. From there, you can add more accents to amplify the theme and creating a charming space.
Red Truck Bathroom Decor Ideas
There are so many different ways to incorporate the red truck design throughout your bathroom decor. Check out some ideas below to get started.
Bath rug
Hand towels
Toothbrush holder
Lighted accent
Wall art
Window valance
---
6. Display Red Truck Accents For A Fun Christmas Kitchen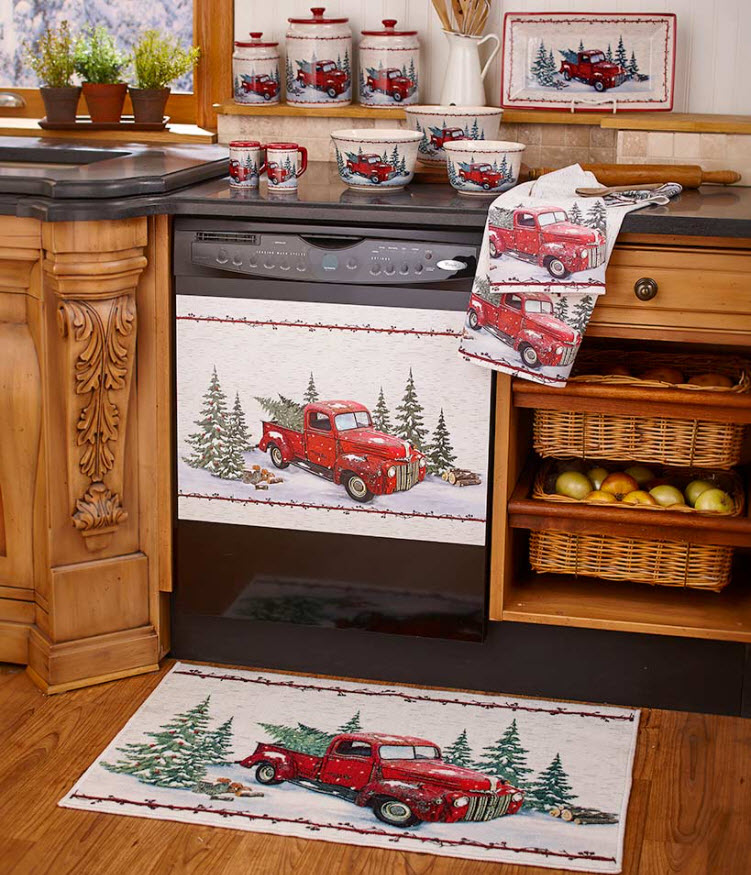 Your kitchen is another wonderful place to set up a red truck theme for Christmas, especially in the vintage style. If you want a charming and nostalgic holiday kitchen, this is a great direction for you.
Set up a full red truck theme in your kitchen for a bold and festive look, or create a more discrete and subtle appearance with just a few red truck accents. Either way, you can set up a stunning Christmas kitchen filled with warmth and cheer.
Red Truck Kitchen Decor Ideas
The possibilities are endless when it comes to red truck kitchen decorations. Check out some ideas below get started on your kitchen decor.
Hand towels
Kitchen mat
Canisters
Wall art
Serving tray
Decorative basket
---
7. Use Red Truck Rugs To Complement Your Christmas Style Throughout Your Space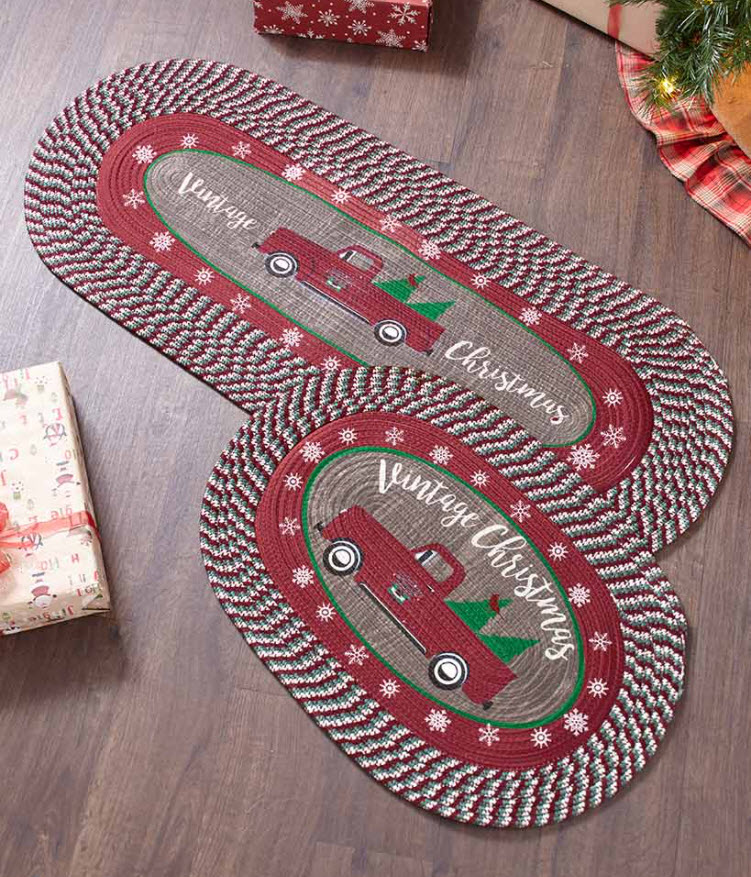 When decorating your home with a red truck Christmas style, you want to incorporate different types of decorations throughout your space to make the theme come alive. Rugs are a great piece to include in your decorating theme.
Place red truck rugs throughout your home to make your space feel even cozier and more charming. You can put a red truck doormat on your porch, use a red truck rug in your kitchen or living room, and even include one in your bathroom or bedroom. These rugs will instantly amplify your theme.
Other Red Truck Decor Ideas
In addition to rugs, there are so many other ways to incorporate the red truck decor theme into your for Christmas. Here are some ideas below to make your theme come to life even more.
Set up a red truck themed entryway table.
Create a mantel decor spread with a red truck theme.
Hang up red truck wall art along your staircase.
Add some red truck curtains in the living room.
Use a red truck side table on your porch.
---
Inspired by these red truck Christmas decor ideas? Check out our full selection of Christmas Decor & More to find even more holiday decorations for your home! Find festive accents, themed home collections, jolly ornaments, and much more to fill your home with Christmas cheer.