7 Thanksgiving Decorating Ideas For Your Home
When it comes to decorating for Thanksgiving, it's best to fill your home with warm and comforting accents to create a welcoming theme. While most fall decorations can fit into the Thanksgiving style as well, you can also bring in other decorations to amplify to environment even more. Whether you want to decorate for your Thanksgiving meal, or set up a Thanksgiving style home during the second half of fall, you can easily transform your space with some simple additions. From cozy accents to turkey decor and more, here are 7 Thanksgiving decorating ideas for your home.
---
1. Set Up Candles For A Welcoming Home On Thanksgiving
Candles are always a great idea to set the scene, no matter what type of theme you're trying to create. Using candles for your Thanksgiving spread of decorations is a great way to set up a warm and welcoming environment.
Decorating with candles can give your home a lovely scent and some beautiful fall colors as well. Choose candles that represent the fall season and ones with warm colors. You can even use themed candleholders to display around your home.
When it comes to the scent of the candles, go for warm scents like cinnamon, apple, chai, pumpkin spice, or sandalwood. You can choose any scent that reminds you of the harvest season or even comfort foods and desserts.
Display candles almost anywhere in your space to create that homey and welcoming feeling. You can set some up on your entryway table, the mantel, on the bathroom counters, on the kitchen island, and on your bedroom dresser to carry the warming scents throughout your home.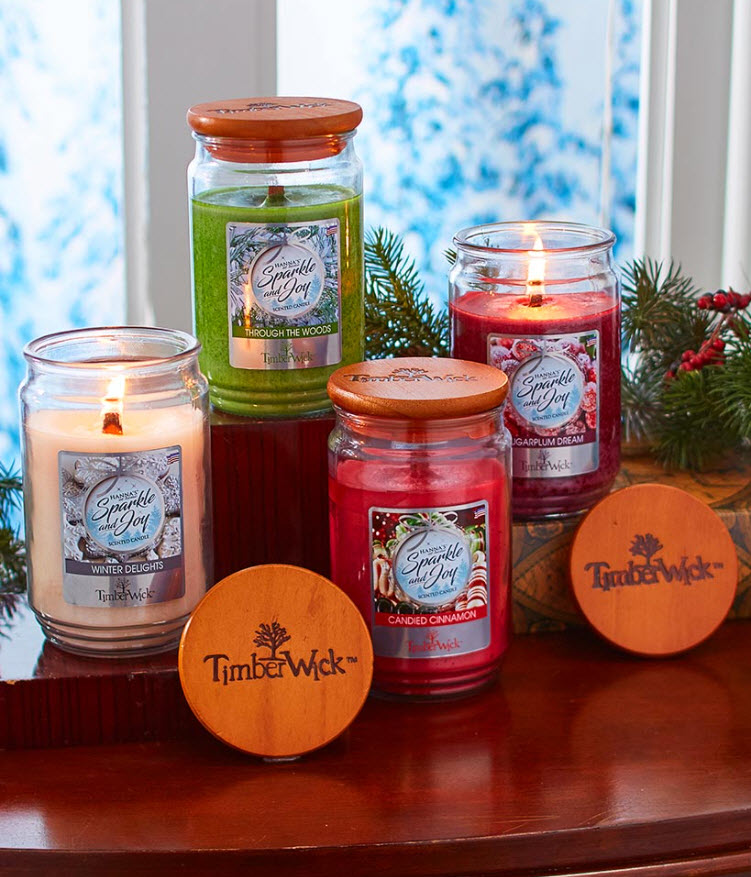 ---
2. Decorate With Turkey Themed Accents For A Fun Thanksgiving Look
Turkeys are the main symbol of Thanksgiving so it only makes sense to include them in your spread of decorations! Decorating with turkey themed accents will give you home an extra charming touch for Thanskgiving.
There are so many ways to include turkey accents throughout your home. Just make sure to use them in subtle ways because you don't want to overload your space with one character.
Turkey Decor Ideas
Turkey dining chair covers
Throw pillows with a turkey design
Turkey statue on the mantel
Dining table centerpiece with mini turkey figurines
Serveware or dinnerware with turkey design
Turkey soap dispenser in the bathroom
Hand towels with turkey design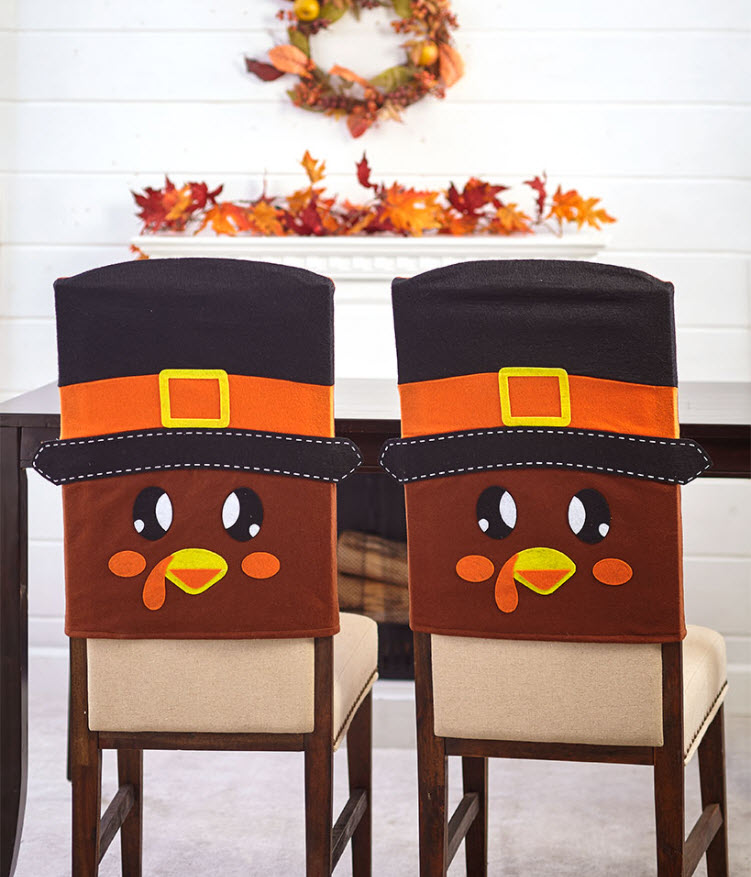 ---
3. Display A Harvest Themed Tree As Your Main Thanksgiving Decor
Trees are no longer just for Christmas! Harvest themed trees can make wonderful additions to your home or porch because they can set the stage for a warm and charming environment,
Setting up a harvest tree as your main Thanksgiving decoration is a great way to make your decorating even easier. The tree can become such an eye-catching and full decoration, so you don't need to put as much effort into the rest of your decorations. Decorating a harvest tree is fairly simple; check out some ideas below to get started.
Harvest Tree Decor Ideas
Warm colored string lights
Sunflower, leaf, turkey, and pumpkin ornaments
Thanksgiving sentiment banners
Burlap tree skirt
Scarecrow hat tree topper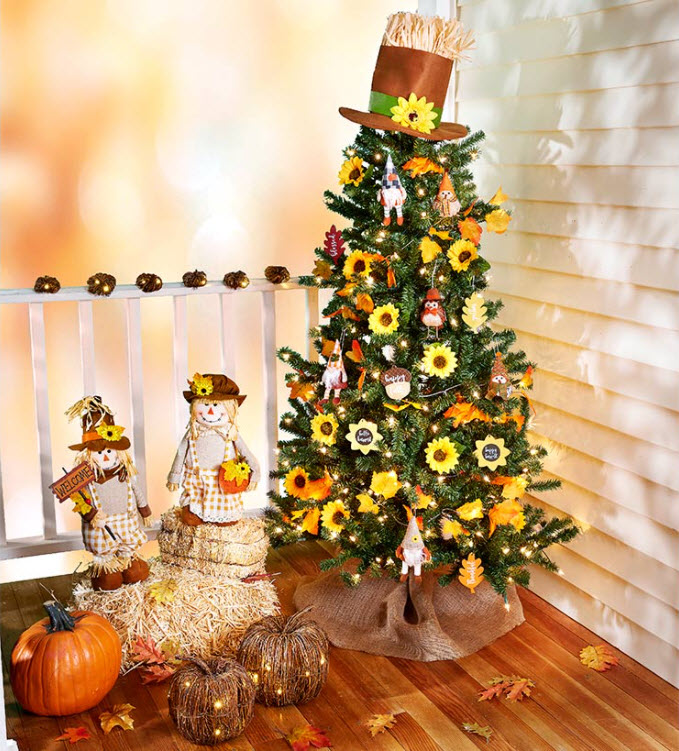 ---
4. Make Your Home Comfy For Thanksgiving With Themed Accent Pillows
A big part of decorating for Thanksgiving is making your home as comfortable and cozy as possible. The easiest way to do that is to incorporate more throw pillows and blankets into your space.
Using Thanksgiving or fall themed accent pillows and blankets will give your home an extra decorative touch while make your seating areas more comfortable. Making your living room cozy for fall is a must for Thanksgiving. You can even add throw pillows to your dining chairs for a cozier dinner experience.
Add some throw pillows with symbols and characters like turkeys, pumpkins, leaves, sunflowers, and harvest gnomes. You can also include charming sentiments and plaid patterns to match the warmth of the fall season.
Make sure to use a large amount of throw pillows across the couch to amplify the coziness. The more pillows displayed, the more welcoming your home will appear. Creating these extra layers of comfort will make your Thanksgiving spread more special.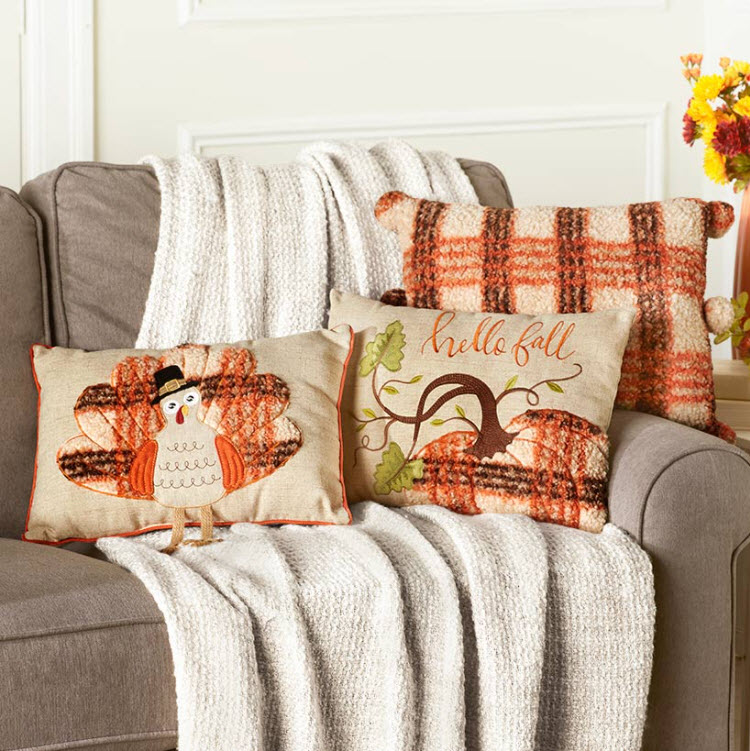 ---
5. Change Up Your Curtains For A Warm & Charming Thanksgiving Theme
In addition to pillows and blankets, other fabrics around your home can make or break the warmth of your space for Thanksgiving. Change up your curtains to get a brand new theme and environment.
Display curtains with harvest themed patterns like leaves, plaid, or sunflowers to get the ultimate charming appearance. You can also use solid colored curtains in warm tones to create a comfortable aesthetic.
In addition to curtains, consider swapping out other fabric items throughout your home to match the warm harvest vibes. This can include:
Hand towels
Rugs
Tablecloth or table runner
Shower curtains
Fabric wall hangings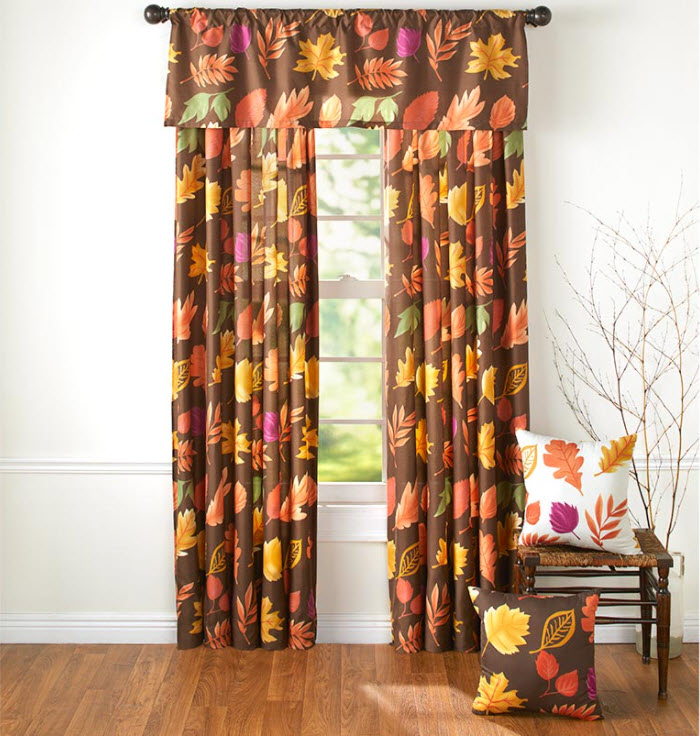 ---
6. Fill Your Porch With Solar Lights For Your Thanksgiving Decor
When decorating for Thanksgiving, you don't want to forget your porch area! Filling your porch with warming Thanksgiving decorations can help welcome your guests in style and set up a comforting spread for the fall season.
Solar lights are a must when it comes to Thanksgiving porch decor. Wrap solar lights around your porch railing, display solar yard stakes along your front pathway, or show off solar lanterns on your porch steps.
Use simple solar lights or find ones in fun shapes like acorns, pumpkins, or leaves. Make sure to use warm toned lights to get that comforting and welcoming appearance throughout your porch space.
In addition to solar lights, you can also fill your porch with other Thanksgiving and fall themed decorations. This can include things like harvest gnome statues, turkey figurines, decorative pumpkins, a harvest tree or flowers, and Thanksgiving sentiment throw pillows.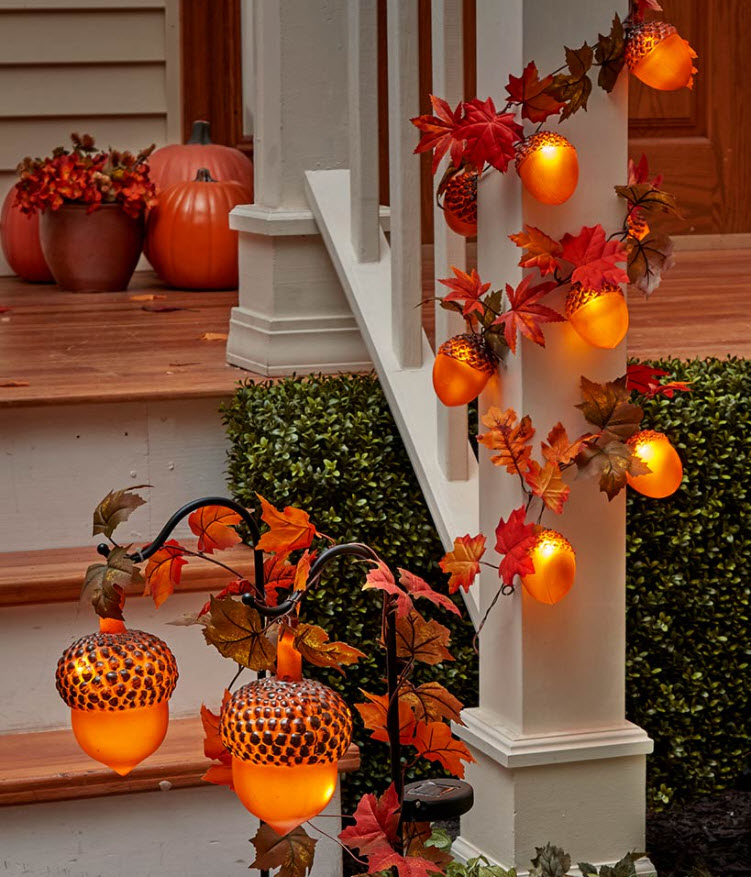 ---
7. Use Sentiment Serveware For A Thanksgiving Themed Home
Another great way to decorating your home for Thanksgiving is to use themed serveware. You can use themed serveware for your Thanksgiving dinner, and you can also put it on display throughout the fall season.
Use serveware and dishes with Thanksgiving sentiments or symbols for your holiday dinner. Serve some nice appetizers and meals on themed trays and platters, and display themed dishes at each place setting of your decorated dining table.
If you also want to use serveware as decorative accents throughout the fall season, check out some ideas below:
Display a themed serving tray as a kitchen island or dining table centerpiece with accents set up inside.
Use a plate stand to display a Thanksgiving sentiment plate on the kitchen counter or entryway table.
Set up themed coffee mugs around your kitchen or near your coffee area.
Use themed canisters as makeshift flower vases for a unique Thanksgiving accent.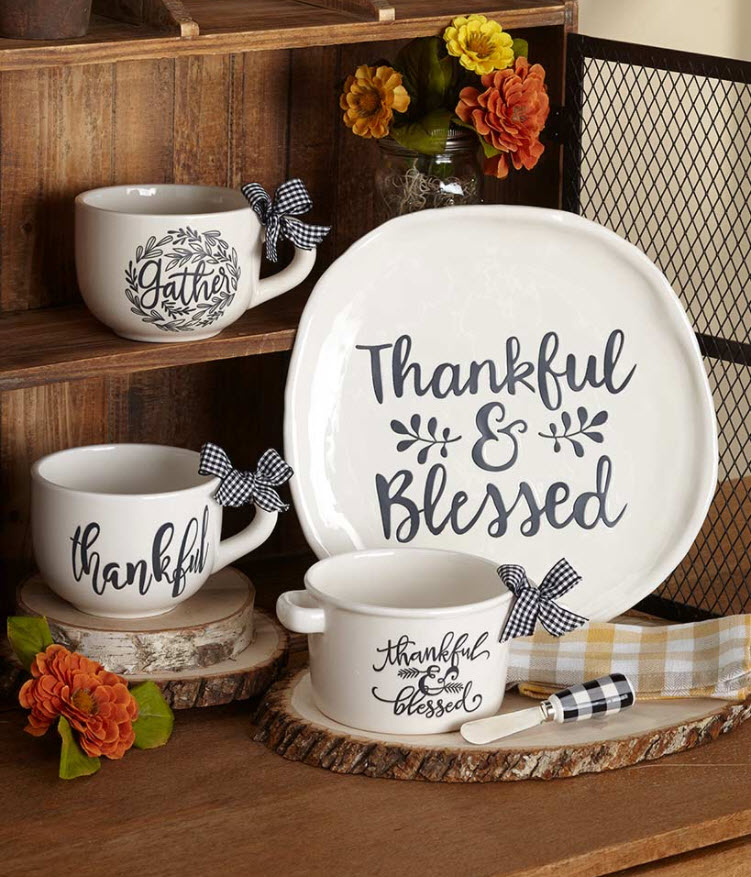 ---
Inspired by these Thanksgiving decorating ideas? Check out our full selection of Thanksgiving decor to find even more inspiration for your home! Shop turkey and pumpkin accents, themed serveware, candles, outdoor decorations, and much more to fill your space with warmth and charm.