7 Delicious Homemade Food Gifts To Give This Christmas
Food is always a great go-to gift to give anyone for Christmas. Homemade food gifts are an especially nice way to put some extra thought and care into a holiday gift for someone. Give them something sweet and decadent like cookies or make something unexpected like homemade jam or holiday themed popcorn. Whether you're a pro baker or just a beginner, you can easily make some festive and tasty food gifts that anyone will love. If you need some inspiration, here are 7 delicious homemade food gifts to give this Christmas.
---
1. Give Some Homemade Christmas Cookies As A Gift
---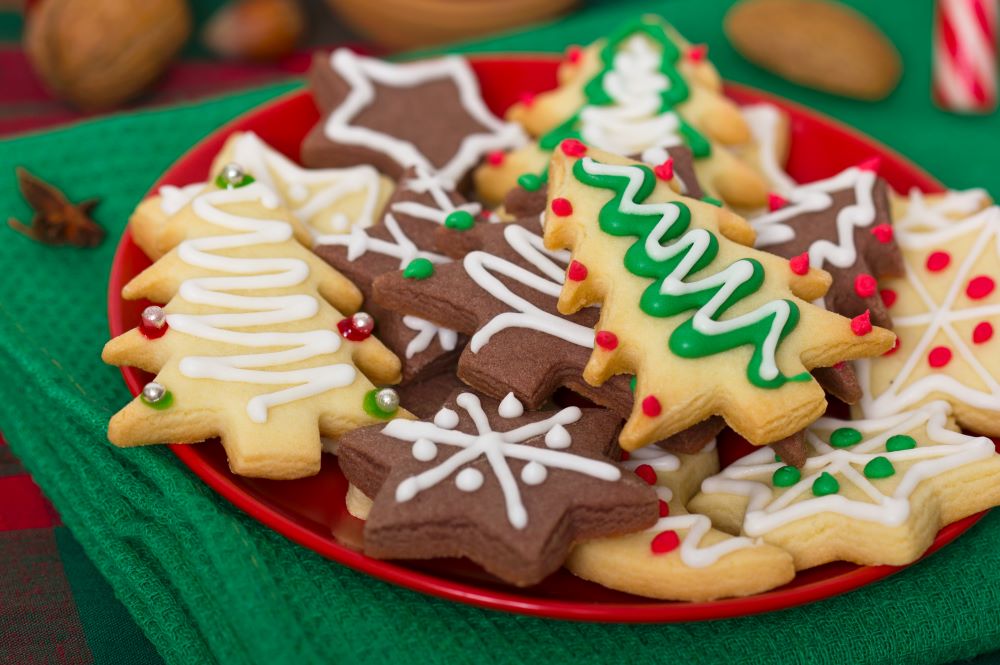 Christmas cookies are always a great go-to for homemade food gifts because they're incredibly festive and they always taste delicious. There are so many different types of cookies you can make to give as a Christmas gift. You can give fun cookies in festive shapes like Christmas trees, Santa, and stars. You can also make other cookies with bright Christmas colors and holiday flavors. No matter what type of holiday cookies you choose, they'll make for a wonderful gift.
How To Give A Christmas Cookie Gift
You can always give your Christmas cookies to the recipient in a simple way, such as on a plate; however, presenting your cookies in a more creative way will make the gift look even nicer. There are so many different ways to give someone a Christmas cookie gift. Check out some ideas below for inspiration.
Create a Christmas cookie gift basket. Use a decorative holiday basket and fill it with a mix of Christmas cookies. Wrap it all up with cellophane and tie some red and green ribbons on top.
Use a vintage Christmas tin to hold your cookies. You can also line the tin with Christmas tissue paper for an even more festive touch.
Give them your Christmas cookies on a decorative serving tray. That way, the tray is also a gift!
Put the Christmas cookies in a gift box and wrap it in themed wrapping paper.
---
2. Make Some Delicious Peppermint Bark For A Christmas Gift
---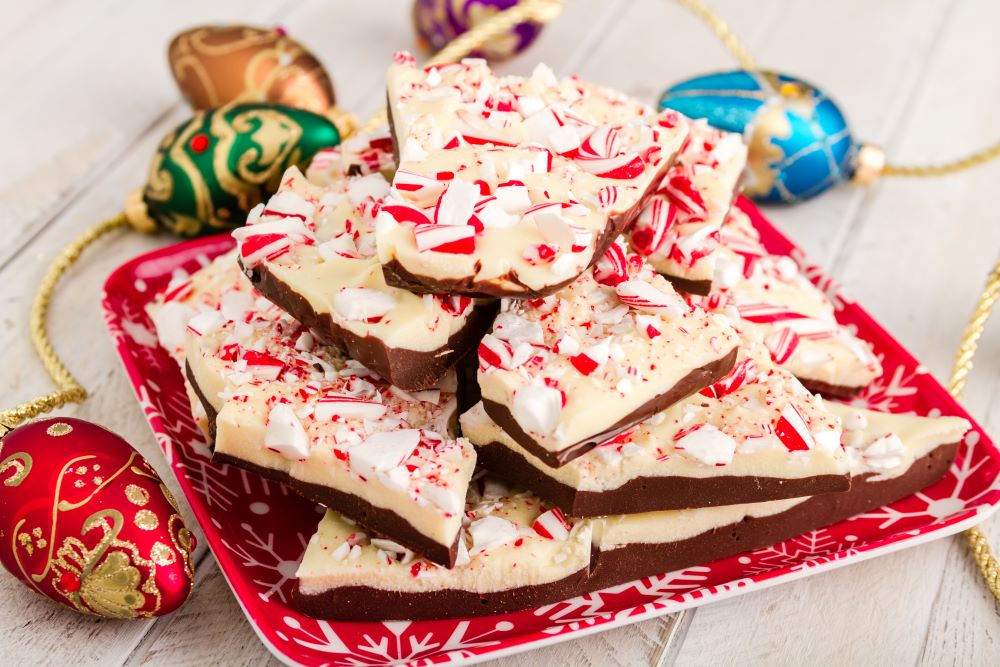 Peppermint is such a popular flavor for the Christmas season because it represents a cheerful and refreshing feeling. Another homemade food gift to give someone for the holidays is peppermint bark. This is such a classic treat for the holiday season that almost anyone will enjoy. Make your own peppermint bark and display it in a festive give basket or tin for a wonderful gift.
Other Homemade Peppermint Food Gift Ideas
In addition to peppermint bark, there are so many other homemade peppermint treats that you can give as gifts. Keep the festive cheer alive with a delicious peppermint food gift made with love and care. Check out some ideas below to give to someone this holiday season.
Chocolate peppermint cookies
Peppermint ice cream
Chocolate peppermint popcorn
Peppermint fudge
Homemade candy canes
Peppermint lollipops
---
3. Give Someone A Homemade Hot Cocoa Gift For Christmas
---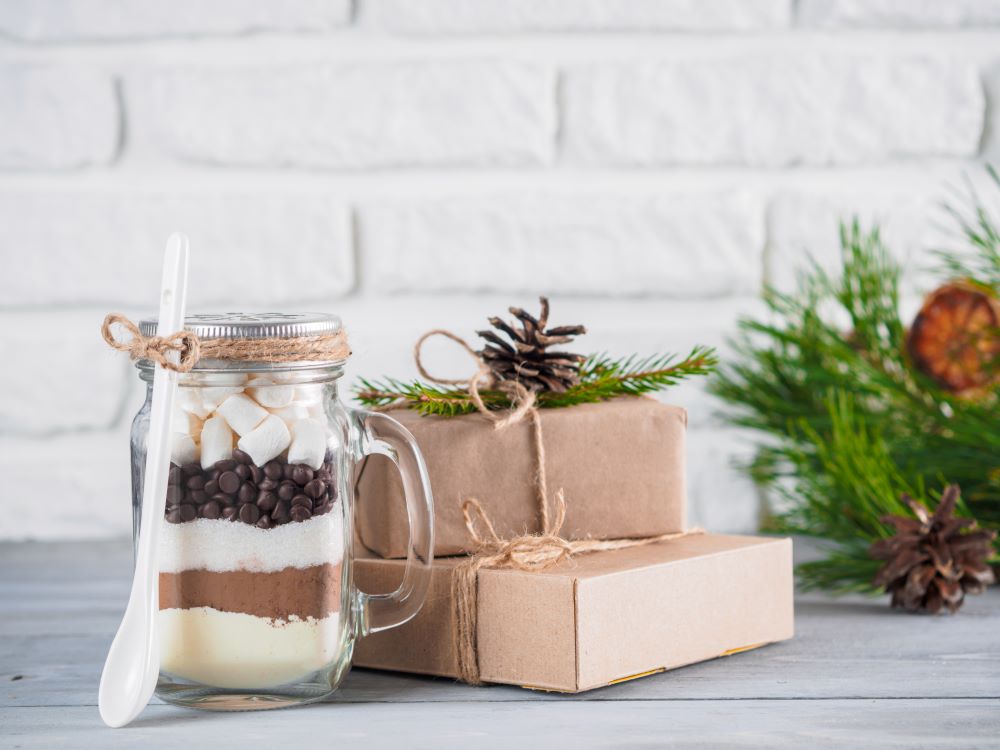 Hot cocoa is another staple of the Christmas season and winter season. Make a hot cocoa jar gift for the holidays to give a simple yet satisfying gift to anyone on your list. This is also an especially fun gift for kids or teens. Check out some steps below for how to create a hot cocoa jar gift.
How To Make A Hot Cocoa Jar Gift
Making a hot cocoa jar is incredibly easy and results in a cute gift for anyone. Start with a quart sized mason jar and add in the following layers:
First layer: 1 cup powdered milk
Second layer: 1 cup unsweetened cocoa powder
Third layer: 1 cup granulated sugar
Fourth layer: 1/2 cup mini chocolate chips
Fifth layer: 1/2 cup mini marshmallows & crushed candy canes (optional)
Once you have your layers in the jar, carefully close the lid. You can then add a bow or festive ribbons to the jar, along with a fun greeting card. You can even include a Christmas mug as part of the gift that they can drink their hot cocoa in. This is a delicious and sweet gift everyone will love this holiday season.
---
4. Make Some Chocolate Christmas Pretzels For A Christmas Gift
---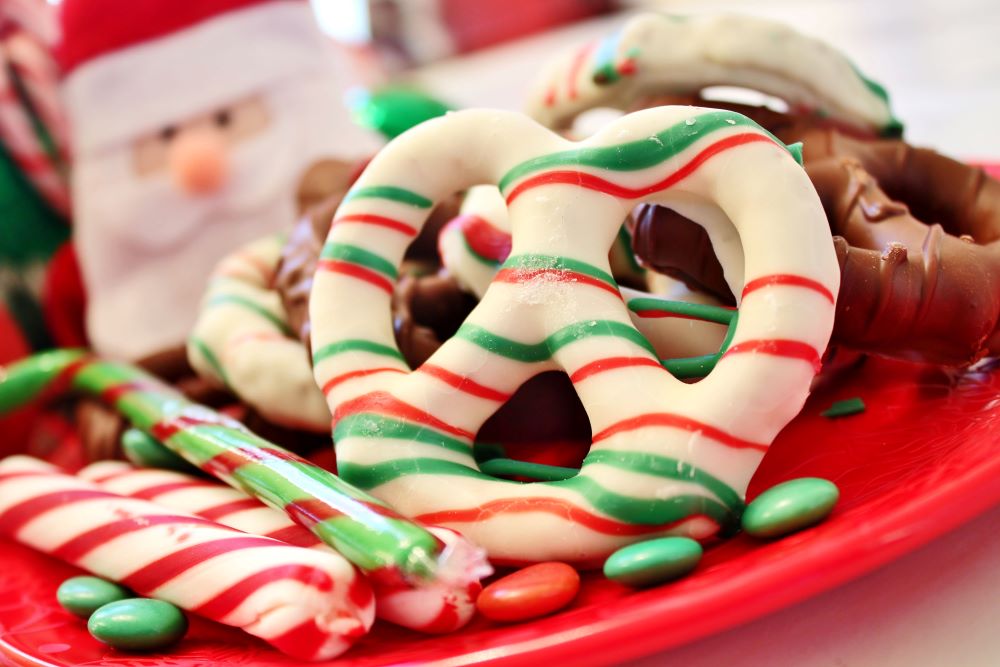 Another festive homemade food gift to give someone for Christmas is holiday themed chocolate dipped pretzels. Chocolate pretzels are a decadent treat that are so simple to make, yet so festive and beautiful to give as a gift. Anyone will love and appreciate receiving a holiday themed chocolate pretzel gift.
How To Make Christmas Themed Chocolate Pretzels
Chocolate pretzels are incredibly easy to make. Put a charming and festive Christmas touch on your pretzels with the use of holiday colors and cheerful sprinkles. Decide if you want to use one type of chocolate or include a mix of chocolates for a fun variety gift. Check out some steps below for how to make some simple Christmas themed chocolate covered pretzels.
Start with pretzel rods or regular pretzels.
Dip some of the pretzels in milk chocolate, some in white chocolate, and some in dark chocolate.
Use some red and green candy melts to drizzle festive colors on top of the pretzels.
You can also add some red and green sprinkles for a fun look.
Make sure to present your pretzels in a decorative gift basket or tin.
---
5. Make Your Own Christmas Donuts To Give As Gifts
---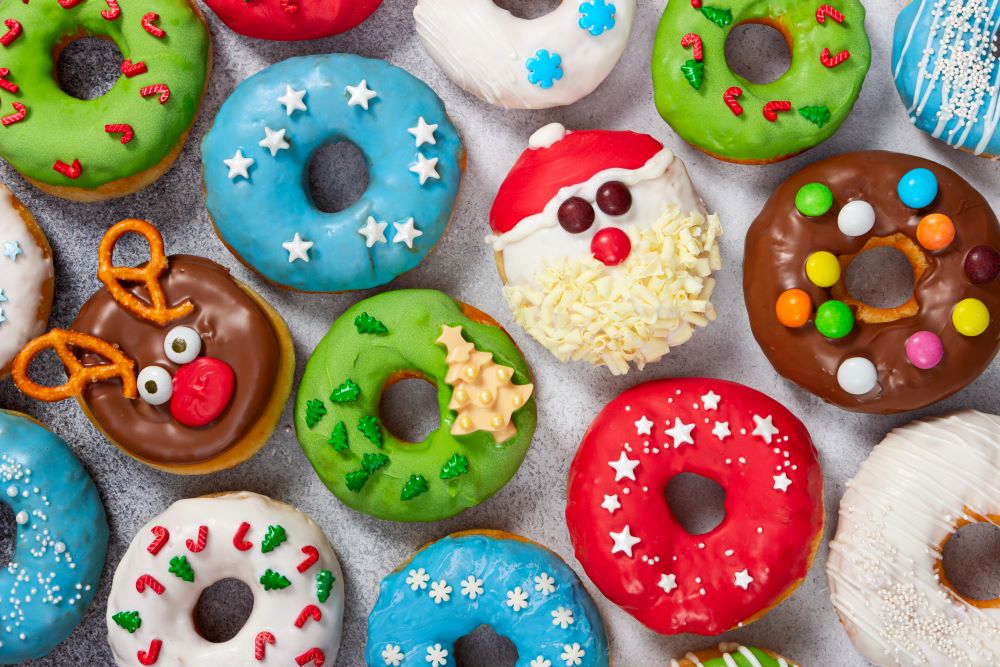 If you're looking for delicious and unique homemade food gifts to give this Christmas, consider making some themed donuts. This is a great choice if you have experience making donuts because you can easily put a holiday touch on them. No matter how simple or detailed you make your donuts, this will make for an exciting gift.
Homemade Christmas Themed Donut Ideas
There are so many ways to make homemade Christmas donuts to give as gifts. You can keep it simple and easy with some red and green icing, or get more intricate by making some holiday character donuts. Check out some ideas below for Christmas themed donuts to make as a gift.
Reindeer donut with pretzel antlers
Donut with red and green icing
Santa donut (use icing to create Santa's face and hat)
Donut with themed sprinkles such as Christmas trees, snowflakes, candy canes, or stars
Wreath donuts with festive sprinkles and an icing bow on top
---
6. Put Together Some Homemade Christmas Popcorn Gifts
---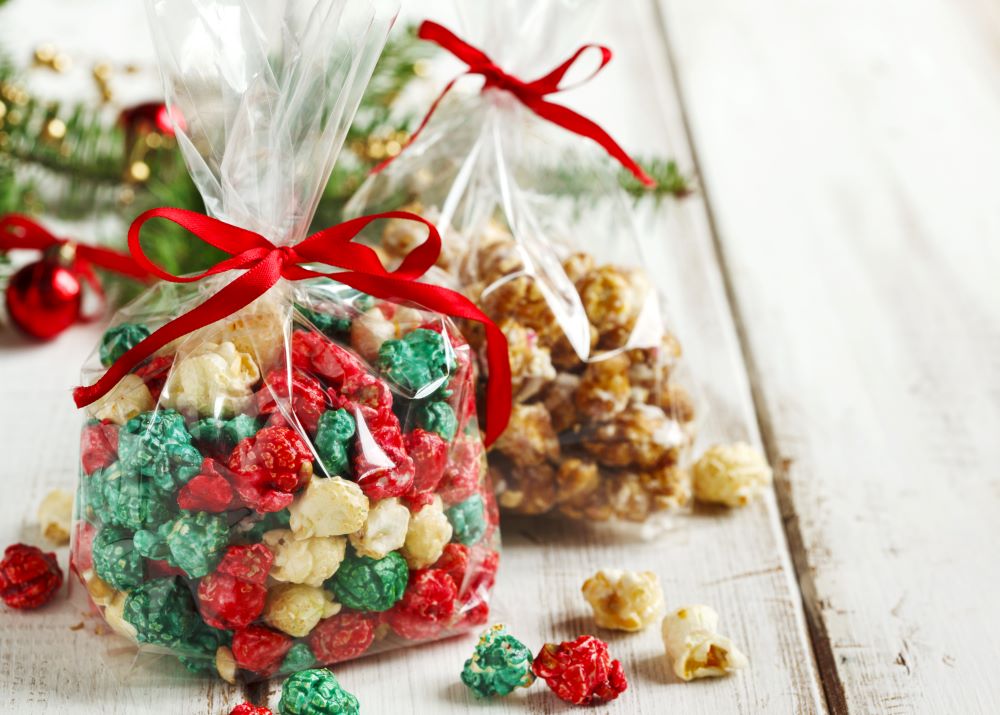 Popcorn is another great gift idea for Christmas because it's a delicious treat that can be either salty, sweet, or a mix of the two. Make some homemade Christmas popcorn to give as a gift this holiday season to anyone on your list. This makes an especially nice hostess gift or a fun gift for your neighbors.
Homemade Christmas Popcorn Gift Ideas
Give your homemade popcorn gift in a festive gift bag or Christmas tin. You can even combine this popcorn gift with another food gift some as some candies or a bottle of wine. If you're not sure where to begin, check out some homemade Christmas popcorn gift ideas below to make this holiday season.
Red and green candied popcorn
Caramel and cheese popcorn mix
Sugar cookie popcorn
Cinnamon sugar popcorn
White chocolate or dark chocolate popcorn
Chocolate peppermint popcorn
---
7. Bake A Gingerbread Loaf For A Delicious Christmas Gift
---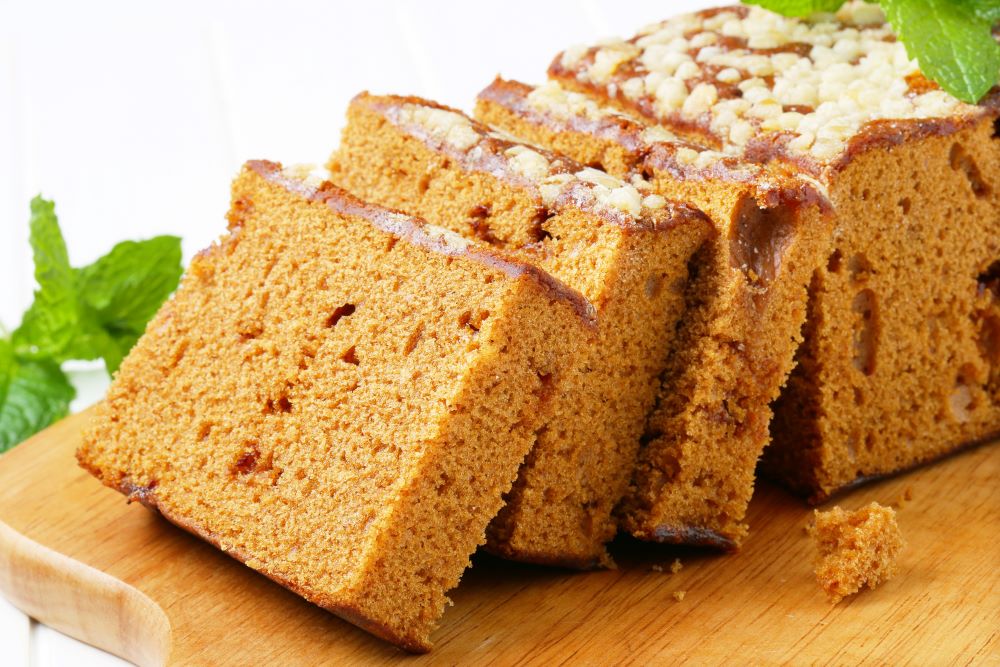 Baked goods are always a great choice for a homemade food gifts because they have a warm, homey, and welcoming feeling. If you want to give someone the ultimate Christmas baked good, give them a gingerbread loaf as a gift. This is a delicious treat that gives off the traditional and comforting flavors of the holiday season. This can be a beautiful gift to bring to a Christmas party or to give to your neighbors.
Other Homemade Christmas Bread Gift Ideas
In addition to gingerbread loaf, there are many other baked bread gifts you can give to someone this Christmas season. These sweet and tasty breads are very fitting for the holiday season with a mix of traditional and unique flavors. Check out some homemade Christmas bread ideas below for inspiration.
Apple cinnamon bread
Cranberry orange bread
Cinnamon raising bread
Gingerbread cinnamon rolls
Sugared holiday bread
Eggnog bread
Cinnamon pecan rolls
---
Enjoy these homemade food gift ideas for Christmas? Check out our Food Gifts section to find a wide selection of affordable and festive food items to give to anyone this holiday season!
---
Want more gift ideas? Check out How To Make A Themed Christmas Gift Basket!