7 Easter Table Decorating Ideas For Spring
Your Easter table is a big part of your spring holiday decor spread! Decorating your table can brighten up your home as the weather gets warmer. You can easily transform your table this season to get a festive and fun look. From themed dishes to serveware to centerpieces and more, here are 7 Easter table decorating ideas for spring.
---
1. Set Up Your Easter Table With Themed Dishes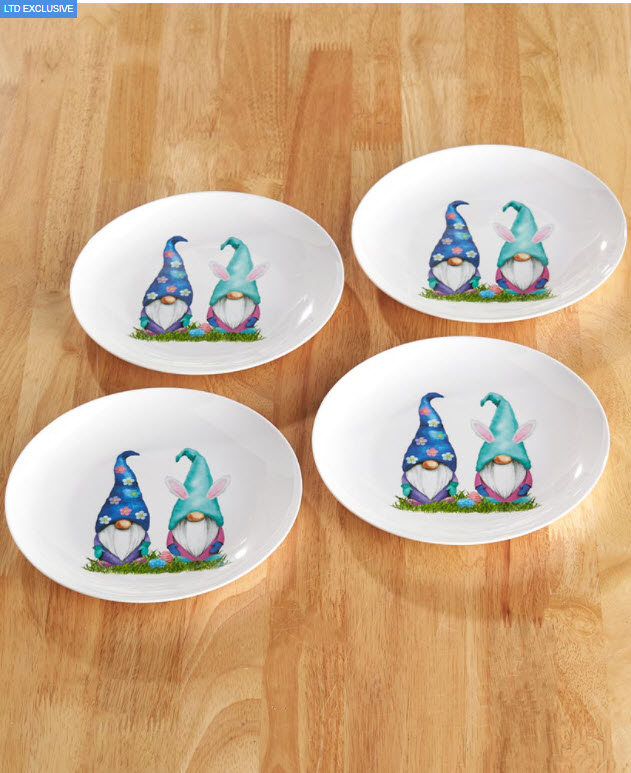 The first step in getting your table ready for Easter and the spring season is to set up the area with some themed plates and dishes!
When choosing dishes for your Easter decor, you can either go for a cute and quirky style or a more simple layout. Keep in mind that you can always add some extra decorations to your table to make up for the simple look of plain dishes.
Designs on dishes such as bunnies, Easter sentiments, and spring garden gnomes all work well for a fun look. For the simple look, opt for solid pastel dishes that fit the spring color scheme.
You can display your dishes well before Easter arrives. Having the place settings nicely laid out at the start of spring will bring some exciting cheer into your home.
Easter Gnome Dinner Plates
---
2. Use Easter Placemats & Table Runners To Make Your Table Festive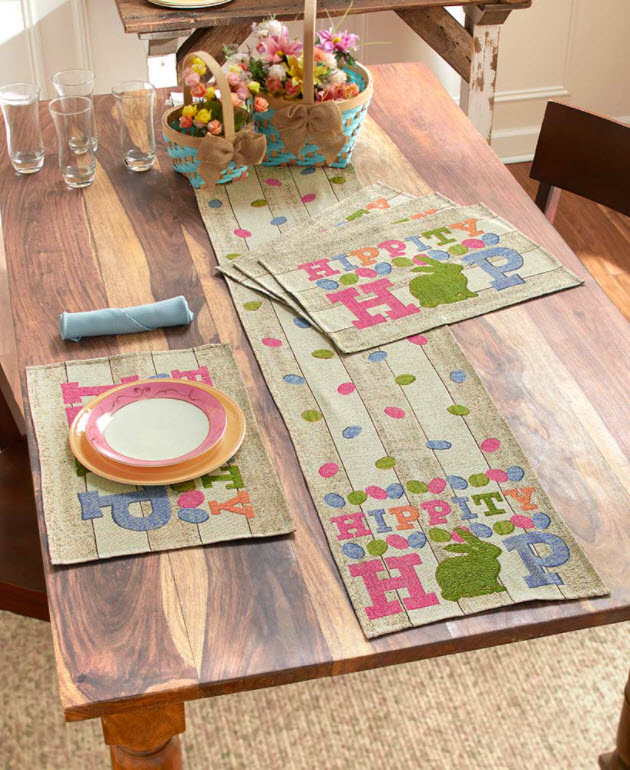 In addition to Easter themed dishes, you can also jazz up your table with decorative placemats and a table runner. This is a great option if you don't want to use a tablecloth.
You can use a matching set of a table runner and placemats for a nicely styled look, or you can mix and match for a more fun approach.
For instance, you could use different colored placemats for each seat with a bunny print table runner that will stand out in a fun and festive way.
Feel free to play around with the look that you want; it truly depends on the other Easter table decorating ideas that you decide to include.
Hippity Hop Easter Bunny Decor Collection
---
3. Create An Easter Display On Your Table With A Festive Tray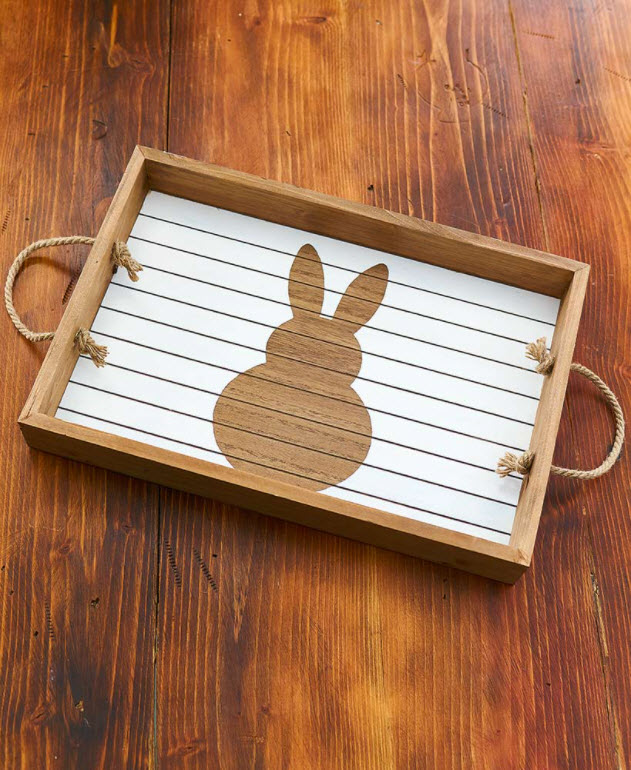 Another simple yet festive Easter table decorating idea is to create a unique display in the center of your table using a themed tray.
Start by choosing a tray that matches your personal style and your home's overall decor style. You can choose anything, from a wooden bunny tray to a pastel tray to a galvanized metal one and more.
Next, it's time to create your display on top of the tray. Set up an Easter bunny figurine, a small canister of colorful eggs, and an Easter sentiment block sign. Get as creative as you want with how it's set up.
Once you have your tray centerpiece all set up, you can coordinate the rest of your table decorations with the colors and icons you used in the tray.
Country Easter Bunny Serving Tray
---
4. Serve Your Food On Easter Themed Dishware For An Extra Touch Of Fun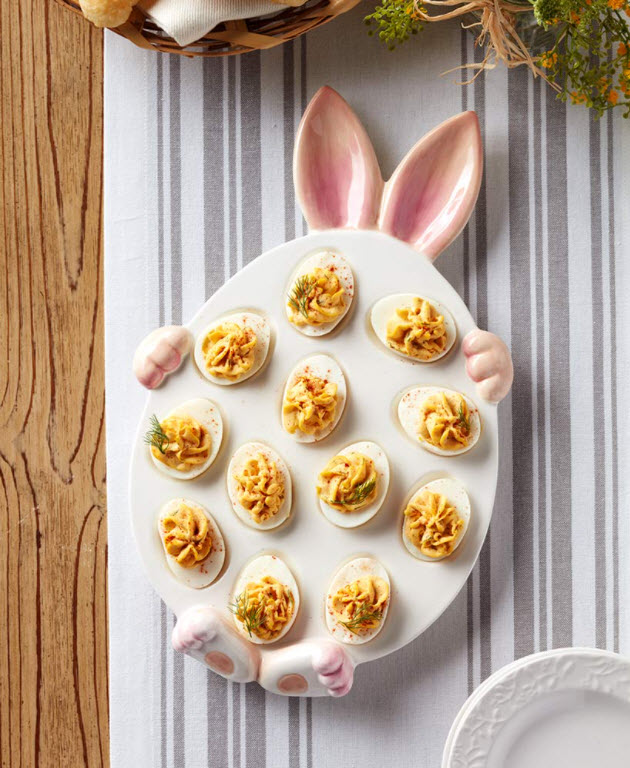 Serving your appetizers and food on Easter themed serveware and dishes is another fun way to spread the holiday cheer to your dining table.
You can save this serveware to specifically use for your Easter meal, or you can even use it at the start of spring leading up to Easter.
Use fun serveware such as an Easter bunny dish to serve deviled eggs, a decorative Easter sentiment bowl, or even a selection of beautiful pastel trays and plates.
Feel free to match and coordinate with the color scheme of your table decorations or choose bold serveware that stands out from the rest of your table.
Bunny Egg Platter
---
5. Set Up The Ultimate Easter Table Centerpiece With The Help Of Baskets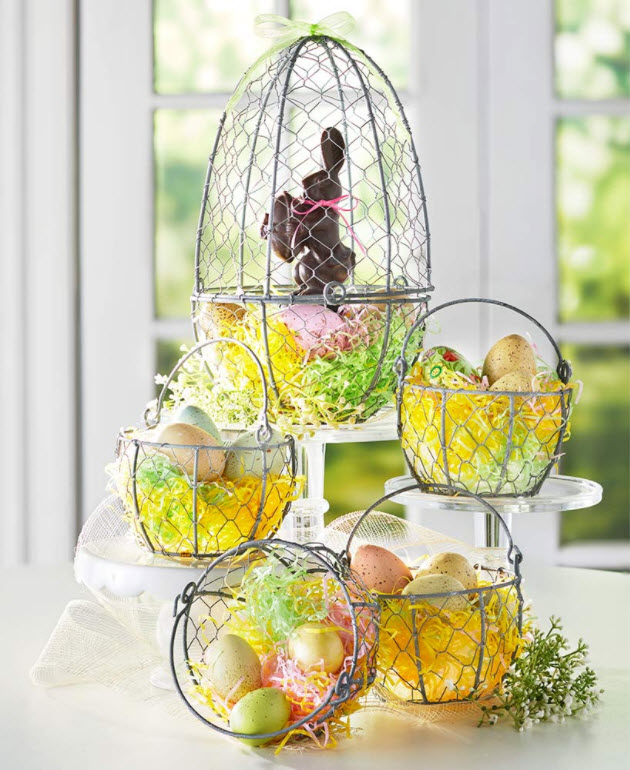 Instead of using a tray for your Easter table centerpiece, you can also use a variety of decorative baskets to create a unique display.
Start by choosing a selection of baskets that you want to keep on your table. Wire baskets may work best for creating a visually appealing centerpiece; however, you can still make a nice display with any type of basket.
Make sure to use a variety of sizes when it comes to your baskets for a well balanced look. Line your baskets with colorful Easter grass to set the stage.
Once your baskets are lined, fill them with decorative Easter eggs and bunny figurines. For a unified look, place one bunny figurine in the center of each basket.
Farmhouse Basket Collection
---
6. Use A Spring Tablecloth For A Charming Easter Table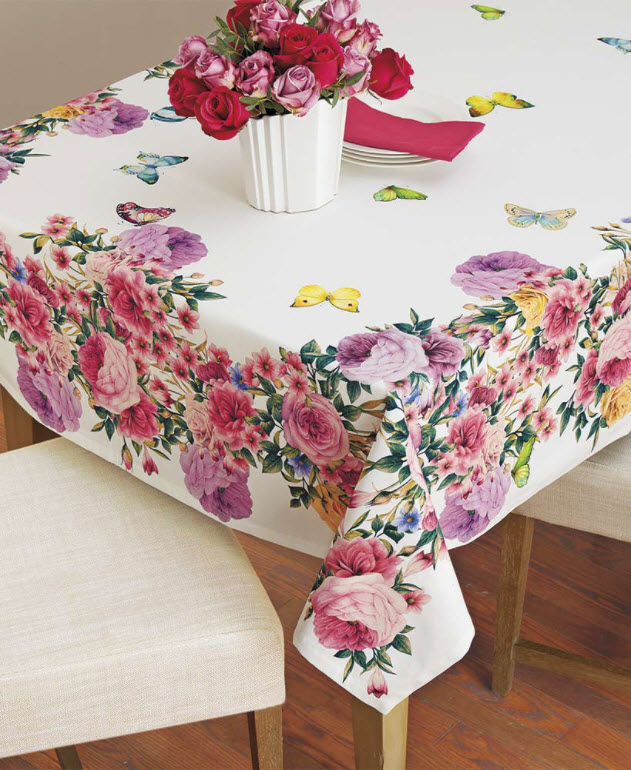 While the other Easter table decorating ideas involve specific Easter symbols and themes, this one revolves around a general spring theme.
Use a spring tablecloth for your Easter table to bring a warm and bright feeling to your dining room or kitchen. The best part of this is that you can keep it displayed all spring long.
A spring tablecloth can feature any warm weather patterns such as colorful flowers, butterflies, birds, bicycles, and any nature scenes.
Coordinate your tablecloth with the rest of your table setup including your dishes, placemats, and centerpiece. Then you can add subtle Easter decorative accents to give it a festive touch.
Butterfly & Roses Tablecloth
---
7. Add Some Beautiful Flowers To Your Easter Table For A Fresh Look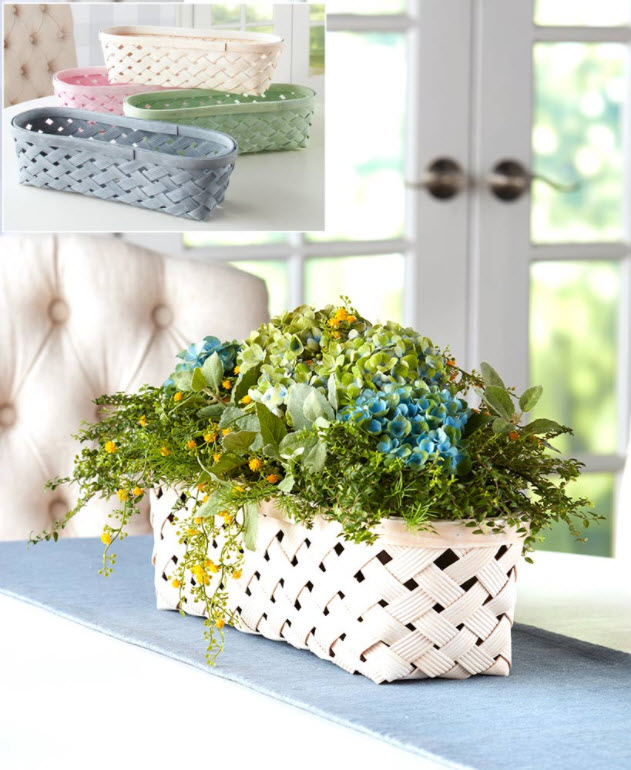 Lastly, in order to get that fresh, beautiful, and happy spring feeling on your Easter table, the best centerpiece to use is fresh flowers!
Start with a special vase or planter that matches your theme. You can use a decorative Easter vase, or you can go for a solid pastel one.
You can really use any types of flowers for your centerpiece, but the best ones for Easter and spring include tulips, lilies, roses, or daisies. Have fun with the colors of these flowers; you'll want them to stand out on your table.
Not only will the flowers add some bright cheer to your table, but they'll also smell amazing and bring that ultimate spring feeling to your home.
18″ Springtime Baskets
---
Now that you've gathered some Easter table decorating ideas for spring, check out our selection of Easter Decor & More to bring your table to life! From decorative accents to table linens to faux florals and more, LTD has everything you need to get ready for your spring set up.