9 Wall Decor Ideas To Freshen Up Your Space
Wall decor can transform any room and amplify any design style. Canvases and artwork always make great wall decorations; however, there are many other ways to style your walls for a more unique space. Whether you're looking to switch up your home decor for a new look or if you're starting from scratch, here are 9 wall decor ideas to freshen up your space.
---
1. Hang Up Floating Shelves To Display Decorations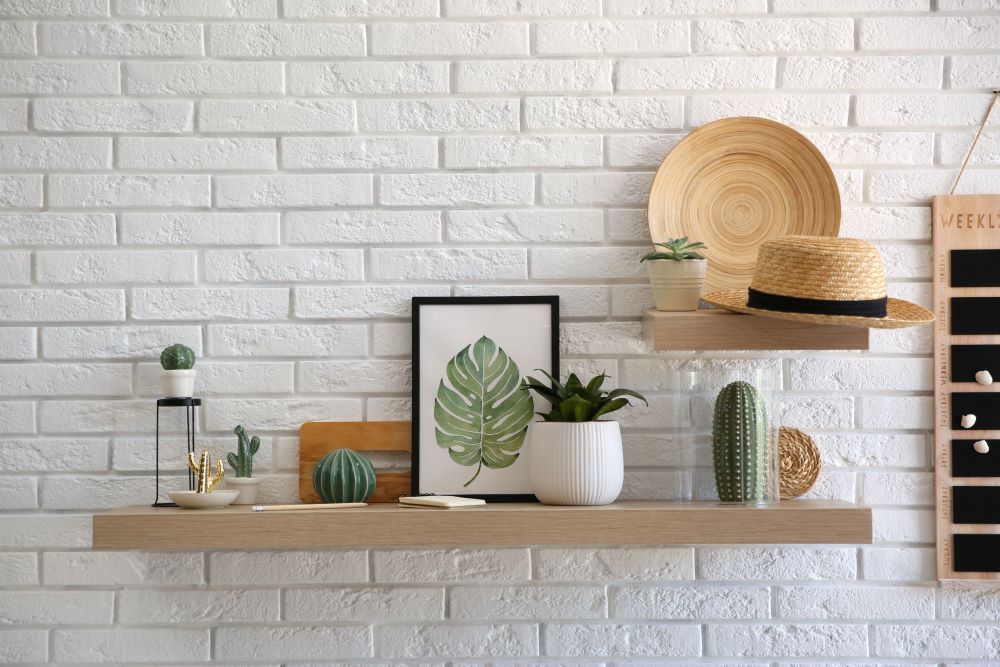 Floating shelves are always a good idea when it comes to alternative wall decorations. Not only do they hold small decorative accents to display, but the shelves themselves can also stand out nicely on the wall.
If you want to add some bright accents to the wall, you can hang up colorful shelves for an eye-catching element on the room. This works especially well with neutral colored walls; the shelves can match your main accent color in the room. If you already have colorful walls, opt for more neutral shelves such as solid wood or a sleek marble. You can also use a large standing shelving unit if you don't want to use floating shelves. These are easy because you don't have to hang them up, you just have to place it up against the wall.
Display accents on the shelves such as vases, plants, figurines, and other small trinkets. You can also display small framed wall art by setting it on the shelf and letting it lean against the wall. This is a great alternative to hanging up wall art because it saves you the hassle of putting nails in the walls.
---
2. Create An Accent Wall For Unique Contrast In Any Room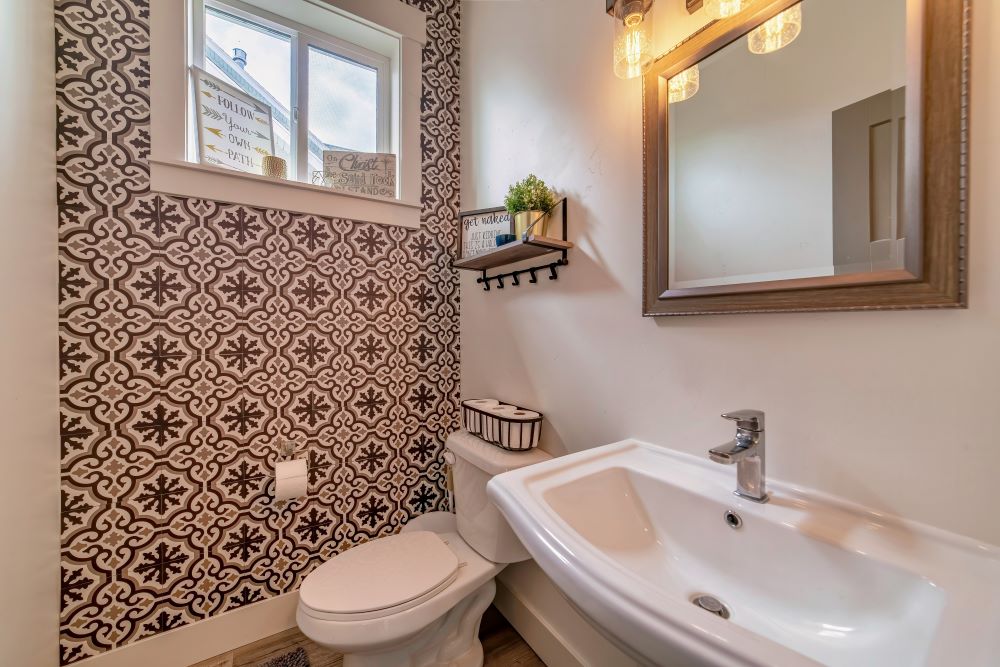 Accent walls continue to be a stylish decor choice for any room in your house. When you establish an accent wall in a room, it'll not only provide a nice contrast, but it'll also amplify the style of the room.
You can create an accent wall in many ways – with paint, wallpaper, unique wall hangings, tapestries, and much more. Whichever way you choose, make sure it fits in with the overall style and theme of the room. You want it to stand out but you also want it to coordinate with other decorations and nicely complement your space.
Wall Decor Ideas: Accent Wall Tips & Tricks
Add a patterned wallpaper to a wall in your bathroom
Paint the wall behind your bed a darker color than the rest of the room
Display a gallery wall on the wall behind your couch in the living room
Hang up a large mural on a wall in your dining room
Put up a giant tapestry to completely cover one wall of any room
---
3. Add Some Mirrors To The Walls To Open Up Any Space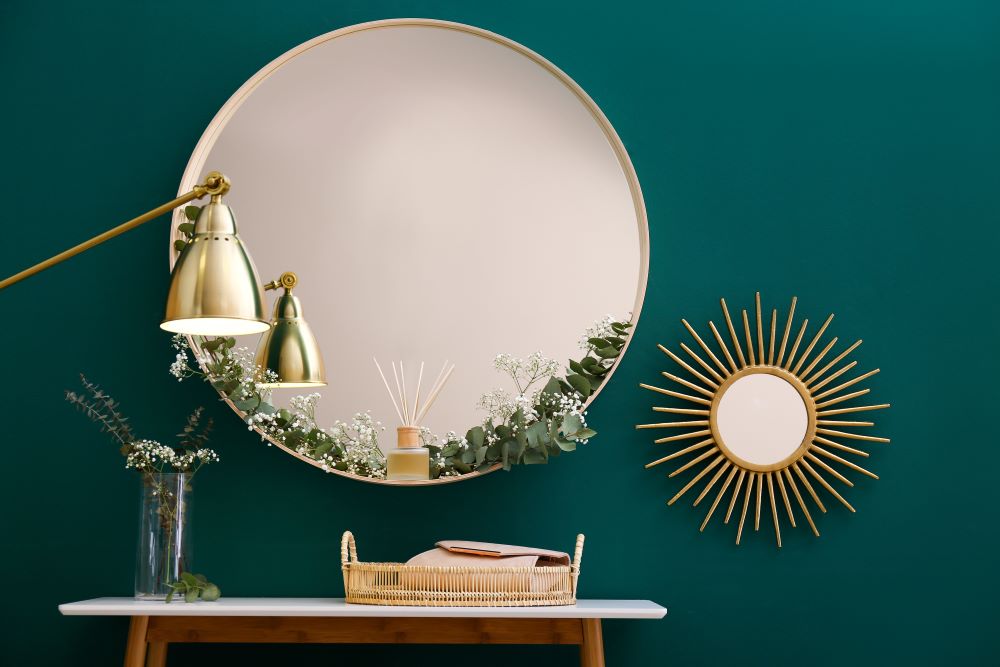 Mirrors aren't just for practical uses – you can use them in unique ways to decorate your walls! Not only can mirrors be stylish and decorative, but they can also make a room feel bigger because they reflect light. Don't be afraid to add mirrors in unexpected areas to open up any room.
Mirror Ideas For Your Home
Entryway: place a decorative mirror above a console table for a complete look.
Hallway: use a mirror in the hallway for a unique decoration.
Bedroom: instead of placing a mirror above the dresser, hang up mirrors on blank walls and in corners to make the room feel bigger.
Dining Room: hang up a mirror above a decorative China cabinet to make the room feel inviting.
Living Room: place a large elegant mirror above the fire place for the perfect finishing touch.
---
4. Use Hanging Plants To Add Some Life To The Walls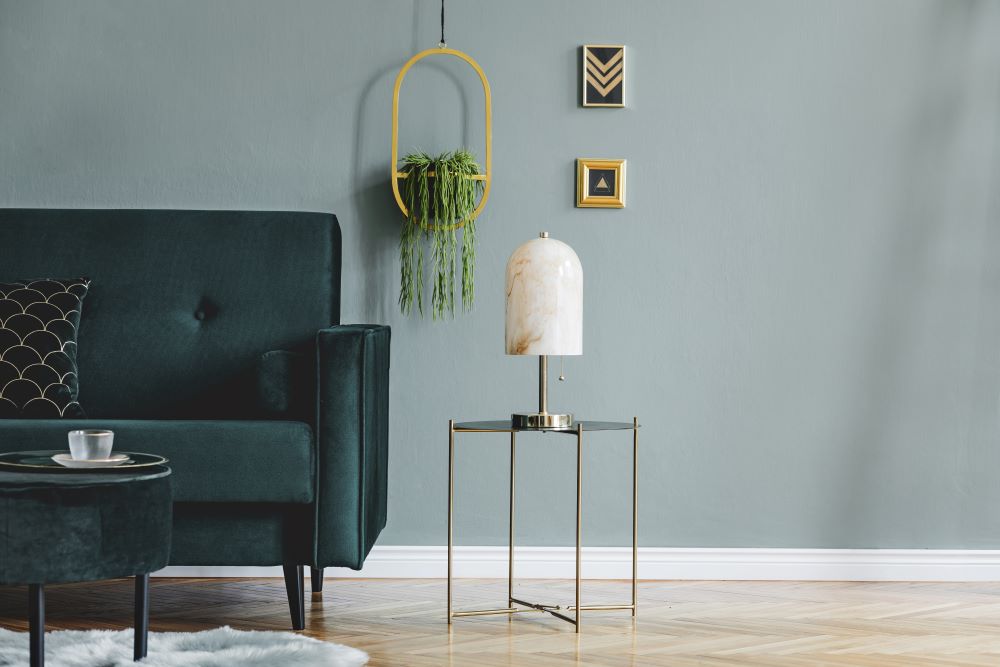 Decorating with live plants is incredibly trendy and stylish in 2021 because connecting with nature can help relieve stress and make you feel more relaxed. Plants also make great wall decor ideas in rooms where you least expect it. Bring your walls to life and add some lush greenery to your home by hanging up plants.
Some of the easiest ways to add greenery to your walls is to use wall planters, planters that hang from the ceiling, and floating shelves that can display potted plants. Find spaces on your walls that could use some fresh decorations or rooms that feel a little too dull. Adding plants to these areas will instantly add some much needed brightness.
You can truly add greenery into any room of your home, but plants can especially brighten up your bathroom, kitchen, and living room. Some of the best houseplants include aloe, snake plants, philodrendon, lavender, and spider plants. Mix in some fresh flowers to brighten up your space even more.
---
5. Get Creative With Fabric Wall Hangings For Some Added Texture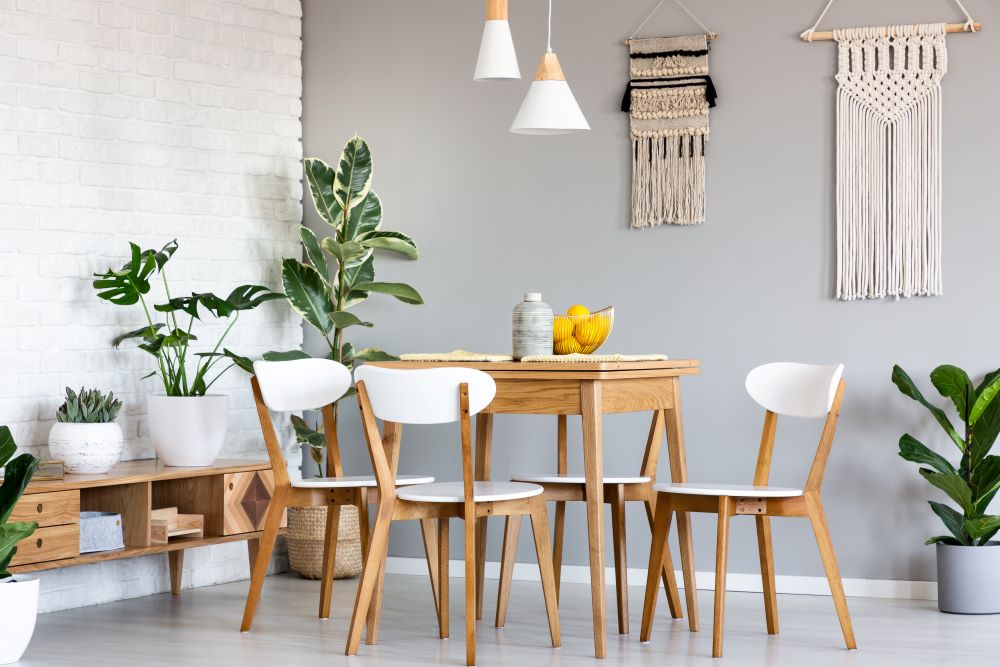 Instead of using typical wall art and canvases, use fabric wall hangings to add some texture to your walls. These types of wall hangings can bring a new and interesting element into the room that will freshen up the rest of the decor.
Whether you want to decorate in a more neutral way or if you want to get more creative, there are many types of fabric wall hangings that will work for your space. They can look nice displayed almost anywhere, but especially in your bedroom and living room. Try incorporating these fabric hangings in various areas of your home.
Types Of Fabric Wall Hangings
Tapestries
Macramé Wall Hangings
Embroidery Hoop Wall Art
Woven Wall Hangings
Fabric Pocket Organizer
Woven Bowls & Baskets
Framed Scarf
---
6. Frame Your Vacation Photos On The Wall For A Personal Artsy Look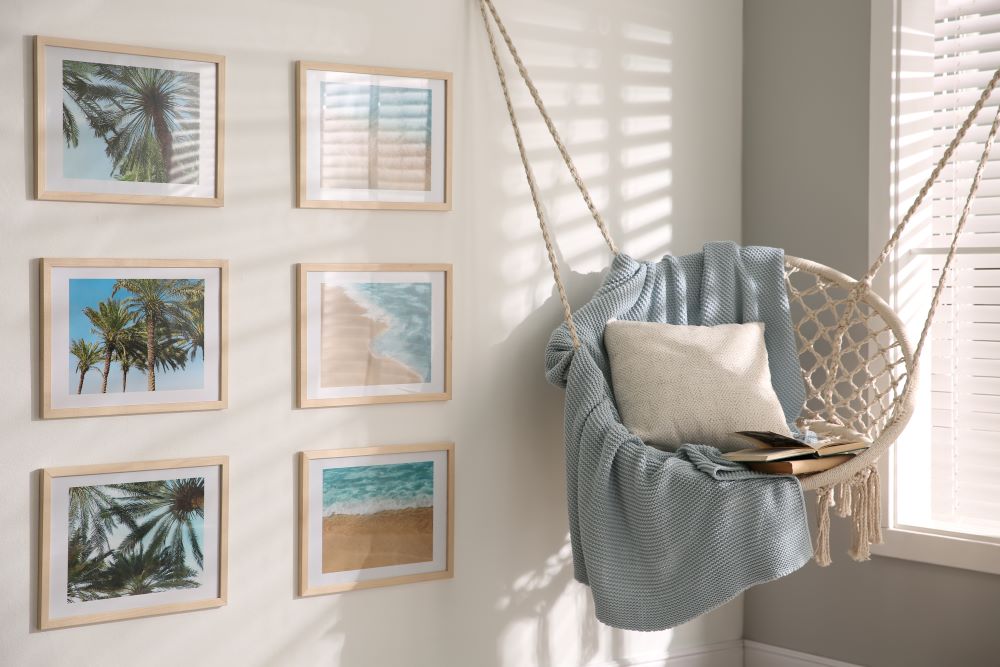 Another wonderful way to freshen up your home is to add a personal touch to your wall hangings. Instead of hanging up artwork from the store, make it your own by framing your vacations photos to hang on the wall.
Whether you have photos from a tropical beach vacation or a photoshoot of a beautiful city, you can easily create a stunning set of wall art in any room. It's best to get your photos professionally printed for the best quality. Then you can purchase some decorative frames to display them on your wall.
You can hang up your photos in a symmetrical order to get a sleek and clean look, or you can create a gallery wall for a more artsy look. Gallery walls are fun because you can use a variety of photo sizes and a variety of photo frames to make each photo stand out individually. Decide on what works best for the room based on the other decorations and the overall style of the space.
---
7. Hang Up Decorative Plates For A Classy Wall Art Alternative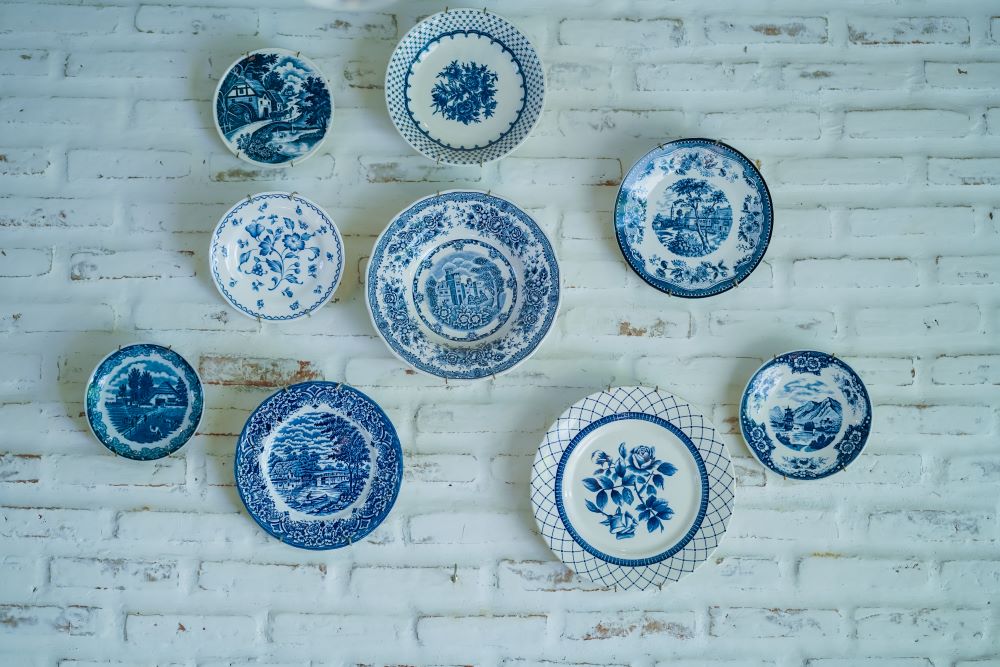 Another alternative to typical artwork and wall hangings is to hang up decorative plates for a classy and fashionable look. Plates can make nice wall decor for almost any room, but they'll look especially nice in the kitchen, dining room, or even in the living room.
Typically, decorative plates are displayed on plate stands on a shelving unit or on the counter. However, securing them to the wall can bring about a whole new look. There are many ways to display them on the walls – you can create a collage of different sized plates, you can hang up one large plate, or you can get creative and hang them up in your own way.
If you don't want to hang up ceramic plates on the wall, you can also consider hanging up woven plates and bowls or even metal ones. These are interesting alternatives that will still give you a unique look in any room that you decorate.
---
8. Bring Some Geography Into Your Home With Map Wall Hangings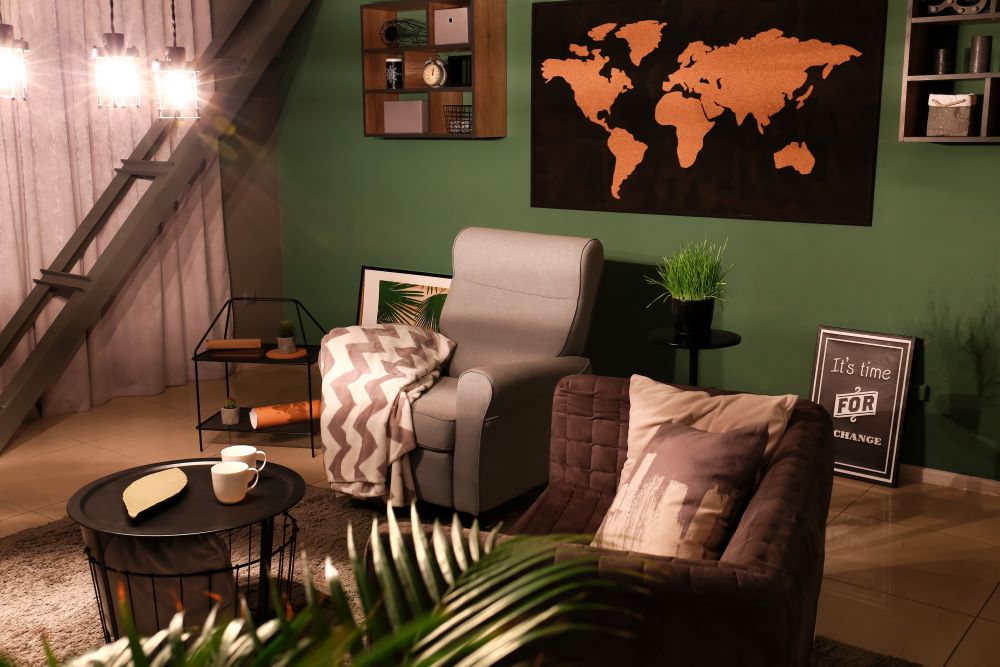 If you're looking for even more wall decor ideas, this map idea will give you a modern and interesting environment. Decorating your walls with different map wall hangings is a great way to add an artsy geographical look to your home.
There are so many ways to add map wall hangings to your home. You can find artsy map wall canvases that will look good with other modern decor in the room. You can also frame a poster print of a map to hang up on the wall. Whether you choose a map of the entire world, or of a certain area, this will look nice displayed on the wall in your living room or bedroom.
If you're a big traveler, you can even hang up a map and mark every place you've been to with a pin or a dot. This is a fun way to make your decorations even more personal and it's a great conversation piece for guests. Alternatively, you can make it a fun game – hang up a paper map and every time you want to travel, throw a dart. Wherever it lands is where you'll vacation to!
---
9. Add A Large Clock To The Wall For A Fun Statement Piece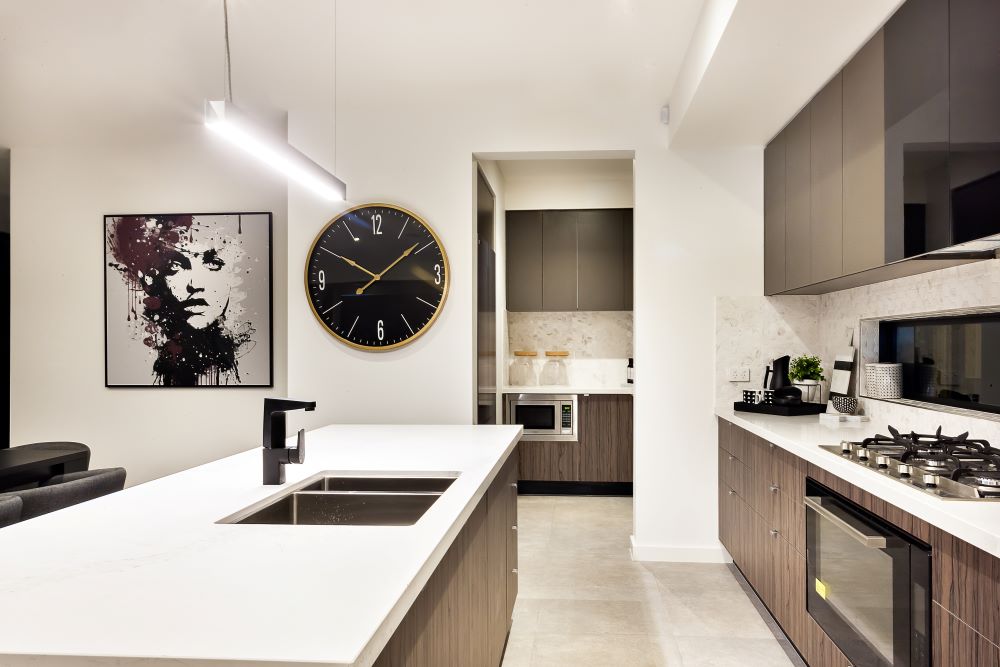 Wall clocks can bring the finishing touch to any room and can make a blank wall look interesting and classy. Not only is it a decorative piece, but it's also a functional element that makes it an even more sensible item to hang up.
Luckily, there are so many different styles of clocks to choose from; you can easily find one that matches the decor style in the room. A rustic wooden clock looks nice in a farmhouse style room, a sleek black and gold clock will look great in a contemporary style room, and a colorful clock will work perfectly in a whimsical style room.
Clocks look nice displayed in almost any room but they work especially well in the living room, kitchen, or bedroom. You can even hang one up in the entryway for a unique alternative to a mirror above a console table.
---
Now that you've gathered some wall decor ideas for your home, it's time to shop our selection of Wall Art & Photo Frames! Find unique wall hangings for every room in your house including sentiment signs, canvas art, metal sculptures, personalized wall art, and much more!