7 Fall Home Decor Ideas To Try In 2021
A brand new season gives you the perfect opportunity to switch up your decorations and create a new look. Fall is a great time to set up a warm, cozy, welcoming, and festive home that will fit the new season. Whether you want to set up a full harvest spread of decorations or if you just want to bring in some more simple and smaller accents, you can easily create the look that you want for the season. From decorative accent ideas to DIY hacks to cozy additions and more, here are 7 fall home decor ideas to try in 2021.
---
1. Set Up A Fall Theme In Your Entryway For A Festive Space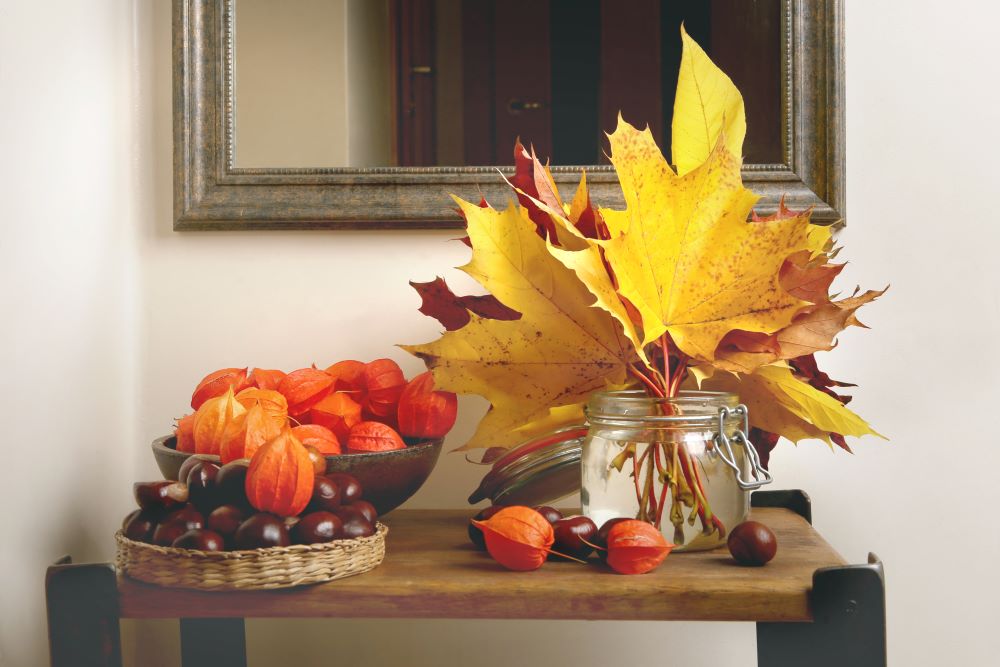 Your entryway is the first area of your home that people see, so why not fill it with a fall theme? Setting up the harvest look in this area can help establish the seasonal theme for your home and it can make your space feel extra welcoming and charming. No matter how big or small your entryway space is, you can easily set up a fall look that will fit into your home nicely.
The entryway table is typically the main element in this space, so start your decorating there. Create a themed spread on this table with a variety of accents and elements. Include fall colors like orange, red, and gold to amplify the warm and cozy feeling. You can even include some lighted decor to add to the magical and comfy environment. There are so many different ways to decorate this table; check out some ideas below to get started.
Fall Entryway Table Decor Ideas
Vase of fall flowers or foliage
Mini pumpkins
Fall sentiment sign
Fall scented candles
In addition to decorating the entryway table, you can also decorate other areas of your entryway space. Include some fall themed wall hangings, decorate an accent chair with a themed throw pillow and blanket, display a large ceramic pumpkin statue on the floor, and wrap your staircase with a leaf or pumpkin garland. Make your entryway space as festive or subtle as you want for the fall time.
---
---
2. Decorate With Rustic Fall Style To Get A Charming Look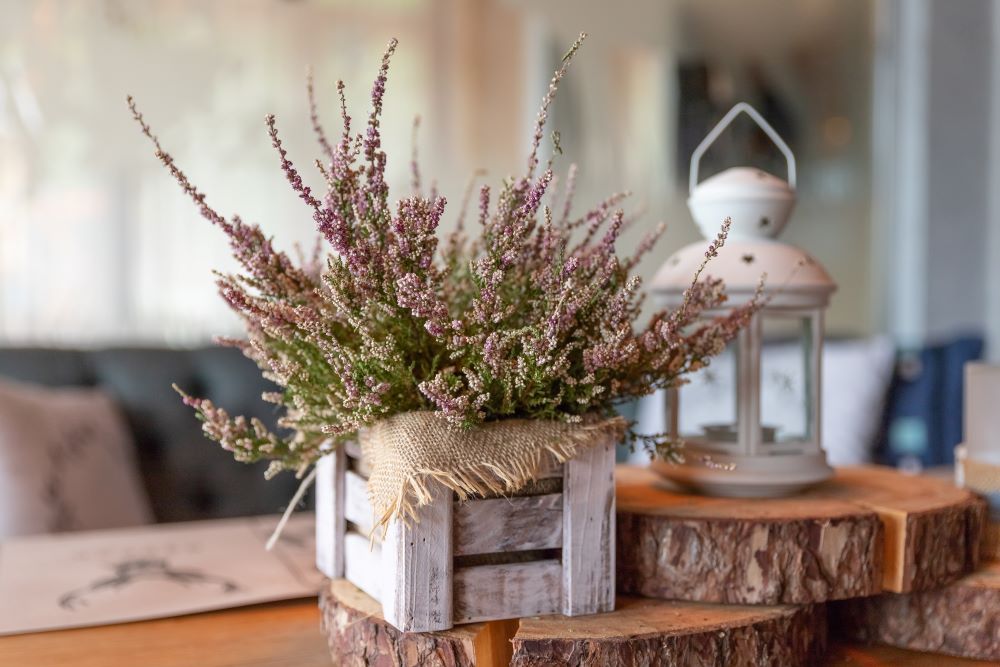 When it comes to fall home decor ideas, there are many different styles to choose from. You can decorate with traditional or classic fall style, which includes simple and popular symbols like pumpkins and warm colors like red, orange, and gold. However, if you want to stray from the traditional look, consider decorating with a rustic fall style instead. This style will give you a more charming and nostalgic look.
How To Decorate With Rustic Fall Style
Decorate with neutrals like tan, wood, and white. You can also use muted versions of color such as teal, orange, and lavender.
Use materials like weathered wood, galvanized metal, and burlap.
Incorporate flowers such as lavender or sunflowers.
Use lanterns or mason jars with LED candles for your main accents.
Fill a galvanized metal bucket with pumpkins for a unique centerpiece.
Display rustic wood sentiment signs and fall themed wall art.
Use woven baskets to hold necessities and to display accents.
---
---
3. Make Some DIY Fall Decor For A Budget Friendly Home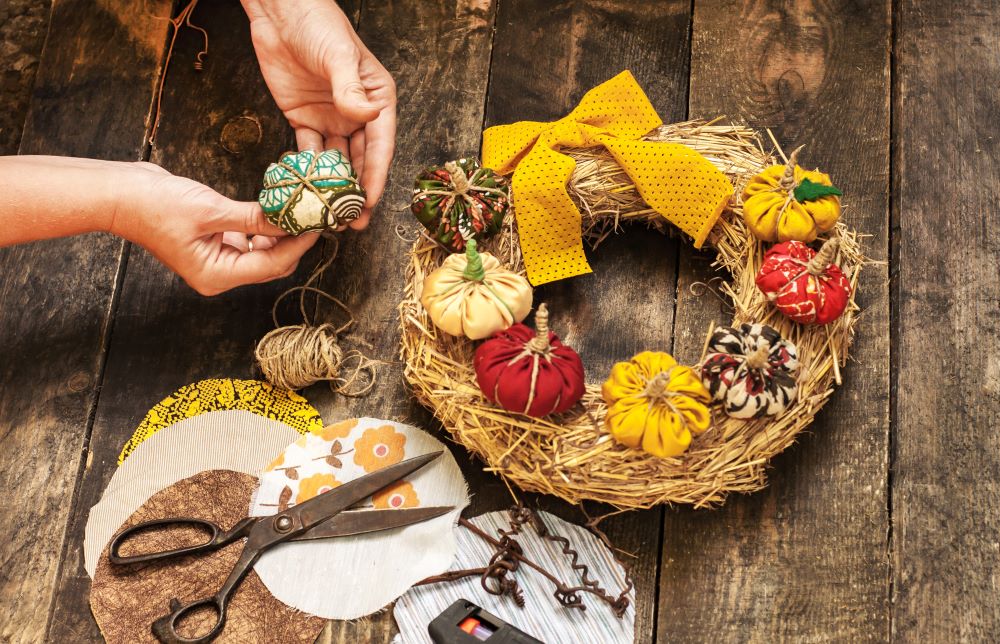 If you're looking for affordable and more simple fall home decor ideas, making your own is a great option to get a unique look for less. DIY decorations can be fairly easy to make; you don't even need to do big projects to get a festive look. There are many DIY projects for fall that result in beautiful decorations for almost any area of your home.
Not sure where to begin? Check out some ideas below for inspiration!
DIY Fall Decor Ideas
Make your own simple fall wreath by adding mini pumpkins and a festive bow to a straw or burlap wreath.
Use dried leaves and yarn to craft your own fall leaf garland.
Paint mason jars in fall colors to use as flower vases or candleholders.
Display a faux flower bouquet inside of a hollowed out pumpkin.
Place some fairy lights inside an empty wine bottle and paint the bottle with a translucent fall color.
Hot glue gun some cinnamon sticks together for a makeshift candleholder.
Apply some chalkboard paint to a rustic tray and write a fall sentiment to hang on the wall or door.
---
---
4. Elevate Your Dining Table With A Fall Decor Spread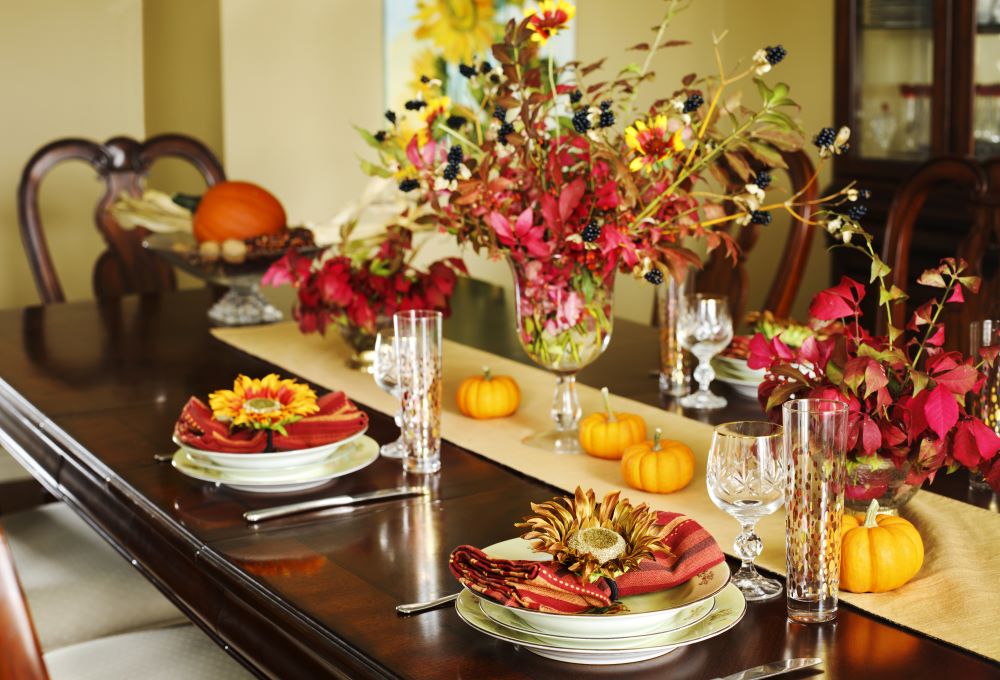 Your dining room is another area of your home to decorate for a festive fall space. Even if you aren't hosting any dinner parties, having your dining table set up in fall style is a great way to establish your theme for the season. Table decorations can instantly amplify the look of your space and brighten up the rest of your home.
Whether you set up your table for a special evening, or just set up decorations to keep on display for the whole fall season, you can easily transform the table into a welcoming harvest spread. Depending on the size of your table and your own personal taste, you can either keep your decor subtle or you can go all out. Check out how to decorate a fall dining table below for a general outline of how to set up your space.
How To Decorate A Fall Dining Table
Start with your table linens. You can opt for a simple burlap table runner, or use a fall patterned tablecloth. If you use a table runner, you may also want to add some fall colored placemats at each seat.
Next, decide on your centerpiece. This can be a tall vase of real or faux fall flowers, a set of elegant candleholders, a basket of pumpkins, or a tray with various fall accents.
Once you choose your centerpiece, you can also add some other accents to the center section of your table. For instance, you can display mini pumpkins along your table runner, or you can add some extra candles.
Then, it's time to set up each of your place setting. This step is optional; however, doing this will make your table look even more festive. Set up fall colored plates with cloth napkins tied nicely on top. You can even add a mini pumpkin to each plate or another fall themed accent.
Finally, you can add some fall themed seat cushions or throw pillows to each chair for an extra cozy look.
---
---
5. Add Some Warm Elements To Create A Cozy Fall Home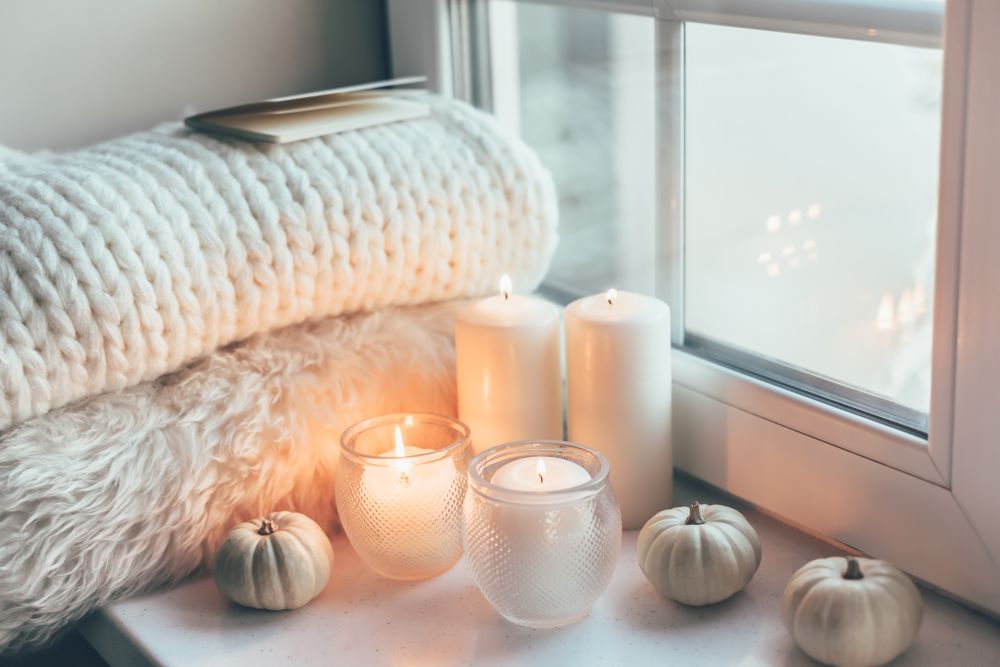 While all these fall home decor ideas are different, they typically have one thing in common: coziness. Fall time is all about comfort, warmth, and creating a welcoming environment in your home. Amplify the cozy fall feeling with the help of various decorations and elements throughout your home. This will establish a strong fall theme in any room of your house.
With the help of comfortable materials, warm lighting, and other simple additions, you can easily create a cozy feeling throughout your home that will last the entire fall season. You can even bring some of these elements onto your porch and outdoor space to continue the comfy cozy environment. Check out some easy cozy decorating ideas below to get inspired for the harvest season.
Cozy Decorating Ideas For Fall
Use knit or faux fur blankets and pillows on your couch and bed.
Add cozy rugs throughout your home – especially in your bedroom, living room, and entryway.
Bring in candles with fall scents such as cinnamon, pumpkin spice, apple, sandalwood, bonfire, and more.
Decorate with a warm fall color scheme in the main areas of your home.
Use string lights, lanterns, and other lighted decor for cozy fall evenings.
Hang up thick window curtains that block light and block out cold weather.

---
---
6. Line Your Porch Steps With Decor For A Festive Fall Look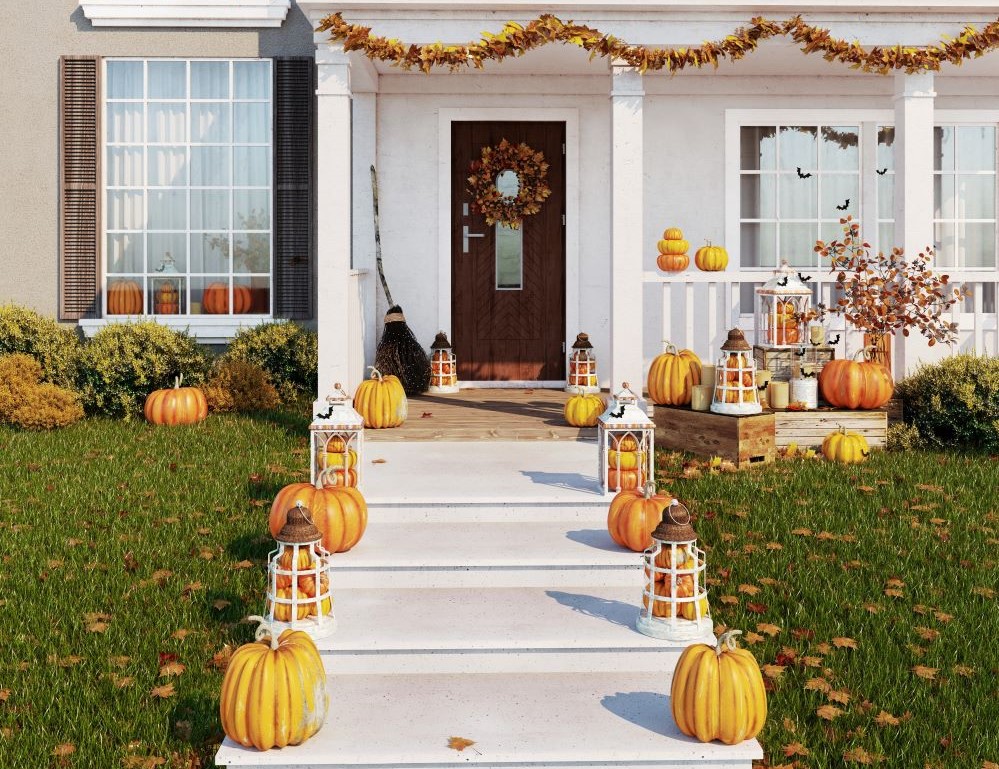 When it comes to fall decor, you don't want to limit yourself to just the inside of your home. Decorating your porch with the fall style will make your home come to life and bring the lovely festive look to your outdoor space. You can create a cozy look, or you can go all out with a bright and cheerful look. No matter what type of fall appearance you want on your porch, the best way to get started is by decorating your porch steps.
Lining your porch steps or front pathway with fall decorations is a great way to amplify the look of your outdoor area. There are so many different ways to instantly transform this area. You can line this area with pumpkins in various sizes, lanterns, fall themed stake lights, tall harvest statues, planters of flowers, or other unique fall decorations. The more decor you include, the more vibrant your porch will look.
In addition to lining your steps or pathway, you can also create a festive seating area on your porch that you can enjoy for the whole fall season. Place some fall throw pillows on a bench, set up a foliage wreath on the front door, display a festive doormat, and wrap string lights around your porch railing. Bring in some pumpkin themed decorations around your seating area to finish off the autumn aesthetic.
---
---
7. Use Trays To Give Your Home A Simple Fall Touch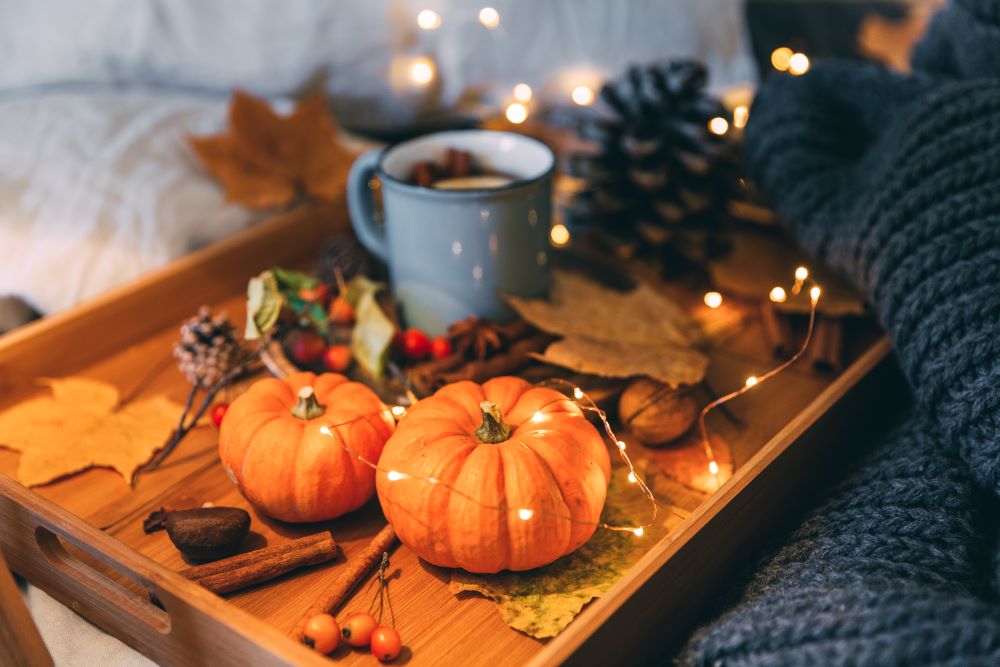 If you're looking for a more subtle and simple way to decorate your home for fall, consider setting up trays of fall decor in each room. A small tray arrangement will still help you add that festive harvest feeling to your home, but it'll keep you from going over the top. This is a perfect idea for those who don't want to commit to a full fall theme for the season.
Fall Tray Decor Ideas
There are an endless amount of ways to decorate a tray with a fall theme. You can easily use the tray on your coffee table, dining table, kitchen island, bedroom, or bathroom counter. No matter where you want to place the tray, you can create a look that matches your home decor style nicely. Check out some ideas below for inspiration.
Set up some mini pumpkins, candles, and fall foliage.
Add a vase of fall flowers and fill the rest of the tray with pinecones.
Display a lantern in the center of the tray with a fall sentiment sign and a ceramic pumpkin.
Show off a large pumpkin on the tray with fairy lights strung around it. Use cinnamon sticks to fill in the empty space.
Fill a tray with a selection of various sized candles in fall scents and colors.
Add a mini pumpkin tree on the tray with fall leaves to fill in the empty spaces.
Fill up the tray with a mix of pumpkins in different sizes and colors.
---
---
Now that you've checked out some fall home decor ideas to try in 2021, shop our Fall Harvest Decor section to get started! Find unique pumpkin decorations, lighted decor, bed and bath collections, themed accents, and much more to get your space ready for the harvest season.