How To Start Decorating For Fall 2021
Transitioning from summer decor to fall decor can be made easy with some gradual changes. You can easily shift from a bright summer theme to a cozy fall aesthetic with some new color schemes, comfy materials, fall symbols, and much more. No matter what decor style you have, there are many simple hacks to get your home looking harvest ready by the time summer ends. If you're looking to transform your home for the harvest season, this short guide will help you get started. Here are some simple tips on how to start decorating for fall 2021.
---
Start By Replacing Summer Flowers With Fall Foliage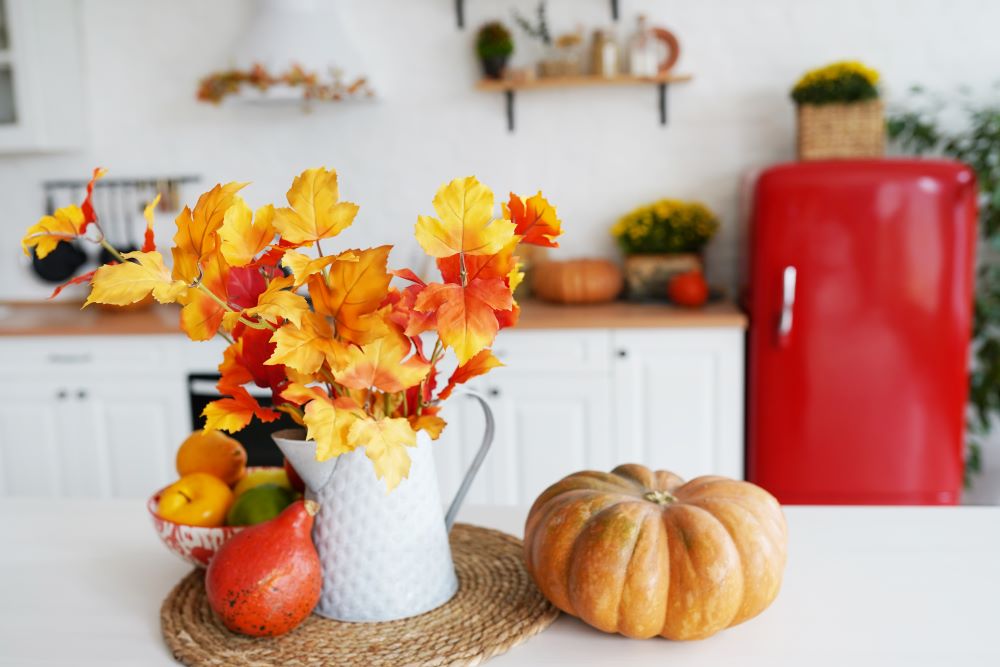 If you're looking for how to start decorating for fall, a great starting point is to focus on your floral spread. Take a look at all your faux summer flower decorations throughout your home and decide on which ones can be placed in storage. You may be able to keep some of them displayed; however, consider putting away all of them if you want to create a blank slate for a full fall theme.
Once you've cleared out your summer flowers, it's time to bring in some fall flowers and foliage. Create some faux bouquets using a selection of fall flowers such as sunflowers, chrysanthemums, dahlias, hydrangeas, and other flowers in fall colors. You can also include other elements in your fall bouquet such as faux leaves, pine cones, and branches. Putting together a unique mix of fall foliage and flowers will help you start your harvest decor spread anywhere in your home.
You can also use fall themed vases to display your harvest bouquets. This will amplify the theme even more and set the stage for a beautiful fall color scheme. Use vases in fall colors such as red, yellow, and orange, or use ones with a rustic touch such as galvanized metal, for a charming appearance. Display these vases as centerpieces on your kitchen island, dining table, coffee table, entryway table, or even on the mantel.
---
---
Decorate With One Fall Item In Each Room & Add More Later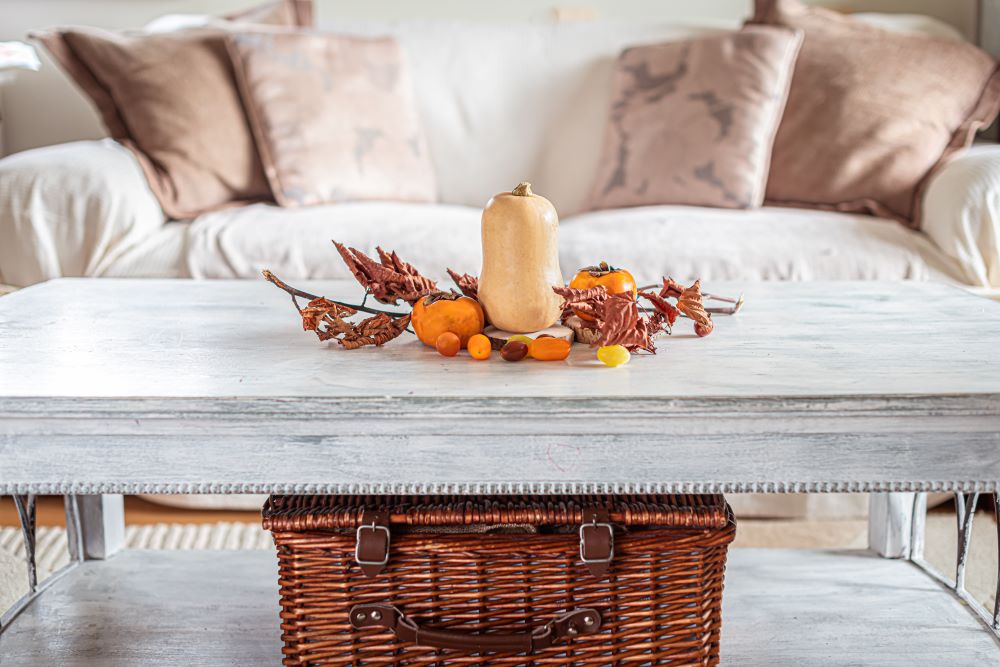 Another way to start decorating for fall is to decorate gradually and strategically. If you're starting to decorate towards the end of summer, you don't want to overload your space with fall decor right away. Start by displaying one fall decoration in each room and adding on more as the season gets closer. The decorations can vary from room to room based on the look you want in each space.
How To Decorate With One Fall Item In Each Room
There are so many different possibilities for decorating gradually with one fall accent in each room. You can even build you decor spread by bringing in additional accents each week leading up to the start of fall. Here are some simple ideas for inspiration.
Place a ceramic pumpkin in your living room on the coffee table or mantel
Hang up fall themed hand towels in the kitchen
Display a fall scented candle on the bathroom counter
Decorate with a fall sentiment sign on the bedroom dresser
Set up a fall doormat on your front porch
Place a pumpkin decoration on the entryway table
Use a harvest faux floral arrangement on your kitchen or dining table
---
---
Add Fall Scents & Colors Gradually Towards The End Of Summer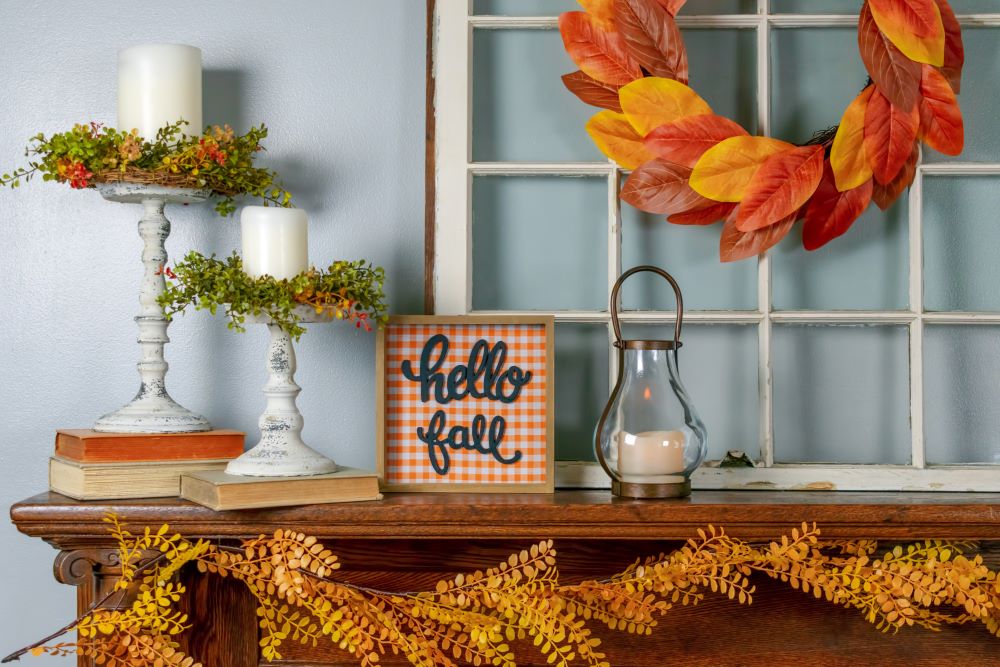 A big part of starting to decorate for fall and transitioning out of the summer season is creating a warm and cozy environment. If you're look for how to start decorating for fall, another perfect starting point is bringing in fall scents and colors towards the end of the summer season.
As mentioned before, adding fall elements gradually instead of all at once is the best way to transition into a new season. Bring in fall colors and scents in small amounts and continue to add more once autumn begins. You can also bring these in by gradually replacing summer color and scents throughout your home. These simple swaps will give you that welcoming and warm fall time look.
How To Add Fall Scents & Colors Into Your Home
Hang up warm colored string lights or use warm light lanterns
Display a fall foliage garland
Use candles in fall scents like pumpkin spice, cinnamon, sandalwood, clove, apple cider, bonfire, and more
Display a set of decorative books in fall colors
Add a fall wreath to your front door
Use a tart warmer or essential oil diffuser with fall scents
Hang up fall colored hand towels
---
---
Swap In Fall Pillows & Blankets For A Cozy Look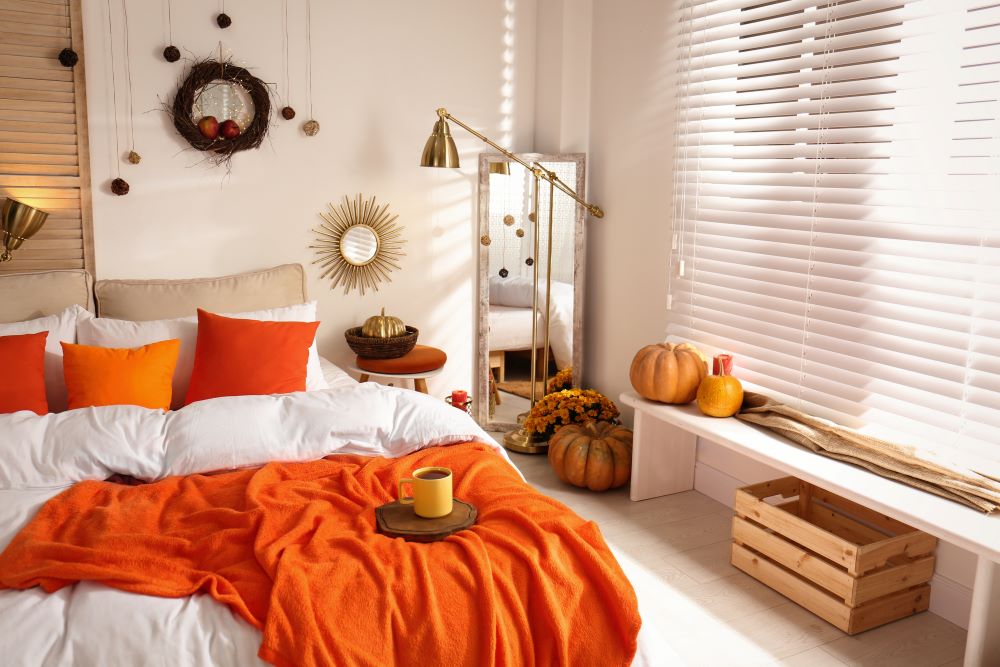 To continue that warm and cozy feeling of the fall time, another way to start decorating for fall is to swap out all your pillows, blankets, and other linens. Using warmer fabrics in harvest colors throughout your home will help you establish a change from summer to fall in a gradual way.
If you have a lot of light and flowy fabrics in your home, consider swapping them with thicker fabrics to bring a warm and comfortable fall feeling into your space. For instance, if you have sheer curtains on your windows, swap them out for thick cotton ones instead. You can also swap lightweight throw blankets for warmer ones like wool or faux fur. There are so many different ways to change out your fabrics and linens throughout your home to get ready for fall. Check out some more ideas below.
Fabrics & Linens To Swap Out For Fall
Throw pillows and blankets on the couch and bed
Comforter and sheet sets
Rooms rugs and doormats
Hand towels and bath towels
Seat cushions and furniture slipcovers
Fabric wall hangings
---
---
Set Up Fall Vignettes As Soon As The New Season Arrives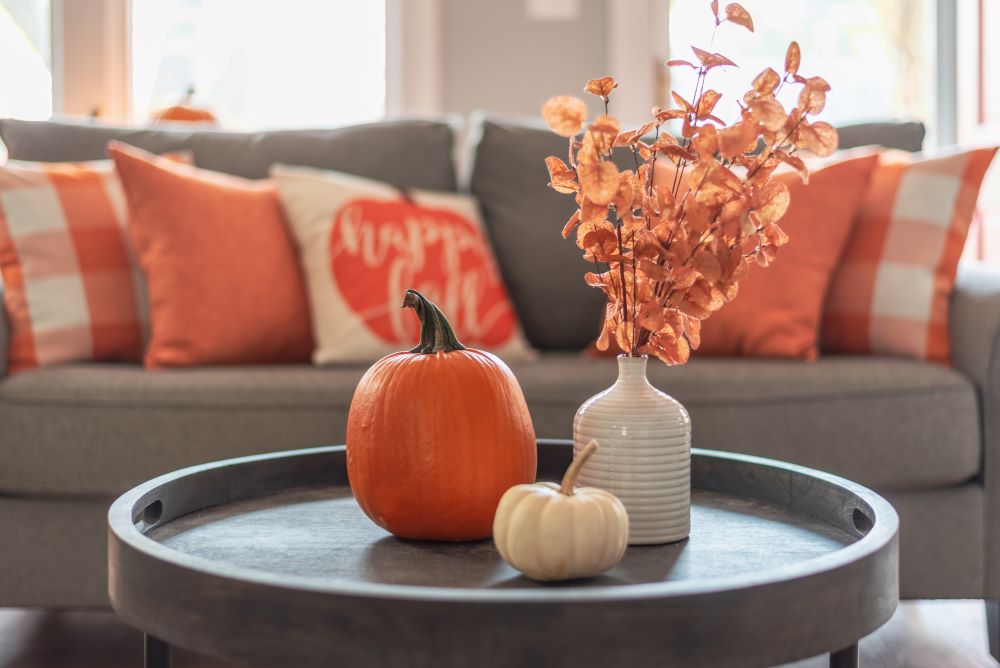 Last on this list of how to start decorating for fall is the idea of using fall vignettes. Setting up a fall vignette is fairly easy; you simply set up a small group of fall decorations in one area for a unique look. Once the fall season begins, you can add vignettes into your home throughout each room. These groups of decorations will help you create a stylish space without overdoing the fall theme.
Fall Vignette Decorating Ideas
Display a tall vase of fall flowers, a medium sized ceramic pumpkin, and a small ceramic pumpkin on a tray in the center of the coffee table.
On the mantel, set up a vignette with a fall sentiment block sign, a ceramic pumpkin, and a small fall themed figurine.
Set up a vignette of three vases in different heights with fall foliage or flowers.
Create a bathroom vignette on the counter with a fall scented candle, a decorative pumpkin, and a vase of flowers.
On the kitchen island, create a vignette by displaying a pumpkin or gourd next to a sentiment sign and flower vase on top of a tray.
Display a vignette on an entryway table with a basket of fall potpourri and decorative candle holders on each side.
---
Now that you've learned how to start decorating for fall, shop our Fall Harvest Decor section for even more inspiration! Find a variety of affordable fall decorations for your indoor and outdoor space for a stylish look all season long.