Home Decor Hacks: Hallway Decorating Ideas
When it comes to home decor, there are probably areas of your home that you hadn't thought about decorating. Your hallways are one of those areas. Whether your hallways look empty or if you just want to change up the look of them, there are so many different ways to bring style and decor to this space. No matter if your hallways are narrow or luxurious, you can easily bring in a lot of decorations and other unique elements to jazz them up. Check out these hallway decorating ideas to transform your home into a stylish space.
---
Use A Console Table To Make A Hallway Look Stylish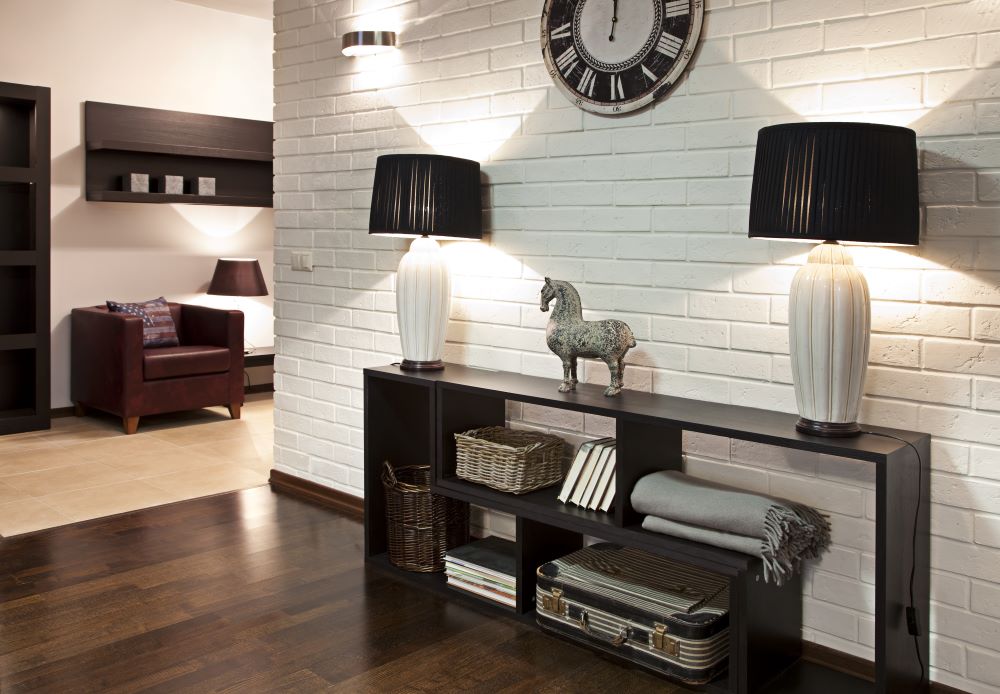 Much like the entryway of your home, adding a console table is a great way to make your hallways look more stylish and more complete. Setting up a console table in your hallway will give that space a unique centerpiece that will draw the eye in. You can even use the table as a functional piece if you need extra storage in your hallway.
How To Set Up A Console Table In The Hallway
Start with a table that will fit nicely into your hallway without interfering with the pathway. A narrow table is usually the best choice unless you have a wider hallway. The main idea is to make sure it doesn't take up too much space; the table shouldn't take away from the function of your hallway.
Next, it's time to add some decorative accents to your table. The best way to decorate a console table is to use varying heights to create a balanced look. For instance, you can keep it more simple by setting up a tall lamp on each side of the table with a medium height statue in the center. You can also make it more interesting with a wider variety of accents.
If your table has open shelves, you can then choose to use basket to store extra items such as towels or cleaning supplies. If you don't need the extra storage, you can instead display extra decorations on the shelves.
Lastly, you'll want to display a decoration on the wall above your table. This can include a large mirror, a wall clock, or a piece of artwork.
---
---
Display Decorative Wall Sconces To Light Up Your Hallway At Night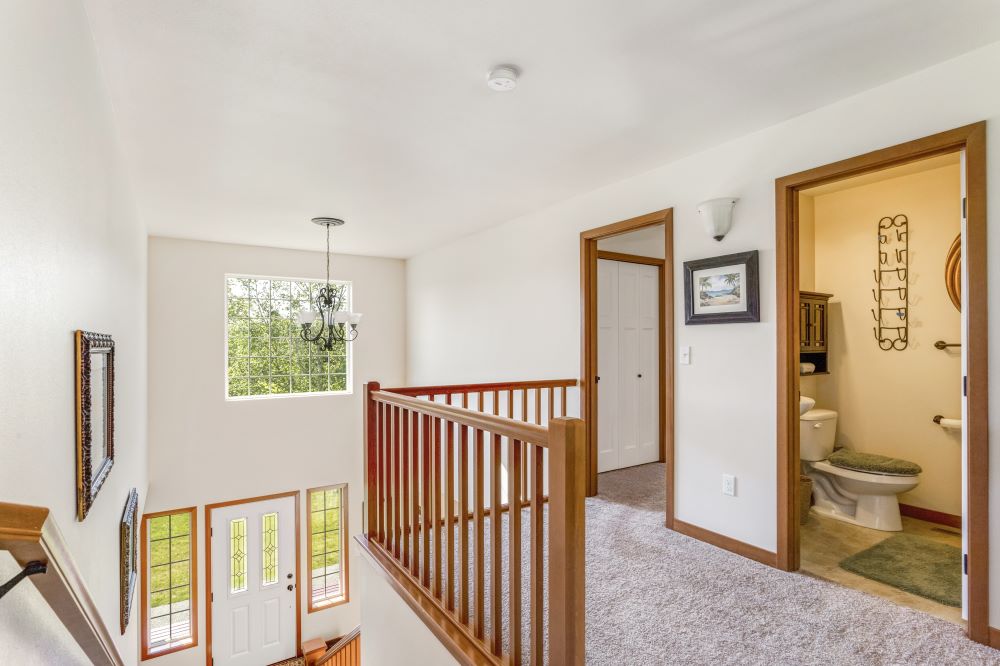 Mixing together function and style is a great way to make the most of your hallway space. Keeping your hallway lit up at night is important, especially if you tend to walk down the hall to the bathroom or walk downstairs to get water in the middle of the night. Instead of plugging in nightlights, opt for lighted wall sconces for a more decorative look.
Hang up lighted wall sconces down your hallway to get a beautiful decorative look with minimal effort. These are not only helpful at night but they also look great during the daytime too. Find wall sconces that match your overall home decor theme to keep everything flowing smoothly. For instance, you wouldn't want to use vintage wall sconces in your hallway if you have a modern themed home. Matching the decor style will help the sconces look like they belong.
While you can always get these wall sconces installed by an electrician and hook them up to a light switch, there are also easier and quicker ways to add sconces. You can find lighted wall sconces that are battery operated and simply require a flip of a switch on each of them every night. You can also find LED wall sconces that don't even require a bulb, or you can opt for solar wall sconces if your hallways tend to get a lot of sunshine during the day.
---
---
Hang Up Mirrors To Make A Small Hallway Look Bigger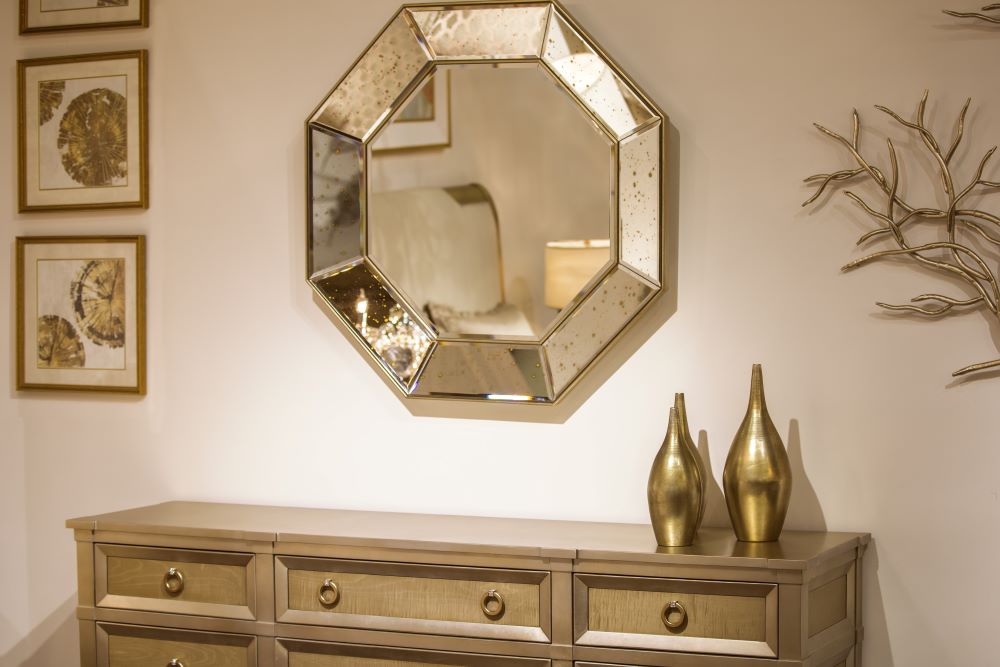 If you don't have a lot of hallway space to work with, it can sometimes be a challenge to decorate without overcrowding your space. That's why you have to give off the illusion of a bigger space with a little creativity. Using mirrors is a great way to open up a space while maintaining a decorative look.
While you don't want to overload your hallway with too many mirrors, using mirrors strategically will make your space look stylish. Check out some ideas below for how to display mirrors in a hallway. You can even combine some of these ideas depending on the setup of your hallway.
How To Display Mirrors In A Hallway
Hang up a mirror above a console table
Display a set of matching mirrors across your hallways
Place a ceiling to floor wall mirror at the end of your hallway
Use a mirrored console table in the hallway
Display mirrored decorations throughout the hallway
Hang up framed mirrors for a unique look
---
---
Create A Small Seating Area At The End Of A Hallway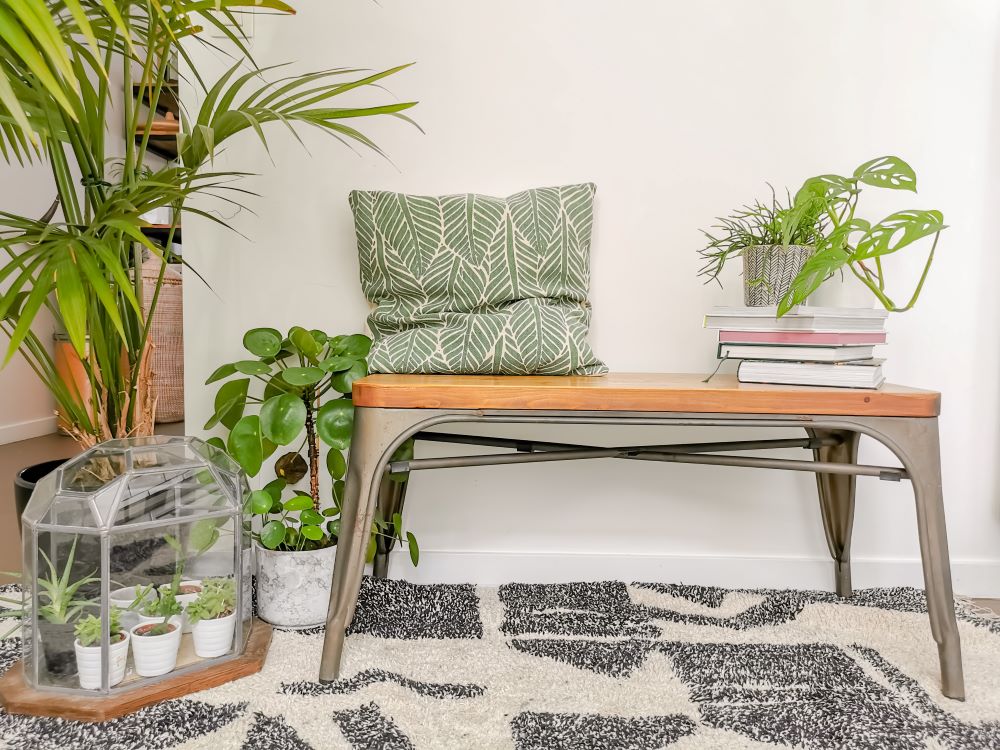 When you think of hallway decorating ideas, you probably don't think about creating a cozy space. However, setting up a seating area in your hallway is a great way to fill in some extra space. If you have a long hallway that feels a little too empty, a seating area is the perfect choice to make your space feel more fulfilling.
How To Set Up A Hallway Seating Area
Start with your actual seating. This can be a small bench, a set of wooden chairs, or even a set of luxurious armchairs.
Next, lay down a comfy rug. The rug can also bring a lot of color into your space, so choose one that matches your home's palette.
Add some throw pillows to your seating to make it feel even more comfy. You can even add a throw blanket for an extra touch of comfort.
Then, set up some greenery or flowers nearby for a fresh look.
Depending on the amount of space you have, you can also add a small side table to your seating area with some candles on top.
Additionally, if you have an outlet nearby, feel free to add a lamp.
Then, decorate the wall behind your seating area with some beautiful artwork or a mirror.
Finally, decide if you want to bring in some books or magazines for a great functional seating area.
---
---
Set Up A Unique Hallway With An Accent Wall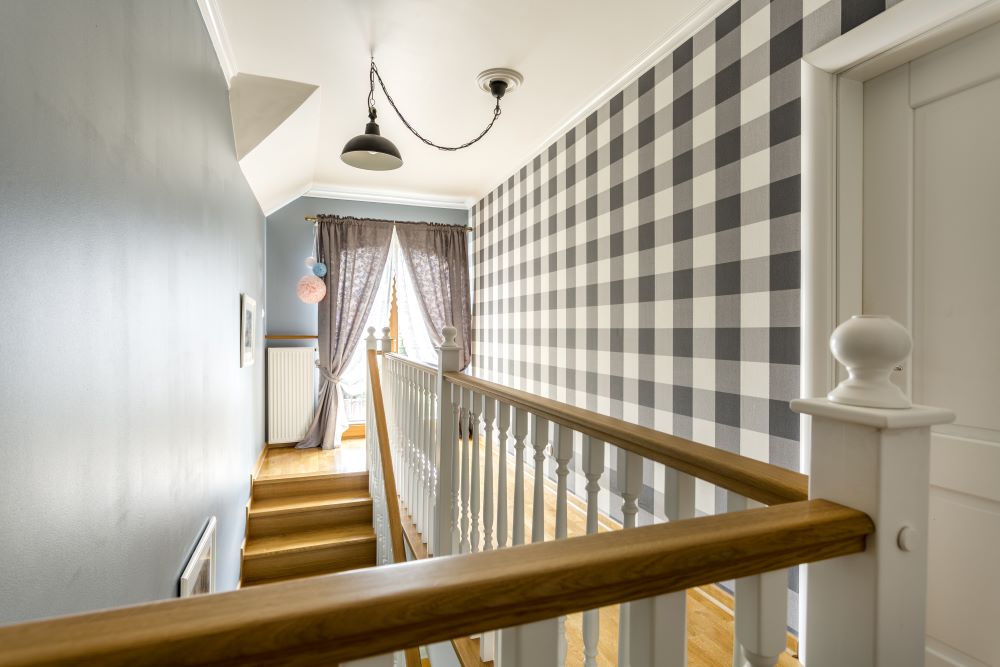 Another way to decorate your hallway with style is to create an accent wall. Accent walls can instantly make any space look unique and stylish, and your hallway is no different. Setting up an accent wall in your hallway will bring an immediate eye catching element to make your space look bold and bright.
Whether you want to use paint, wallpaper, or decorations to create your hallway accent wall, you can find many ways for your hallway to fit into your overall home decor style. Check out some hallway accent wall ideas below to see what ideas will work for your home and personal taste.
Hallway Accent Wall Ideas
Use patterned wallpaper for an interesting hallway accent wall
Paint your hallway a darker color than the rest of your home for a bold contrast
Set up a gallery wall across your hallway to get a unique decorative look
Use wood plank peel and stick wallpaper across your hallway walls for a rustic appearance
Create a full display of fabric wall hangings across your hallway walls
---
---
Inspired by these hallway decorating ideas? Get started on your decor spread by checking out our Home Decor section! Find accent furniture, wall hangings, decorative accents, home collections, and much more to make your space feel stylish and complete.