9 Fall Porch Ideas For A Festive Home
A festive front porch is a must for the fall season. By combining comfort, style, and fall trends, you can easily decorate your porch to match the harvest season. There are so many different ways to decorate your porch for the new season. With the addition of pumpkins, a new doormat, lights, throw pillows, and other themed accents, you can make your outdoor space look brand new. Whether you want a fully decorated porch or just a simple and subtle look, here are 9 fall porch ideas for a festive home.
---
1. Display Pumpkins In Flower Pots For A Unique Fall Porch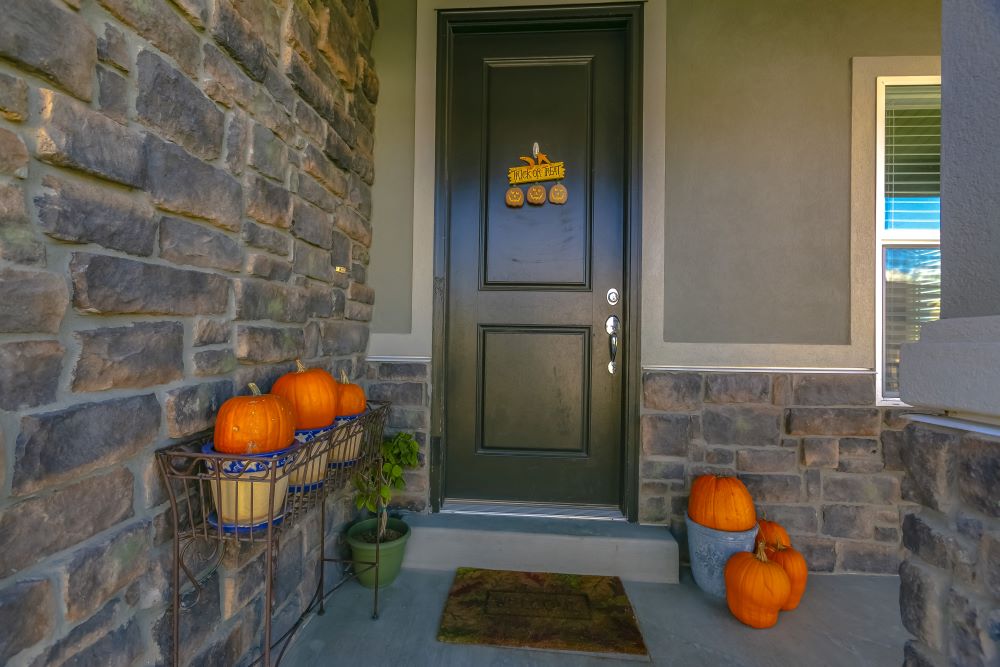 Pumpkins are, of course, a much needed addition to your porch for the fall season. However, instead of just displaying them on the ground, you can find more creative ways to show them off. Creating a creative pumpkin display is a great way to amplify the festive and charming feeling of the harvest season.
An easy and interesting way to display pumpkins is to place them inside of flower pots and planters. For instance, you can place some pumpkins inside of small pots in a planter stand for a display that stands out. You can also place a larger pumpkin inside a galvanized metal planter for a rustic fall look. You can even put a flower pot on each porch step with a pumpkin in each one. This will give you a unique pathway to your porch, perfectly festive for the season.
Other Creative Ways To Display Pumpkins
In addition to putting pumpkins inside of flower pots and planters, you can also decorate with pumpkins in other interesting ways. If you're looking for other ways to display pumpkins on your front porch, check out some ideas below to get started.
Place mini pumpkins inside of clear glass lanterns.
Display pumpkins on top of candleholders on a side table.
Add two large pillars to each side of your front door and add a pumpkin on top of each one.
Paint a large mix of pumpkins different colors and display them on the porch steps for a vibrant look.
Add mini pumpkins to a clear flower vase and then fill the vase with faux flowers.
---
2. Use Leaf Garlands To Make Your Porch Festive For Fall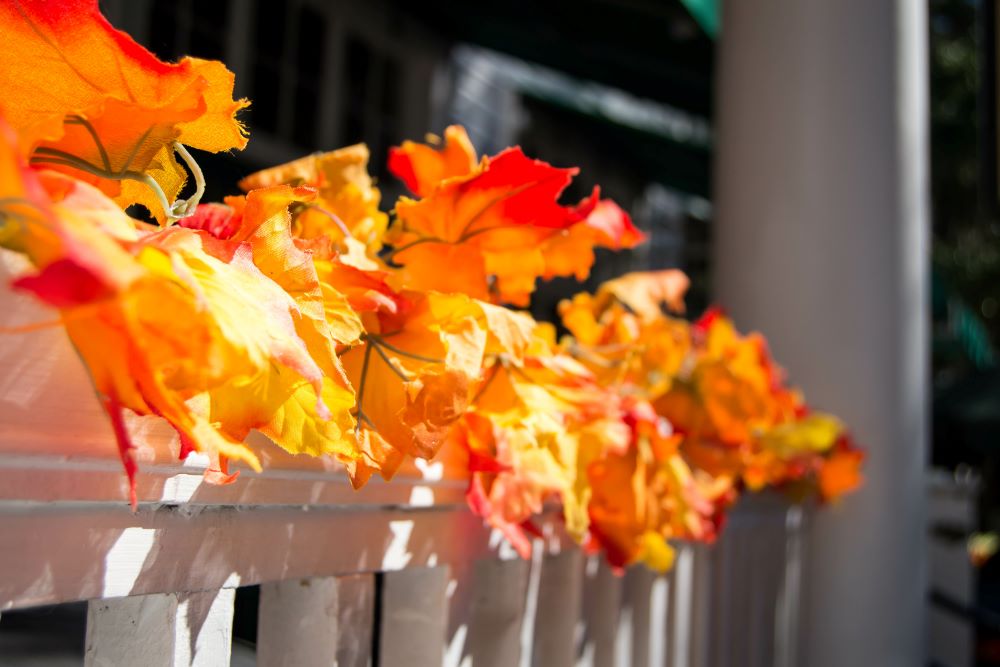 In addition to pumpkins, another strong element of the fall season is the beautiful autumn leaves. Decorating your porch with leaves is a great way to make the space look extra festive. Leaf garlands and other leaf accents can be used in so many different ways on your front porch. No matter how you display them, you can easily transform your porch into a themed area. Whether you want to use garlands or another type of leaf decoration, check out some ideas below for inspiration.
How To Use Leaf Decor & Garlands
Wrap garlands around your porch railing and then wrap fairy lights around them.
Hang garlands from your porch walls.
Fill clear glass lanterns with decorative leaves.
Do a DIY project by wrapping a garland around a foam wreath and hanging it from your door.
Use individual crafting leaves and glue them onto a pumpkin.
Wrap garlands around your porch bench or chair.
---
3. Layer Your Doormat For Cozy Fall Porch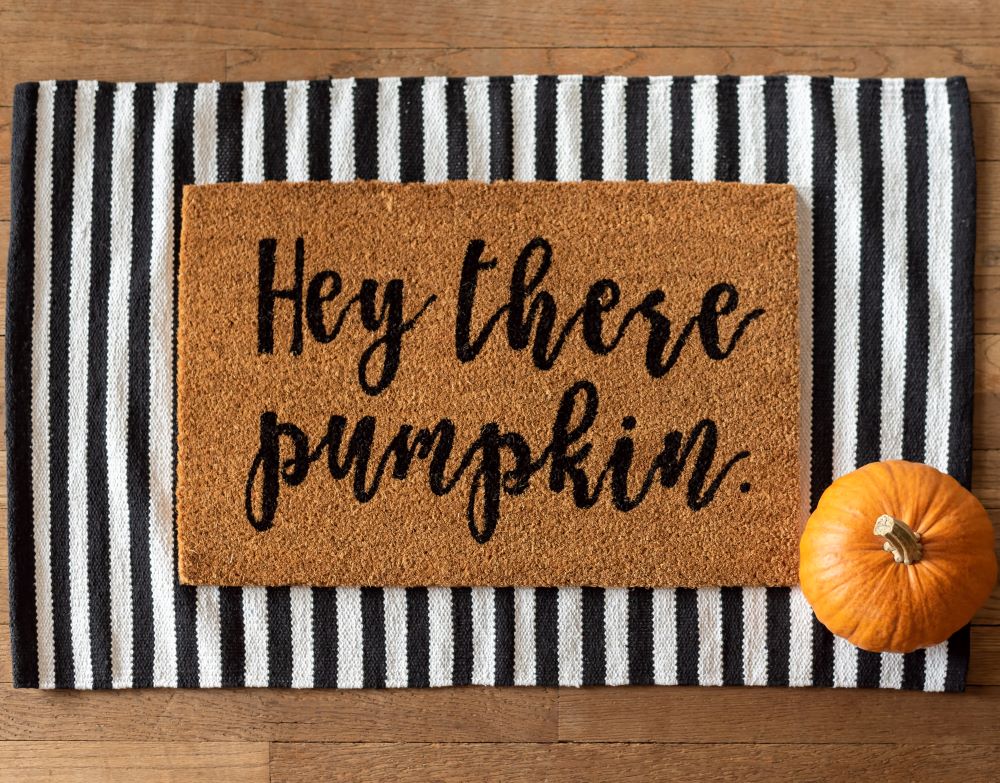 When you're decorating for fall, you typically want to create a warm look to make your space feel extra welcoming and comfortable. An easy way to bring that comfort on your porch is with a themed doormat. However, if you want to elevate that even more, try layering your doormat for an even cozier appearance.
Start with a fabric doormat for the bottom later. This can be almost any color and pattern; however, if you want to make it festive for the fall, use plaid patterns and warm colors. Next, place a smaller doormat on top – this doormat can be a sturdier material such as a coir doormat. The top doormat can feature a fall sentiment, fall patterns, or other themed elements depending on how bold you want your theme to be. This layered look will look nice and homey displayed on your porch.
If you want to keep the cozy look going, you can even add themed stair tread mats to your porch steps. This is an easy yet effective way to warm up the look of your space. You can even match the tread mats to your doormat to help the entire porch come together in a cohesive theme or color scheme.
---
4. Give Your Porch A Chic Fall Look With Black & White Decor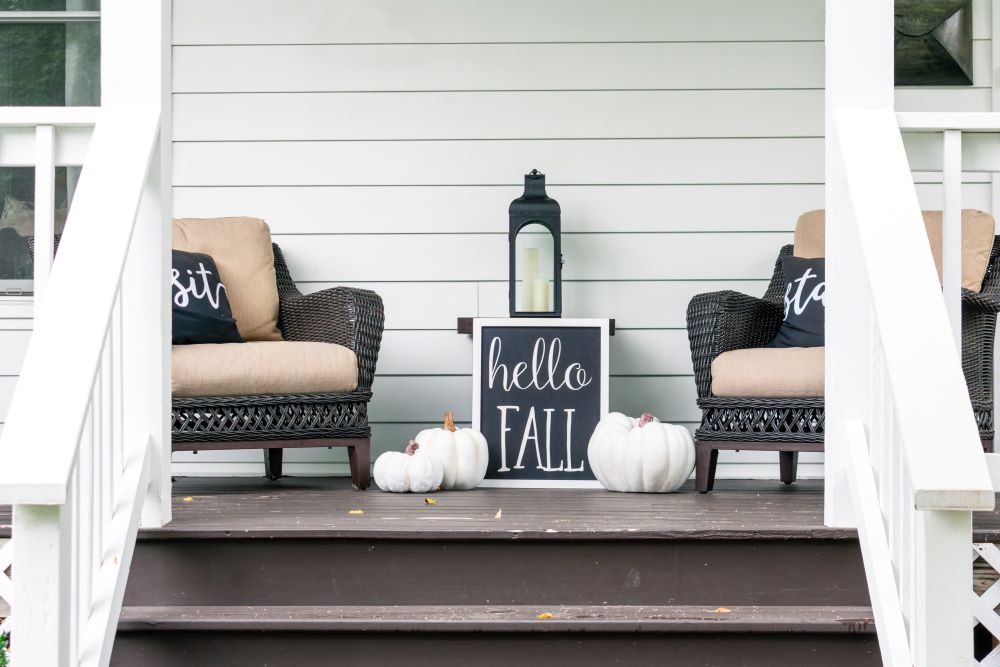 While fall typically has a warm color scheme of red, orange, and gold, that doesn't mean you need to stick to those colors for a festive look. If you want your porch to be more chic and stylish for the fall season, consider decorating it with a black and white color scheme instead. This will still allow you to decorate with fall themes and symbols, so it won't take away from the festive look you want to create.
Black And White Fall Porch Decor Ideas
There are so many different ways to decorate your fall porch in a black and white color scheme. Whether you just want to add a few harvest themed accents or if you want to fill your space with a full festive spread, check out some ideas below for inspiration.
Paint pumpkins black and white to display on the porch steps.
Use black lanterns with white LED candles.
Display a chalkboard sign with a fall sentiment.
Use black and white cushions and throw pillows.
Set up two white pillars on each side of the door with black painted pumpkins on top.
Spray paint a fall leaves garland black to wrap around the porch.
Use a black and white fall sentiment doormat.
Display black and white plaid decorations throughout your porch space.
---
5. Amplify The Fall Theme With A Large Pile Of Pumpkins On Your Porch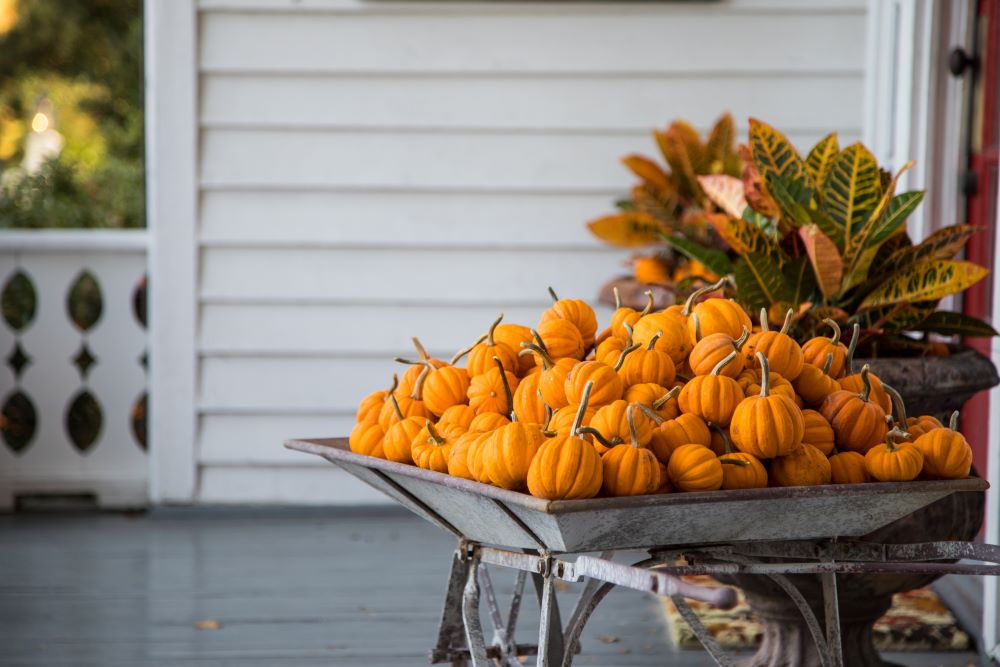 If you really want to make your porch look full and festive for the harvest season, take it up a notch by using a large pile of pumpkins to decorate. Displaying piles of pumpkins will make your porch look extra bright, vibrant, and fun all season long. There are many different ways to show off pumpkin piles this fall, whether you want a smaller display or a magnificent setup.
Check out some ideas below for creating a decorative pumpkin pile on your porch. Keep in mind that you can either use mini pumpkins or large pumpkins depending on the type of look that you want.
Pumpkin Pile Ideas For Your Porch
For a rustic look, fill a galvanized metal wheelbarrow with a pile of pumpkins.
Create a stacked pile of pumpkins on top of your porch bench (this is a good idea if you don't use your bench often).
Add a basket or bucket on your porch and fill it with a pile of pumpkins.
Fill up a tall glass floor vase with mini pumpkin and display one on each side of your door.
Set up a pumpkin pile on top of an outdoor table on your porch.
Add pumpkin piles to your porch steps for a full and festive look.
---
6. Create A Fall Porch Scene With Hay Bales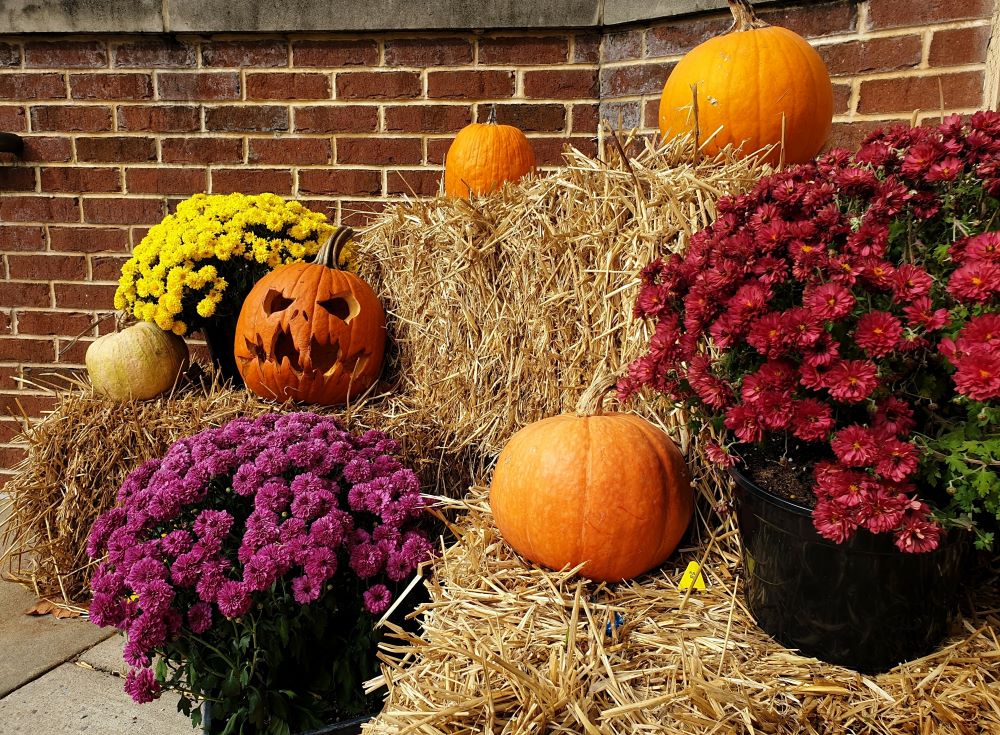 Another great way to make your space look festive for the fall time is to use hay bales to elevate your decorations. Hay bales are a big staple of the fall season and can elevate the comfy cozy look of your porch. There are a variety of ways you can display hay bales in your outdoor space. Whether you want a bold fall appearance or a more subtle look, you can easily transform your porch.
Combining hay bales with pumpkins is the simplest yet most effective way to decorate your porch. Stack up a few bales and place some pumpkins on top for a quick transformation. You can also add some fall sentiment signs, decorative statues, and other small harvest accents on top. You can even add some fall flower pots on top for a more colorful look.
Additionally, you can use smaller hay bales on other areas of your porch. For instance, you can place some small hay bales on a side table, or you can place one on each porch step with a pumpkin on top of each one. Finish off the look by adding other hay or straw decorations to your porch such as a wreath, wall hanging, and much more.
---
7. Turn Pumpkins Into Planters On Your Porch For Fall Flowers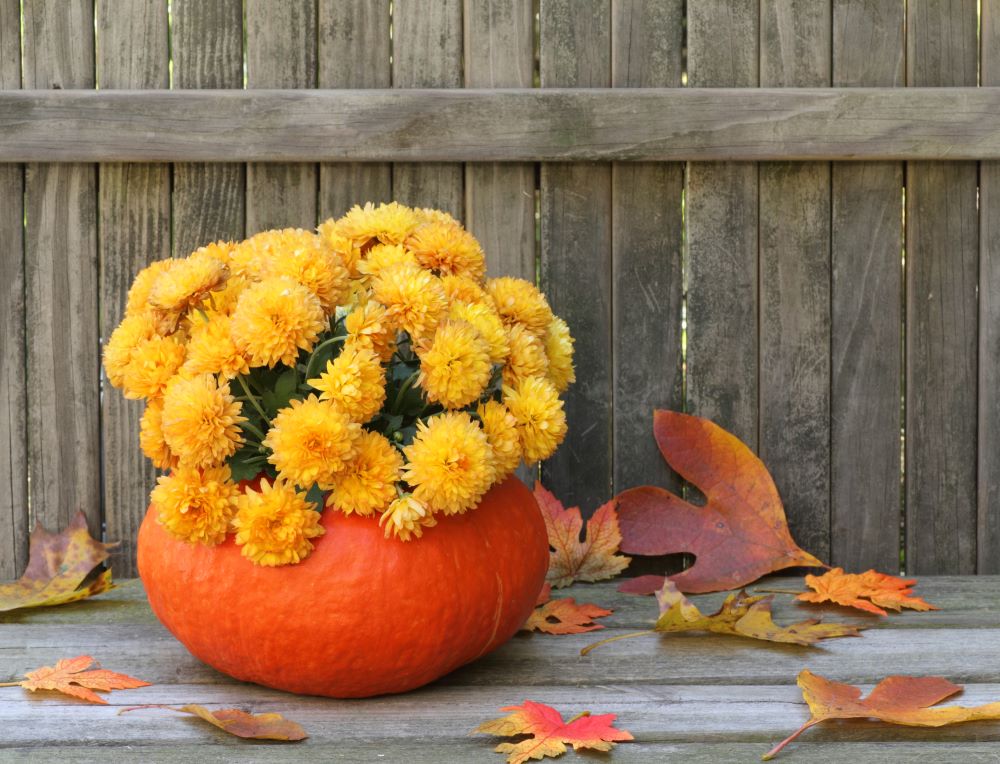 If you're planning on planting fall flowers to put on your porch, why not use a pumpkin alternative to display your flowers in fall style! Making a DIY pumpkin planter is a great way to add some color and flair to your front porch space. Luckily, this is a craft that almost anyone can do because it's simple and easy to make. Check out the steps below.
How To Make A DIY Pumpkin Planter
Start by cutting out the top of the pumpkin.
Then, scoop out the insides (as if you were about to carve your pumpkin!).
Once you've scooped out the inside, it's time to drill some holes in the bottom of the pumpkin. This is incredibly important for drainage to keep your flowers happy and healthy.
You can then place a plant liner inside of the pumpkin, followed by planting soil.
Finally, plant your favorite fall flowers such as marigolds, dahlias, chrysanthemums, petunias, and more.
---
8. Make Your Fall Porch More Cozy With Plaid Accents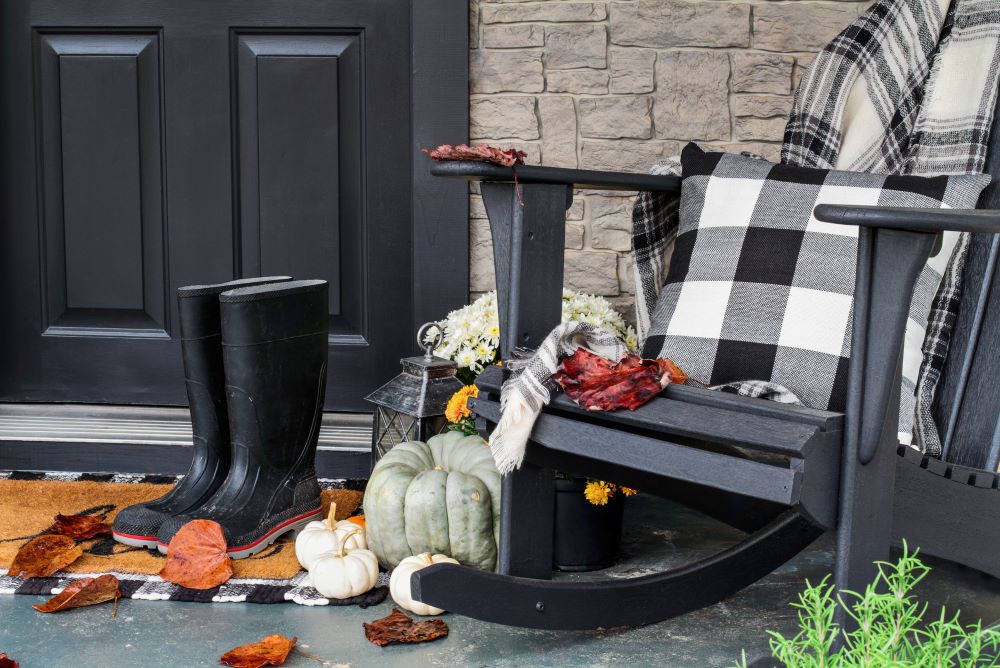 Plaid is a popular pattern for the fall season, so it only makes sense to fill your porch with this pattern. This pattern gives off that warm, cozy, and welcoming feeling that fits with the theme of the season. You can decorate your porch with almost any plaid color scheme; however, black and white or red and orange are both solid options for a festive space. There are a lot of different ways to bring the plaid pattern to your porch.
Plaid Decor Ideas For The Porch
When it comes to plaid decorations for the front porch, there are so many different types of accents you can find with plaid patterns. Whether you want a full plaid spread or just some simple additions, check out some ideas below for inspiration.
Pillows and blankets
Doormat
Fabric door wreath
Festive wall hangings
Flower pots and planters
Fabric or ceramic pumpkin decor
Themed welcome flag
---
9. Add String Lights & Lighted Decor For A Magical Fall Porch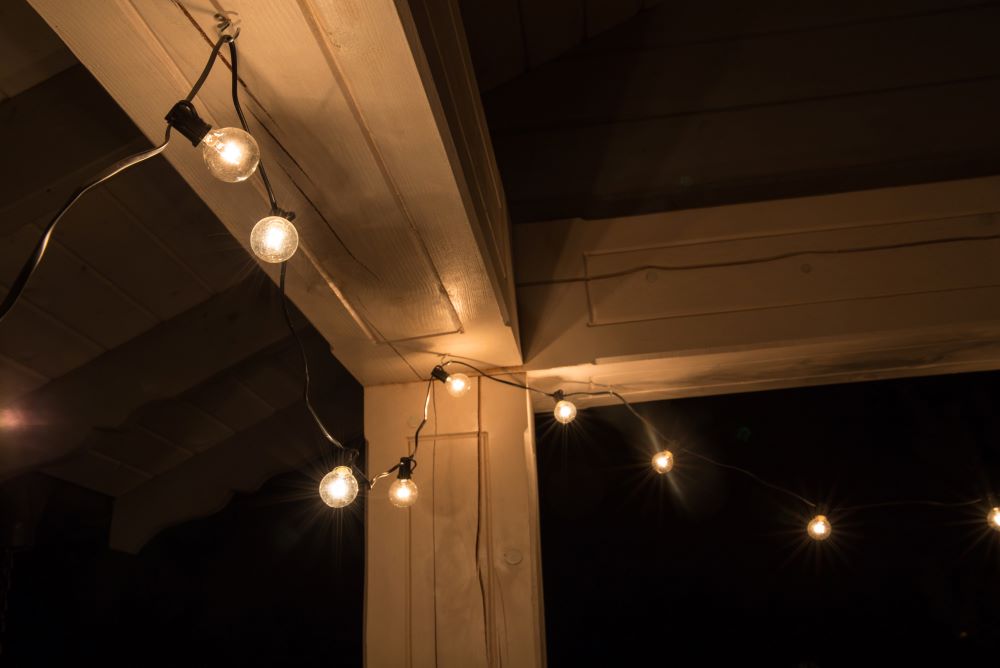 Last but not least on this list of fall porch ideas is the addition of string lights and other lighted decorations. Lighting is a big part of the fall look because it can add to the warm and welcoming environment you're trying to create. Whether you want to use lighting to amplify the decorative look of your space or if you just want to use it in a more subtle and simple way, you can easily get the look that you want. Check out some ideas below to light up your fall front porch.
Fall Porch Lighting Ideas
String lights or fairy lights (these can even be extra festive such as pumpkin or leaf shaped lights)
Lanterns with LED candles
Solar stake pathway lights in fall colors
Lighted fall themed statues
Solar lighted fall wreath
Wall sconce lights
Solar lighted pumpkins
Light up planters with fall flowers
---
Now that you've learned some fall porch ideas for a festive home, shop our Fall Harvest Decor section to get started on decorating! Find themed accents, doormats, outdoor lighting, decorative signs, and much more to make your porch look festive for the harvest season.