7 Ideas For Decorating Kitchen Counters
Decorative accents and other accessories can add a lot of style to your kitchen. If your kitchen needs some extra personality or if it needs a change in style, you can easily transform it by decorating your kitchen counters. Luckily, you can bring life to your counters with some simple additions that are quick and easy. Here are 7 ideas for decorating kitchen counters.
---
1. Add Pops Of Color With Decorative Accents Throughout Your Kitchen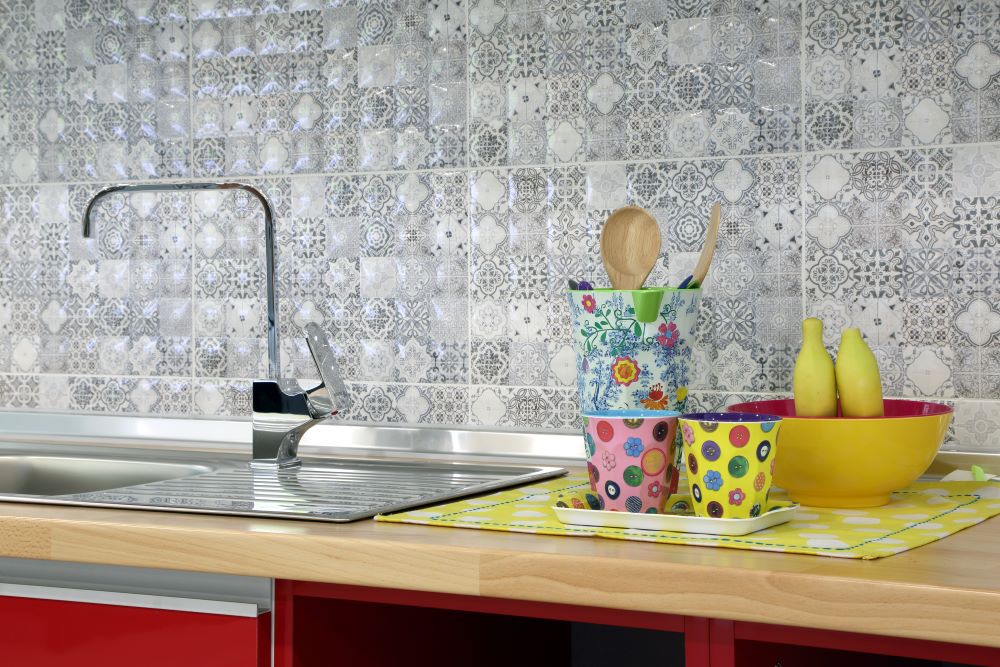 Bringing some extra colors to your kitchen can make your space feel more fresh and bright. Adding in pops of color through decorative accents is a great way to transform your space. This idea works especially well if you have a neutral color scheme; however, you can easily incorporate this idea into any kitchen.
Decorating kitchen counters with colorful accents is a way to add pops of color throughout the room. This allows you to have fun with your decorations without making the space feel too overwhelming or overdone. The idea is to use a variety of colors with your accents rather than using one main accent color. If you're feeling adventurous, you can even try to include an accent for every color of the rainbow.
Colorful Accent Ideas For Your Kitchen Counters
Display a wide selection of colorful coffee mugs.
Use a brightly colored bowl to hold fruit on your island.
Place a colorful cutting board on your counter.
Use a selection of various colored vases filled with real or faux flowers.
Store your baking and cooking supplies in colorful canisters.
Set up a kitchen island centerpiece with a brightly colored sculpture or statue.
---
2. Create An Eye-Catching Centerpiece On Your Kitchen Island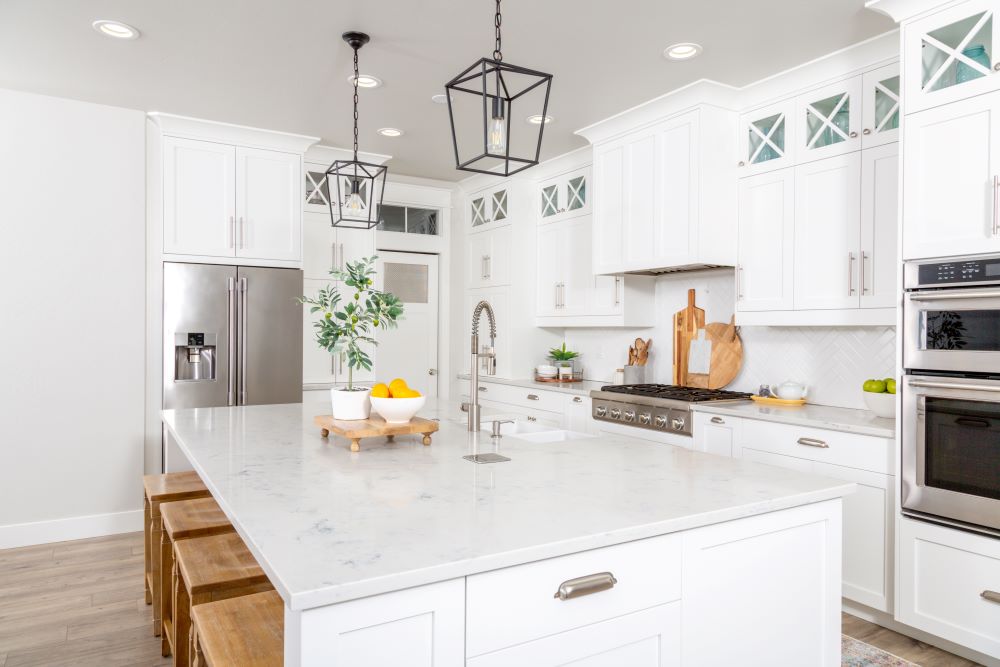 When decorating kitchen counters, you can forget about the island! Your kitchen island is the center of your kitchen, so why not amplify it by giving it a centerpiece of its own! Adding a defining centerpiece on your island will tie the entire room together and will also give the space an eye-catching element.
Remember that you don't necessarily want to take over the kitchen island, but you do want to decorate with something that is noticeable. Opt for brightly colored, tall, and loud pieces that will stand out on the island. This will help you maintain enough empty space for food prep and eating, but will also add some eccentricity to your room.
How To Set Up A Kitchen Island Centerpiece
Start with a tray or a cake stand. This is a great way to keep your accents confined and make it feel more centered on the island.
Next, pick your tallest decoration. For instance, you can display a large vase with tall flowers.
Then, pick a shorter decoration. This can be anything from a bowl of fruit to some candles.
You can also add a medium height decoration to balance out the look, such as a unique decorative figurine or even another vase of flowers or plant.
Place your display in the center of your island and enjoy the view!
---
3. Use Trays & Containers To Display Decorations On Your Kitchen Counters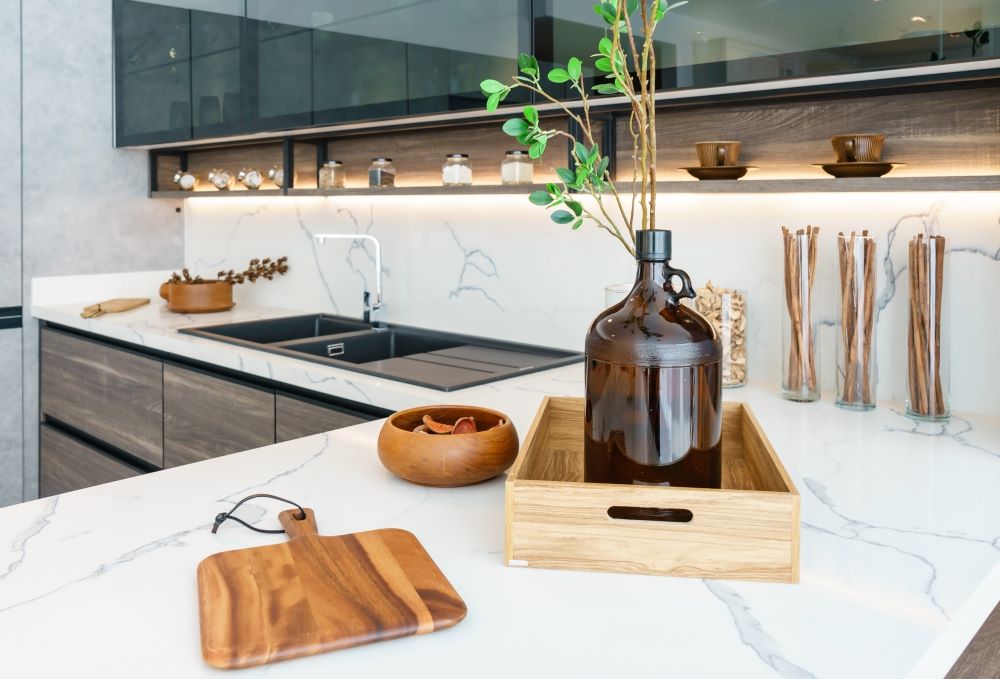 Sometimes if you add too many decorations to your kitchen counter, they can make the room look too cluttered. Luckily you can still have a fully decorated kitchen while maintaining a clean and tidy look. With the help of trays, containers, and canisters, you can easily transform your kitchen.
If you have limited counter space, the best way to decorate your counters is to use tall and skinny containers or canisters. For instance, you can display flowers or other tall accents in skinny glass vases. You can also use decorative canisters to hold your baking and cooking essentials on the counter in front of your backsplash.
You can also use trays to display an arrangement of decorations on the counter. This will keep all your small accents confined into one space but still gives your kitchen some style. Make sure to balance out your small decor with tall items to give the display some variety. These trays can look especially nice angled in the corner or on the island.
---
4. Combine Function & Style When Decorating Your Kitchen Counters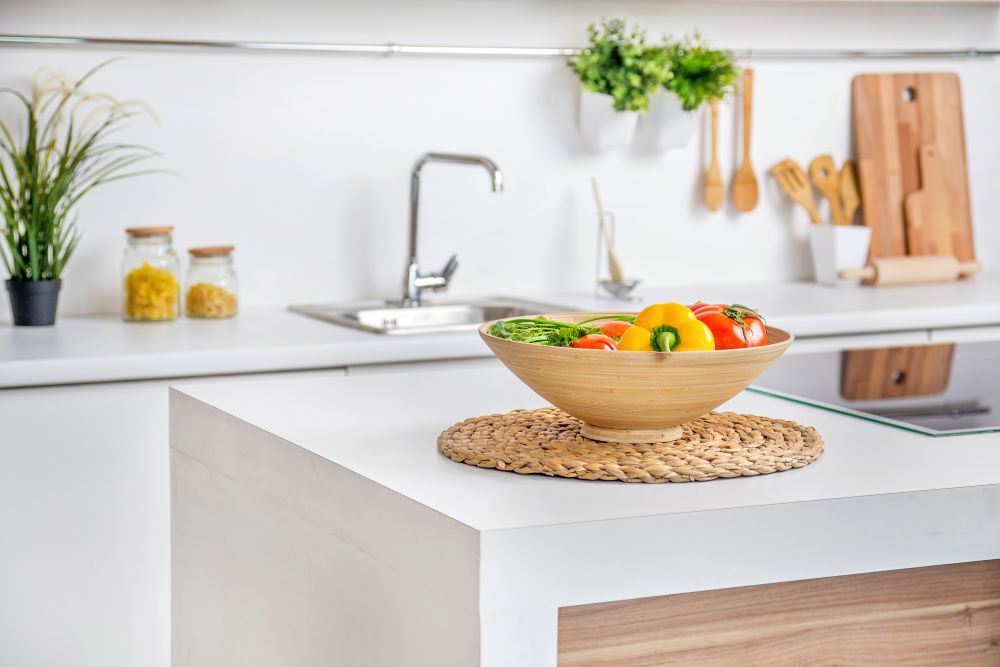 Decorating kitchen counters doesn't only have to be stylish, but it can also be functional! Smart decorating means finding ways to tie your decor and essentials together in a seamless and strategic way. Luckily, this is way easier than it sounds.
Take a look around your kitchen to see where you can incorporate some extra style or extra function. Maybe you have some cooking supplies out on the counter that needs to be organized. Why not add some style to it while you're at it? Combining function and style is a productive way to decorate and organize your kitchen all in one.
Functional & Stylish Kitchen Decor Ideas
Decorative fruit bowl
Stylish canisters for flour, sugar, and other baking items
Elegant vases and cups for cooking tools like spatulas and spoons
Clear jars for food or cooking supplies
Decorative cutting board displayed next to the stove
---
5. Use Decorative Soap Dispensers To Add Style To Your Kitchen Sink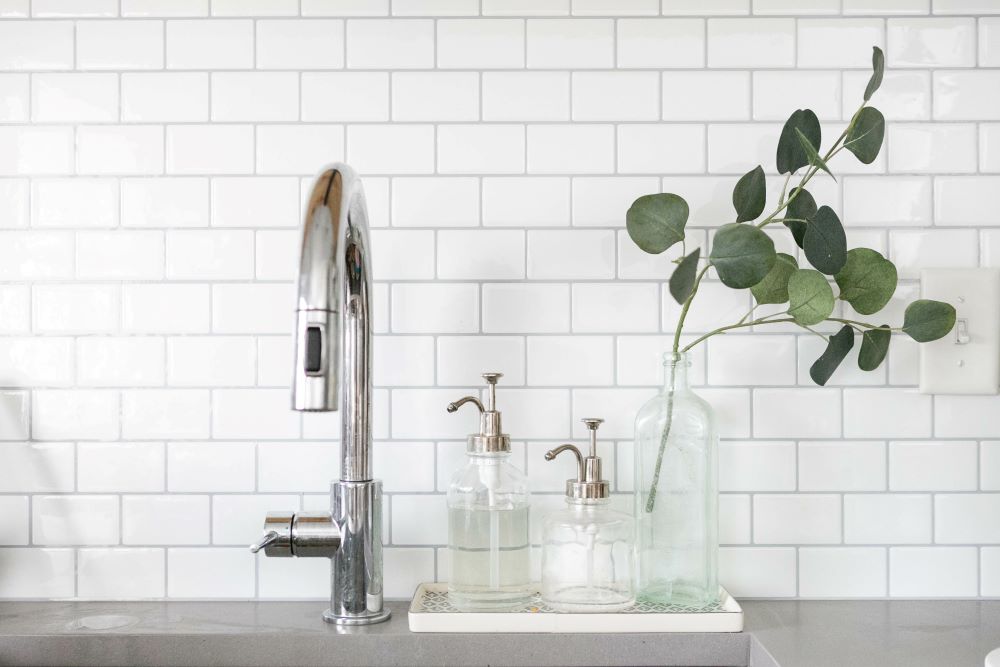 One of the quickest and simplest kitchen counter decoration ideas is to swap out your soap dispensers for more decorative ones. This easy idea can surprisingly add a lot to your kitchen and make your sink area look more put together.
Use a clear glass soap dispenser for an elegant look, or use one that matches your main accent color in the room. You can use a set of matching dispensers for your hand soap and dish soap, or use two different ones for some unique variety. Additionally, you can even use other decorative dispensers for lotion and hand sanitizer if you keep those in your kitchen too.
Combine you new dispensers with other decorative accents to make your sink area feel more decorative. Add items such as a vase of flowers or a plant, some candles, or even a decorative jar to hold your cleaning brushes. Bring some colors to your sink area to brighten up your space and tie the room together.
---
6. Brighten Up Your Kitchen With Plants & Flowers
Everyone room could use a little freshening up, so why not brighten up your kitchen with plants and flowers! Bringing colorful plants and flower to your kitchen can make the space feel even more welcoming and can brighten up the room instantly.
While faux flowers and plants are usually easier, using real ones will make the room feel even brighter. Use decorative vases and planters to display them and to help them complement the other decorations in the room. Taking the time to take care of plants and flowers will be well worth it.
Plants and flowers work especially well as centerpieces on the kitchen island, but also look nice displayed in the corner of your counters and near your sink area. You can tie the room together even more by also including small plants on shelves near your counters, along with on your kitchen table nearby.
---
7. Set Up A Mini Coffee Bar On Your Kitchen Counter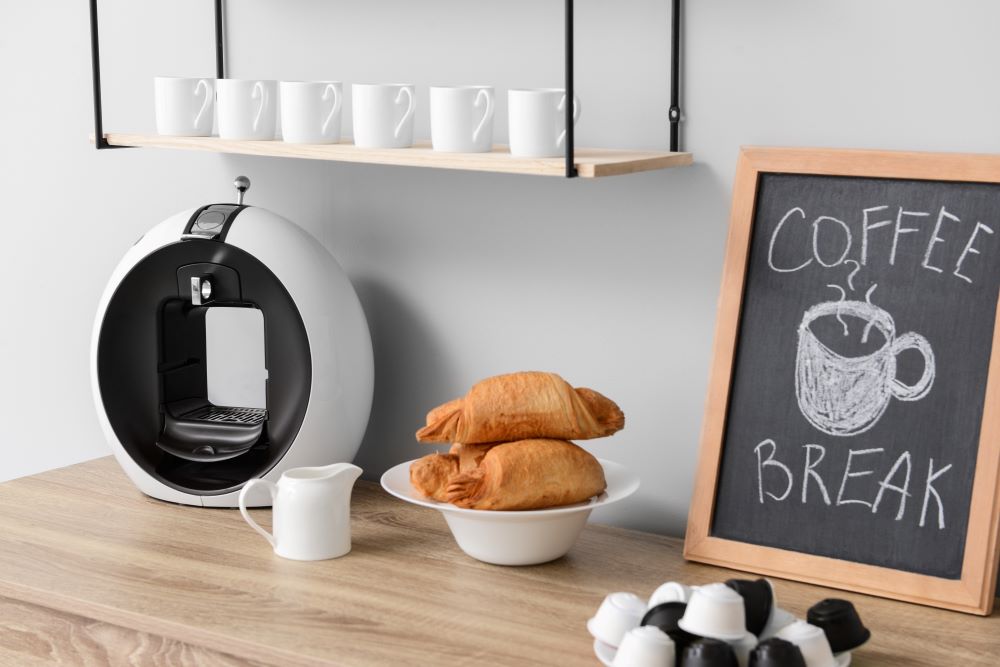 Coffee bars are very trendy and popular these days. While a lot of people tend to set up coffee bars on a separate table in the kitchen, you can also set one up on your kitchen counters. This is great for people who have a large amount of counter space because it allows you to play around with the space more.
If you have smaller counter space, you can still set up a mini coffee bar. Simply take the same steps but use smaller decorations or less items to create your area. You can alternatively set up a tea or hot cocoa bar if you don't have any coffee drinkers in the house.
How To Set Up A Coffee Bar On Your Counter
Start with the main item: your coffee maker.
Then, choose some coffee mugs to display. You can hang them on hooks on the wall above the counter, or use a cake stand to hold them.
Next, add your coffee essentials: creamers, syrups, sugar, etc. Display them in decorative canisters or bowls.
Lastly, add fun accents to dress up your coffee bar. This can include items such as a tabletop sentiment sign or a coffee themed placemat.
---
Ready to start decorating your kitchen counters? Shop our selection of Kitchen & Dining to find accents, linens, and more to make your space feel complete!