7 Kitchen Lighting Ideas To Brighten Up Your Space
Proper lighting in the kitchen is crucial when it comes to cooking, preparation, cleaning, dinner parties, and other activities. The lighting in the room can affect the mood, decor style, and level of productivity. Here are 7 kitchen lighting ideas to brighten up your space.
---
1. Hang Pendant Lights To Give Your Kitchen A Decorative Touch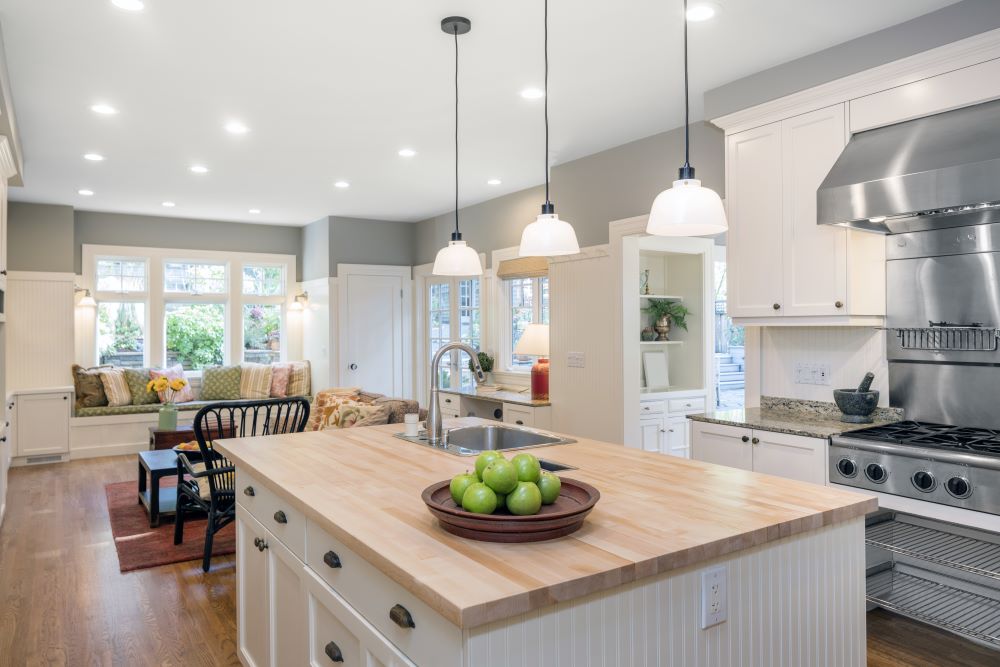 Pendant lights are a modern and decorative kitchen lighting idea. These lights usually look best as a set of three and typically hang over your kitchen island. However, there is flexibility for less or more pendant lights depending on your kitchen layout and personal preference. You can also hang additional pendant lights over your kitchen table.
The size of your pendant lights truly depends on the decor style of the entire kitchen. Bigger pendants don't necessarily give off more light than smaller ones because most of the size and design comes from the outer shell of the pendant, not the bulb.
There is a vast amount of pendant styles, materials, shapes, and sizes. From glass to steel, to simple to decorative, to low hanging to raised up, you can be creative with the type of pendant lights that will fit best into your kitchen.
---
2. Use Ambient Lights On The Kitchen Ceiling To Set A Calm Mood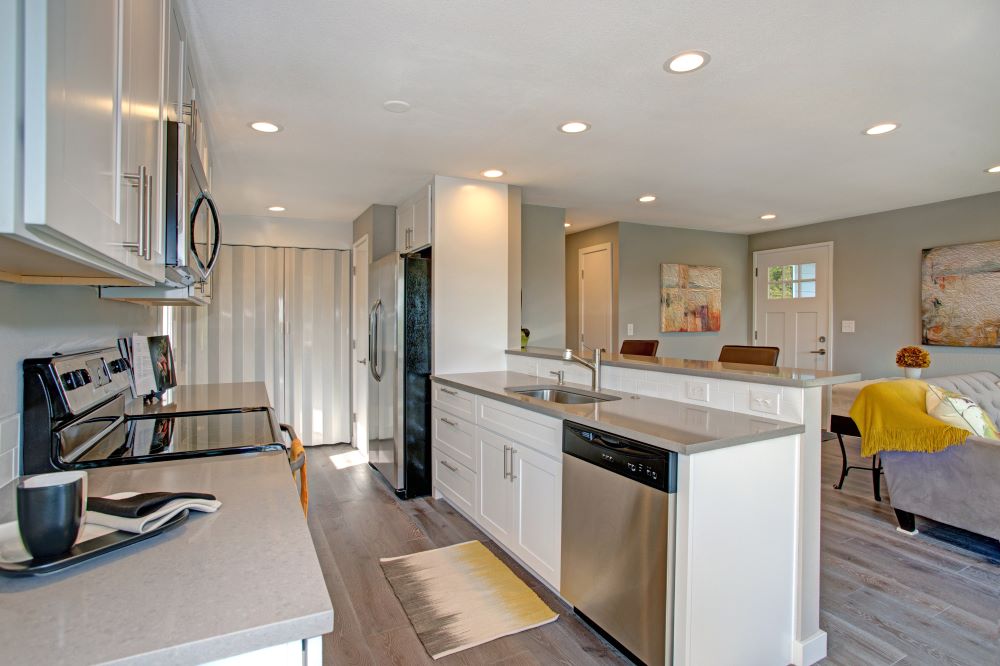 Ambient ceiling lights are a great complement and addition to pendant lights or can be used on their own, especially in a smaller kitchen. These types of lights are nice if you want a more subtle and simple look and they will add light to kitchen in a basic way.
These ceiling lights are typically installed with a dimmer to make them adapt to any kitchen setting or mood. Full brightness is especially helpful for cooking, preparation, and cleaning, early morning breakfast, and cheerful events. The lights can be dimmed for romantic dinners, elegant dinner parties, or to set a general relaxing mood.
If you have a smaller kitchen that connects to your living room, it's best to continue the pattern of ceiling lights into the next room. This will allow them to flow nicely and provide substantial lighting throughout the entire general area.
---
3. Put Lights Under Kitchen Cabinets For Accent Lighting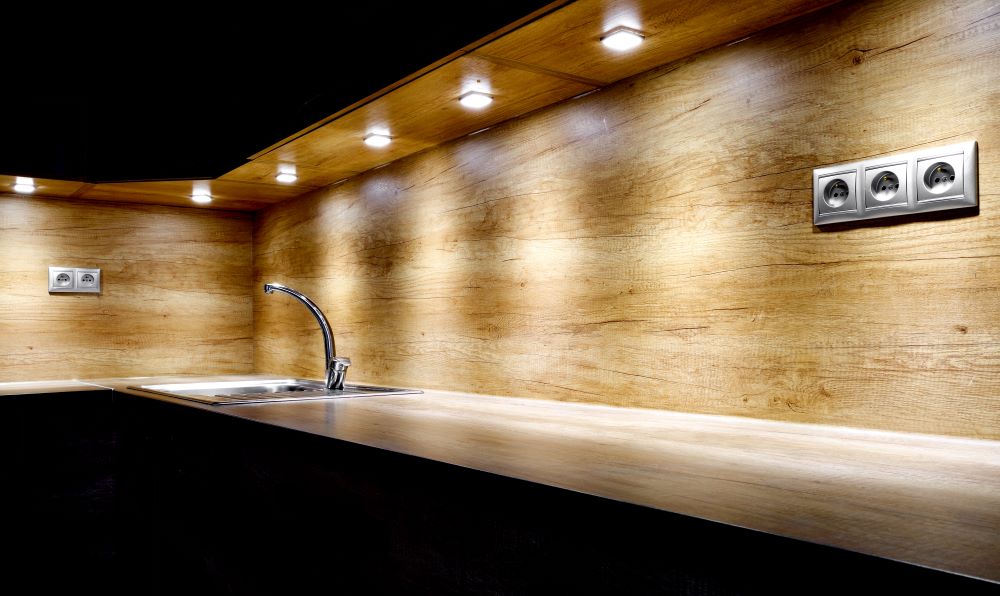 Lights underneath your kitchen cabinets can be useful for a multitude of reasons. They are often overlooked because they don't seem as important as your overhead lights; however, they can be a significant addition to your kitchen.
When you're prepping food on your counters, these lights can provide extra brightness in addition to your main kitchen lights. The under-cabinet lights can also provide a more dim setting for your kitchen if you want to relax with some simple back lighting when the main lights are turned off.
Under-cabinet lights are also usually easier to install than your main lights. Many cabinet lights have adhesive patches, making them simple to stick on in one easy step.
---
4. Let Natural Light Into The Kitchen With The Use Of Skylights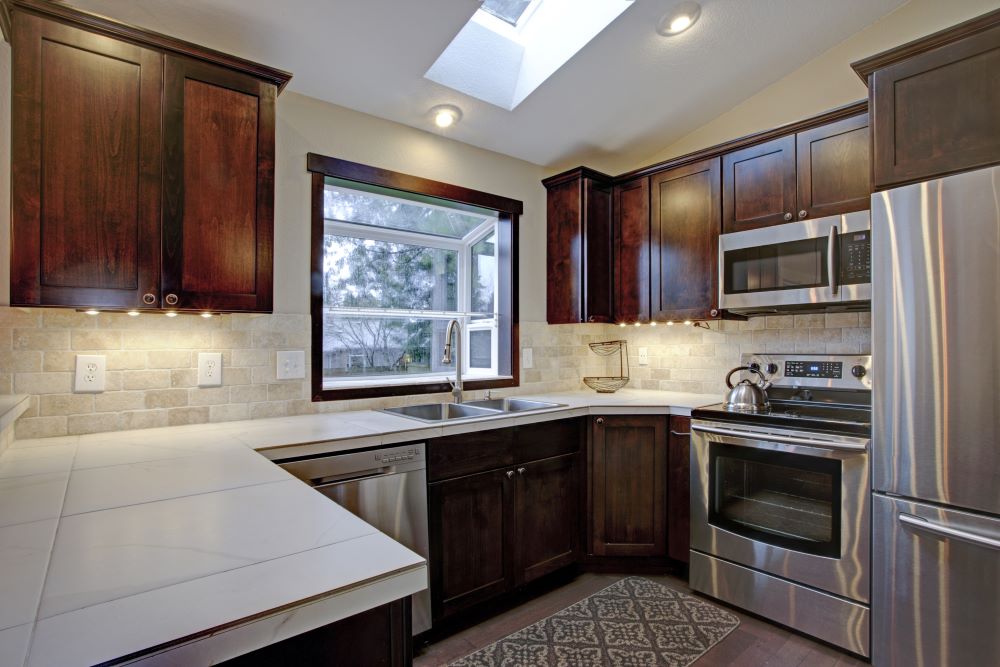 Compared to the other kitchen lighting ideas, this one doesn't involve light bulbs. Skylights will not only help you save some money on your electric bill, but they will also give you brighter light than any of the bulbs in your kitchen. Depending on how big your kitchen is, you may want to have more than one skylight to span a good portion of your ceiling.
A big skylight on your kitchen ceiling in combination with other kitchen lighting can make your kitchen come to life and make it feel more fresh and bright. Keep your other lights turned off during the day and let the natural sunlight shine through.
At night, the skylight is also a unique and interesting element, where you can look up at the stars or the moon right from the comfort of your own kitchen.
---
5. Install Simple Track Lights For A Minimalistic Kitchen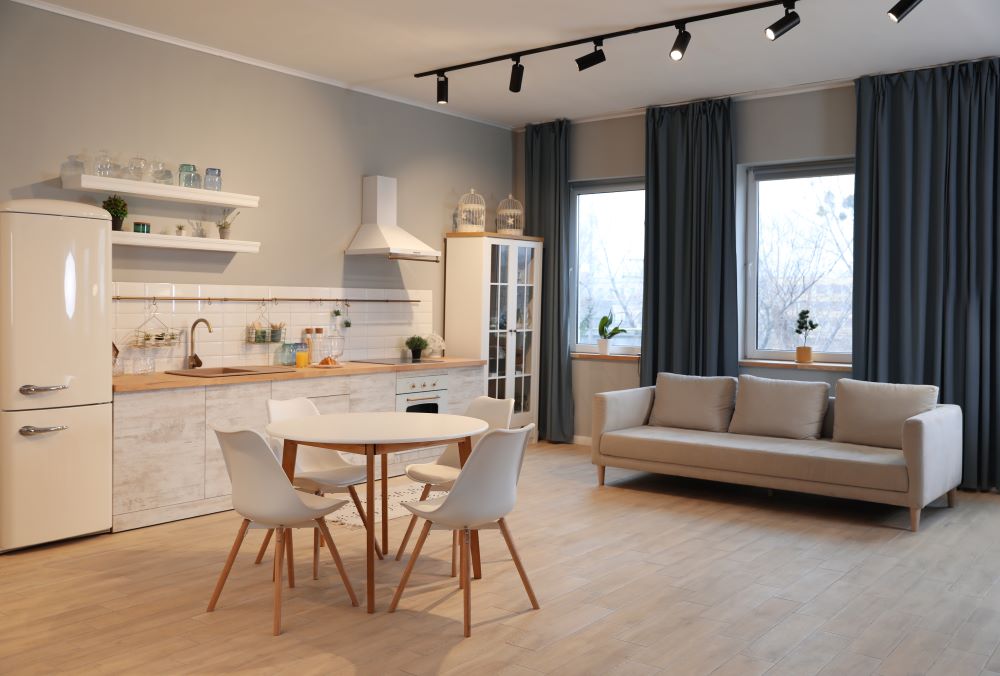 Simple track lights are a great idea for smaller kitchens or if you're trying to achieve a minimally decorative appearance. The general idea of track lights is that it is a simple bar with the ability to move the lights in various directions with various levels of brightness.
Track lights can be installed over the kitchen island, over the counters or over a breakfast bar, or they can even span across an entire kitchen. Some track lights are more simple with smaller bulbs, while others can be slightly more decorative.
These kind of lights can also be used in any room of your house due to their simple design. They fit in nicely with any decor style and provide a sufficient amount of light to fit all of your needs.
---
6. Place A Lighted Chandelier Above The Kitchen Table For An Elegant Setting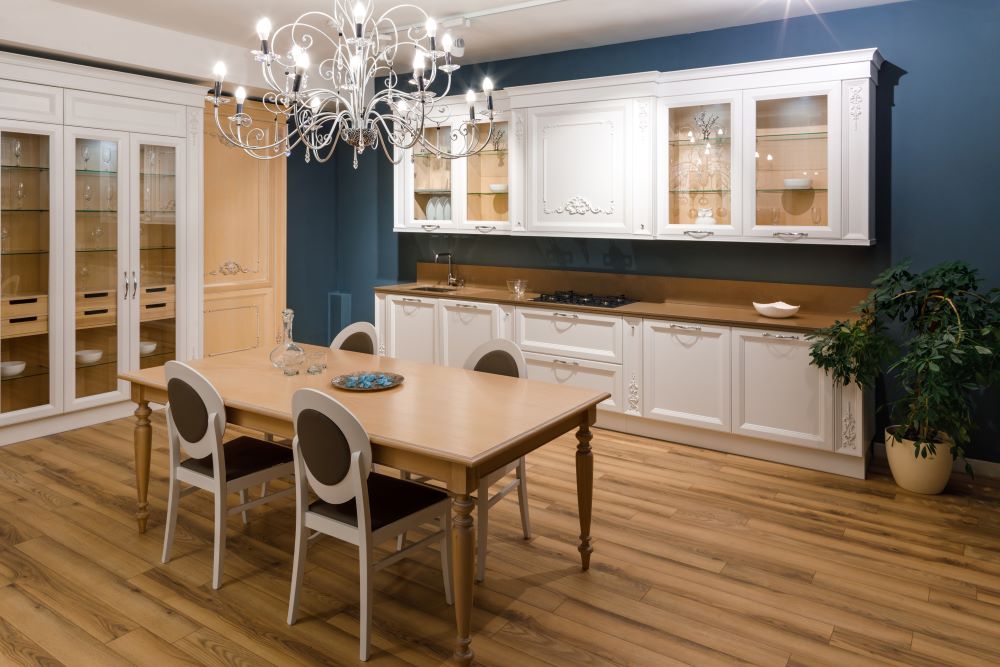 Instead of a traditional hanging light above your kitchen table, install a lighted chandelier to amplify the decorative elements of your kitchen. A chandelier can be a stand out piece in your kitchen that really brings the whole room together.
Chandeliers come in many shapes, sizes, materials, and colors. While traditional chandeliers have a classy and elegant appearance, there are others that can fit in with a more casual, modern, or even country or farmhouse decor style. Find a chandelier that fits in with your furniture, flooring, and counters for the best results.
You can also opt to hang a chandelier light over your kitchen island to bring even more elegance and sophistication into the rest of your kitchen. This can be in addition to your kitchen table chandelier or in place of it.
---
7. Highlight Dishes & Decor With Back Lights In Glass Cabinets Or Open Shelves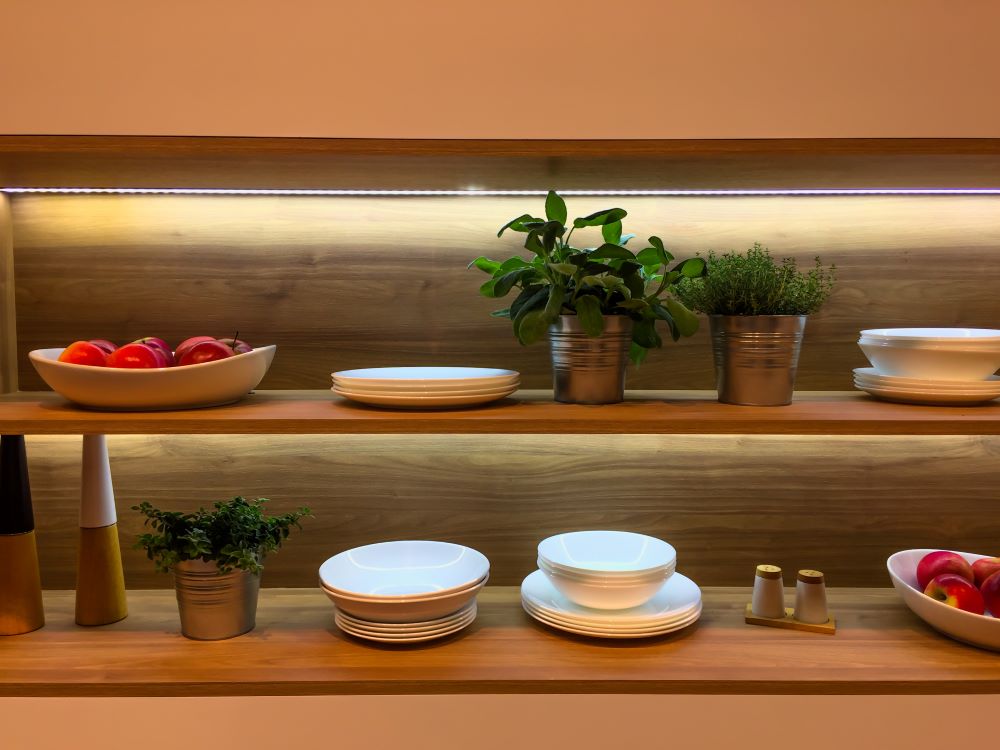 If you're looking for a unique way to display your fancy china dishes, decorative accents, plants, or other bowls and plates, back lights are a solid choice.
Use back lights on open shelves, display cases, and glass cabinets. This will put a unique spotlight on special items and decorative dishes and highlight your collection. Back lights are also useful to use on your regular dishes and kitchen items so you can easily find what you're looking for late at night without turning on all the bright lights.
Install lights that shine down on your items for a more simple and traditional way to highlight your items. Place back lights shining upwards for a more artistic way to display bigger and fancier dishes and decorations.
---
Ready to light up your kitchen and the rest of your house? Shop our collection of Lighting & Lamps for inspiration!
---
Looking for more ideas to brighten up your kitchen? Check out these 7 Ways To Update Your Kitchen On A Budget