7 Storage Furniture Ideas To Keep Every Room Organized
If you're looking for clever storage solutions that seamlessly blend into your other home decor, multi-purpose storage furniture will do the trick! Here are 7 storage furniture ideas to keep every room organized.
---
1. Use A Storage Cabinet To Hold & Display Extra Dishes In Your Dining Room Or Kitchen
If you have limited space for kitchen storage or just have extra dishware that you don't know where to put, bringing in an extra cabinet is a great solution.
Use the Beadboard Wooden Storage Cabinet to store away extra plates and dishes behind the closed doors. This is an ideal space for chinaware or other special occasion dishes.
The open shelves on this cabinet and the top surface can be used to display decorative accents, such as glass figurines, or to display your favorite fancy plates on easels.
You can even use the storage cabinet as a makeshift coffee bar! Simply fill the cabinet with your coffee supplies, display your favorite mugs and sentiment signs on the shelves, and place your coffeemaker on top.
Beadboard Wooden Storage Cabinet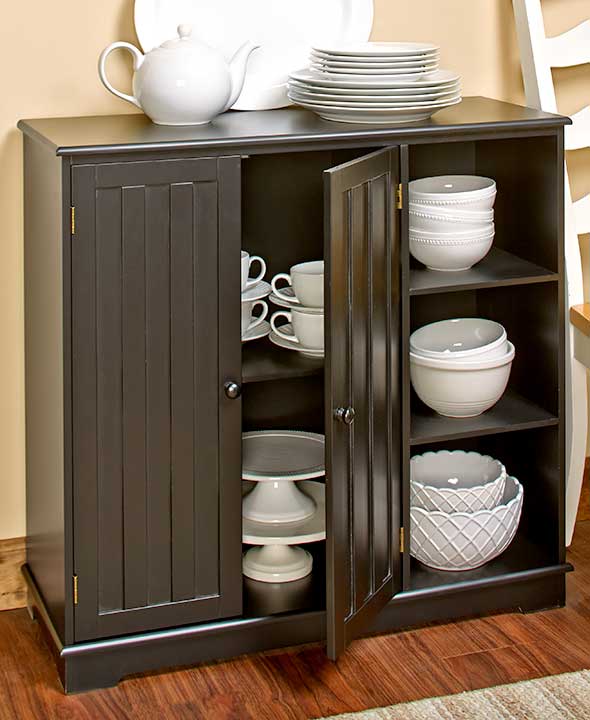 ---
2. Store Extra Pillows & Blankets In Ottomans In The Living Room & Bedroom
Ottomans are a nice alternative to storage boxes and bins because they will blend in more seamlessly with your decor style and other furniture.
These Faux Leather Storage Ottomans or Benches is a great storage solution for your living room or bedroom! Place them in the corner of the room, at the end of your bed, or use the bench as a small coffee table or side table.
Use them in your living room to store extra throw pillows and blankets, magazines and books, video games, remote controls, or other electronic items.
In your bedroom, these ottomans can hold shoes, shirts and sweaters, makeup and beauty accessories, scarves and hats, and any other items that are easy to grab whenever you need them!
Faux Leather Storage Ottomans or Benches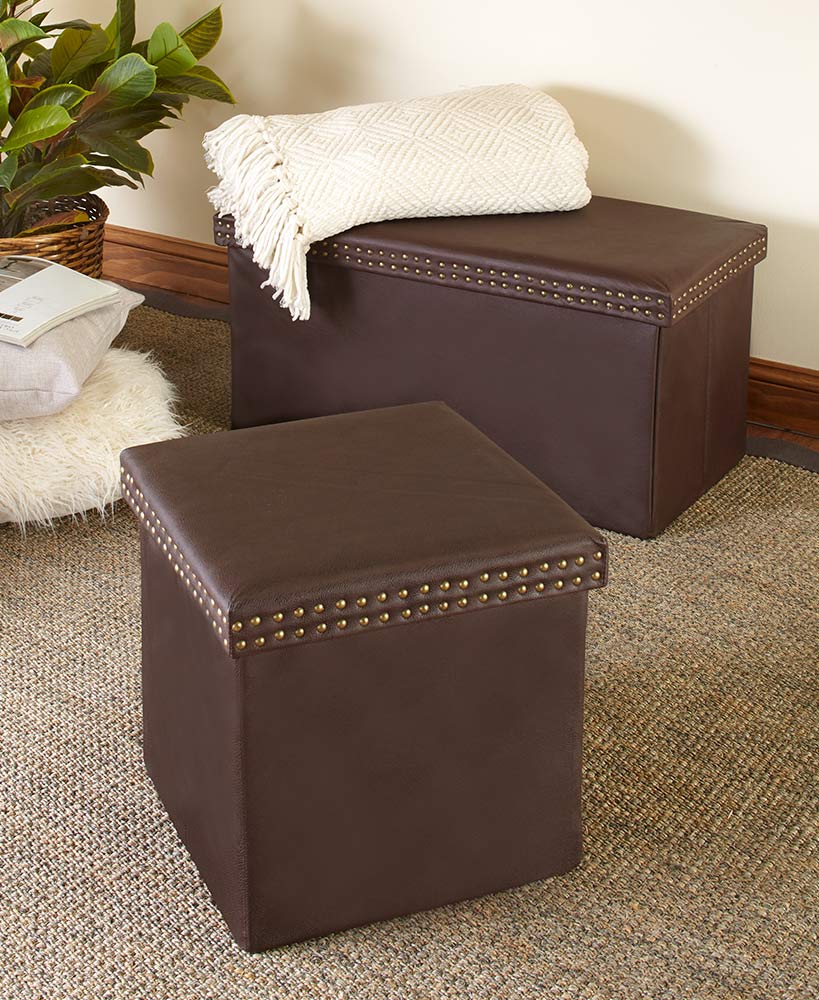 ---
3. Use Slim Storage Furniture To Keep Smaller Rooms Organized
Small bathrooms and kitchens can make it difficult to keep your items organized and tidy, but it doesn't have to be impossible.
These Slim Storage Towers are a great solution because they have enough shelves to store all your items but they won't take up too much space!
Use a storage tower in your kitchen to hold spices, cooking supplies, cutlery, canned food, and other essentials.
Put a slim storage tower in your bathroom and use all the shelves to stay organized. Place everyday items such as your toothbrush and toothpaste and moisturizers in one basket, makeup and beauty items in another basket, and bath and shower products in another. Display fancy soaps and reed diffusers on open shelves. Check out these storage ideas for a small bathroom for even more inspiration!
Slim Storage Towers or Baskets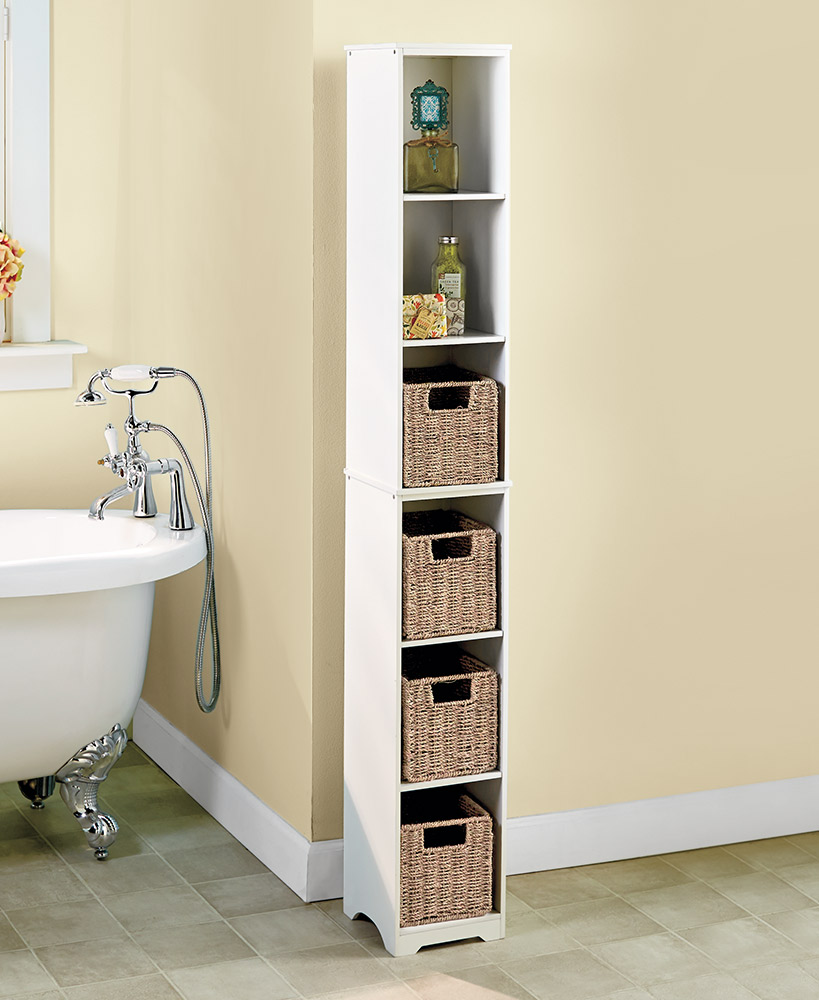 ---
4. Get Creative With Dual-Purpose Side Tables For Storage
Storage furniture tables are great dual-purpose items because they can be both useful and decorative in any room of your house.
The Wood Top Storage Basket Side Table is a wonderful farmhouse decor item to add to your home to hold a variety of items in your living room or bedroom!
Place a table on each side of your couch to store extra blankets, toys, board games, remote controls and much more. Use these as bedside tables to hold books, phone chargers, headphones, and other nighttime essentials.
You can even use these basket side tables in a large bathroom next to your sink to store toilet paper or towels, while using the top to hold your everyday essential items.
Wood Top Storage Basket Side Table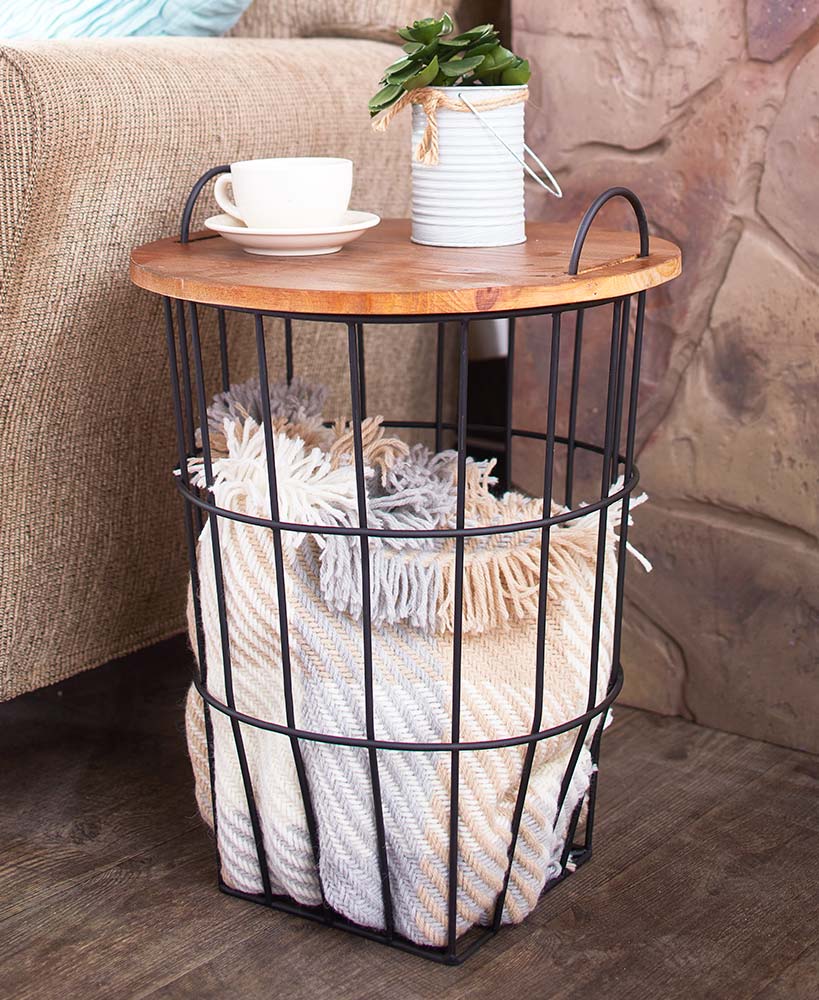 ---
5. Make Storage More Decorative With Open Shelf Tables
Open shelving can help make your storage look more decorative and can blend in with your other furniture more easily than bulky storage boxes.
This Brushed Metallic Console Table with Display Shelves is a unique rustic piece of furniture that can be useful for your storage needs!
Use this table for laundry room storage to hold your detergent, dryer sheets, bleach, and cleaning supplies. Top it off with some faux plants and sentiment block signs to complete the dual-purpose look.
Turn this table into a coffee bar by using the shelves to cleverly hold your coffee, sugar packets, and other essentials. Intermix mugs and themed accents on the other shelves.
Brushed Metallic Console Table with Display Shelves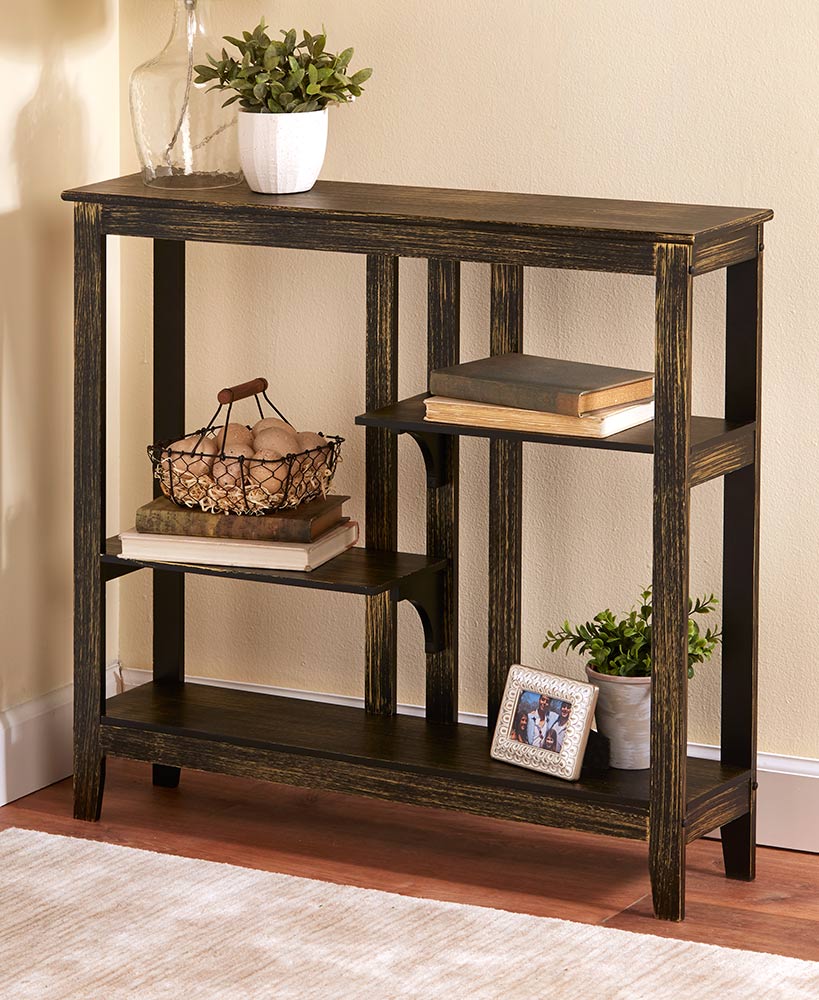 ---
6. Keep Your Entryway Tidy With Multi-Purpose Organizers
If you have a small coat closet and shoes tend to pile up by your door, storage furniture for your entryway is a worthwhile solution!
This Entryway Bench with Rack is a great multi-purpose organizer that allows you to hang up your coats, store your shoes, and it even gives you somewhere to site when putting your shoes on and taking them off.
Place this bench near your front door with a decorative rug underneath it to keep the area clean and free of any dirty shoe marks. Keep your everyday jackets and coats hung up and store away off-season jackets to save space.
You can alternatively use this bench in a walk-in closet. Hang jewelry and purses on the hooks, and keep your most worn shoes out on the racks.
Entryway Bench with Rack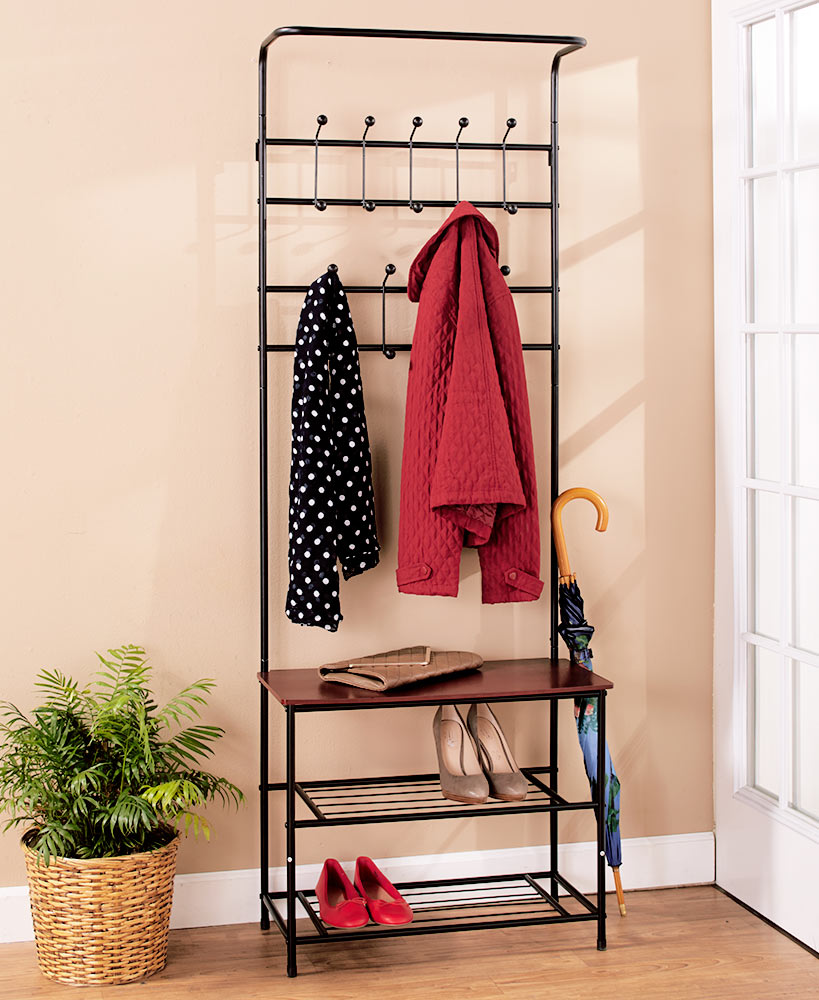 ---
7. Hang Up Decorative Drawers To Use As Storage Shelves
Floating shelves are are great way to display items; however, they don't typically allow for a whole lot of storage space.
These Floral Floating Drawer Wall Shelves offer deeper storage space while still allowing you to display items in a decorative fashion! The floral design of these shelves are a great match for the vintage decor style.
Hang the drawer shelves in your bathroom to store beauty items such as makeup brushes and hair accessories along with other products like soaps, cotton balls, and toothpaste.
You can also hang these up in your home office to hold pens and pencils, paperclips, sticky notes, and other small supplies.
Floral Floating Drawer Wall Shelves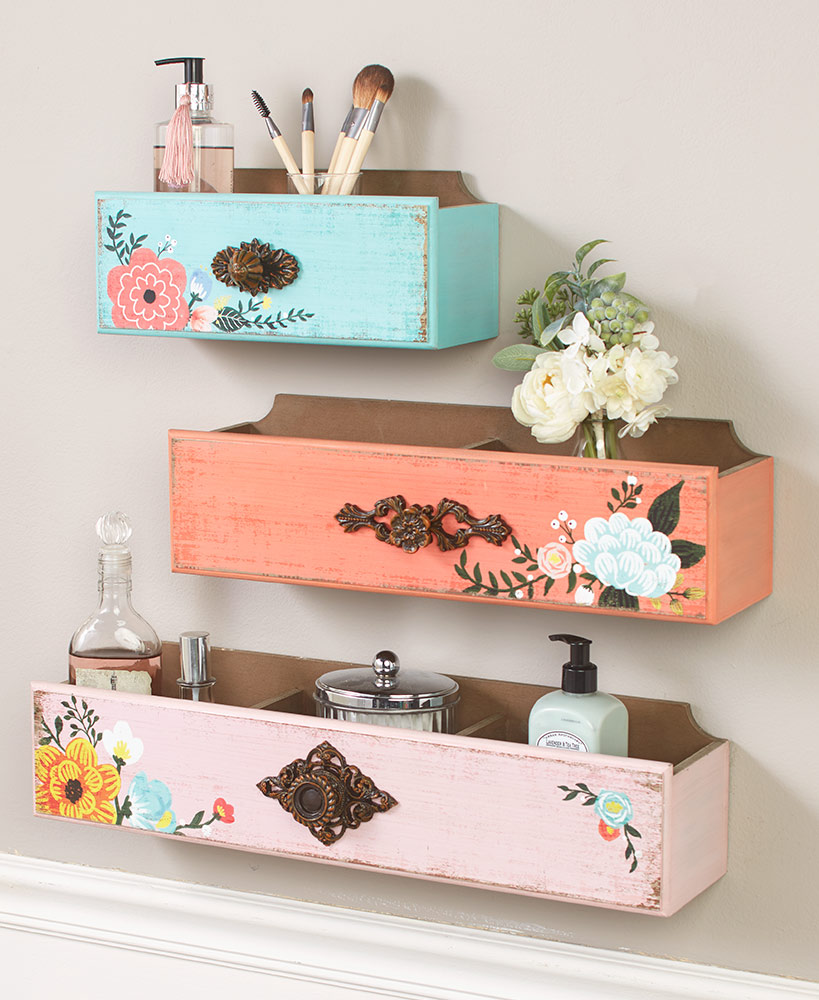 ---
Looking for even more storage furniture ideas for your entire home? Shop our selection of Storage Solutions to help your organize your closet, kitchen, bathroom, laundry room, and much more!