7 Ways To Modernize Your Home With Living Room Accents
Decorative accents can turn any simple room into a unique and stylish space with minimal effort. From mantel decor to plants to candles and more, here are 7 ways to modernize your home with living room accents.
---
1. Decorate Your Mantel With Sentiments & Other Living Room Accents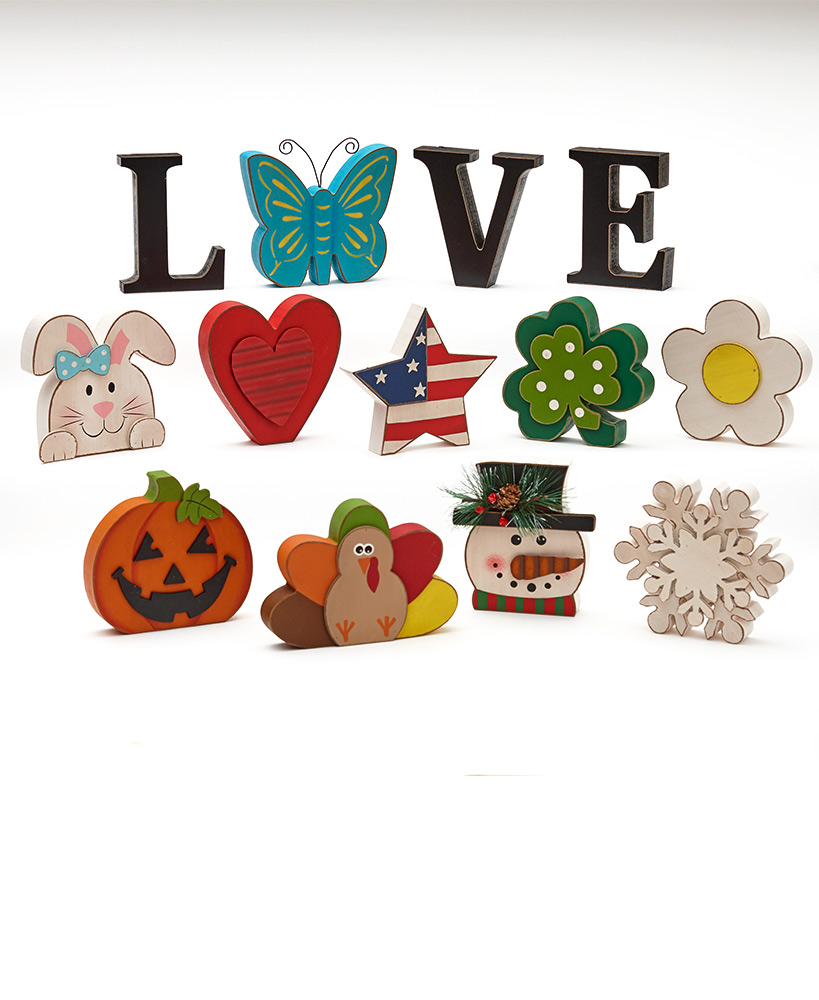 Sentiments and quotes can make a space feel more welcoming, homey, and can add personality and style to any room.
Start by setting up a sentiment block sign, sentiment picture frame, or even sentiment planters on your mantel. Choose a sentiment or quote that represents something you care about or something that is fun and quirky, depending on the vibe you want in the room.
Decorate the rest of your mantels with other small accents such as candles, sculptures, and pictures of family and loved ones.
Make sure to only have one main quote or sentiment on your mantel. Filling up the space with too many words can make it appear too dizzy or cluttered. One sentiment will give it a nice clean look!
Interchangeable Love Sentiment or Icon Sets
---
---
2. Set Up A Themed Accent Table To Fill Up Wall Space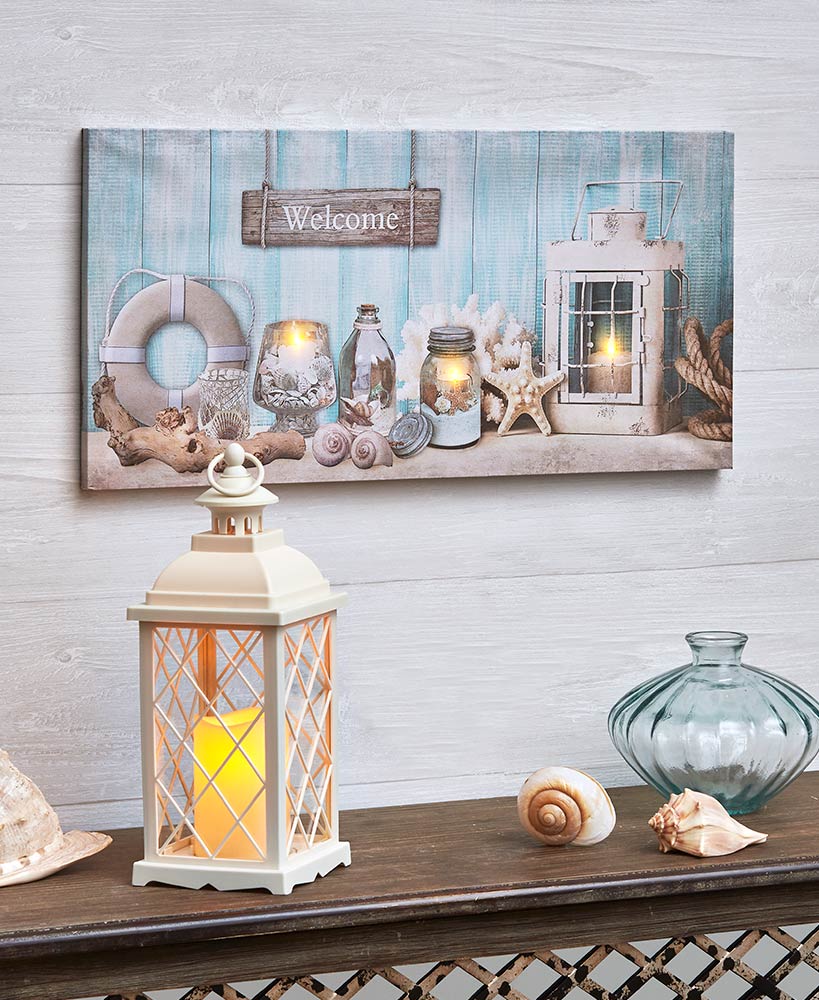 If you have a lot of empty wall space, set a console table up against the wall and use it as a staple for themed accents.
First, you'll want to choose the theme for your table. It can be unique, but make sure it flows well with the rest of the room to maintain a calm space.
There are many different ways you can decorate an accent table depending on your theme. For instance, if you have a coastal decor theme, you can set up a wooden lantern and seashells. With a farmhouse decor theme, you can place a farm animal lamp on the table alongside a rustic wooden tray filled with small accents.
Complement your table by decorating the wall above it with some matching artwork and other relevant wall hangings.
Coastal Decor Collection
---
---
3. Bring Some Liveliness Into Your Living Room With Plants & Greenery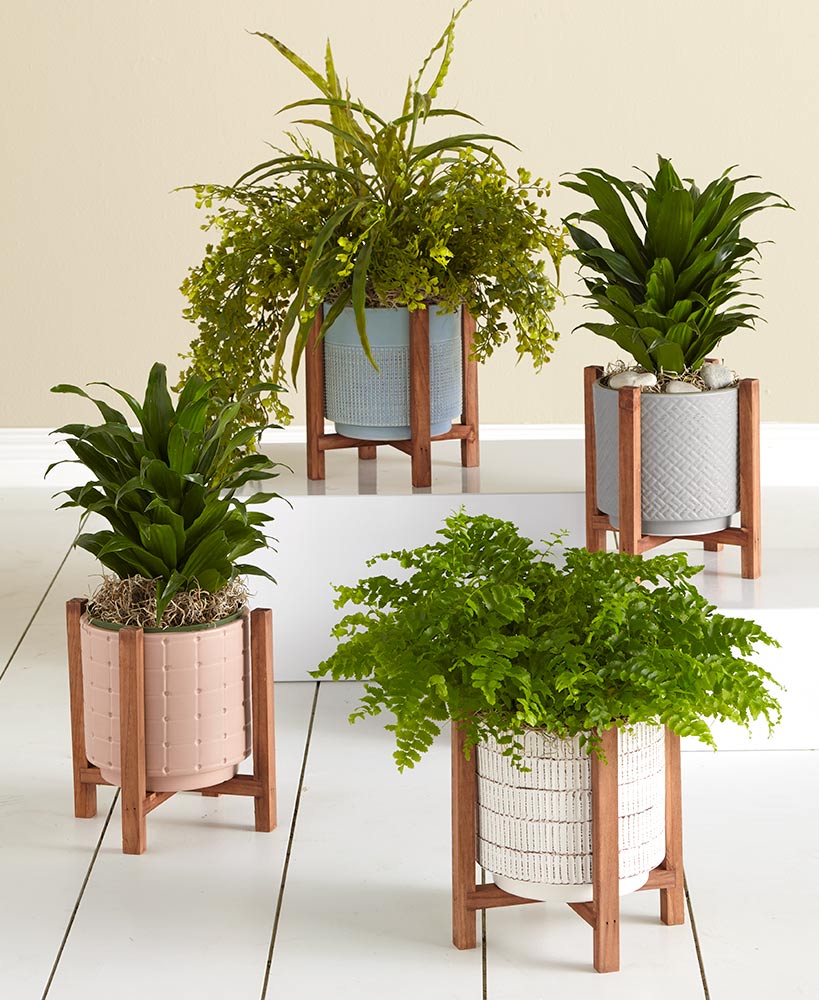 It's always a good idea to add greenery to your living room because it can brighten up the space instantly!
You can add real or faux plants into the room; it doesn't matter which one you choose because both will have the same effect you're trying to achieve.
A core part of these living room accents are the types of decorative planters that you choose. If you want smaller plants in the room, lean towards decorative ceramic planters or wood box planters that you can put on your coffee table.
However, if you want a larger plant that you can set on the floor in the corner of the room, you can look for a large decorative pot or you can use a large glass urn for a more elegant look.
Ceramic Planter on Wood Stand
---
---
4. Hang Up A Decorative Clock On An Accent Wall In Your Living Room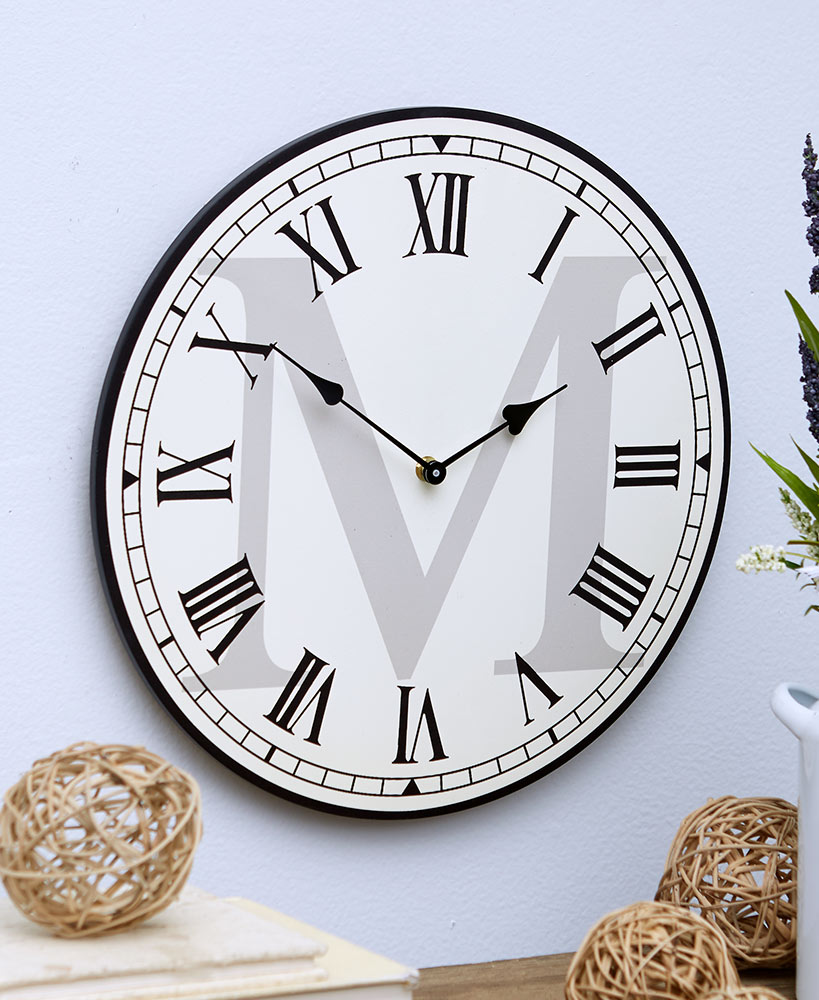 Having a whole accent wall in your living room can be a game changer because it can make it feel more modern, fresh, and appealing.
Start by painting your accent wall. You'll want to choose a contrasting color to the rest of the walls in the room. Try to stay within the same color family to help the room flow nicely.
Next, hang up a large decorative clock on the accent wall, along with some unique wall art, and other accent pieces you want to stand out in the room.
You may even choose to hang up floating shelves in the accent wall or place a large bookcase against the wall to fill with your favorite living room accents.
Monogram Farmhouse Wall Clocks
---
---
5. Accent Your Coffee Table With Unique Lighted Decor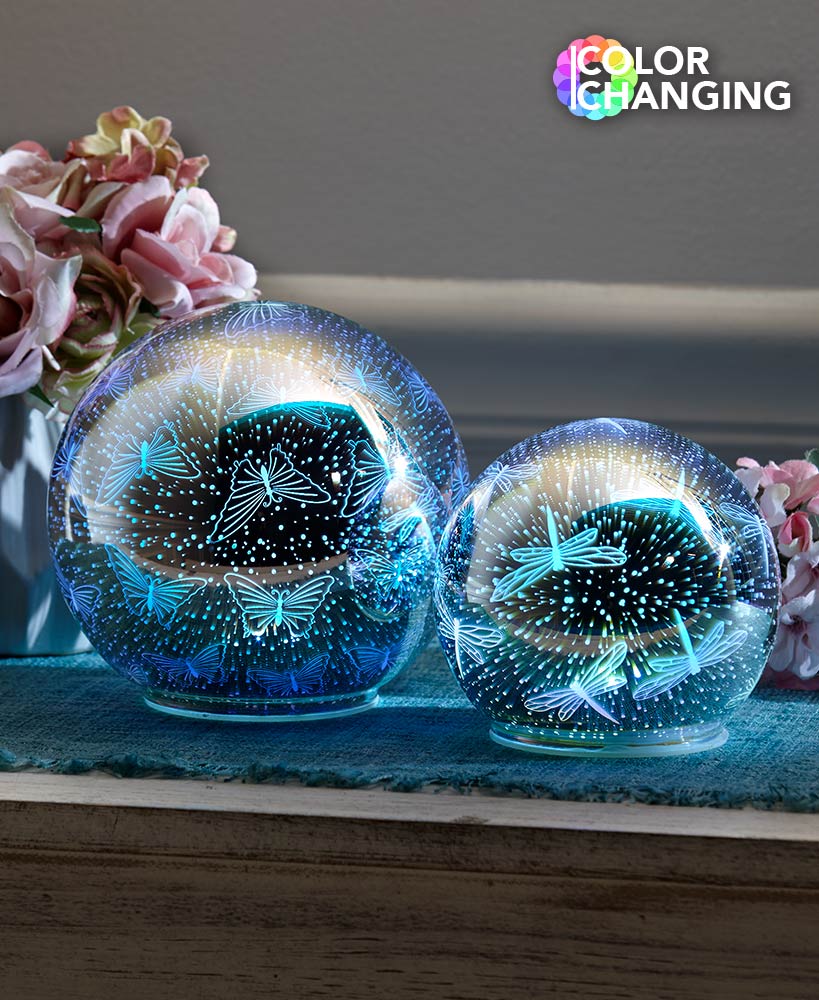 Living room lighting isn't just limited to ceiling lights and typical lamps. Incorporate lighted decor into the room for small touches of extra lighting.
Lighted accents such as lanterns, LED glass sculptures, or light up wall art can add extra decorative elements in the room that really pop during the evening hours.
You can even decide to add some pretty string lights to your mantel or coffee table for an even brighter alternative to lamps.
The great thing about lighted decor and accents is that you can get as creative as you want and combine many different elements together. Have fun with it!
Lighted Glass 3-D Effect Gazing Balls
---
---
6. Use Decorative Crates To Discreetly Store Items In Your Living Room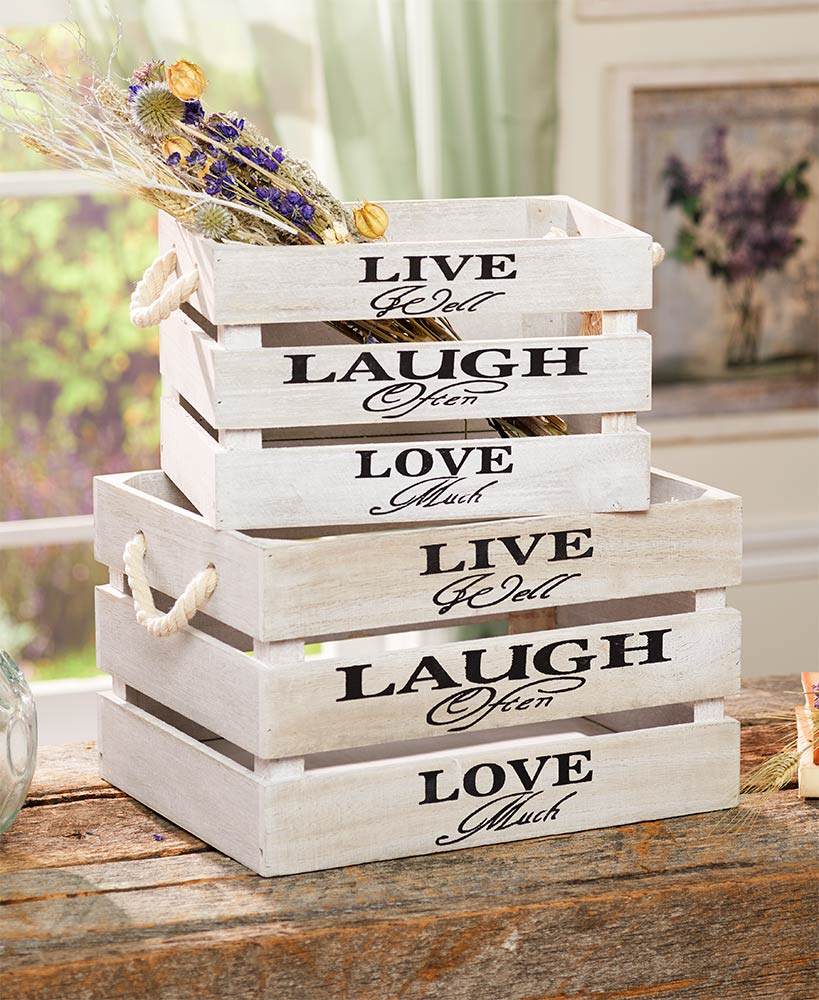 Storage doesn't have to stick out like a sore thumb in your living room. Combining a decorative look with functionality can truly help transform your living room and make it look more stylish.
Use decorative crates, bins, or baskets to discreetly store items in your living room. Depending on the size and style of your bins, you can place them on the ground in the corner, on your coffee table, or on bookshelves.
Fill these storage containers with necessary items such as extra blankets, magazines and books, remote controls, video games and DVDs, and anything else that you have lying around.
You can even make your own decorative bins by painting and decorating wooden crates to match the rest of the decor style in the room. You can make them look so stylish that you can't even tell they're for storage!
Set of 2 Storage Crates with Sentiment
---
---
7. Create A Comfortable Mood In Your Living Room With Candles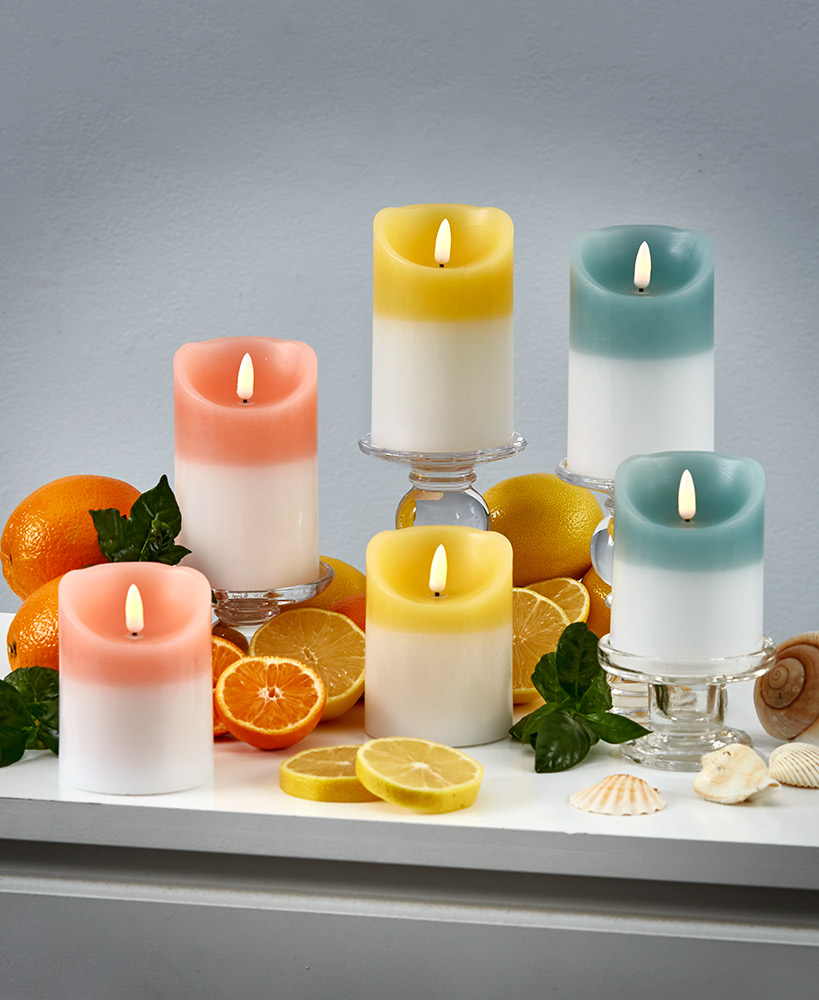 Your living room should be a place in your house where you and your guests can relax and feel comfortable.
Candles can bring that cozy comfy vibe to any room in your house – place them all around your living room to get the effect! Their powerful scent can set the entire tone of the room.
Use real or faux scented candles to get a comfortable atmosphere in your living room. While the scent is the main aspect of the candle, you'll also want to keep colors and decorative elements in mind. Match them to your color scheme and design style so they can be incorporated on your mantle, coffee table, and shelves.
Make sure to choose scents that go well together and don't clash with one another. For instance, lavender and vanilla are popular and classic combinations that can make a room smell lovely. Find your favorite scents and transform your living room!
Sets of 2 Realistic LED Scented Candles
---
---
Looking for more living room accents and decor inspiration? Shop Home Decor to find decorative accents, wall art and frames, candles, curtains, lamps, and much more to decorate your entire home!