New Fall Decor Ideas: The Harvest Season Is Almost Here
Decorating your house with fall decor can help to create a warm and welcoming environment that emulates those cozy harvest feelings. Here are 7 new fall decor ideas to transform your home this season.
---
Create A Full Fall Decor Spread On Your Mantel Or Cabinet Shelves
Bring some harvest cheer into your living room by creating a full fall decor spread on your mantel or on your cabinet shelves.
Start by laying a lighted leaf garland across the your mantel or on the top surface of your cabinet. You can then decorate the wall behind your cabinet with a fall wreath and a harvest sentiment sign.
Next, decorate your mantle or the top of your cabinet with fall themed accents such as ceramic pumpkins, fall foliage and flowers in a vase, and harvest sentiment block signs. If you're decorating a cabinet, continue to place more accents on the remaining shelves but don't overcrowd them.
Finally, tie your fall spread into the rest of the room by setting down an area rug with similar colors and some throw pillows on the couch that complement the theme.
Harvest Gatherings Collection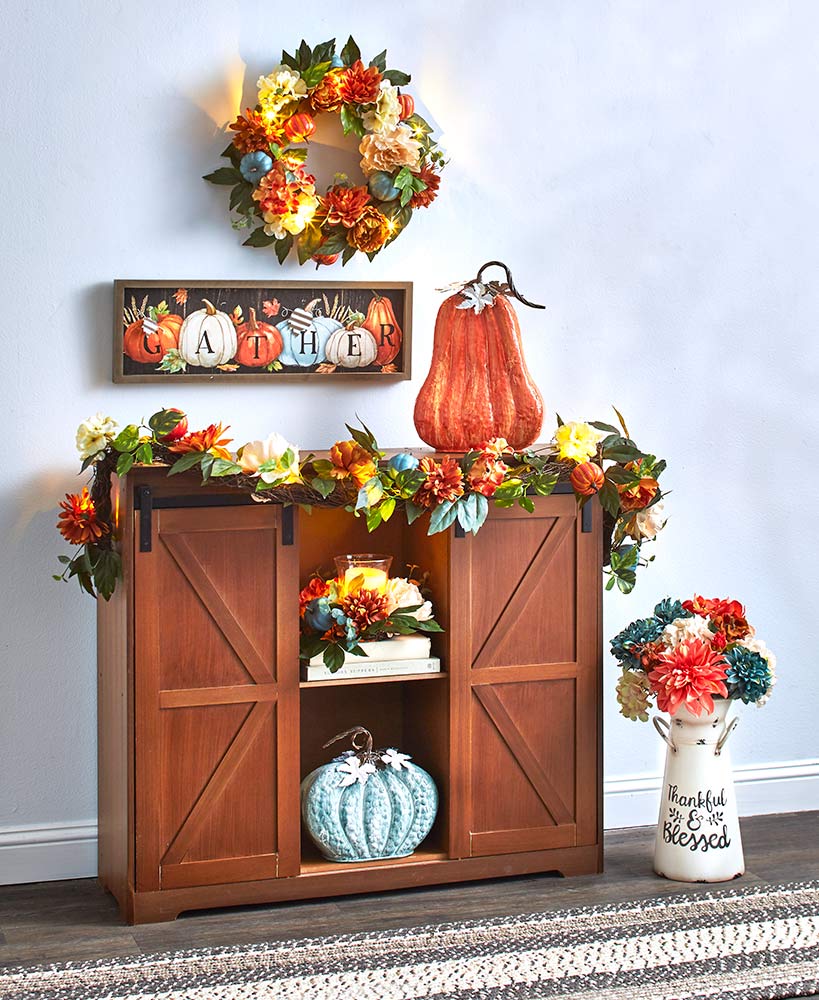 ---
---
Decorate Your Entire Bathroom With A Fall Theme
Jazz up your bathroom for the fall season by completely transforming it into a fall or pumpkin theme.
An easy way to do this is to buy a whole themed bath collection such as this Plaid Pumpkin Bathroom Collection, which features a shower curtain, bath mat, hand towels, soap pump, window valance, and toothbrush holder.
However, if you want to mix and match your own way, you can buy separate fall bathroom decor. For instance, you can find a pumpkin shower curtain, an orange bath mat, leaf patterned hand towels, and a fall themed wall hanging. Make sure to have a general color scheme so the room flows well.
If you prefer a more subtle look, opt for fall colors and patterns instead of fall symbols. Plaid is a common harvest pattern to incorporate with colors such as orange, red, yellow, green, and tan.
Plaid Pumpkin Bathroom Collection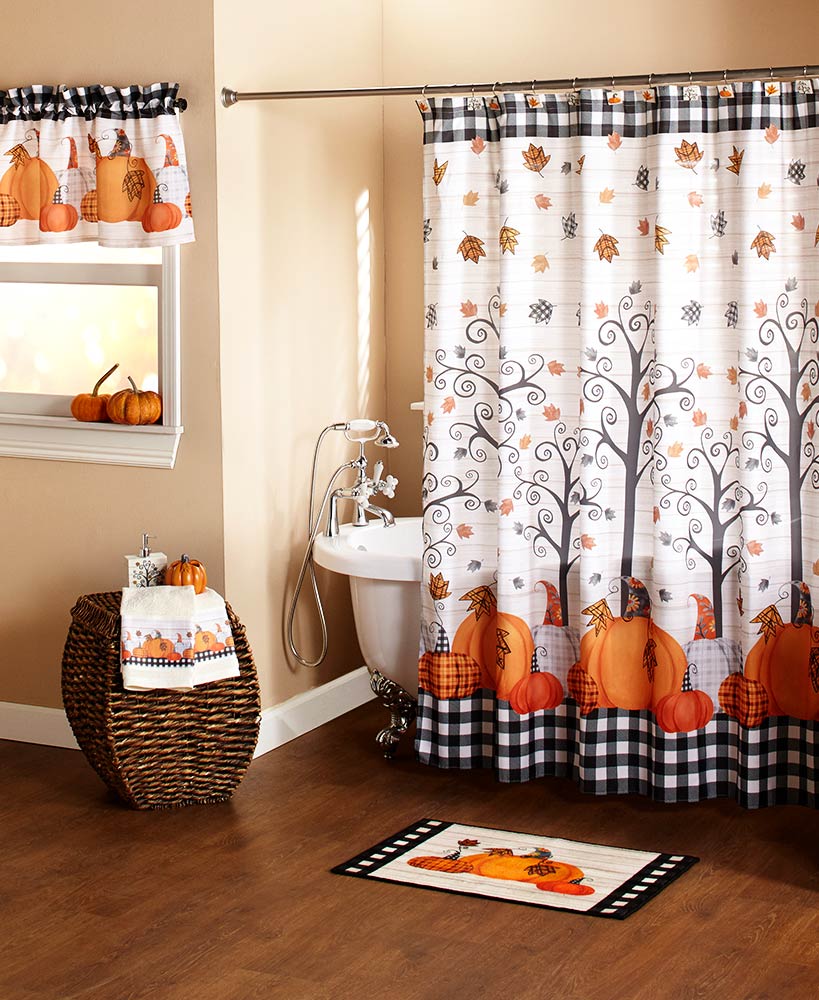 ---
---
Slowly Transition Your Home Decor From Summer To Fall With Small Decorative Accents
Instead of jumping right into a full fall home transformation with the other fall decor ideas on this list, you can work you way up to it by slowly transitioning along the way instead.
The best way to do this is to decorate with small decorative accents throughout your house on your coffee table, kitchen counter, bathroom counter, and entryway table.
Start by decorating with pumpkin accents, since pumpkins are one of the main symbols of fall. Use small ceramic or felt pumpkins, or other figurines and statues that contain pumpkins. You can also incorporate some small fall sentiment block signs for other subtle decor.
You can continue to add more and more decorations and work your way up to bigger fall decor such as wall art, linens, and window curtains as the season approaches.
Vintage Lighted Harvest Pickup Trucks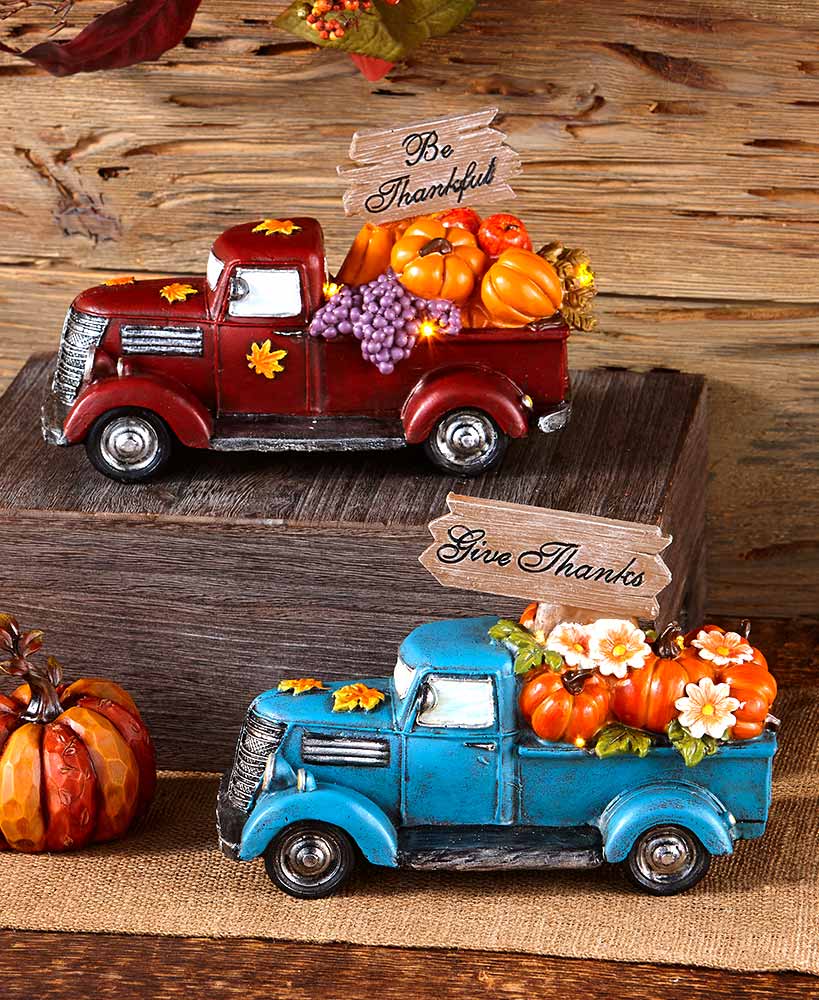 ---
---
Incorporate Plaid Patterns Into Your Window Coverings & Linens For A Classic Fall Look
Plaid is the most classic fall pattern to decorate with, and it's one of the easiest and simplest fall decor ideas to execute!
A great way to include plaid and checkered patterns in your decor this fall is through window curtains, table cloths, kitchen towels, throw pillows, and bedding.
While plaid comes in many colors, try to choose red, orange, or even black and white to achieve the fall look. You can complete the look by matching your decorative accents to the main colors of your plaid curtains and linens.
Plaid will work with any home decor theme; however, it happens to work especially well with the farmhouse decor style!
Buffalo Check Curtain Collection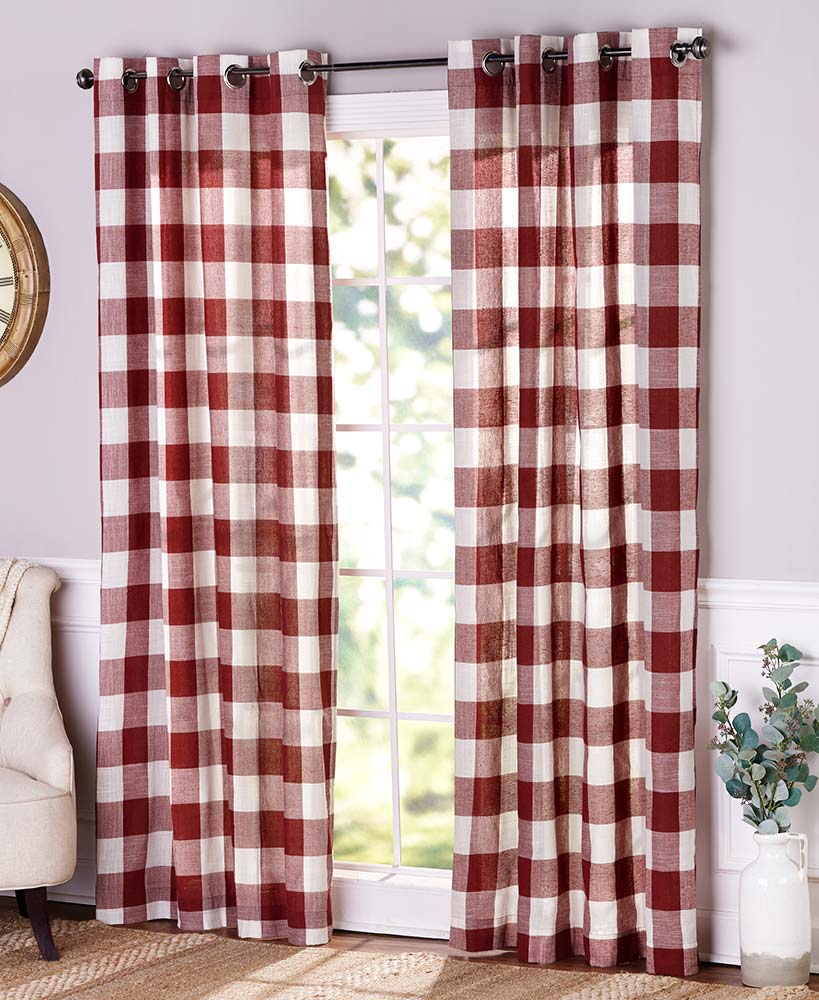 ---
---
Add Some Harvest Cheer Into Your Bedroom With Warm Colored Bedding
A simple way to change up your bedroom for the fall season is to just swap out your bedspread and add some new pillows and blankets!
If you're looking for more of a quirky and bold style, find a bedspread with fall symbols such as pumpkins and leaves, or harvest themed sentiments.
However, if you want a more low key fall look in your bedroom, opt for simple bedding that includes plaid patterns and warm colors such as red, orange, yellow, and rustic green.
Finish it off with some matching throw pillows and a cozy Sherpa blanket folded at the end of the bed. You can also bring in an area rug to match the bedding, along with some small accents on your bedside tables.
Gold Rush Quilts or Shams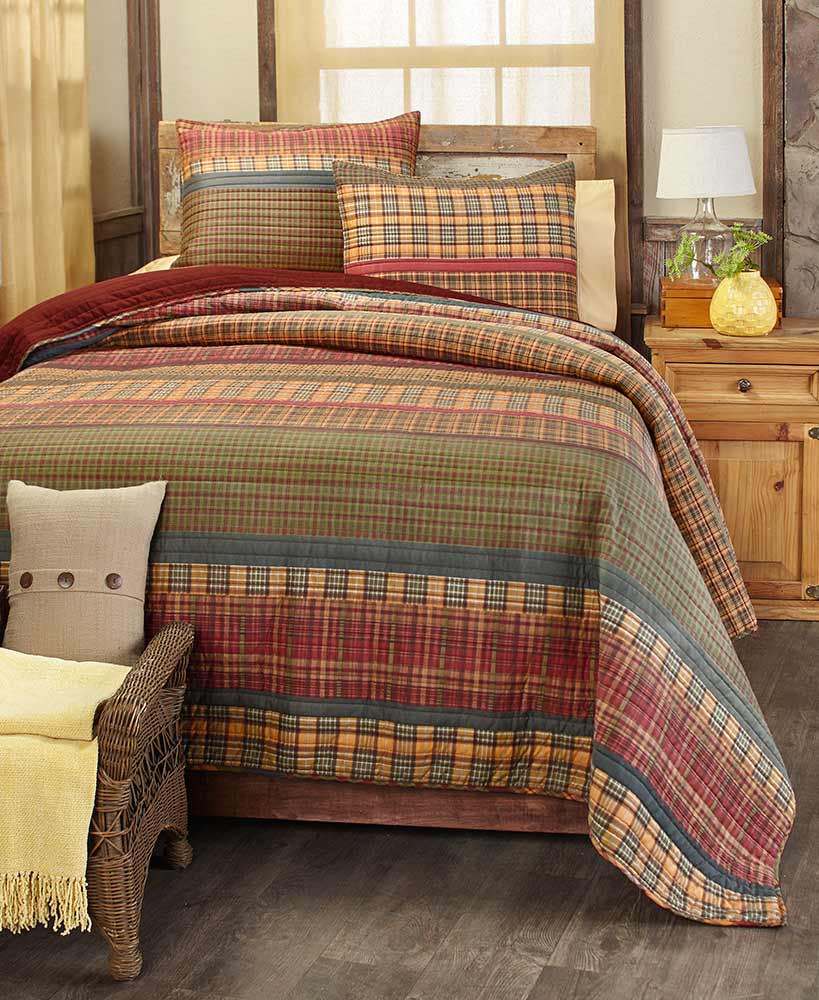 ---
---
Use Pumpkin Serveware For A Fall Table Spread
If you don't want to get a brand new set of dishes for the fall season but still want to change up your table spread, the simple addition of fall serveware will do the trick!
Find serving bowls, platters, and other serving dishes with pumpkin patterns on them to get a cute and charming fall look.
You can even display some of these serving dishes on your dining table when you're not using them, so they can double as decorative centerpieces.
Finish off your dining table with a burlap table runner, ceramic pumpkins, and some decorative leaves strewn across the table. Now you have a beautiful fall spread!
Harvest Pumpkin Tabletop Collection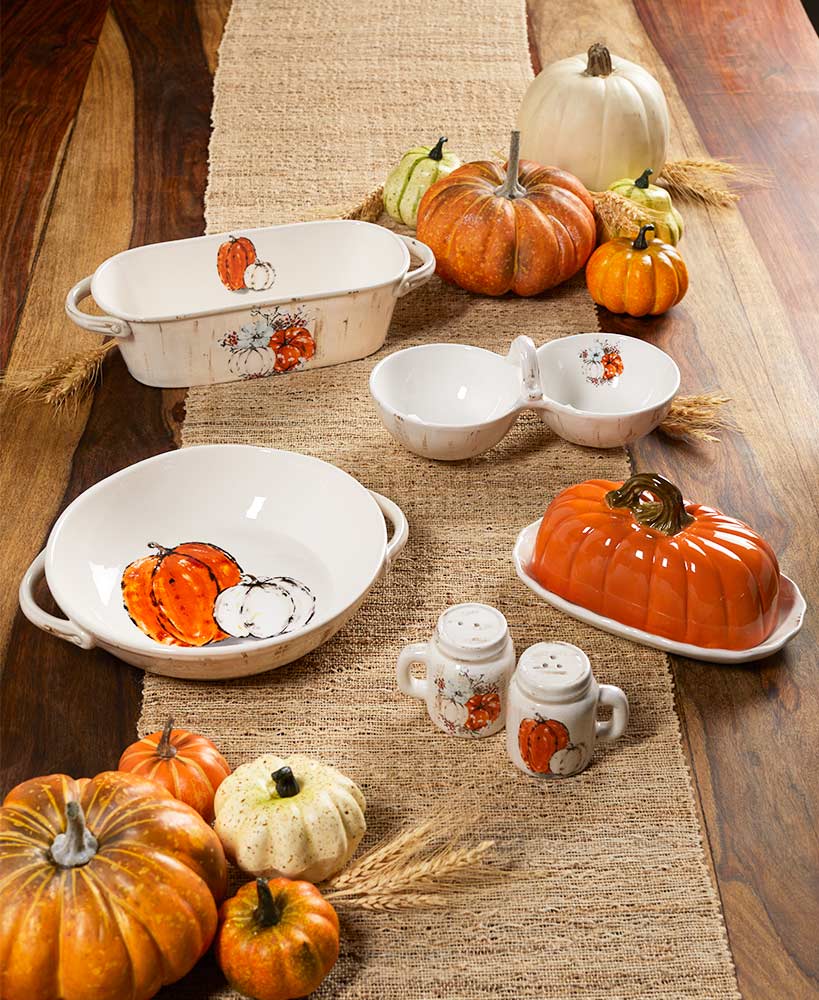 ---
---
Decorate Your Front Porch & Yard With Fall Accents
When you're working your these fall decor ideas, you can't forget about your outdoor space! Decorate your front porch and yard with fall accents to make the harvest theme feel more complete.
This Harvest Porch Collection is a useful collection to get you started on your outdoor decor! You can hang the lighted rake welcome sign on your front door, and place some stacked pumpkin stakes in your grass leading up your front pathway. You can also place the stakes into a hay or straw stack on your porch.
To add even more of the fall theme to your porch, bring in a welcome mat with a fall sentiment, string some lighted leaf garland along your railing, and add some themed throw pillows onto an outdoor bench.
Make sure to leave some room for carved pumpkins that you may add to your porch later in the season!
Harvest Porch Collection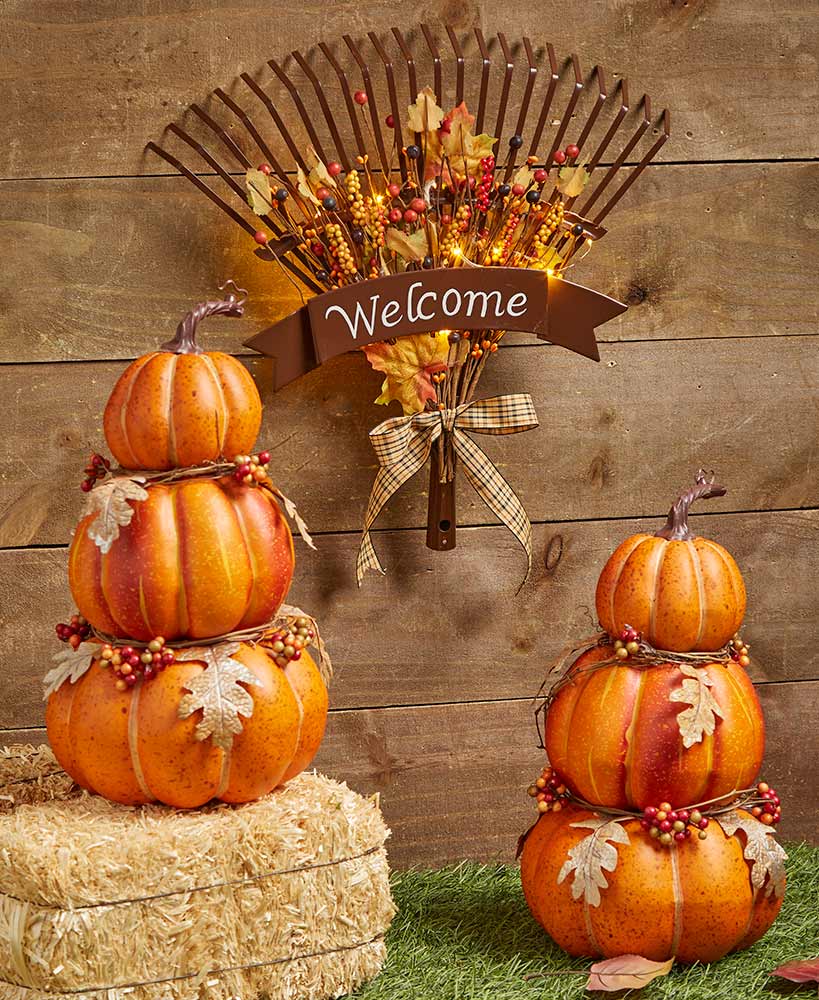 ---
---
Find even more fall decor ideas and harvest inspiration in our August 2020 catalog! Check it out here.