7 Ways To Update Your Kitchen On A Budget
You can create a fresh and modern kitchen without spending a fortune on extensive upgrades. From paint jobs to decorative accents to shelving and more, here are 7 ways to update your kitchen on a budget.
---
1. Create A Coffee Bar To Give Your Kitchen A Whole New Look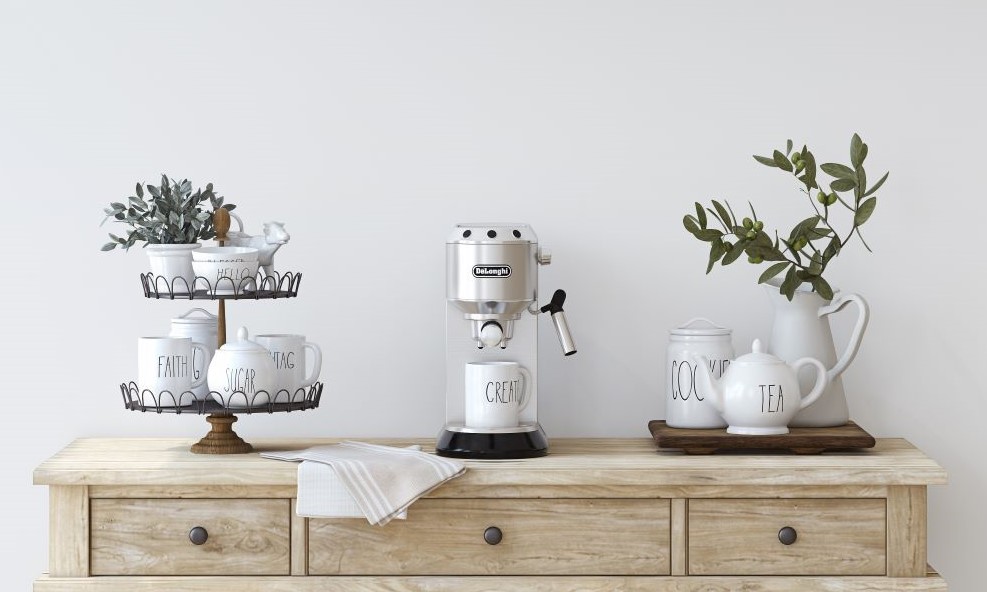 A coffee bar can give a kitchen a modern and homey look and can add more dimension into your space. Adding a coffee bar into your kitchen doesn't have to be an expensive task; there are many ways to get an intricate coffee bar without spending a lot of money.
You'll want to start by getting a cabinet or side table. You can find a low cost one from a thrift store or you can use an old one you have stored in your basement. Old furniture can easily be restored with paint or a vinyl covering.
Dress up your coffee bar with your favorite coffee maker, a simple tray from the dollar store, and a double level pastry holder from a thrift store. Display your favorite coffee mugs, along with bags of coffee, sugar packets, and a jar of cookies or other sweets. If you have a cabinet, store extra coffee accessories in the drawers for easy access.
---
---
2. Update Your Kitchen Color Scheme By Painting Your Cabinets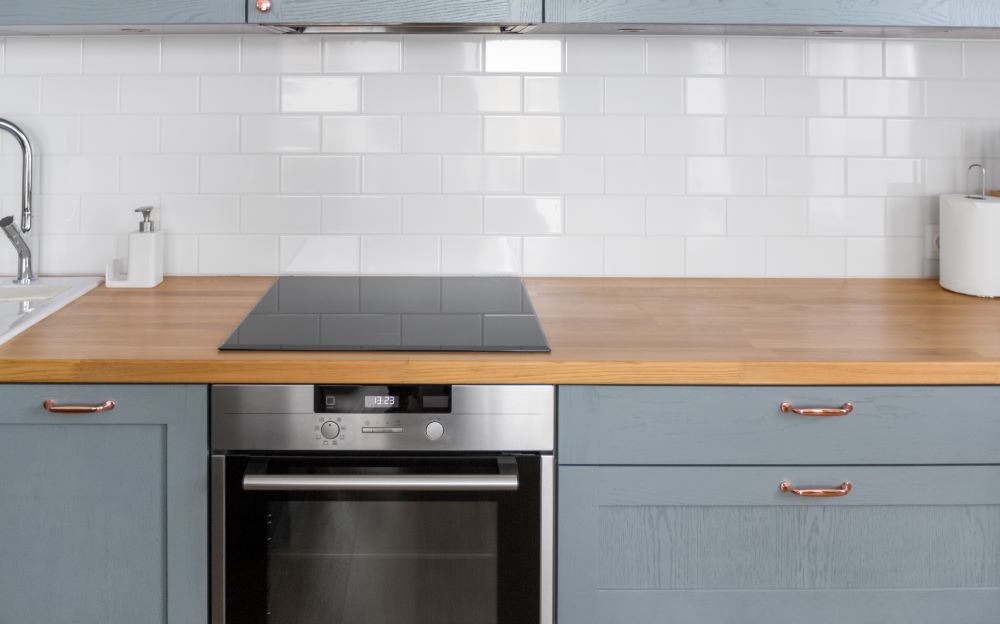 If your cabinets desperately need a makeover but you have a small budget, you don't have to worry about replacing them completely. A simple paint job will do the trick!
Painting your kitchen cabinets can instantly update your kitchen and give you a brand new color scheme to work with. In addition to painting the cabinets, you can also easily upgrade your cabinet handle and drawer pulls to match your fresh look.
Paint your walls to match your cabinet color or use a contrasting color on the walls to give the room more dimension. Finally, add in decorative accents to complement the new color scheme. Now you have a new looking kitchen without spending much at all.
---
---
3. Hang Up Floating Shelves For Affordable Kitchen Storage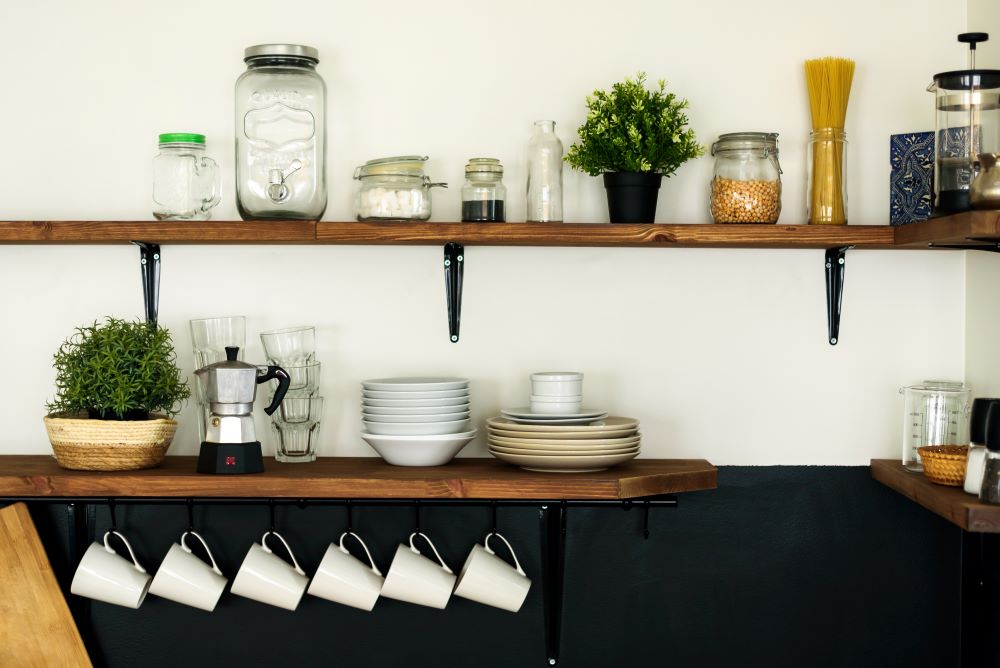 Combining functionality and style can make an older kitchen look more modern and fresh. Adding more storage and shelving is a great way to update your kitchen on a budget.
Floating shelves are incredible easy to install and they typically fall into small budgets due to their simple materials and structure. You can use floating shelves to display your favorite plates and mugs, decorative canisters with baking supplies, and decorative accents mixed in with dishware.
You can hang these shelves on any open space in your kitchen including above your sink and underneath or above cabinets. If you are willing to do more handy work, you can even take down your cabinets and replace them with floating shelves. This will make your space feel more open and give it a more unique look.
---
---
4. Brighten Up Old Kitchen Flooring With The Use Of Rugs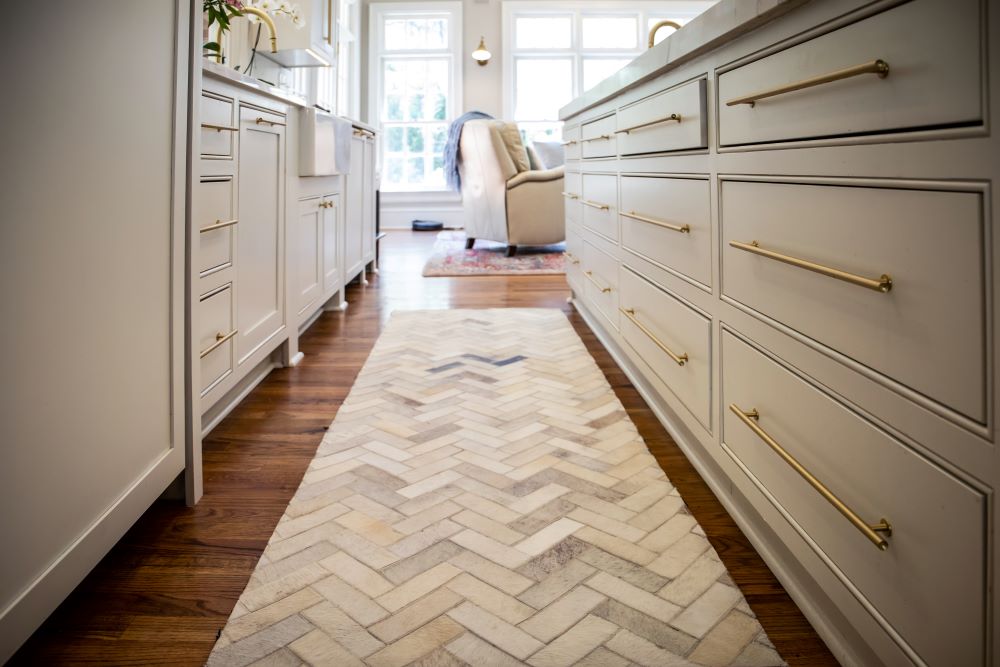 Updating your kitchen flooring can be and expensive and extensive process. Instead, jazz up your old floors with the use of decorative rugs.
Add rugs to your kitchen to bring in fresh colors, patterns, and comfortable fabrics. You can do this by placing a runner in your main kitchen space, adding a small rug on the floor by your sink, and placing a large area rug underneath your kitchen table.
Complement your new rugs by hanging decorative towels on your stove, replacing your window curtains, and setting up a kitchen tablecloth or place mats. These simple and low cost additions can really transform the room.
---
---
5. Brighten Up Your Kitchen For Less With Small Pops Of Color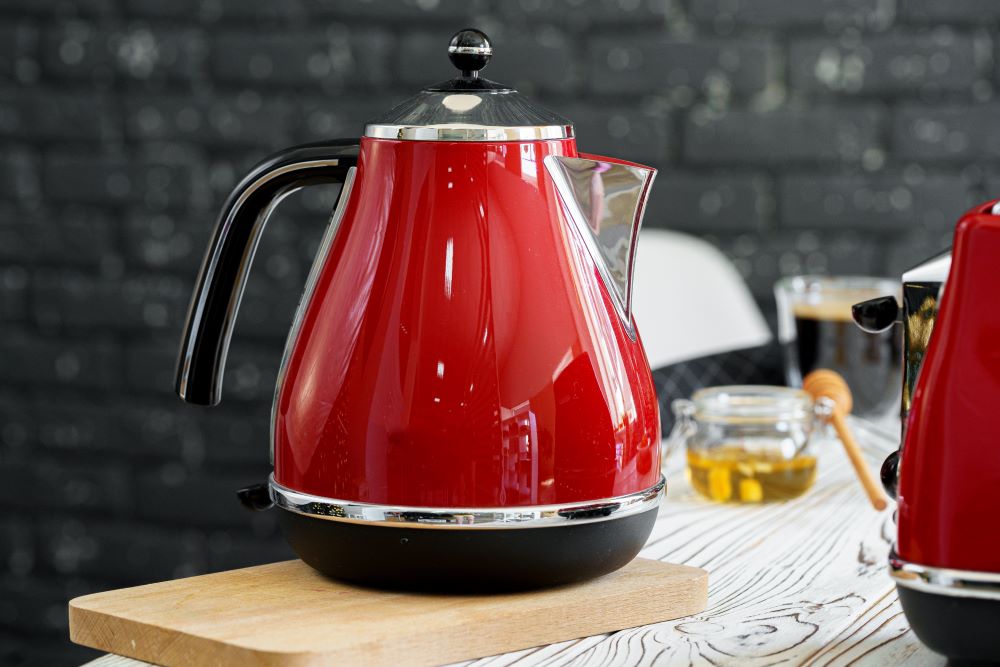 If you want to add more color to your kitchen but your budget doesn't allow for big renovations, consider adding in small pops of color instead. Small touches of fresh colors can make the kitchen look new with minimal effort.
How To Add Small Pops Of Color In The Kitchen
Keep a colored teapot out on your stove as your main accent color. Match it with surrounding decorations.
Add multiple different colors to your kitchen by hanging up wall art of different styles and patterns. The variety of wall art will make any neutral kitchen look more interesting.
Set up an accent wall in your kitchen with peel and stick wallpaper. This will save you both time and money and will result in one eye-catching element in the room.
If you have a slightly bigger budget, consider updating some of your small kitchen appliances. You can buy colored toasters, microwaves, mixers, and more to add color to your counter tops.
---
---
6. Create An Afforable Kitchen Backsplash With Peel And Stick Tiles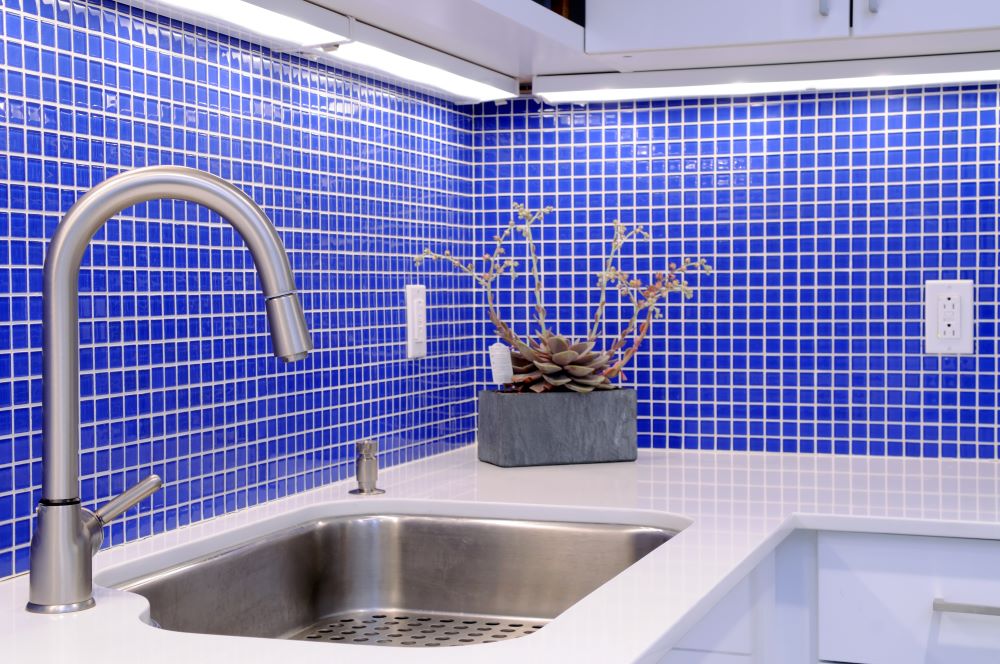 Many kitchens have beautifully tiled backsplashes that add a modern and fresh element to any decorative style. Luckily, you don't have to spend a lot to mimic this look!
If you're looking to update your kitchen on a budget, you can achieve this backsplash look with the help of peel and stick tiles. Peel and stick tiles are easy to apply and will fit in perfectly with your small budget. You will get a similar effect by using this low cost hack.
You can also use peel and stick wallpaper to get a unique backsplash appearance. This wallpaper can have a brick or stone pattern on it to emulate the tiled wall look or you can choose another pattern to create a different style.
---
---
7. Install A New Faucet For A Simple Kitchen Sink Upgrade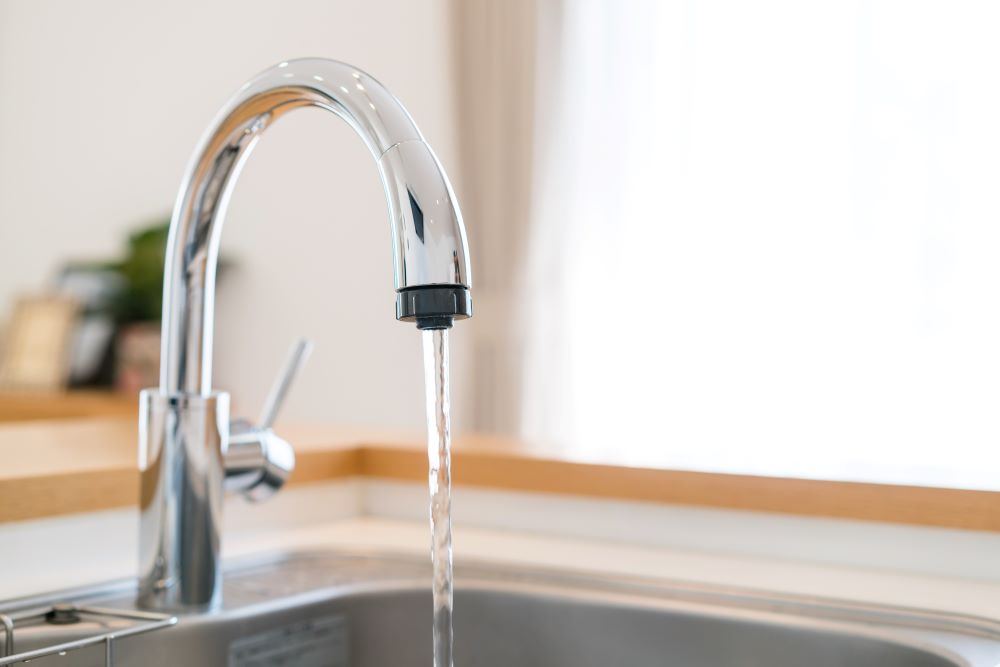 Your kitchen sink is a defining piece in your kitchen that can make or break the room, but it can be nearly impossible to replace your entire sink with a smaller budget. Luckily there's another way to get a new look for less.
Simply replace your kitchen faucet for a quick and affordable upgrade. A stainless steel faucet can make your kitchen more modern a sleek, while a bronze faucet works well in a rustic farmhouse style kitchen.
This simple change, along with other simple changes, such as these kitchen lighting ideas, over time can allow you to update your kitchen without spending a fortune.
---
Shop our Kitchen & Dining section to find dinnerware and serveware, table linens, kitchen storage essentials, and much more to update your kitchen on a budget!