7 Thoughtful DIY Christmas Gift Ideas
Crafting your own Christmas gifts is an affordable and creative way to show someone that you care. Whether it's baked goods, bath and body items, or decorations, DIY gifts are great to give anyone! Here are 7 thoughtful DIY Christmas gift ideas that anyone would love to receive.
---
1. DIY Christmas Toffee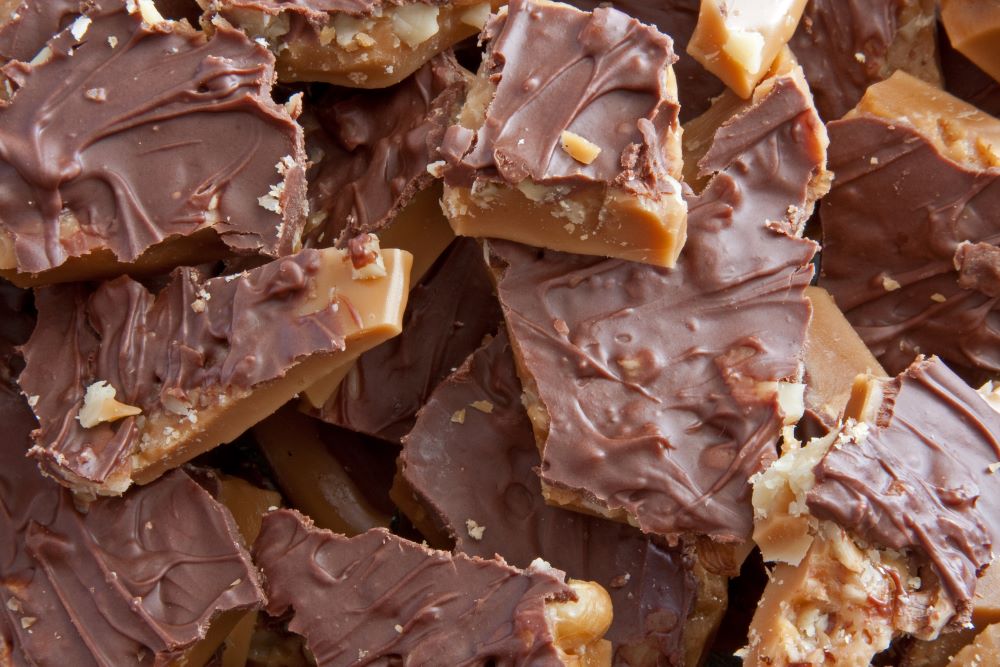 Baked goods are a great go-to DIY Christmas gift ideas because everyone loves to receive something sweet on Christmas! This DIY Christmas Toffee is sure to be a delicious hit.
To give this as a festive gift, place the toffee in a Christmas box or tin with a thoughtful card attached to it. You can also add the toffee to a food gift basket with other sweet treats such as cookies, kettle corn, cake pops, and more!
Ingredients
1 cup pecans (chopped)
1 cup unsalted butter (2 sticks)
1 cup granulated sugar
1/2 teaspoon salt
1 teaspoon vanilla extract
1 cup milk chocolate chips
Directions
Start by prepping a 9-inch square baking dish with cooking spray. Then, line a piece of parchment paper inside.
Take your chopped pecans and place them on top of the parchment paper. Make sure to spread them out so it's a single layer. Set aside.
Next, get a 3 quart pot. Pour in the butter, sugar, and salt. Bring the mixture to boil on medium low heat. Make sure to keep stirring it until the sugar is dissolved.
Once it comes to a boil, continue to slowly stir. You want to keep the mixture on the heat until it reaches 290 degrees to 300 degrees Fahrenheit.
When the correct temperature is reached, remove the pot from the heat and stir in the vanilla extract.
Evenly pour the hot mixture on top of the pecans in the baking dish. Let it sit for a few minutes.
Then, evenly sprinkle the chocolate chips on top of the mixture. Cover the dish with tinfoil and leave it for about 5 minutes.
Once you let it rest for 5 minutes, take the foil off and use a spatula to spread the chocolate around. You'll want to get a nice even layer.
Let the candy cool in the fridge for about 2 hours.
Once cooled, take the toffee out of the dish and cut into small pieces.
---
---
2. DIY Soy Peppermint Candle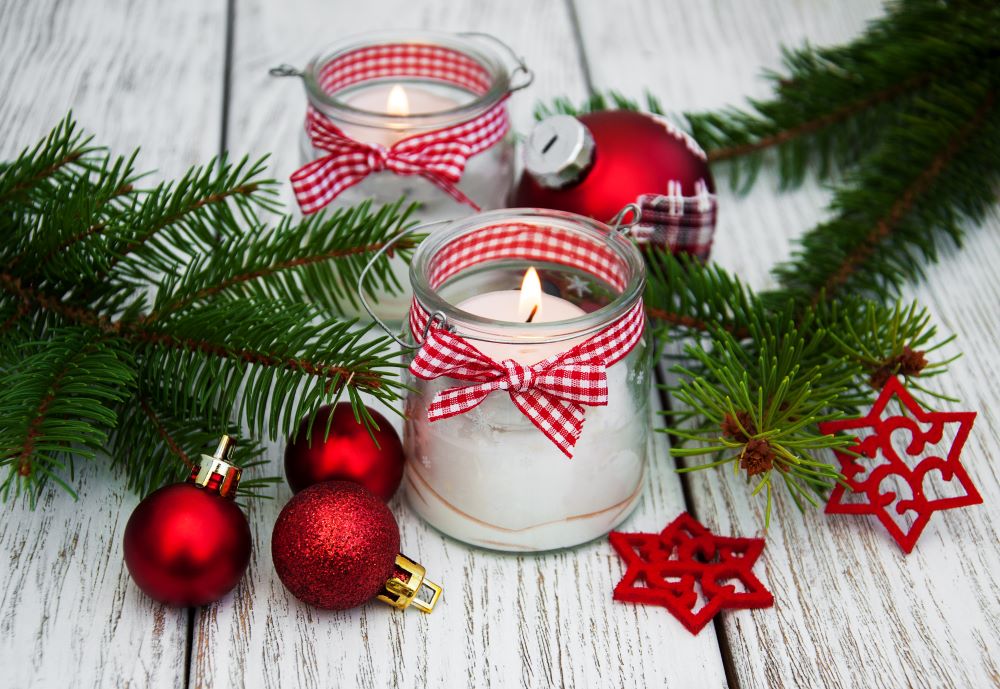 Candles always make a great Christmas gift when you don't know what to give someone. Make it even more special by creating your own! These Soy Peppermint Candles are easy DIY Christmas gift ideas that smell refreshing and delightful.
Feel free to decorate the mason jar with any type of ribbon you want, along with any other decorative items. You can even glue things onto the outside of the jar, such as stars and other shapes to make it look even more festive.
Supplies Needed
Soy candle wax (1 1/2 cups)
Peppermint essential oil
Mason jar (1 half pint)
Candle wick
Christmas ribbon
Directions
You'll start by gluing the candlewick inside the center of the mason jar. A hot glue gun will work best for this.
Next, melt your soy candle wax according to the directions on the package. Each wax may vary in melting times so make sure to read carefully.
Once the wax is fully melted, carefully stir in the peppermint oil. You'll want to use about 15-20 drops to get a strong scent.
Next, carefully pour the wax into the mason jar. Make sure to hold the candlewick up by wrapping it around a pencil.
Let the candle harden overnight.
Once the candle is hardened, unwrap the pencil and trim the wick.
Decorate with ribbon and any other accents you'd like!
---
---
3. DIY Mint Body Scrub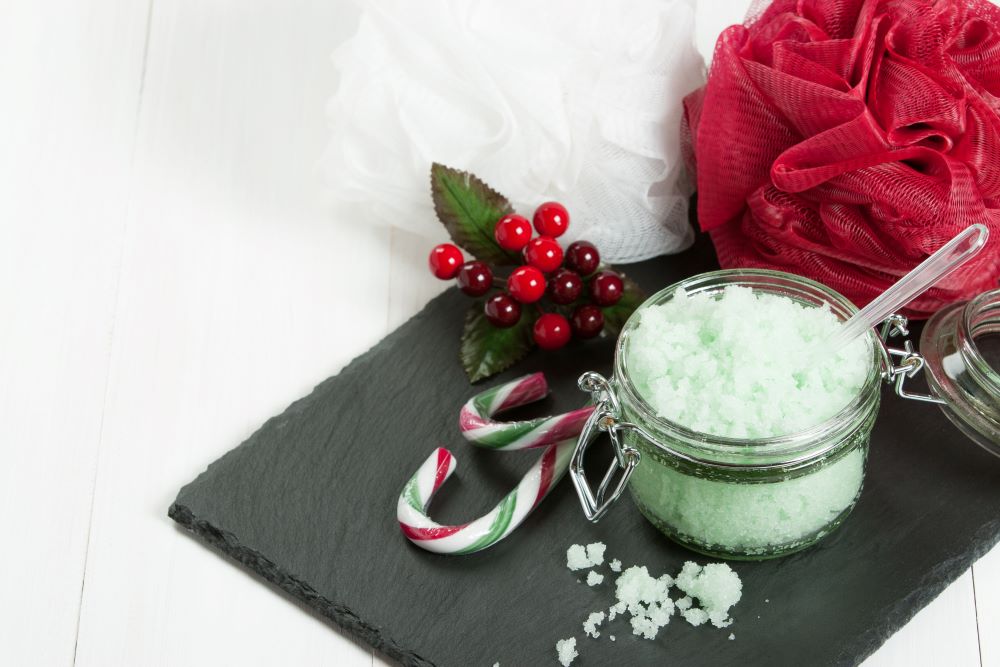 Beauty and spa items make great Christmas gifts for anyone who deserves some peace and relaxation! This Mint Body Scrub is a very simple DIY that smells refreshing and looks cheerful for Christmas.
This scrub makes an excellent stocking stuffer or makes a fun addition to a beauty and spa themed gift basket. Fill the rest of the basket with other bath items such as bath bombs, lotion, body spray, and anything else they can use for a spa night at home.
Supplies Needed
Wide-mouth half pint mason jars (3)
1 1/2 cups sugar
1/2 cup coconut oil
1 tablespoon peppermint extract
1 drop green food coloring
Directions
Start by heating up the coconut oil in a microwave safe bowl on high for 15-25 seconds, or until softened.
Gradually mix the sugar into the bowl, followed by the peppermint extract and green food coloring.
Mix together until everything is fully combined and mixture is green.
Note: if the scrub mixture is too wet, add in some extra sugar until you reach the correct consistency.
Place the scrub inside of mason jars and accent the jars with Christmas ribbon.
---
---
4. DIY Snow Globe Christmas Ornament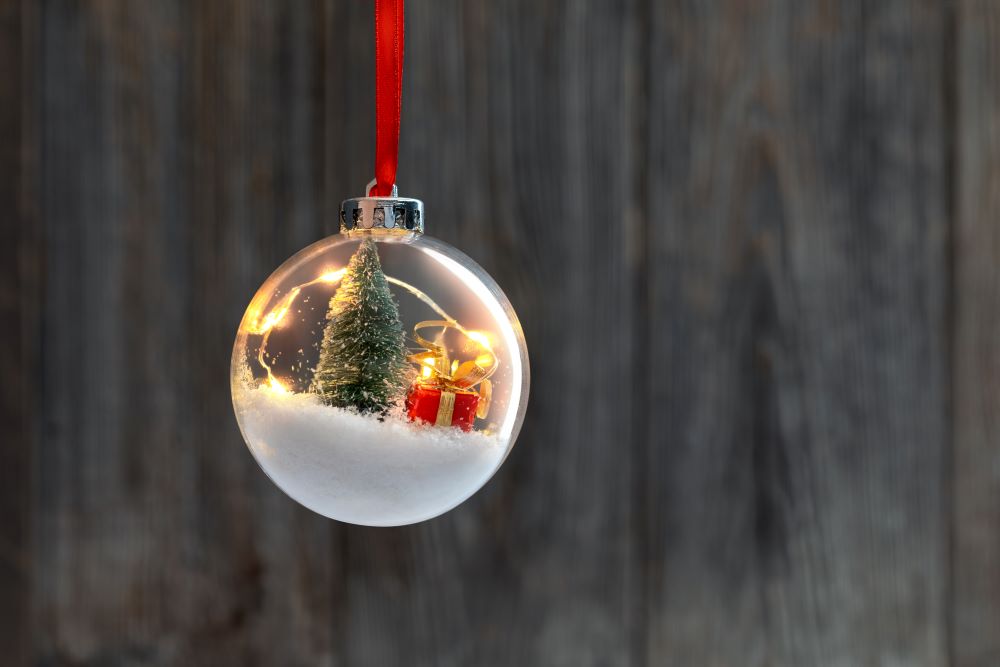 Ornaments make wonderful DIY Christmas gift ideas because they can be cherished for future Christmases to come! This DIY Snow Globe Ornament is an easy craft that is perfect for kids and young teens to make.
Make sure you get a mini Christmas tree that matches the height of the ball ornament. This is important because you don't want the tree to shift around; you want the tree to stay standing. Feel free to fill the ornament with white glitter instead of faux snow for a extra magical look.
Supplies Needed
Clear plastic ball ornament
Faux snow
Mini Christmas tree (the same height as your ball ornament)
Mini gifts/other Christmas accents
Directions
Start by pouring the faux snow into the ornament. You'll want to fill it up only about 1/3 of the way.
Next, put in your mini gifts or other mini Christmas decor. You can leave out this step if you just want the tree.
Carefully place the Christmas tree into the ornament. The tree should match the height of the ball so that way it doesn't shift around.
Optionally, you can add some mini lights inside. Although, keep in mind that there's no easy way to turn these on and off so they'll need to be left on until they eventually burn out.
Close the top of the ornament and tie on a ribbon for hanging.
---
---
5. DIY Wine Cork Wreath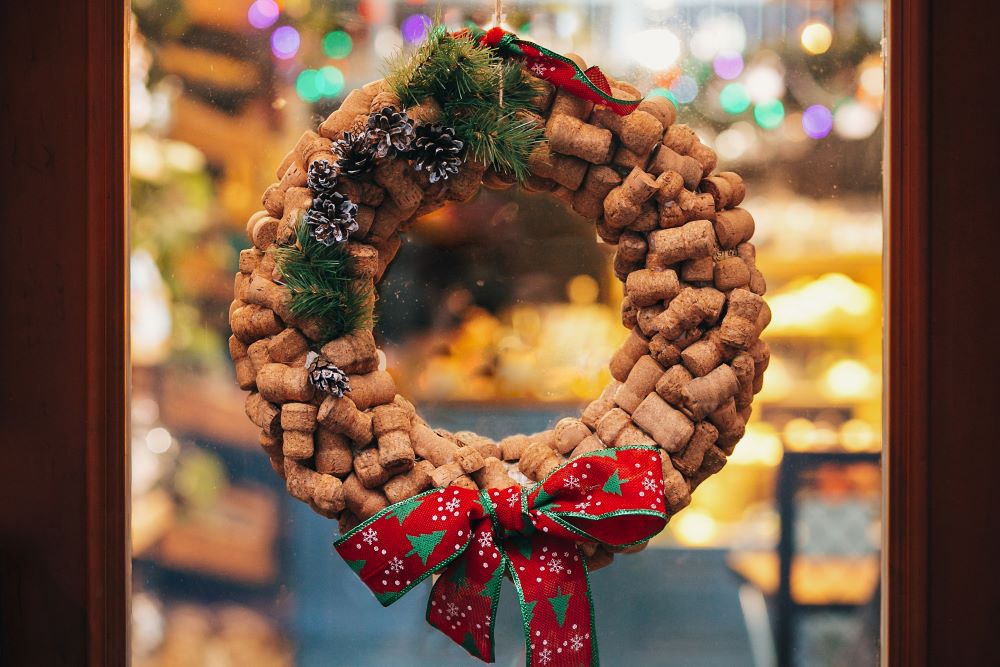 If you have a wine lover in your life, this DIY Wine Cork Wreath will make the perfect gift for them! This craft takes some time to make, but the end results are well worth it.
The wreath is great to give with other wine related gifts. Put together a gift box or basket with some bottles of wine, an electric bottle opener, a set of wine glasses, and this wine cork wreath.
Supplies Needed
Foam wreath
Wine corks
Pine cones and greenery
Christmas ribbon
Hot glue gun
Twine
Directions
Hot glue the wine corks around the foam wreath. Make sure to carefully place each cork so that the wreath is completely covered and looks full.
After the glued on corks have dried, you can glue on other accents such as pine cones, greenery, and ribbons.
Finally, tie some twine or ribbon at the top for hanging.
---
---
6. DIY Lavender Soap Bars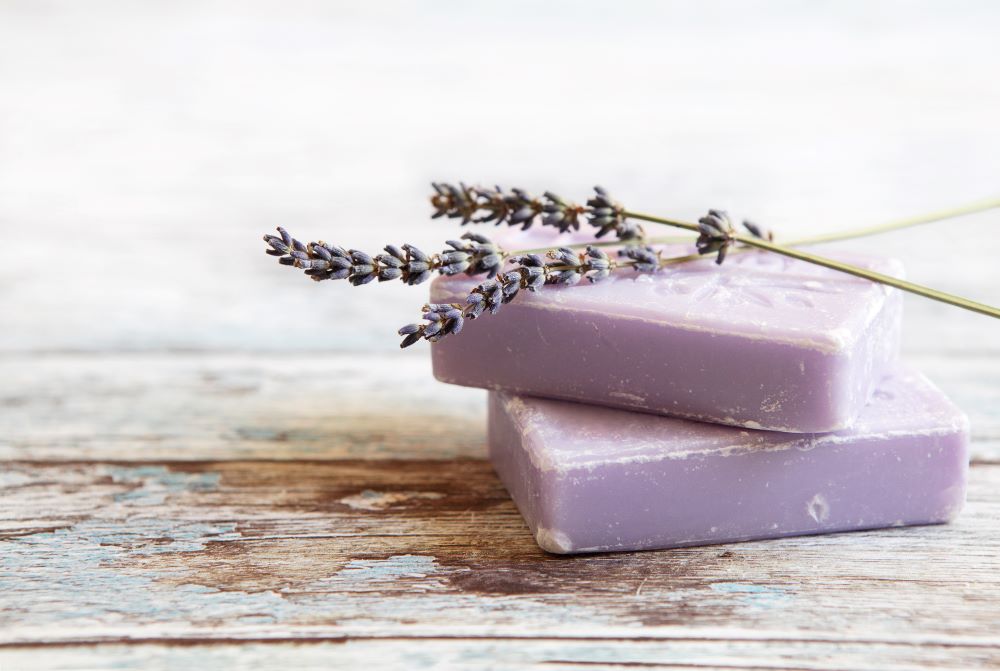 These DIY Lavender Soap Bars can be a great addition to spa themed gift basket! Handmade soaps make lovely DIY Christmas gift ideas for people who love scented items.
Put these nice smelling lavender soaps into a gift basket with other lavender scented items such as lotions, body scrub, candles, and more! You can place the soaps into a clear bag tied with ribbon for a beautifully wrapped gift.
Supplies Needed
Goats milk soap base (about 1 pound)
Lavender oil
Purple soap colorant
Rectangle soap molds
Directions
Cut the goats milk soap into cubes. Microwave for 30 seconds at a time, mixing in between, until fully melted.
Next, add in a few drop of lavender extract and purple colorant.
Pour the mixture evenly into the soap molds (this mixture will make about 3 bars of soap).
Leave it for at least 1 hour to harden and then remove from mold.
---
---
7. DIY Cinnamon Star Christmas Cookies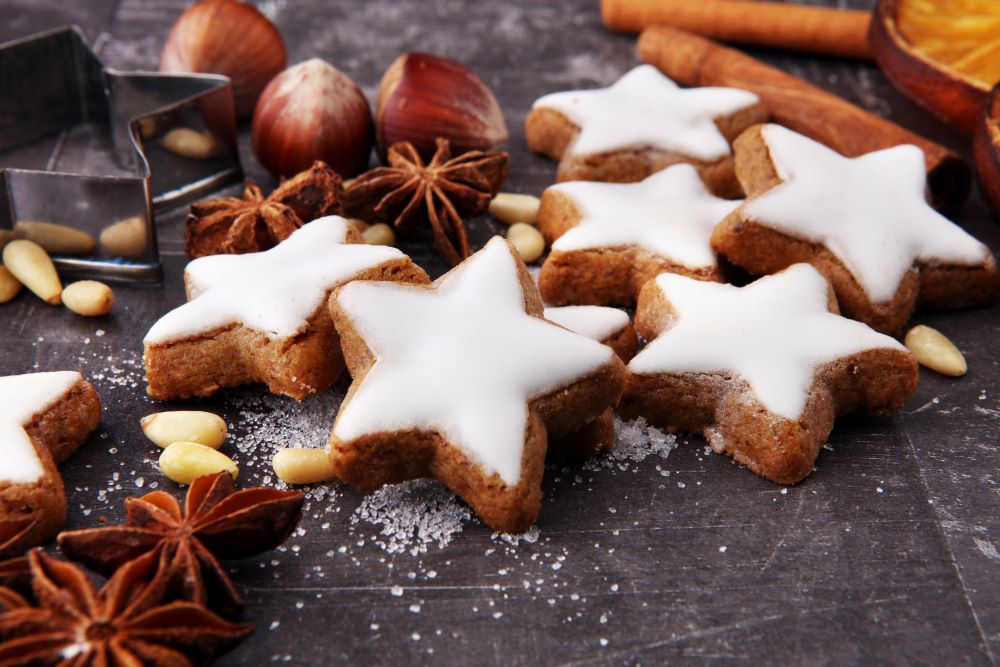 Cookies are great go-to DIY Christmas gift ideas to give to anyone, and they work especially well as a host or hostess gift. These Cinnamon Star Christmas Cookies are the perfect mix of delicious and festive!
Put the cookies into a Christmas gift box or round tin and tie a decorative ribbon around it. You can even make several boxes of cookies to hand out to everyone in your life along with other small gifts.
Supplies Needed
3 large egg whites
2 cups powdered sugar
3 1/4 cups non-blanched almond meal or hazelnut meal
2 teaspoons ground cinnamon
1/8 teaspoon salt
3-inch star cookie cutter
Directions
Start by preheating the oven to 300 degrees.
In a medium bowl, beat the egg whites. Make sure that you don't over-beat the eggs; stop when you see peaks form. Stir in powdered sugar until fully mixed.
Set aside 2 tablespoons of the mixture to use later for the glaze.
In the same medium bowl, pour in the nuts, cinnamon, and salt. Beat together until a dough forms.
Sprinkle some powdered sugar onto a flat surface and roll out the dough until it's about 1/3 inch thick.
Cut out the cookies with the star cutters and place them on a lined cookie sheet.
Once you cut out all the cookies from the sheet of dough, put the dough scraps into a ball, roll out again, and cut more.
Brush the remaining tablespoons of the egg mixture onto each cookie. Make sure you put a thin layer onto each one.
Bake in the oven for about 15-20 minutes. Let them cool completely before placing them into a gift box.
---
Looking for more Christmas gifts to give alongside these DIY Christmas gift ideas? Check out our Holiday Headquarters where you'll find affordable gifts for everyone on your list, along with Christmas decorating inspiration and much more!

---
Read Next: 7 Thoughtful Gifts To Give Grandparents This Christmas