7 Ways To Make A Small Backyard Look Bigger
No matter how small your yard is, you can easily create a beautiful and welcoming space. There are many ways to make the best use of your space and trick the eye into thinking your yard looks bigger than it is. With a little bit of strategy and clever planning, you can instantly transform your small backyard into a stunning open area. From colors and lighting to garden ideas and more, here are 7 ways to make a small backyard look bigger.
---
1. Decorate With Bright Colors To Open Up Your Small Backyard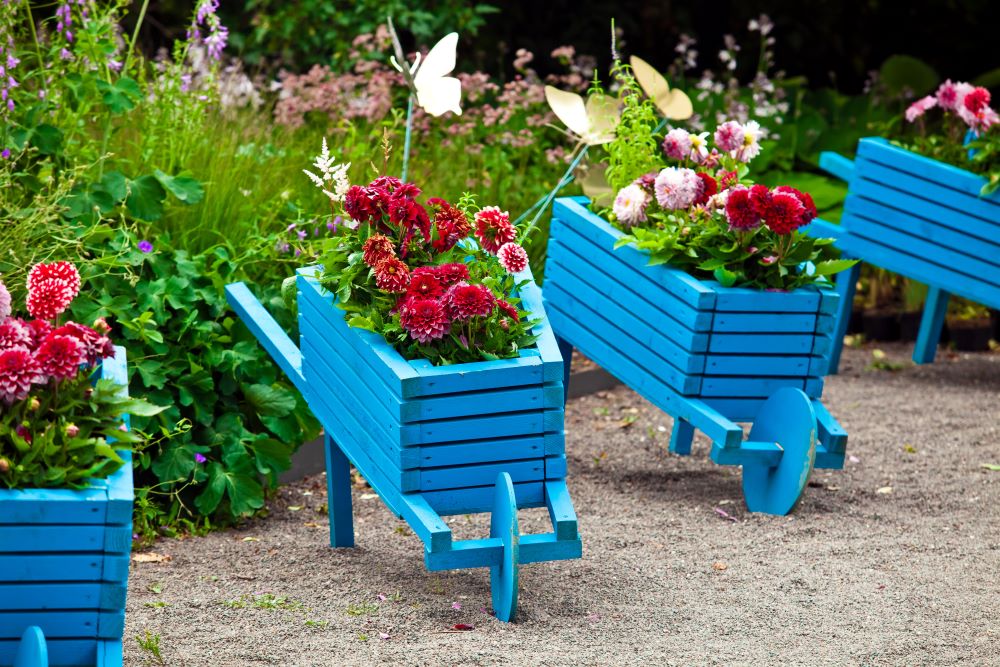 Decorating with colors is not only a great way to make your yard look more open and bright, but it will also add a lot of extra style into your space. Use colors wisely in your backyard; don't oversaturate one section more than the other. Having too much color contained to one area will take away from the open and spacious look that you want.
Use a bold color scheme throughout your entire yard to make the space feel brighter and bigger. Colors such as blue, green, pink, yellow, and orange are perfect for creating a bright summer space. However, you can use almost any color scheme you want as long as you stick to something bright. Using too many dark colors will only close off your space even more.
How To Add Colors To Your Backyard
Use colorful planters to display your flowers
Add some brightly colored lounge chairs to your backyard in the grass
Display colorful ground stakes and statues throughout the yard
Plant flower beds with a variety of colorful flowers
Paint your fence or deck a bold color
Use multi-colored string lights for a unique look
Set up colorful tablecloths, placemats, and serveware when entertaining
---
---
2. Set Up A Beautiful Entryway To Your Small Backyard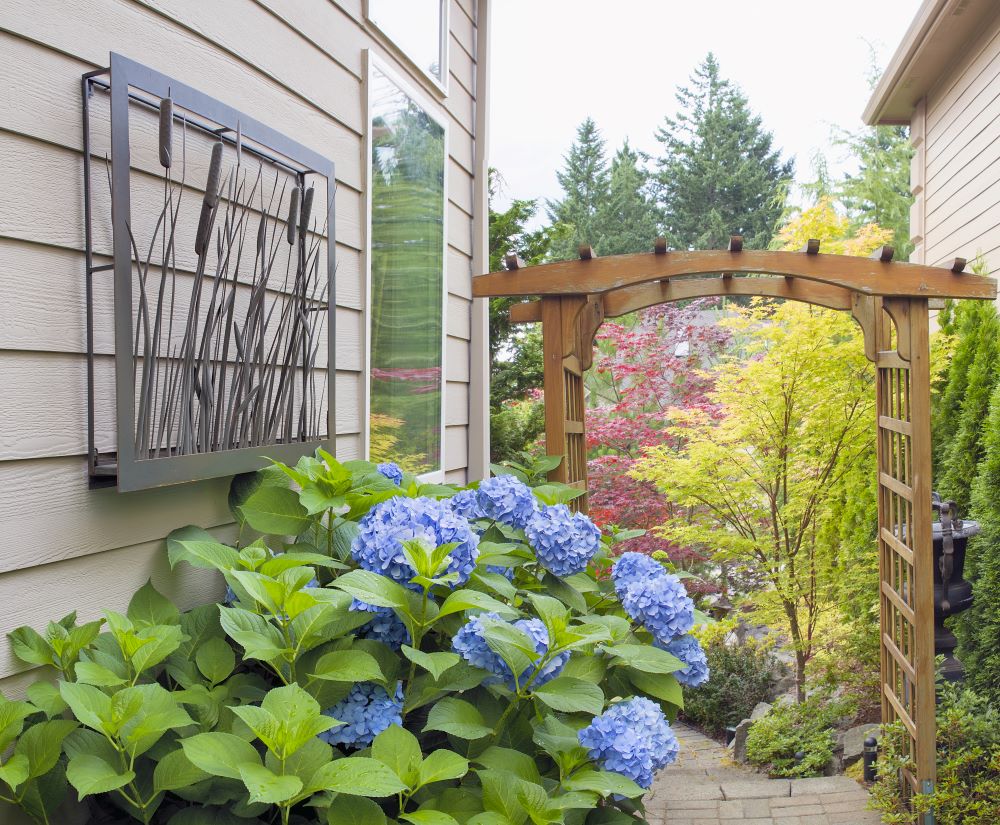 In order to create the illusion of a more spacious backyard, you have to have a starting point. Setting up a beautiful entryway to your backyard and garden is a great way to set the stage for a more open and spacious area. It will instantly amplify your yard and make it even more stunning.
If you have a pathway that leads to your backyard, you can set up an arched trellis at the start of the path. An archway can give you a stunning starting point for your backyard pathway and it gives the illusion of a more elegant and spacious garden. You can even wrap string lights around the trellis or plant flowers in pots that grow to wrap around the trellis. Making the arch look unique and bold will give you a great startup point.
In addition to the archway, you can also decorate and transform the pathway to your backyard. Add pathway stake lights, plant flowers along the pathway, set up planters along the way, and add other colorful outdoor decor throughout. Having a fully decorated pathway will help add to the illusion of a bigger backyard space because the path will feel like an actual part of your yard.
---
3. Elevate Areas Of Your Small Yard To Make It Look Bigger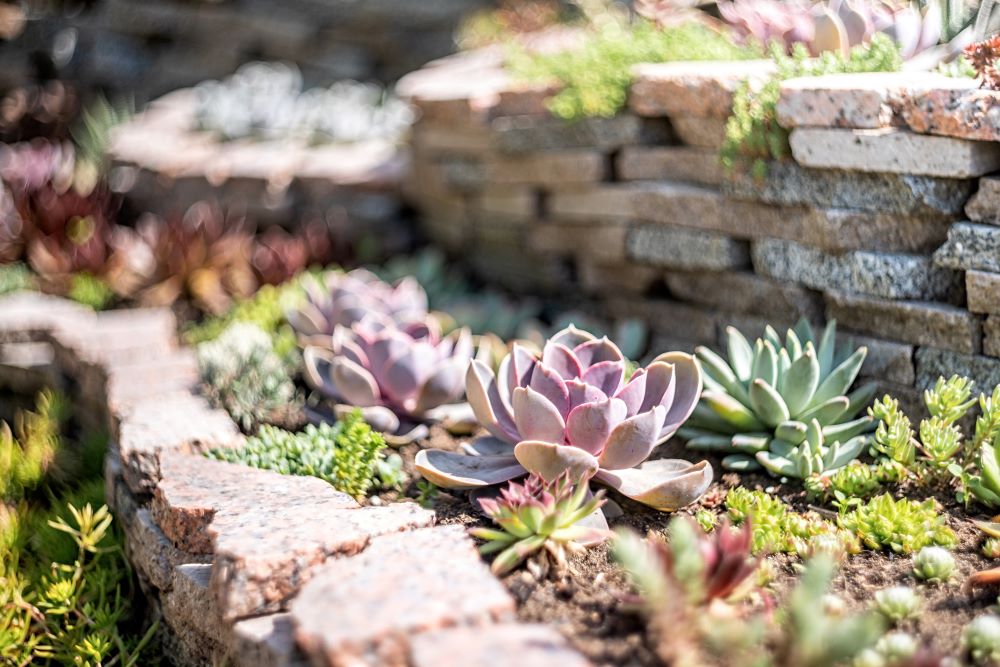 Most small backyards have one single level and a very simple layout. While you don't want to make the layout too complicated or complex, changing it up a little bit can help you make the most of your small backyard space. Elevating some areas of your backyard can make it look more dynamic and interesting, which ultimately results in a more spacious area.
One of the easiest ways to create elevation in your backyard is to set up stacked stone garden borders with varying levels. This will help you display a unique looking garden area. It's a great way to divide your yard into different sections and areas, which can create the look of a bigger area.
You can also build a raised patio or deck to have a more established seating area set up. This is another way to create an elevated space in your backyard to make the area look more varied. That way, you can contain your seating area to one simple space and have the rest of the yard more open. Dividing your space wisely is a great way to keep it looking spacious.
---
4. Amplify Your Small Backyard With Simple Outdoor Furniture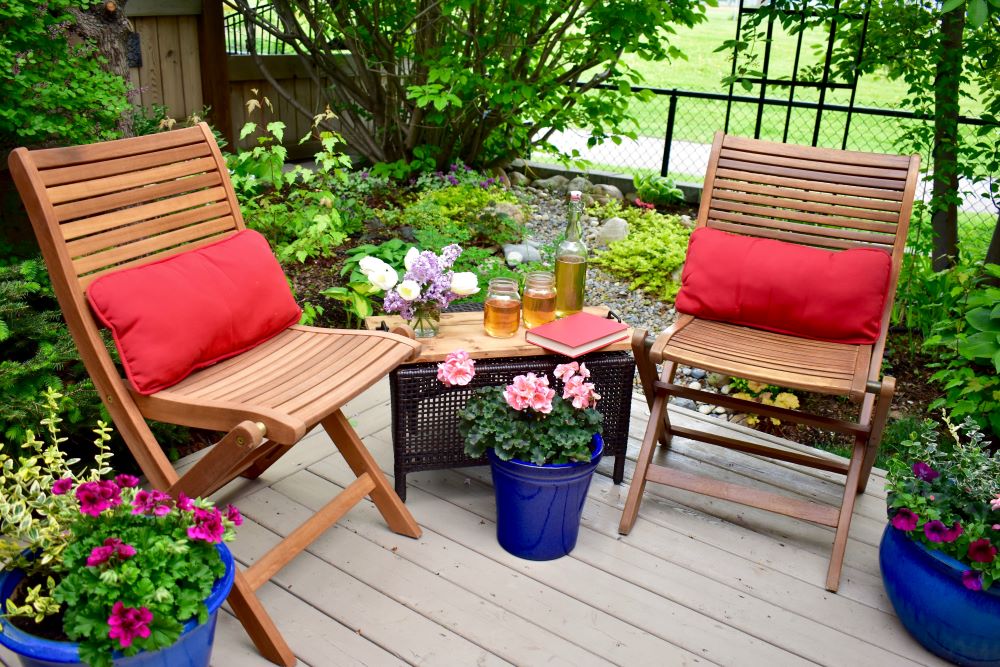 Outdoor furniture is a must for your backyard space; however, you don't want to take over your entire yard with a large furniture set. If you have a small yard, you have to be more mindful of your furniture choices. Big furniture sets can look elegant and stunning in your outdoor space; however, they can overcrowd your small yard. Using lighter and thinner furniture is the best way to use your space efficiently.
Furniture To Use In Your Small Yard
Thin metal chairs with a small round table.
Foldable furniture that can be placed into storage when not in use.
Clear glass round dining table with thin chairs.
A few simple lounge chairs out in the grass.
A metal garden bench.
Hanging chair or hammock.
Small stools that double as tables and chairs.
---
---
5. Create A Vertical Garden To Save Space In Your Small Backyard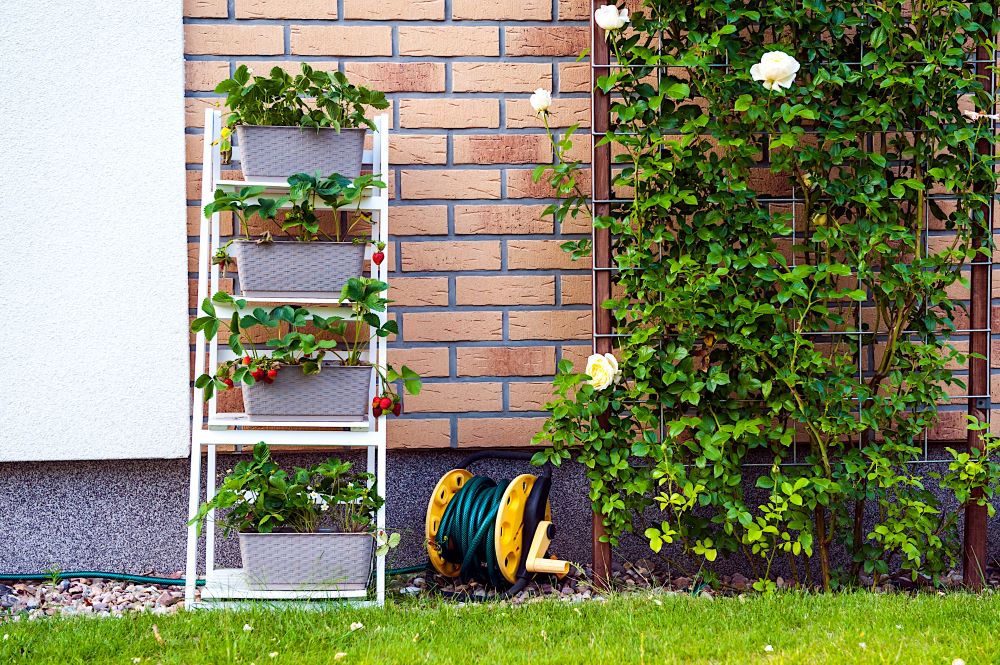 Another great way to amplify your small backyard and make it look bigger is to make the most use of your vertical space. Taking advantage of your vertical space will trick the eye into looking upwards, making your yard feel taller and grander. This simple trick can instantly open up your yard.
One of the easiest ways to use your vertical space is to create a vertical garden. You can create a vertical garden by hanging up a wall trellis, using hanging wall planters, or displaying flowers on a ladder shelf. Additionally, you can use tiered floor planters to create a vertical garden on a smaller scale. In addition to vertical gardens, there are many other ways to take up vertical space in your small yard. Check out some other ideas below.
Other Ideas For Vertical Space In Your Small Yard
Hanging chairs
Patio umbrellas with lights
Wall signs and decorations
Fence decorations
---
6. Add A Garden Centerpiece To Your Small Backyard For A Focal Point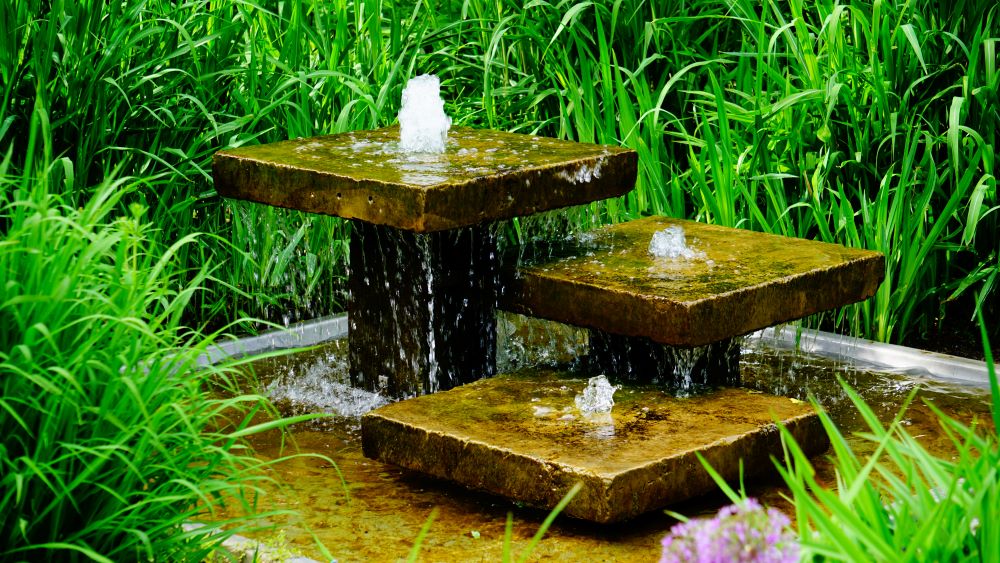 A small yard needs a unique defining element to make your space come alive. That's why it's a great idea to set up a garden or yard centerpiece that will stand out from everything else. Doing this will allow you to keep the rest of your yard more simple and open while still maintaining an elegant space. Keep in mind that a centerpiece also doesn't necessarily need to be in the center of your yard. It can be placed in another section of your yard and act as a focal point.
One of the best choices for a backyard or garden centerpiece is a fountain. Fountains can add some extra relaxation into your space and create a more vibrant and elegant space. Having a fountain as your centerpiece is a great way to create some balance throughout the rest of the yard because you can keep everything else more simple. For instance, you can bring in some simple chairs and plant some flowers in some small planters throughout your yard to complete the look.
Other Backyard Centerpiece & Focal Point Ideas
Decorative statue
Birdbath
A seating area with a pergola
A large decorative planter
Firepit or outdoor fireplace
Tall outdoor table umbrella
A large hammock
---
---
7. Use Outdoor Lighting To Open Up Your Small Backyard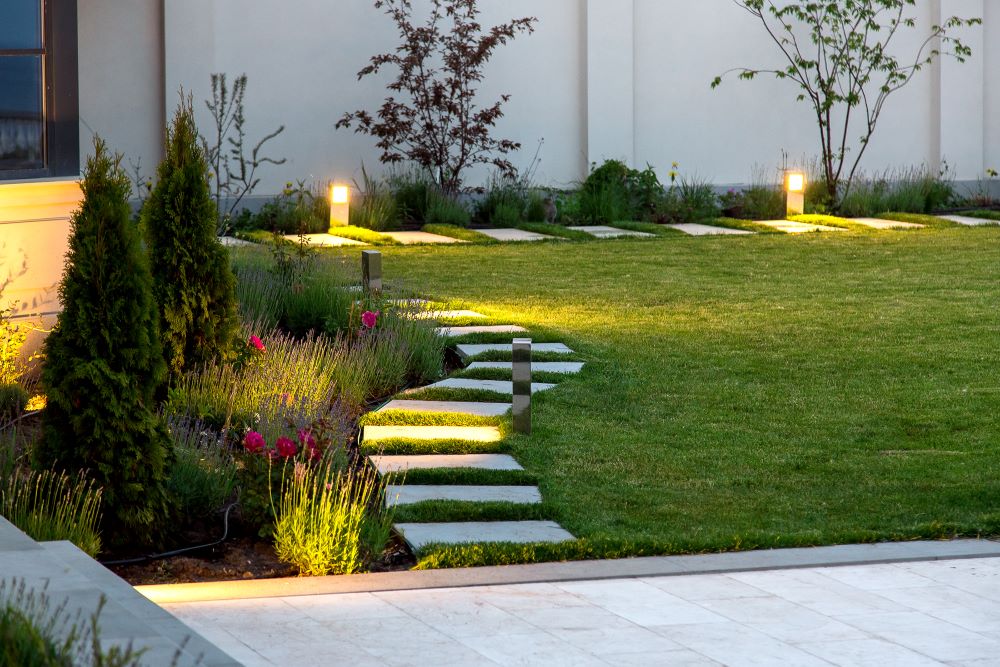 The last element to make a small backyard look bigger is to use outdoor lighting. Adding a sufficient amount of lighting to your space can instantly open it up while elevating the decorative look of your yard. Light up your garden, your patio dining area, and your pathway to your yard to maintain a spacious and open area. Combine practical lighting with some decorative lighting to get the perfect mix for your outdoor space.
Backyard Lighting Ideas
String lights
Lighted wall sconces
Solar stake pathway lights
Lighted garden statues
Motion sensor lighting
Lanterns with LED candles
Light up planters and flower pots
---
---
Ready to make your small backyard look bigger? Shop our Garden & Outdoors section to find everything you need! Find outdoor furniture, outdoor decor, solar lighting, planters, and much more.