How To Style Faux Flowers In Your Home
If you want a fresh decorative look for less, using faux flowers instead of real ones is an efficient way to decorate your space. Artificial flowers come in so many different varieties, styles, colors, and more. It can sometimes be a challenge to put together faux flower arrangements if you want them to look as real as possible. Luckily, there are many steps you can take to style artificial flowers to make them look beautiful and natural in any room of your house. Here are some simple tips and tricks on how to style faux flowers in your home.
---
Make Sure Your Faux Flower Arrangement Isn't Symmetrical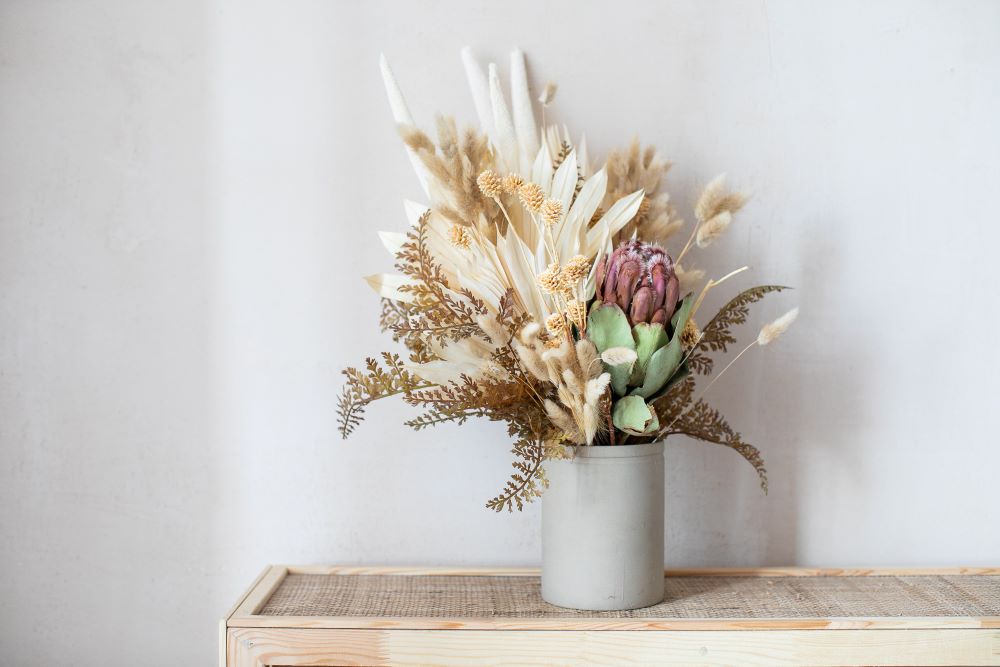 When you buy artificial flowers, the stems are usually all perfectly the same height and the flowers are duplicated to look as identical as possible. However, real flowers aren't identical to each other; fresh flowers tend to naturally fall in different directions when in a vase and they also have different sized petals. It's important to make your faux flower arrangement match the look of fresh flowers as closely as possible in order to have a stylish set up.
Make sure your faux flowers aren't symmetrical by arranging them in various directions. You don't want them to fall perfectly into place in your vase in a straight bunch. Move each of them around so they are displayed apart from each other in several different directions. You can also play around with the leaves on the stems to assure that they aren't all the same. Move them around to create some differences between each stem to make the arrangement flow more naturally.
If you bought your faux flowers as one big bunch, cut it apart to create some individual stems instead. Faux flower bunches tend to look too "perfect" and too unrealistic, so separating them can give you the chance to arrange them in a new way. Just be sure to use wire cutters instead of scissors so you don't ruin any of the stems.
---
Use Unique Decorative Vases For Your Faux Flowers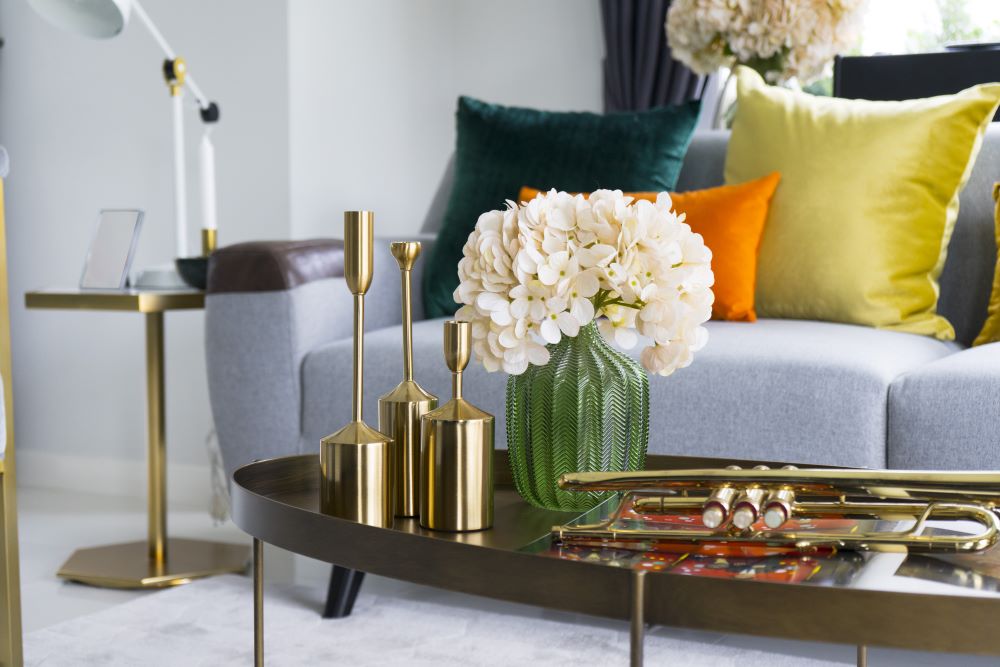 Another thing to keep in mine while you style faux flowers is the vases you use to show them off. The vase is a big part of your faux flower display because it can amplify the realistic look that you want. Choosing the right type of vase for the type of faux flowers you have is important if you want a stylish appearance.
How To Choose A Vase For Faux Flowers
Start by determining what size vase you need based on the type of faux flowers you choose. Make sure your vase is tall enough to hold the majority of the stem height but short enough to show off all the flowers nicely. You should also think about the width of the vase; make sure you can fill most of the width with flowers without overcrowding.
Think about if you want a clear vase or a solid one. A clear vase can show off stems in a unique way but can also make faux flowers look less real. Depending on the type of faux flowers you have, determine if showing the stems will make or break the appearance.
Next, think about the color and style of the vase. Pick a color that will nicely accent the room or choose a bold color that will stand out. You can also choose a vase with a fun pattern or design for some added flair. Choose one that makes sense based on the rest of your decorations.
You can also choose an alternative container to display your faux flowers if you don't want to use a normal vase. This can include items like a mason jar, a tin can, a wine bottle, and more. This is a great idea if you want a more unique and artistic look. You can even make your DIY flower planters for a customized look.
---
---
Choose The Most Realistic Faux Flowers For The Best Style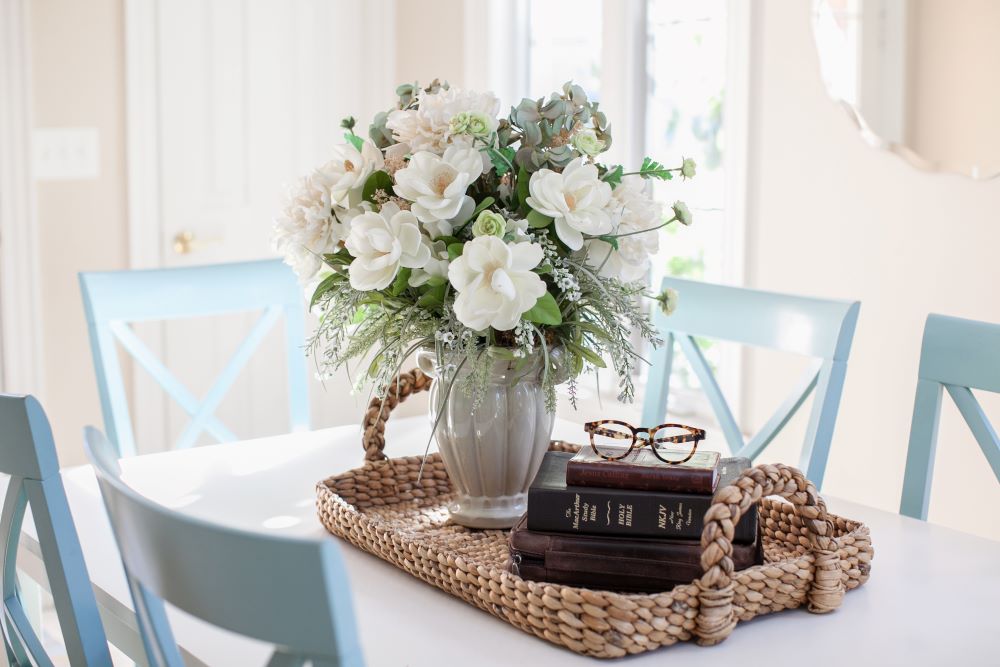 Artificial flowers come in so many colors and styles to choose from, but it's important to choose the most realistic looking flowers. This is because flowers that look too fake can often appear too gaudy and won't blend into your space nicely. Putting together faux flower arrangements that look more real can amplify the style of your space.
While some faux flowers may seem to be pretty realistic at first glance, it can actually be a challenge to know what looks real and what doesn't. If you aren't an expert on flowers, it's a good idea to do some research on real flowers because looking for your faux ones. Not sure where to begin? Check out some simple tips below for how to choose realistic faux flowers for your home.
How To Choose Realistic Faux Flowers
Choose flowers in realistic colors. Many faux flowers come in bright and bold colors that can look appealing; however, real flowers don't come in those colors.
If you're looking for a specific type of faux flower, research the real flower first. Take note of what the real flower looks like to see if the artificial flowers match up. If they don't, consider choosing a different type instead.
Only display faux flowers that are in season. Making accurate seasonal changes to your faux flower arrangements can ultimately make them way more realistic.
Put together faux arrangements that match up to real arrangements. Use real flower arrangements as examples for you to create your faux arrangement. This will help you style the faux flowers more realistically.
---
Fill Your Vase With Water To Make Your Faux Flowers Look Real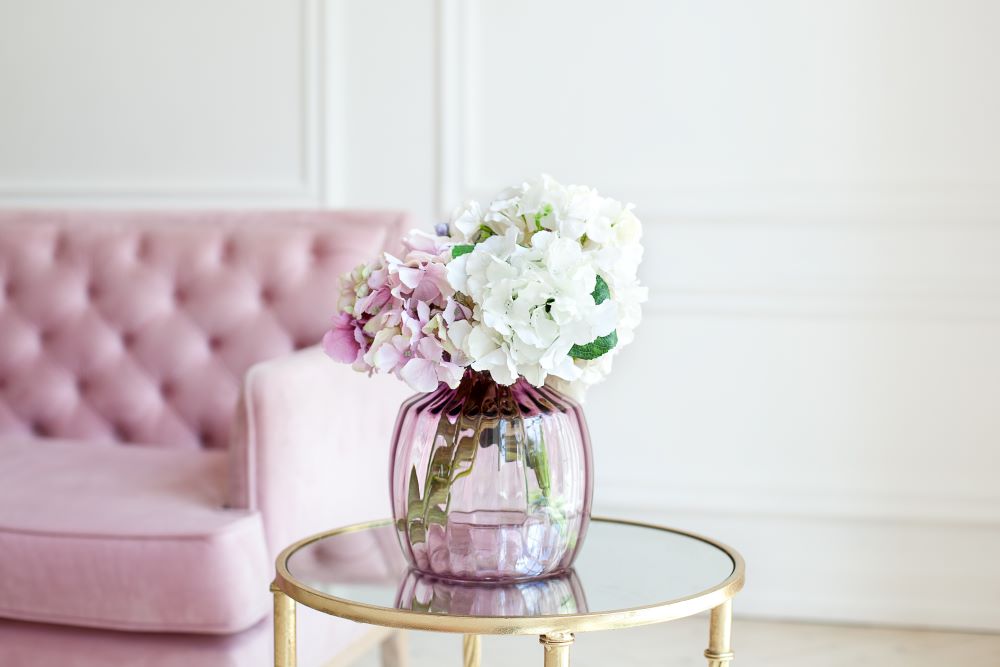 Another interesting trick to style faux flowers is to fill your vase with water to make it look more realistic. This simple detail can surprisingly make a huge difference to your artificial flower arrangement. You can easily trick the eye into thinking the arrangement is real!
This water trick works best on a larger bunch of faux flowers; you'll want to make sure the vase is filled nicely with flowers so you only have to add a little bit of water to the bottom. That way, you won't draw too much attention to the flower stems. If you only have a few flower stems sitting in the vase of water, it will ultimately look more fake because there will be too much focus on the vase and less focus on the flower petals.
Of course, this water trick only makes sense for clear vases. For any other type of vase, you don't need to worry about filling it up with water because the stems will be nicely hidden. Decide on how much time you want to dedicate to your flower arrangement. Even though they are fake flowers, you'll still need to change the water occasionally to prevent molding and make sure everything stays fresh.
---
Bonus Faux Flower Styling Tips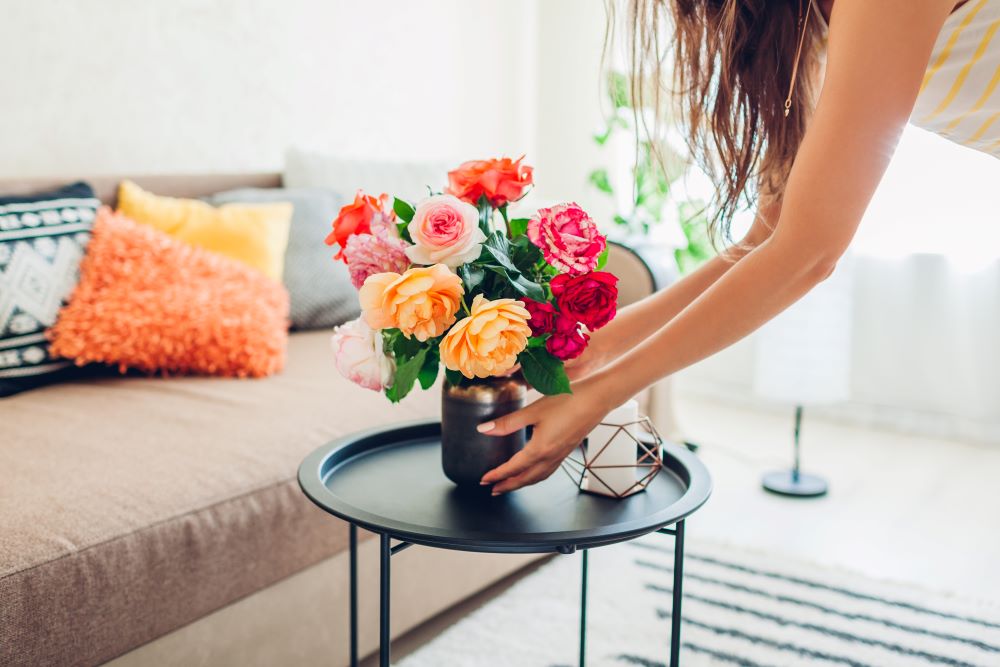 Decorate with a monochromatic faux flower arrangement. Using too many different colors in your arrangement can result in a more tacky and fake appearance. Stick with one color for a cohesive look.
Use an odd number of flowers in your faux arrangement. An even amount of faux flowers will look way too balanced and "perfect"; make sure to use an odd number to give off a realistic look.
Make sure to bend some of your flower stems so they lean over the side of the vase. You'll still want to keep some of them standing straight up to maintain variety.
Vary your faux stem heights when putting together an arrangement. Feel free to cut down some of the stems to make them different heights within your vase.
Use faux green plants in other areas of the room to nicely complement your faux flowers. This will give your room a more complete look.
Match your faux floral arrangement to other decorative accents in the room. Creating a cohesive design throughout the entire room will make your faux flowers blend in better.
---
Now that you've learned some tips on how to style faux flowers in your home, shop our selection of Wreaths & Faux Florals! Find faux floral arrangements, artificial greenery, faux trees, and much more to add some style to your space.