How To Decorate A Kid's Bedroom On A Budget
A kid's bedroom should be a healthy mix of cheerful and cozy. While decorating can sometimes get pricey, there are many affordable ways to make a kid's room feel personal to them. Whether you want to decorate their room in a way that matches their personality, or if you want to give them a space to express their creativity, you can transform their room in a low-cost way. From wall art to patterns to storage and more, here are some easy tips on how to decorate a kid's bedroom on a budget.
---
Use Wall Stickers For An Affordable Kid's Bedroom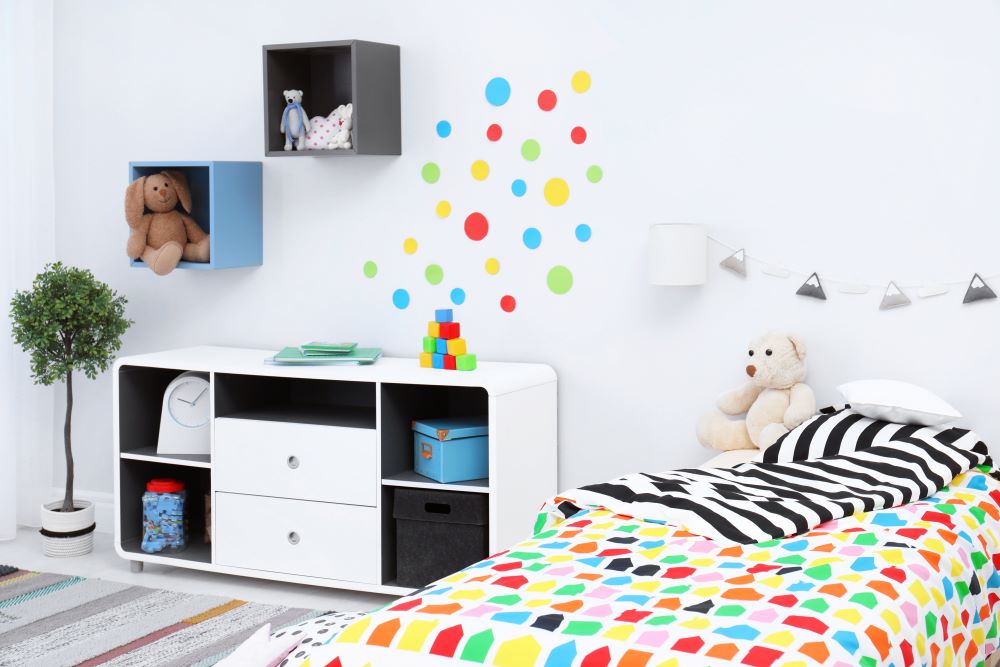 Wall art is a great place to start when decorating a kid's room because it's the canvas of the entire space. While artwork and other wall hangings can look nice and trendy, there are more affordable alternatives that work just as well. One of the best budget-friendly ideas for kid's room wall art is to use wall stickers.
Wall stickers are perfect for a kid's bedroom because there are so many fun designs, patterns, colors, and artwork to choose from. Additionally, wall stickers are nice because they are temporary – this is good for a kid's room because kids can grow out of their bedroom theme pretty quickly. If you're decorating a kid's bedroom on a budget, you'll want to use as many temporary decorations as possible and pick things that you can change later on.
Use wall stickers to create small areas of artwork throughout the room, create a stunning sticker layout above the bed, or use patterned stickers around the entire room to set up a full spread of wall art. You can even display these stickers on furniture, such as the dresser, to elevate the artsy and fun look even more. The stickers are a great way to emphasize the color scheme or to add a pop of extra colors into the room.
---
---
Mix Together Patterns & Designs For A Fun Kid's Room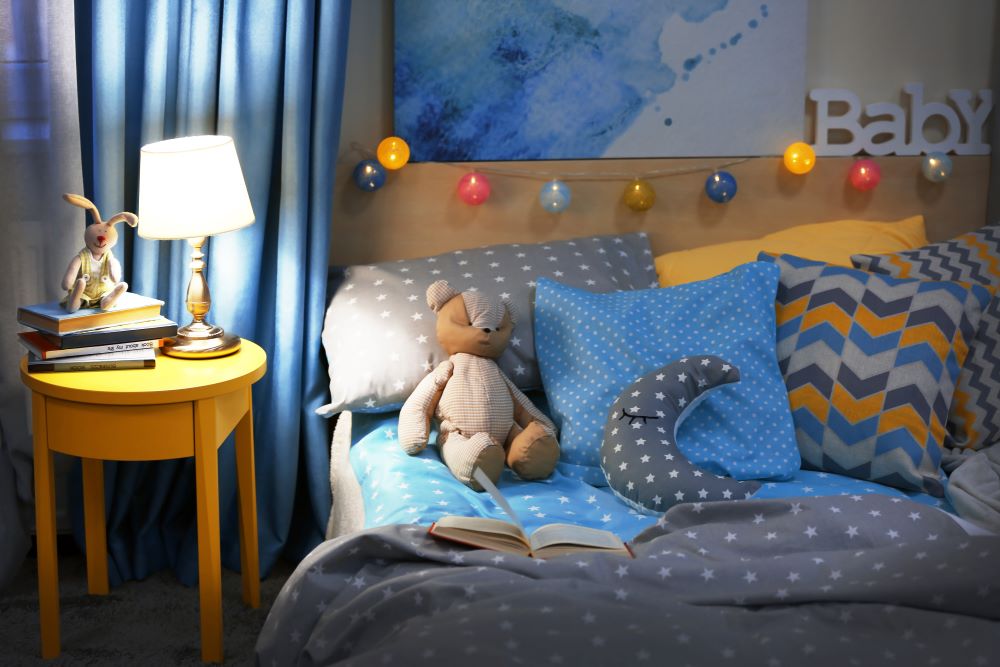 A kid's bedroom should be filled with imagination and excitement. One of the most affordable ways to bring that splash of fun into the room is through the use of patterns. Mixing patterns is a fun way to make a kid's room look festive and bright. The best part is that it doesn't have to cost a lot of money to bring patterns into the room. There are so many affordable ways to add a selection of patterns to the space.
Usually, there is a lot of strategy and rules when it comes to mixing patterns. However, when you're mixing patterns in a kid's room, there doesn't have to be such strict guidelines. The idea is to make it as creative and funky as possible, so it's ok to mix patterns you commonly wouldn't see together. There are so many different ways to add patterns to a kid's room. Check out some ideas below for inspiration.
How To Add Patterns To A Kid's Room
Add throw pillows to the bed in a variety of patterns and colors
Place a fun patterned rug in the middle of the room
Hang patterned curtains on the windows
Display multi-patterned wall stickers
Print out pages of different patterns and frame them to display on the wall
Use patterned bins to hold toys and games
Place a patterned throw blanket on top of the bed
---
---
Place Storage Into A Kid's Room To Use Throughout Their Teen Years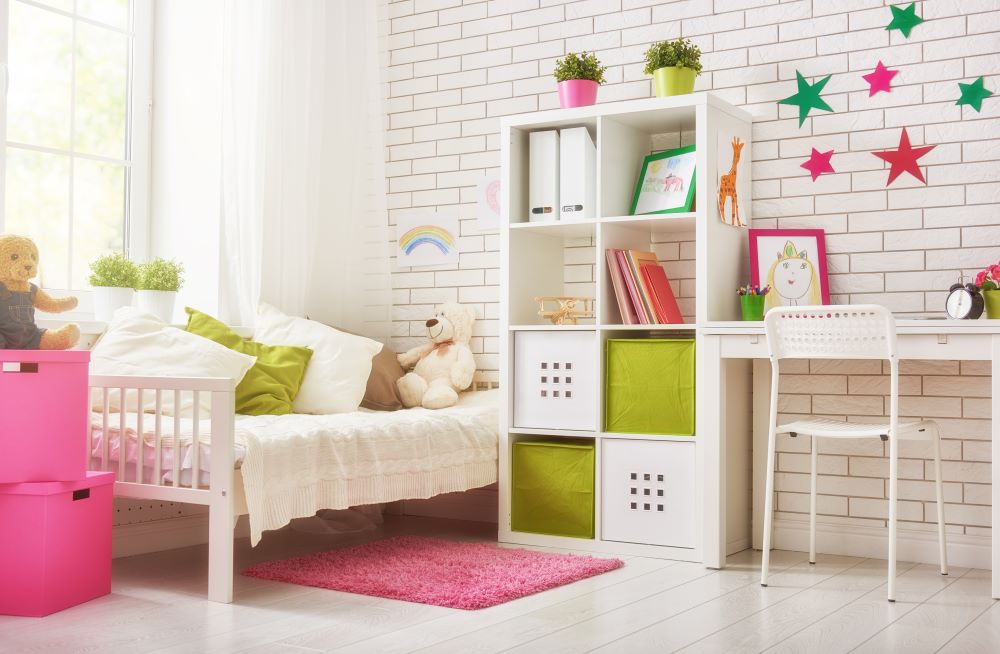 Storage is another thing to think about when decorating a kid's bedroom. If you're decorating on a budget, you should choose storage that can be used now and all the way throughout their teen years as well. That way, you don't have to worry about changing it up as they get old. This is a good way to stay within your budget in the long run.
Best Storage Ideas For A Kid's Bedroom
Keeping a kid's bedroom organized is an essential part of them having a comfortable space. Depending on the layout and items in the room, storage needs may vary. However, here are some general storage ideas for a kid's bedroom that they can keep through their teen years.
Storage cubes with removable drawers or bins (you can change out the bin colors as they get older)
Under-the-bed storage bins for clothes and shoes
Hanging closet organizers
Rolling drawers
Stackable storage tubs
---
---
Add A Play Tent For A Cozy Corner In A Kid's Room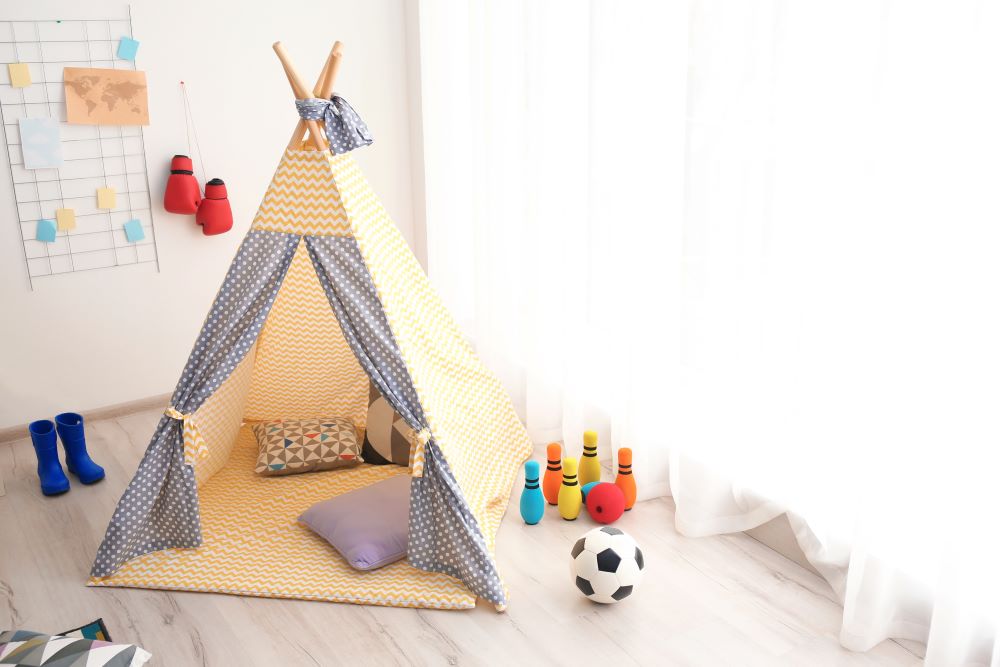 Adding an element of adventure into a kid's room is a great way to make it feel even more exciting and fun. While toys and games are always a great go-to addition to your kid's bedroom, having a defining piece in the room can amplify the space even more. The best and most affordable choice is to add a small tent into the corner of the room.
A tent corner in the room is fun for kids because they can use it for imaginary play and they can also use it to relax in a comfy space. It can also add another decorative element to the room without breaking the budget. Check out some easy steps below on setting up a cute tent corner in a kid's bedroom.
How To Set Up A Kid's Room Tent Corner
Start with a small teepee style tent in the corner of the room. It's even better if the tent is colorful or if it's made with patterned fabric.
Add some cozy throw pillows and blankets into the tent.
Wrap some string lights around the tent for a magical glow.
Place a box of your kid's favorite toys near the tent.
---
Let Your Kid Design Their Own Room With A Chalkboard Wall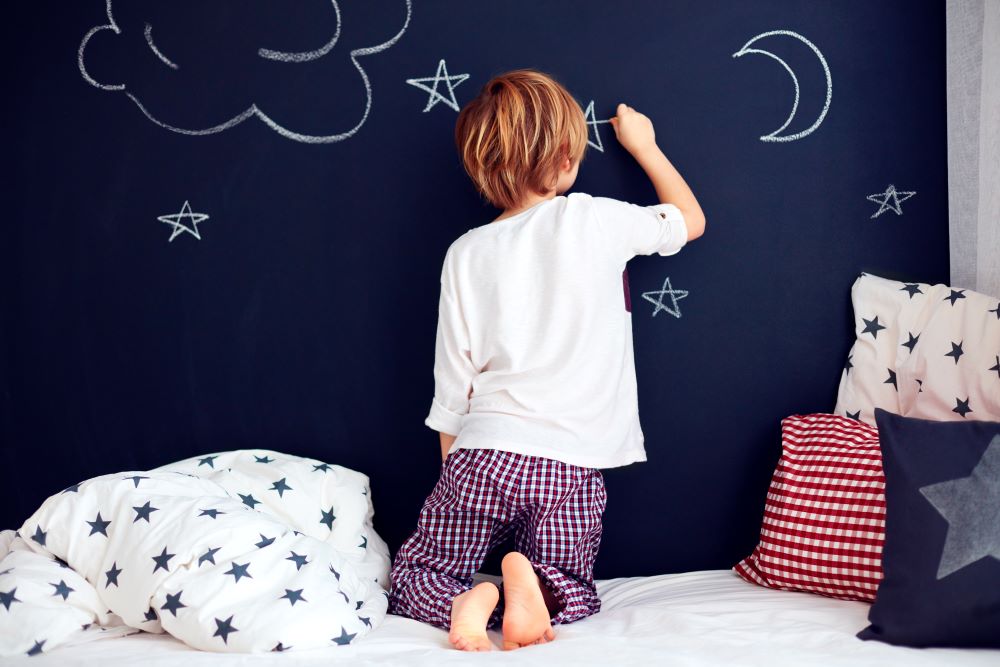 There's nothing more fun for kids than creating their own artwork to express themselves and dive into their imagination. Make it possible for kids to draw on the wall without the mess by adding a chalkboard wall to their room. This is a wonderful way to make the room more personal and special to them.
A chalkboard wall doesn't have to be expensive; use peel and stick chalkboard wallpaper as a cheaper option. You can display the wallpaper across one entire wall, or simply cut it to use as a small section on the wall. You can then bring in a variety of colored chalks for your kid to draw and play with. This is a unique way to display their artwork and allows them to change it up whenever they want.
In addition to the chalkboard wall, you can also find other ways to incorporate your kid's artwork throughout their room. For instance, you can frame some of their drawings and hang them on the wall or display them in tabletop frames. You can also display their artwork on a clothespin photo string across the wall. Find creative ways to show off their art to bring their personality into their space.
---
Paint A Unique Accent Wall In A Kid's Bedroom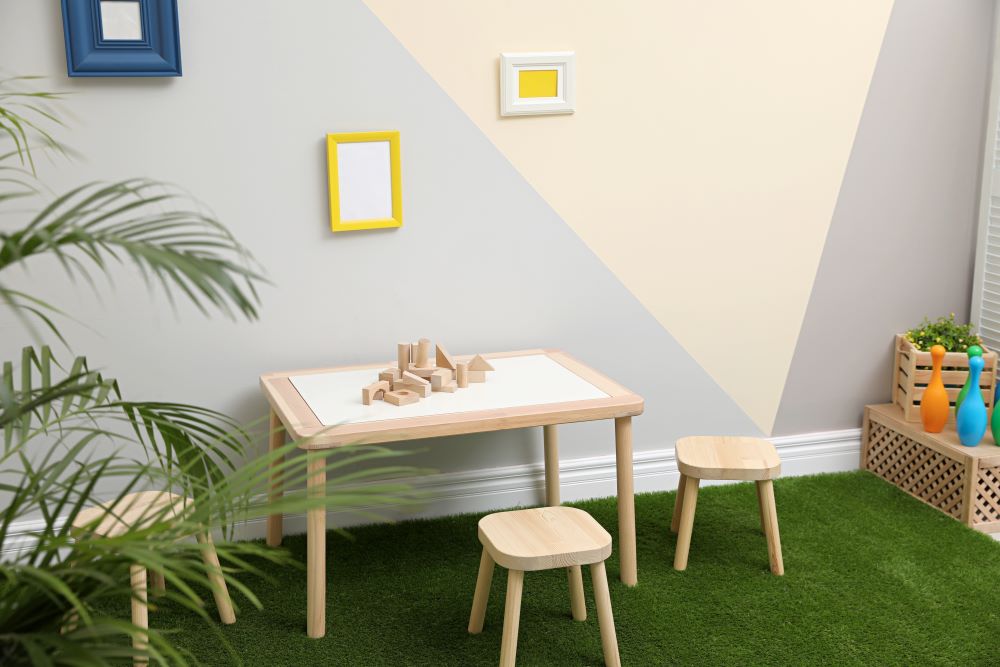 Paint is another key element in decorating a kid's room. Sometimes it can get expensive if you're painting an entire room; however, there are more affordable and creative ways to use paint. Instead of painting every wall in the room, consider painting an accent wall instead. This will give the room some unique contrast and allow for a creative display.
Whether you're artsy or just a beginner painter, you can easily create a beautiful accent wall in your kid's room. The accent wall can be the wall behind the bed or it can even be on the opposite wall to emphasize a play area or toy area of the room. You can do a simple solid color for the accent wall or paint on a creative design. Check out some ideas below for a kid's accent wall.
Kid's Room Accent Wall Ideas
Paint a design on the wall with a few different colors.
Only paint the bottom half of the wall for a unique look.
Do a polka dot or zig-zag patterned wall.
Paint the accent wall a bold and bright color.
Do a paint handprint wall with the entire family.
---
---
Add A Canopy To A Kid's Bed For A Simple Decorative Touch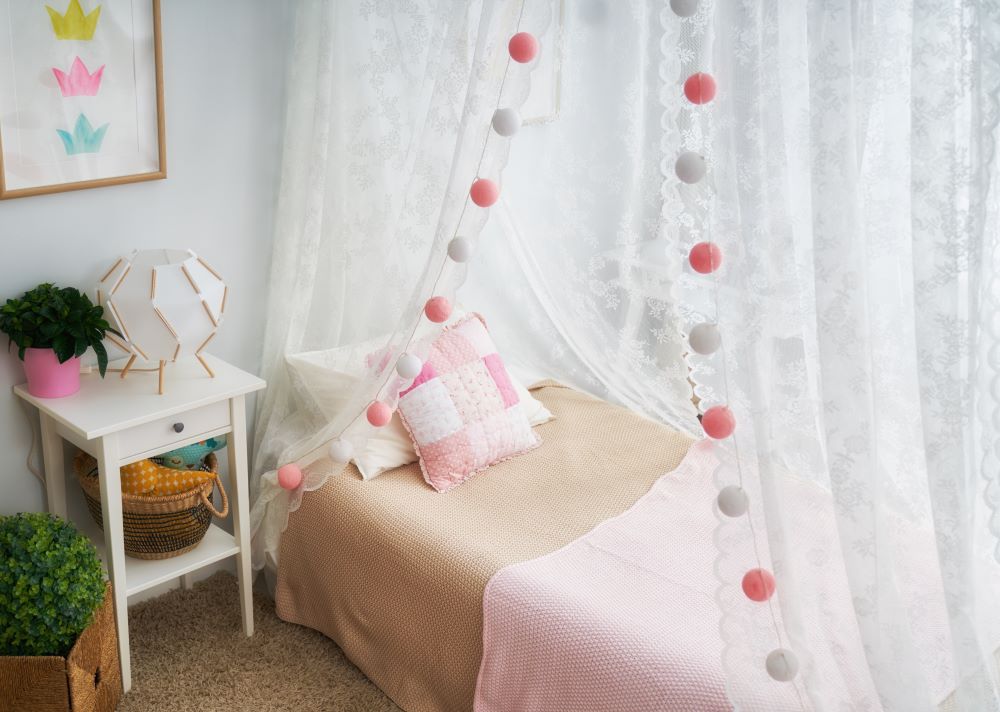 Another fun, budget-friendly decorating idea for a kid's bedroom is adding a canopy to the bed. Kids love feeling protected and safe in their room, and they also love fun additions that make their room unique. A bed canopy is the perfect choice for almost any kid's room!
A canopy can easily be hung from a hook on the ceiling above the bed. Use a solid colored canopy, a sheer canopy, or a patterned canopy to complement the rest of the room and the bedding. You can also use a canopy that stands out as a pop of color in the room. Additionally, you can hang string lights from the canopy to make it look even more magical.
In addition to the canopy, add other fun and comforting things to the bed such as stuffed animals, lighted throw pillows, cozy blankets, and more. Bring the comforting aesthetic to the rest of the room with a decorative night light, a soft rug, and even a small accent chair with pillows.
---
Now that you've learned how to decorate a kid's bedroom on a budget, check out our Home Decor section to get started on decorating! Find affordable curtains, rugs, decorative accents, home collections, and much more.