Decorating For A Country Christmas: Ornaments And More
Country style decor is charming in nature and typically features rustic elements to maintain its warm and welcoming appearance. If you want to create a country Christmas theme inside of your house with decorations, simple details can help you achieve your ideal look.
Decorating for a country Christmas can be made simple with the help of ornaments, accents, small statement pieces, and the use of plaid and pine. Whether you are starting from scratch or you already have a country themed home, this guide will lead you in the right direction in your seasonal decor plan.
---
Trim The Tree With Country Christmas Ornaments
Decorating the tree is a huge part of Christmas tradition. The tree sets the scene for all of the decor in your house; it's the statement piece for your living room or dining room. When you're decorating for a country Christmas, it's easiest to start with your ornaments and tree decor. Filling your tree with country-style ornaments will bring life to your desired theme.
Red or Black & White Buffalo Plaid Poinsettia Tree Clips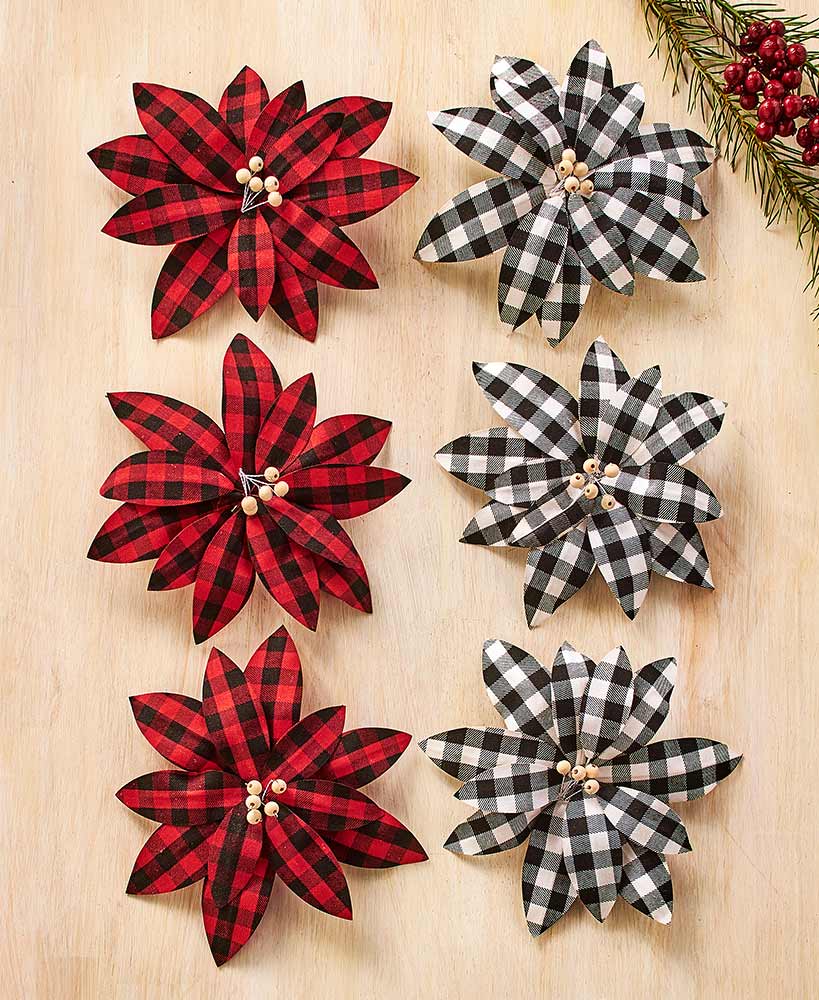 These buffalo plaid tree clips combine traditional and country style in a cute, chic, and stylish way.
These will stand out when interspersed on your Christmas tree with other festive ornaments. As a bonus, you can even place these poinsettia clips on garlands or on top of Christmas gifts.
Country Christmas Galvanized Ornaments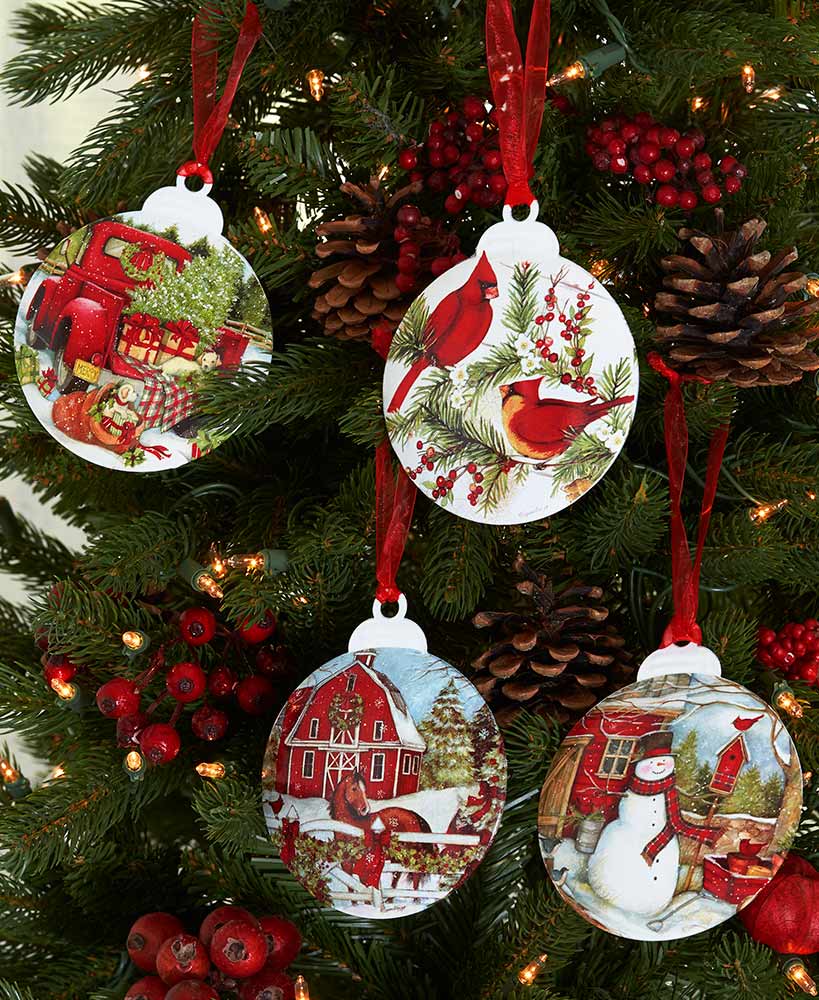 These ornaments are shatterproof and feature beautiful country Christmas artwork on both sides.
Choose from a barn scene, a pair of red cardinals, a red truck, and a jolly snowman. The designs are unique and cheerful. They hang on your tree with elegant, sheer red ribbons.
Mason Jar Lid Ornaments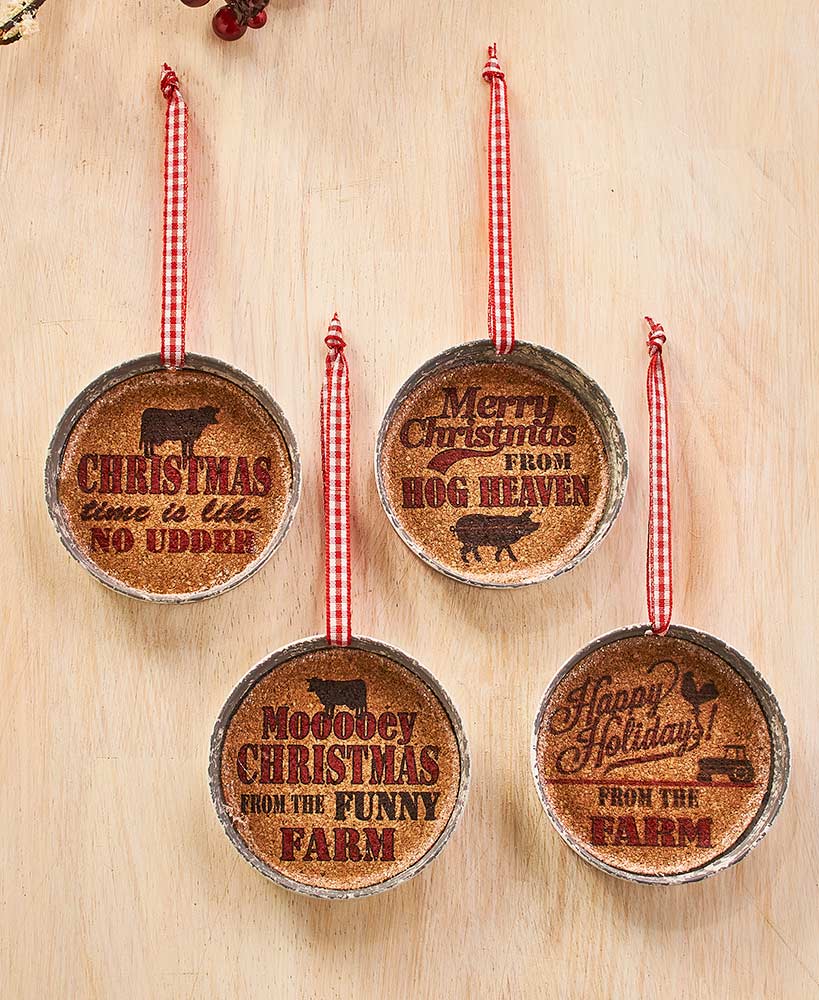 If you have a sense of humor, these mason jar lid ornaments will brighten up your holiday.
Each mason jar lid ornament features a witty and humorous country Christmas saying on a cork insert. These are sure to add some personality to your tree!
---
Add Some Country Charm With Pine & Plaid Christmas Decor
Pine and plaid decorations give you a charming combination of traditional Christmas and country Christmas. Pine matches the Christmas tree, while plaid is a common theme with country decor. There is such a huge variety of decorations that have pine and plaid elements, giving you the flexibility to decorate in creative ways inside and outside your house.
Lighted Holiday Swag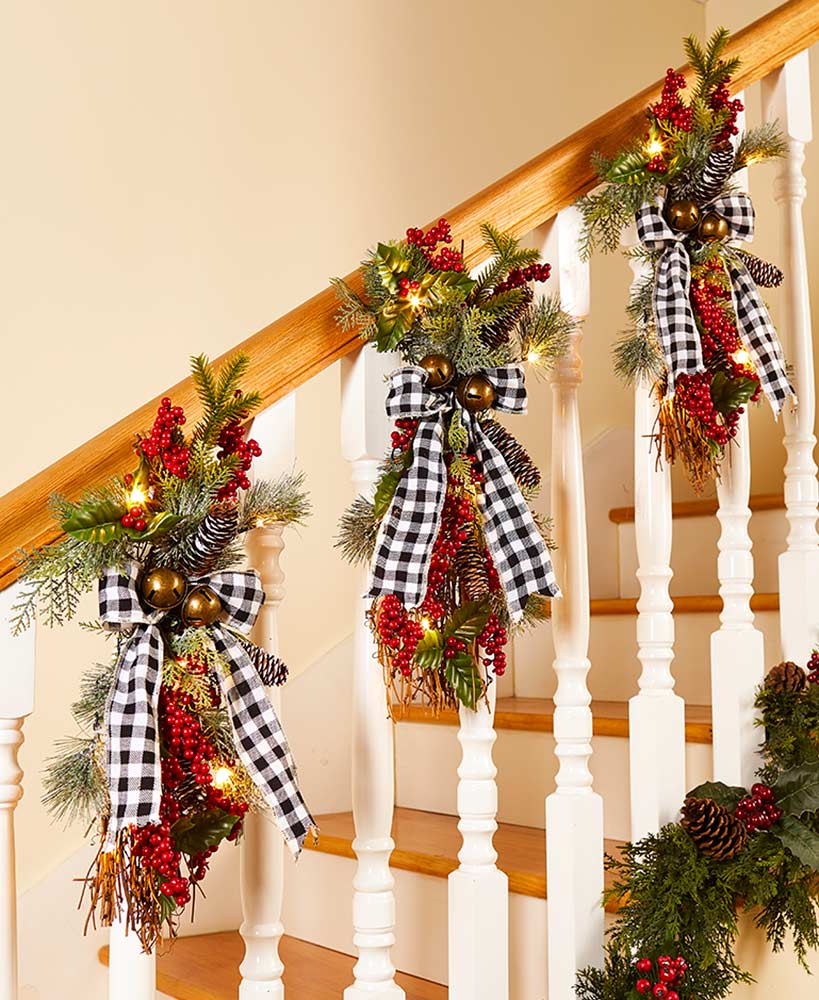 These holiday swags combine faux evergreen with LED lights, pine cones, red berries, bells, and a plaid bow.
Line them up your staircase, hang them on the wall, or place them on your front door. They will add a county Christmas touch to any part of your house.
Christmas Pine Collection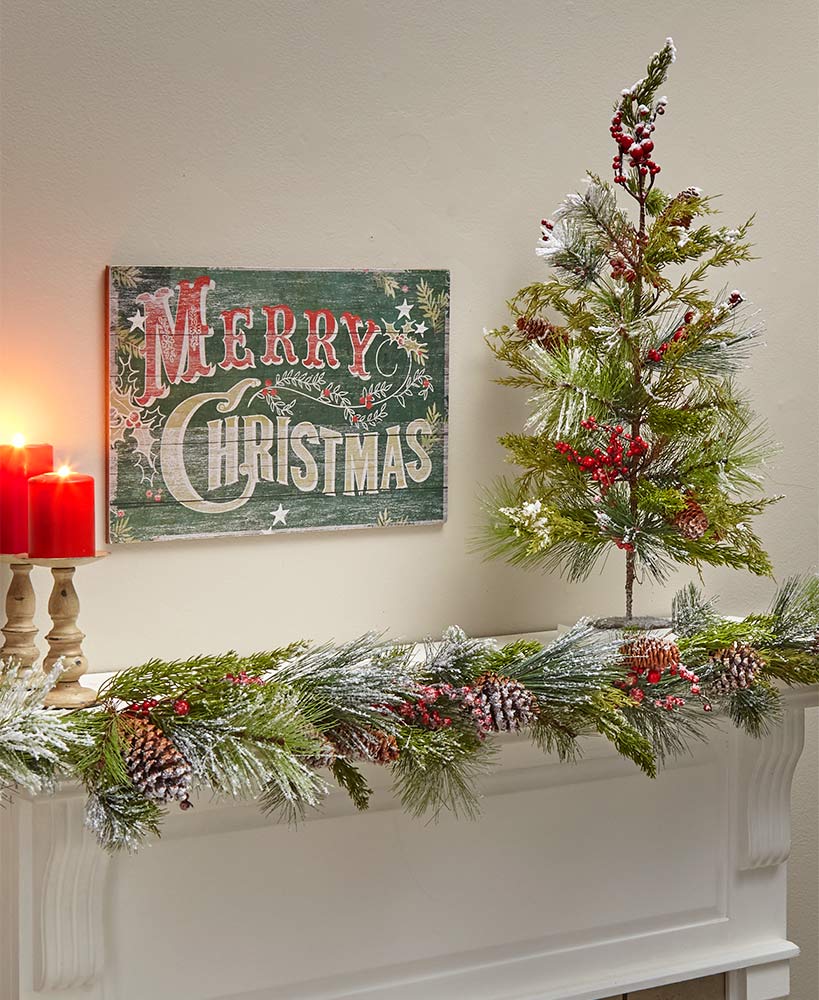 The Christmas pine collection features a wooden pallet sign, a small tabletop tree, and a pine and berry garland.
The pallet sign is made of distressed wood, making it feel homey and inviting. The garland and tree appear to be dusted in snow, perfect for a wintery Christmas scene.
Lighted Red or Black & White Plaid Reindeer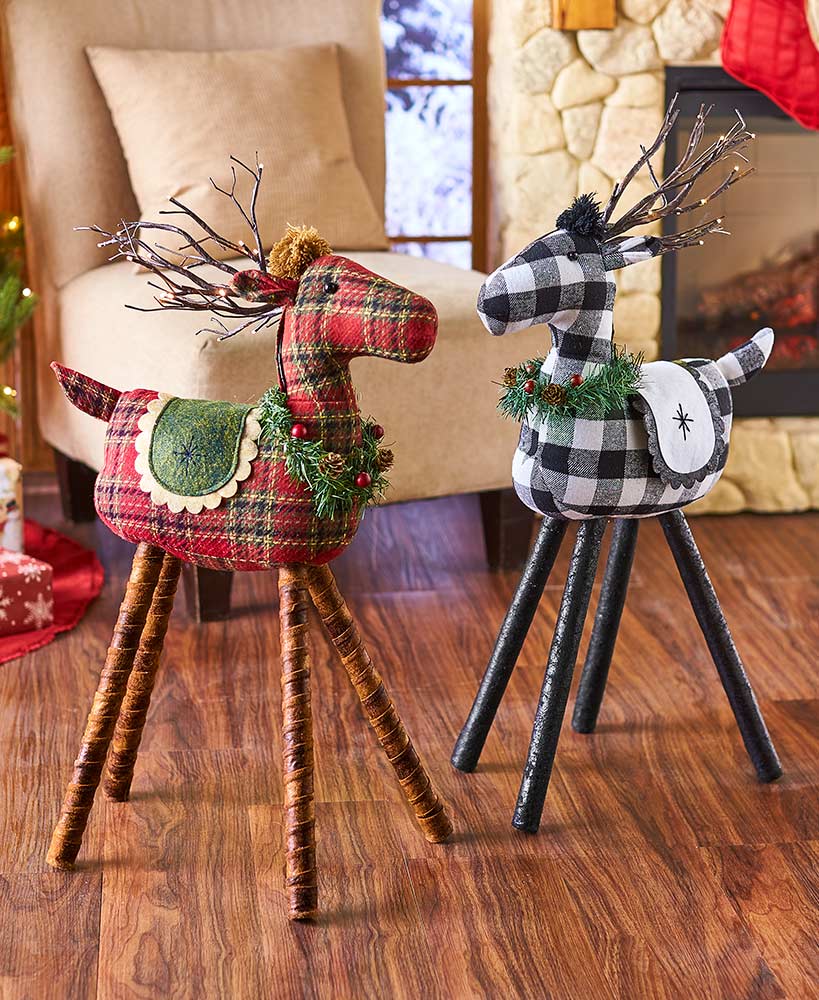 These plaid reindeer accents will be the talk of your Christmas party. Place them in your living room or by your front door to welcome your guests.
They feature a wreath wrapped around the neck and antlers that light up with warm white LED lights.
---
Fill Your Home With Country Christmas Tabletop Accents
While bigger Christmas decorations stand out, it's the small accents that truly add a unique charm and help you decorate for a country Christmas. Think outside of the box and display small accents in unexpected ways. For instance, instead of putting a tabletop decoration on your kitchen counter, stack up some holiday boxes and place the decoration on top of the boxes. These customized touches will help you transform your home into a country Christmas wonderland.
Lighted Holiday Accents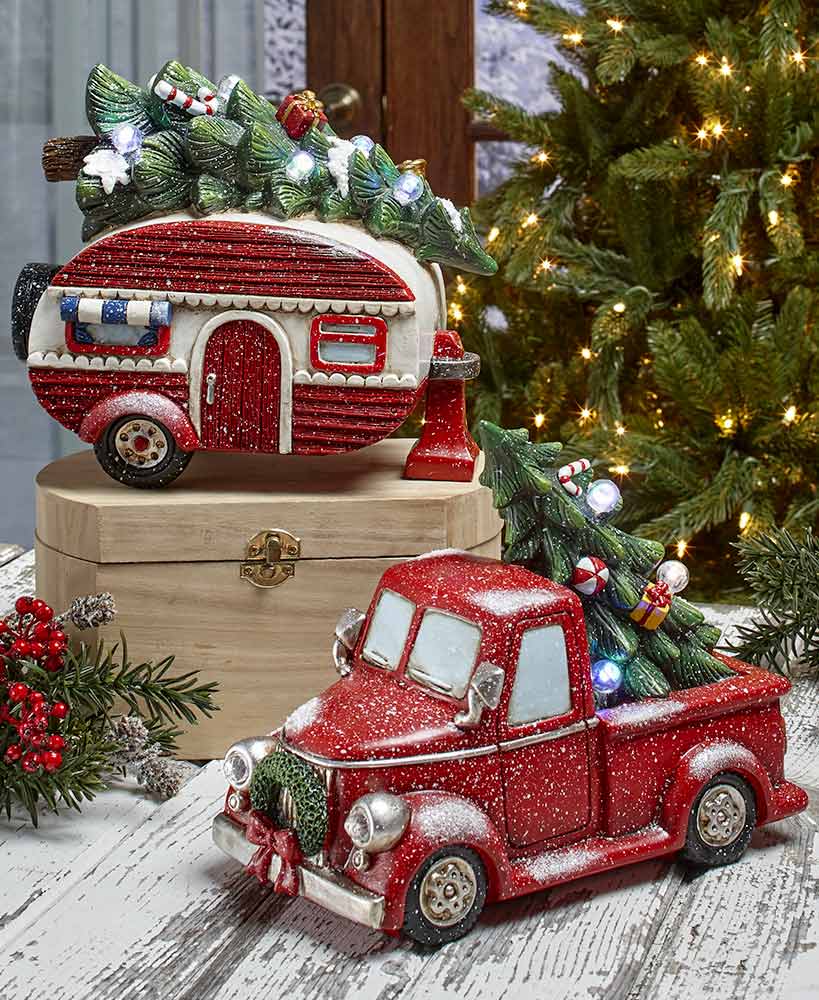 Add a vintage and country aesthetic to your Christmas decor with these lighted holiday accents.
The red pickup truck brings in the country vibes while the camper gives off more of a retro style. Both feature a Christmas tree embellished with multicolored marquee-style LED lights.
Lighted Country Holiday Characters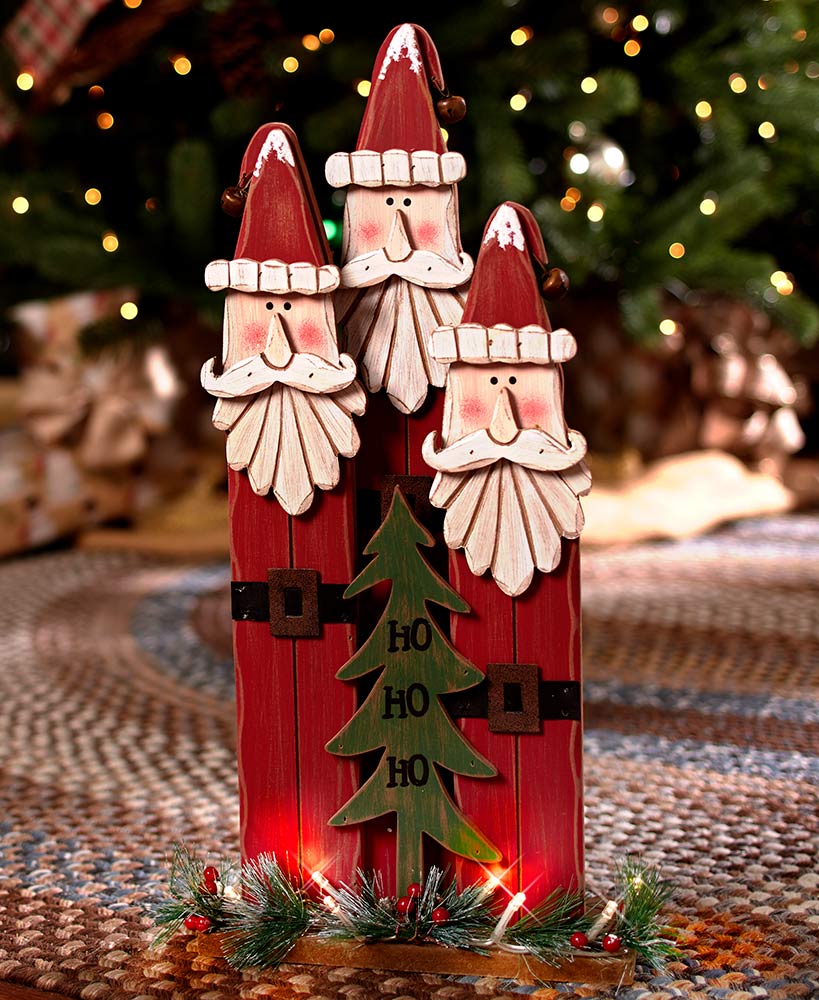 These lighted characters are a cute and wonderful addition to your holiday accents.
Soft white lights on the base will set a warm glow in your house. The wooden holiday characters feature either Santa or snowmen.
---
Looking for even more Christmas decorating ideas? Our Holiday Headquarters has everything you need for a Country Christmas or for other themes and styles!