Holiday Spirit: Tips for Cutting Down Your Own Christmas Tree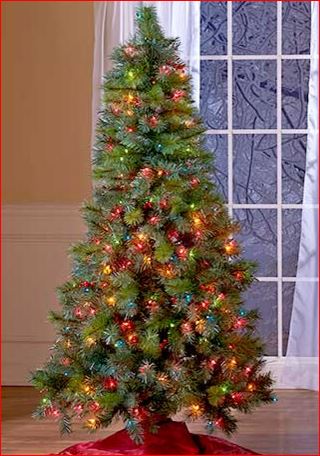 With Thanksgiving just weeks away, holiday festivities are ramping up and we have to start thinking about a Christmas tree. There are so many routes you can take to putting up the perfect tree — going to a tree lot, selecting an artificial tree or coming up with a fun alternative to a tree like creating a mural. But one way to get your tree to make a truly memorable holiday is by cutting one down yourself. Here are 5 tips for cutting down your own Christmas tree.
Dress for the Occasion If you've never been to a Christmas Tree farm, they're as far out in the country as regular farms. That means there aren't many places to warm up when the winds of December start blowing. You also have to remember that it takes to time to find a tree and cut it down so you could be in the cold for hours. Make sure you have warm and durable coats, gloves and shoes for your outdoor adventure.  
Arm Yourself  When you think about cutting down your own holiday tree, the mind immediately goes to the ax. Chopping down a tree makes sense, but it's not as practical or efficient as a chainsaw. It's much easier and less exhausting than an ax, but make sure you're comfortable using it before you set out on your trip. In the event the Christmas tree farm you select doesn't allow chainsaws, make sure you have access to a handsaw.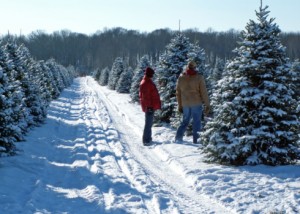 Special Equipment Most Christmas trees won't fit in your car; hauling it home means you have to strap it to the top of the car. Rope, twine or bungee cords will do the trick, just make sure you have a lot — it's better to have it and not need it than to need it and your tree ends up in the middle of a highway. You also want to protect your car from the scratchy pine needles; add a tarp or blanket to lay between the tree and your car before you head home.
Know Your Measurements You want the first cutting to be the last cutting so make sure you know the measurements of the room where you plan to display your tree. The big blue sky can dwarf even the tallest of trees — a guesstimate may result in a giant tree in a medium-size living room. You don't want to have to readjust the size when you figure out it's too big.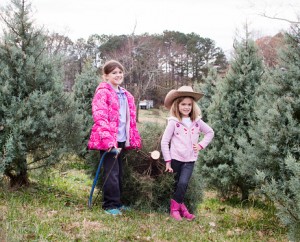 Timber Tremble Some Christmas tree farms have machines to shake your trees before you pack up to go home. Shaking gets rid of loose needles that would otherwise end up on the floor. In addition to needles, it gets forest critters out before they can stow away in your new tree and set up camp in your living room.
Cutting down your own Christmas tree is a project the entire family can participate in to make holiday memories! At LTD, we're all about memories — from Thanksgiving dinner to the annual New Year's Eve party, let LTD help you make new moments to cherish.