How To Decorate For Easter On A Budget
You don't have to spend a fortune to make your home feel fresh and bright for Easter. There are so many affordable ways to bring pastel spring colors, Easter characters, and beautiful flowers into your home. If you're looking to transform the inside and outside of your home for Easter and the spring season on a budget, these ideas will help you get started. Here are 5 easy tips on how to decorate for Easter on a budget.
---
Dress Up Your Candles With A DIY Easter Arrangement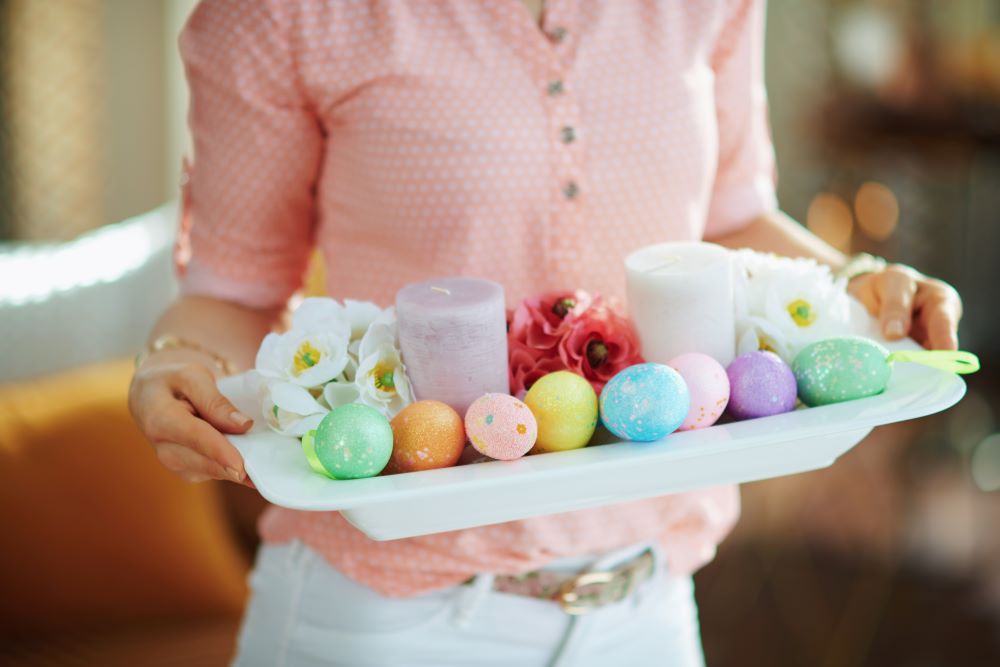 Candles and candleholders make great decorative accents for your home because they can add scent and color, and add to the overall aesthetic of your space. However, they can get pricey, especially if you want to add a lot of candles to different areas of your home. Luckily, this hack will allow you to use a lot of candles for cheap, while still maintaining a decorative Easter look.
Start by getting some pillar candles in spring colors such as white, lilac, pink, yellow, light blue, green, or orange. Unscented ones will be even cheaper; however, you can choose scented if it fits in your budget. Floral scents will work especially well for your spring/Easter theme. You can also opt for LED candles if you want them to last forever.
After you have a set of pillar candles, you can then find creative ways to display them by putting together items you already own, or finding affordable pieces that you can put together. You can easily make a candle display look more expensive than it is with a little time and a little creativity. Here are some ideas to get you started.
How To Decorate For Easter On A Budget: Candle Display Ideas
Display 2-3 pillar candles on a decorative platter. Fill the inside of the platter with decorated Easter eggs or plastic Easter eggs, along with artificial flower petals.
Find an affordable clear glass vase and fill it with plastic Easter eggs. Place a pillar candle in the center – make sure the vase is slightly shorter than the candle.
Place pillar candles on simple/plain candleholders. Wrap faux greenery or faux spring flower garlands around the candleholders.
Paint a plastic cake stand with a bright spring color. Then, place some pillar candles on top, along with some faux spring flower petals.
---
---
Get Creative With Displaying Your Easter Eggs While Decorating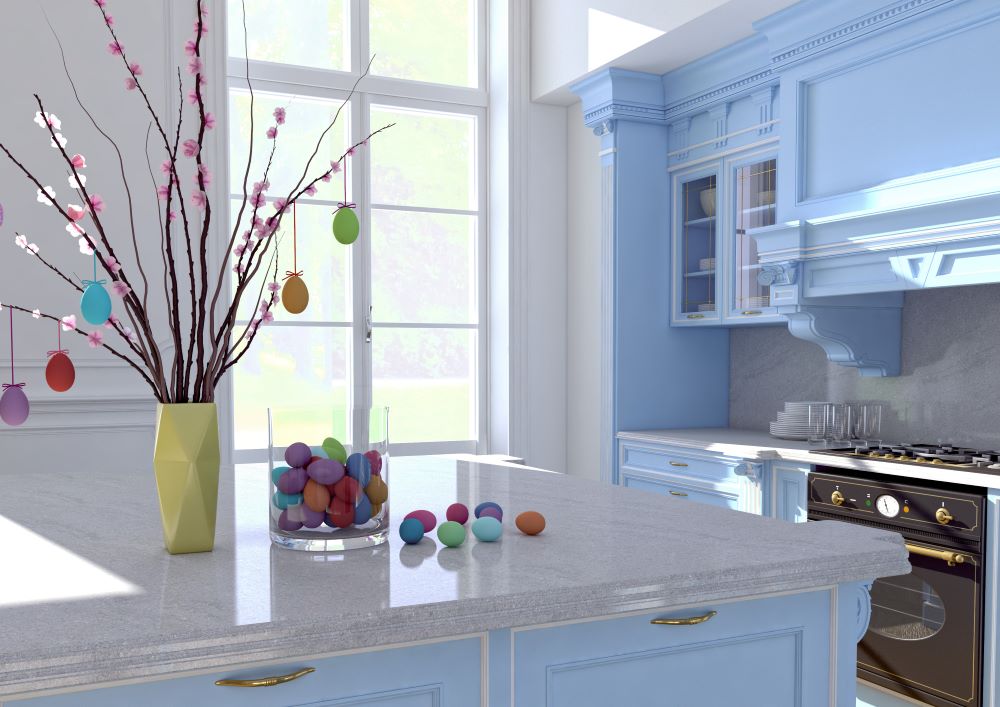 Easter eggs are a strong pillar of the holiday's decorations, so why not use them in creative ways to fill up your space! If you're looking for how to decorate for Easter on a budget while still having a fully decked out home, use plastic or Styrofoam Easter eggs throughout your home to make the spring spirit come alive.
Styrofoam vs Plastic Easter Eggs: Which Is Better?
You can easily use both Styrofoam and plastic Easter eggs to decorate your home. They're both lightweight and versatile, making it easy to use in a variety of unique ways. White Styrofoam eggs are great if you want to achieve a specific color – you can paint them with any color and pattern of your choosing. On the other hand, if you don't want the hassle of painting, plastic eggs usually come in a variety of colors which make it even easier to decorate. Both types of eggs are easy to decorate with; it all depends on your personal preference!
Creative Ways To Display Easter Eggs
Set up a makeshift Easter egg tree. Simply place some artificial branches in a spring vase, attach ribbon loops to each egg, and hang them from the branches.
Fill a clear glass vase with Easter eggs and display faux spring flowers in the center.
Display a bowl of eggs in the center of your kitchen island or on your coffee table with a decorative bunny figurine in the middle of it.
Use a clear glass jar and fill it with Easter eggs mixed with faux flower pets or faux greenery.
Place a faux bird's nest on top of a cake stand. Fill the nest with eggs.
Display individual eggs on tall and tapered candlesticks.
---
---
Make DIY Decorations To Bring Easter Cheer To Your Front Porch & Yard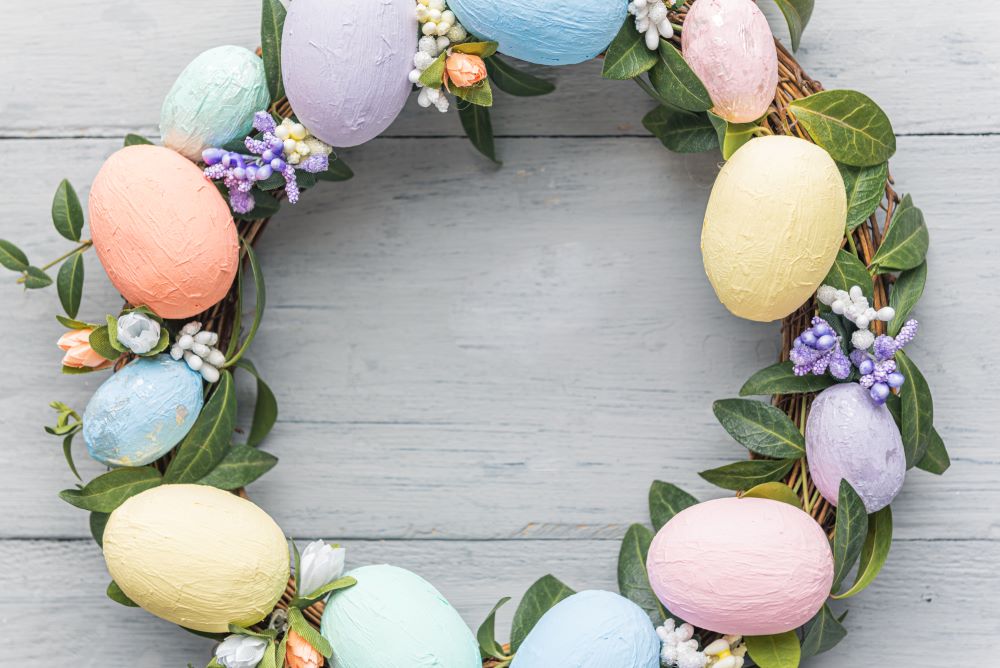 If you want to bring the Easter cheer to the outside of your home as well, you can easily find affordable ways to transform your space. DIY decorations are a cheap yet effective way to decorate your front porch and backyard. Whether you're already super crafty, or just a novice, you can easily create some simple decorations that will look beautiful in your space.
Making your own outdoor Easter decorations can save you tons of money. It's well worth it to put most of your budget into your indoor decorations, and find creative ways to put together your own yard decorations. If you aren't sure where to begin, check out these DIY Easter decor ideas to get some inspiration for your spring set up.
DIY Easter Decor Ideas
Make a DIY Easter wreath for your front door. Use a grapevine wreath or Styrofoam wreath and attach some faux greenery, flowers, and eggs.
Create an Easter pot or planter. Paint a plaint flower pot with a bunny face for a cute look or paint some Easter eggs on it for an extra festive look.
Paint some mason jars with Easter characters such as bunnies and chicks. Then, fill them with fairy lights and display on your backyard table or on the deck railings.
Turn a large wood plank into an outdoor leaning sign for your porch. Paint it a pastel spring color and add a fun Easter sentiment to it.
---
---
Use Unique Containers To Display Spring Flowers With Your Easter Decor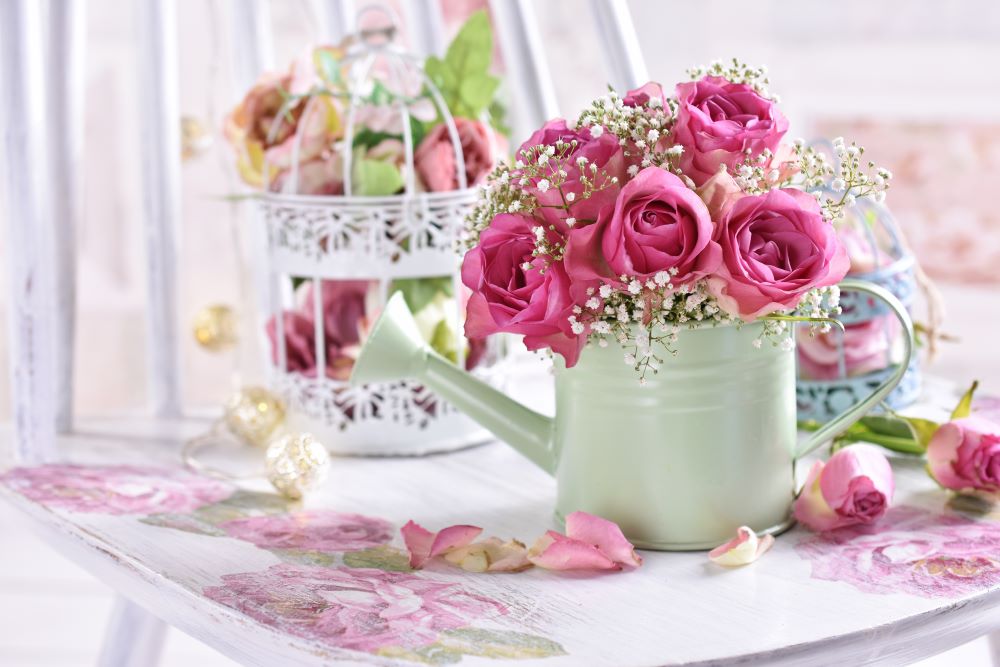 Springtime is all about blooming flowers and beautiful colors. Flowers can be a huge part of your Easter decor spread in almost any room of your house. You can easily decorate with flowers for Easter even if you're on a budget; you just simply need to find affordable ways to display your flowers to make your decor feel complete.
Spring flower vases and planters are beautiful and festive; however, they can get pricey. Instead of spending your money on expensive vases that you're only going to use during the spring season, use alternative containers to display your spring bouquets. To save even more money, you can also use faux flowers instead of real ones. Make artificial flowers look real by strategically putting together bouquets with spring blooms such as tulips, roses, daisies, lilies, and more.
Alternative Vase Ideas For Your Spring Flowers
Metal watering cans
Mason jars
Tin cans
Teapots
Water Pitchers
Woven Baskets
Tea cups & coffee cups
Glass bottles
---
---
Decorate Your Easter Eggs In Creative Ways To Incorporate Them Into Your Home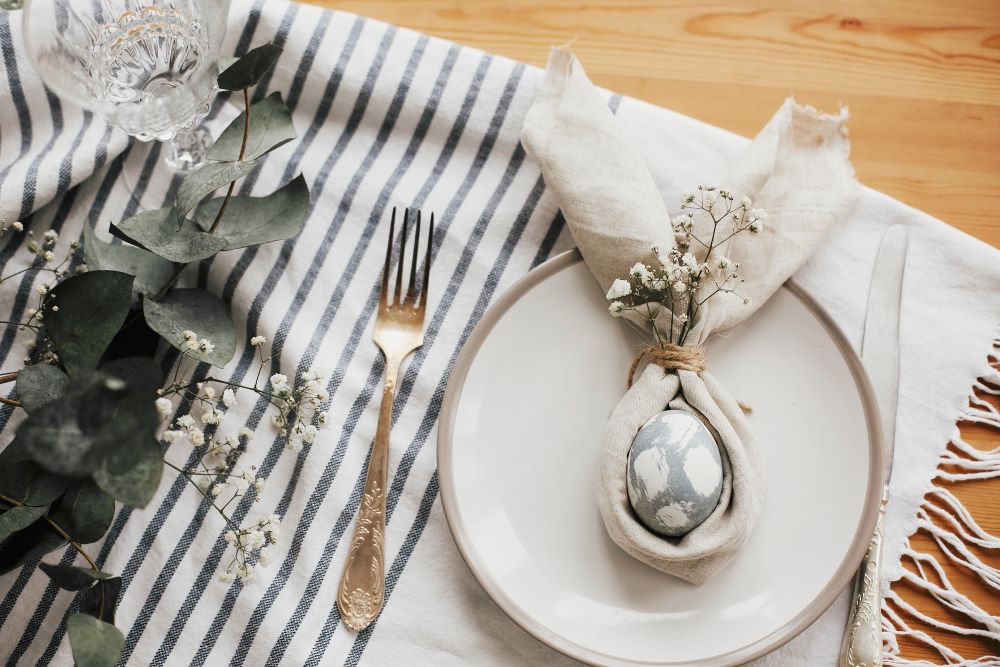 Painting eggs is a traditional fun activity to do every Easter! If you're looking for how to decorate for Easter on a budget, you can combine this craft with your decor by painting the eggs in creative ways. You can easily match your painted eggs to your home decor style and incorporate them into various areas of your home.
Keep in mind that if you're using painted eggs to decorate, it's highly important that you blow out the contents of the egg before painting. You can alternatively paint Styrofoam eggs for an even easier option; however, using real eggs can make it look more authentic. Make sure to use acrylic paint for the eggs, along with a variety of paintbrushes to create different patterns and styles.
Ways To Decorate With Painted Easter Eggs
Paint eggs to use for your place settings on the dining table. Use the accent color in your dining room for the eggs for a stylized look. Or, create a cute display by painting a bunny face on the egg and tying a cloth napkin around it to represent bunny ears.
Give your Easter eggs a glam look by covering them in glitter. This works well if you have an elegant style entryway table – place a bunch of glitter eggs in a decorative glass bowl.
Decorate your eggs by painting flowers on them and display them in a spring planter or vase.
If you want to add some whimsical style to a room, paint your eggs in bright colors with funky patterns such as polka dots, stripes, and chevrons.
---
Now that you've gained some inspiration on how to decorate for Easter on a budget, check out our selection of affordable Easter Decor & More! Find decorative accents, candles, garden decor, serveware, and much more for your home this spring season.