Items We Adore: LTD's Product Picks for the Week for Halloween
The kids are back in school and, even though the leaves haven't started falling, it's time to start planning for Halloween! Our witches' brew for the perfect costumes and decor is bubbling so we thought we'd share our potion for Halloween inspiration. Here are this week's Items We Adore: LTD's Product Picks for the Week for Halloween.
Boo! Startle trick-or-treaters and party guests when this 55″ Animated Demoness springs to life. Hanging by her wrists from shackles, the sound-activated demoness' eyes light up with a red glow, and she shakes as she talks.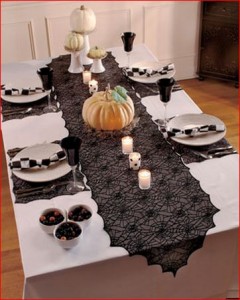 Enchanting Entanglements Set the scene for Halloween with this 5-Pc. Spiderweb Lace Table Set. You get 4 placemats and a table runner that's great for parties or just family dining around Halloween! The runner can also be used on a mantel or shelf to lay the foundation for a seasonal display. Each piece has an intricate web lace design.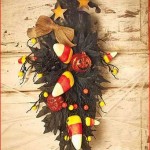 Fall Frills Celebrate a holiday with a Seasonal Swag. Hang it on a door or wall for an easy decoration. Colorful foliage cascades down from an emblem of the holiday. Additional accents scattered within the foliage add to the seasonal theme.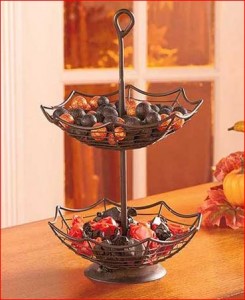 Creepy Candy Celebrate the season with spooky Halloween Decor. Detailed artwork on the ceramic Poison Bottle serves as a final warning about its contents. The Set of 3 Pumpkins  spells out "BOO." Cold cast ceramic. The metal 2-Tier Basket features bowls that look like spider webs that harbor spiders. Each letter on the burlap Halloween Banner has a different design.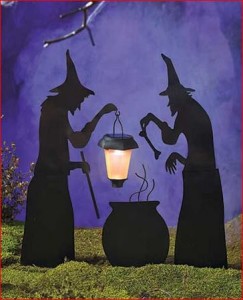 Devilish Decor Transform your yard into a ghostly gathering spot with the Halloween Silhouettes. Their clean shapes make them delightful during the day, and their solar lanterns create spooky shadows at night. The 3-Pc. Stake Set creates a scene of witches working over a steaming cauldron. One of the witches holds a lantern over the cauldron. The Ghost–whose pant cuffs and shoes suggest he's a trick-or-treater in disguise–holds his lantern aloft to help him find his way. A crow perched on the Tombstone holds a lantern in its beak.