July Pinteresting Picks
Our Pinterest followers are taking care of business! Even as the summer starts to wind down, our followers are ramping up their home improvements. Whether they're gardening or going on a road trip, the common theme among their favorite pins is organization.  Here are the July Pinteresting Picks.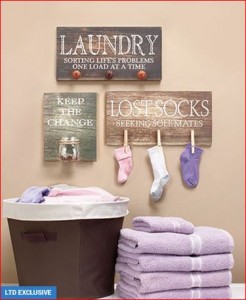 Home Organization Lighten the load on laundry day with a funny yet functional Laundry Room Wall Hanging. Each wooden sign features a visual accent that can also come in handy as you work. The Laundry sign (15-3/4″H x 7-7/8″W x 1-1/2″D) has 3 knobs to hang small articles of clothing as you fold or sort. Keep the Change (10″H x 8″W x 3-3/4″D) has a glass mason jar attached with a raffia tie that you can use to hold coins found in pockets, buttons that have come loose and other small objects left in the hamper. Lost Socks (15-7/8″H x 9″W x 1″D) has 3 clothespins to hold separated socks while you look for their mates. Each comes ready to hang.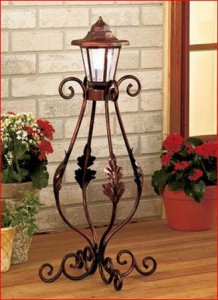 Light Up the Garden Put an elegant finishing touch on your home with a Solar Garden Post. This classic accent features a teardrop shape enhanced with scrollwork. The lantern at the top is solar-powered, so it needs no time-consuming installation. Glows with constant white light for up to 8 hours on a full charge. On/off switch. A metal ring near the bottom of the Solar Post with Planter holds a 6″ pot. Some assembly required; assembly hardware included. 29″ x 13-3/4″. Metal and polypropylene.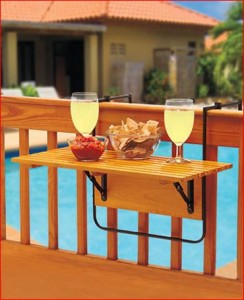 Outdoor Convenience Folding Deck Table sets up in seconds and folds down flat when not in use. This attractive wood table comes with metal clamps and brackets that easily secure it to a porch or deck railing. Great for outdoor entertaining, the folding table is also ideal for decks or balconies with limited space. Fits railings up to 6″ wide and can hold up to 50 lbs. 23-3/8″ x 19-3/8″ x 16-1/4″.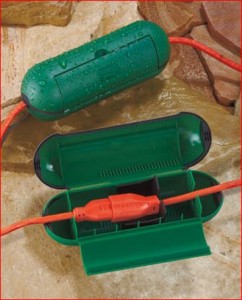 Safe Connections Protect outdoor electrical connections for a holiday display or at a job site with a Set of 2 Extension Cord Safety Seals. The case snaps around the point where the cords come together, and a rubber seal keeps out rain, snow and mud. An internal locking safety mechanism holds cords securely together. These cases are a simple solution that will prevent shorting out and eliminate the chore of reconnecting cords that have been accidentally pulled apart. 3″ dia. x 8'L. Plastic.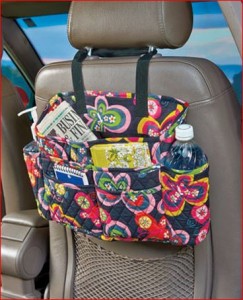 Convenient Compartments Keep everything a driver needs at hand with a 2-Pc. Quilted Auto Organizer Set. The 7-pocket car seat organizer holds maps, magazines, paperwork, snacks and more. Hang it on the front passenger seat–just slip its strap under the headrest. The dashboard organizer features 2 pockets for storing such items as a cell phone, sunglasses, pens and more. Comes with a clip for attaching it to a dashboard vent. Cotton. Imported.