Pinteresting Picks for December
It's the first week back to work in the new year and it looks like our Pinterest followers are taking their resolutions seriously. They're all about organization and saving time! Here are our Pinteresting Picks for December.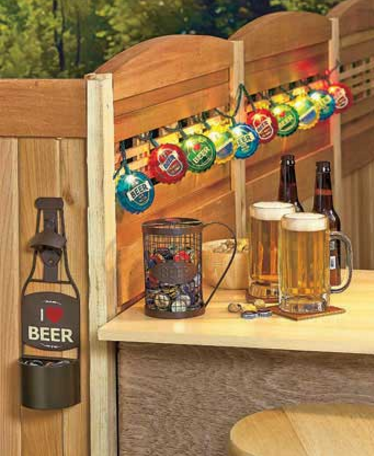 Decorate your home bar or rec room with our Beer Lover Decor. Hang the Bottle Cap String Lights (8'L) for a festive salute to booze. Includes a 24″ lead wire and an end-to-end connector plug. Each of the 10 oversized, plastic caps is 3″ dia. UL-Listed. Pop off caps using the metal Wall Bottle Opener (4-3/8″W x 2-3/8″D x 13-1/2″H), shaped like a beer bottle. The included cap catcher swivels for easy emptying. Ready to hang. Showcase your brewed conquests with the metal Bottle Cap Holder (6-1/4″ dia. x 6″H), shaped like a beer mug.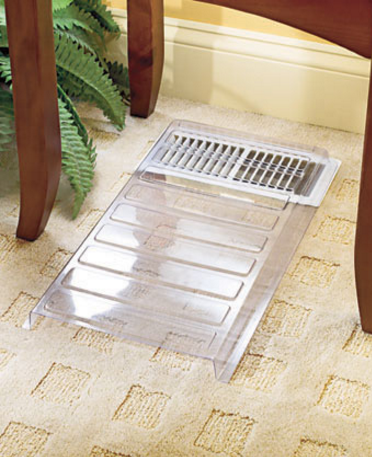 Simply place a Vent Extender onto a blocked vent, and it will redirect the air to a more open area of the room. Use the included pieces of double-sided tape to hold the extender in place. Household vents frequently are blocked by furniture, which prevents the air from properly circulating. By moving the air more efficiently, the Vent Extender can help lower your energy bills, and you'll spend less time adjusting the thermostat. Made of clear plastic, it extends from 20″ to 35-1/4″ long. Measures 11″ wide and is 1-1/2″ high.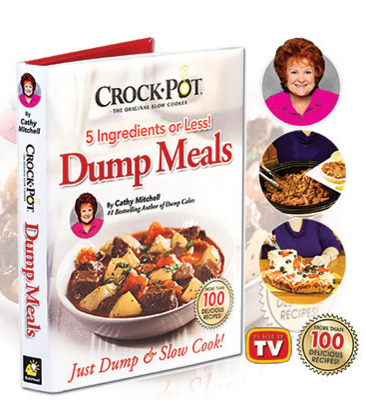 Life is too busy to spend time slaving over the stove! Serve a home cooked meal without a lot of effort using the Crock-Pot® 5-Ingredient Dump Meals Cookbook.With over 100 recipes from trusted chef and bestselling author, Cathy Mitchell, this book will have you feeling good about the delicious, made-from-scratch meals you put on the table for your family. Includes full-color photos. 6″W x 9″H. Concealed spiral-bound hardcover, 144 pages.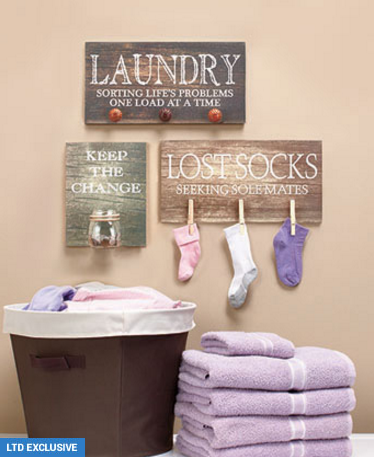 Lighten the load on laundry day with a funny yet functional Laundry Room Wall Hanging. Each wooden sign features a visual accent that can also come in handy as you work. The Laundry sign (15-3/4″H x 7-7/8″W x 1-1/2″D) has 3 knobs to hang small articles of clothing as you fold or sort. Keep the Change (10″H x 8″W x 3-3/4″D) has a glass mason jar attached with a raffia tie that you can use to hold coins found in pockets, buttons that have come loose and other small objects left in the hamper. Lost Socks (15-7/8″H x 9″W x 1″D) has 3 clothespins to hold separated socks while you look for their mates. Each comes ready to hang.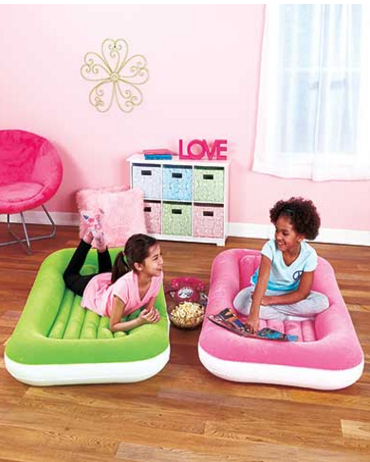 Give them a comfortable place to sleep while away from home with an Inflatable Kiddie Bed. It has a 2-piece recessed center design that provides a secure sleeping area. Simple to inflate using your own pump, making it ideal for sleepovers, camping and more. Includes a heavy-duty repair patch. Weight capacity of 110 lbs. 30″W x 52″D x 8″H. PVC. For ages 3 and up.