Small Bathroom Storage Hacks: Maximizing Space Under The Sink
If you're looking to declutter your small bathroom, storing items under your sink can be a simple solution. Keeping the area under your sink organized will allow you to have a neat and tidy storage space. Here are some easy small bathroom storage hacks that will help you maximize the space underneath your sink.
---
1. Use Stackable Bins To Conserve Space Under The Bathroom Sink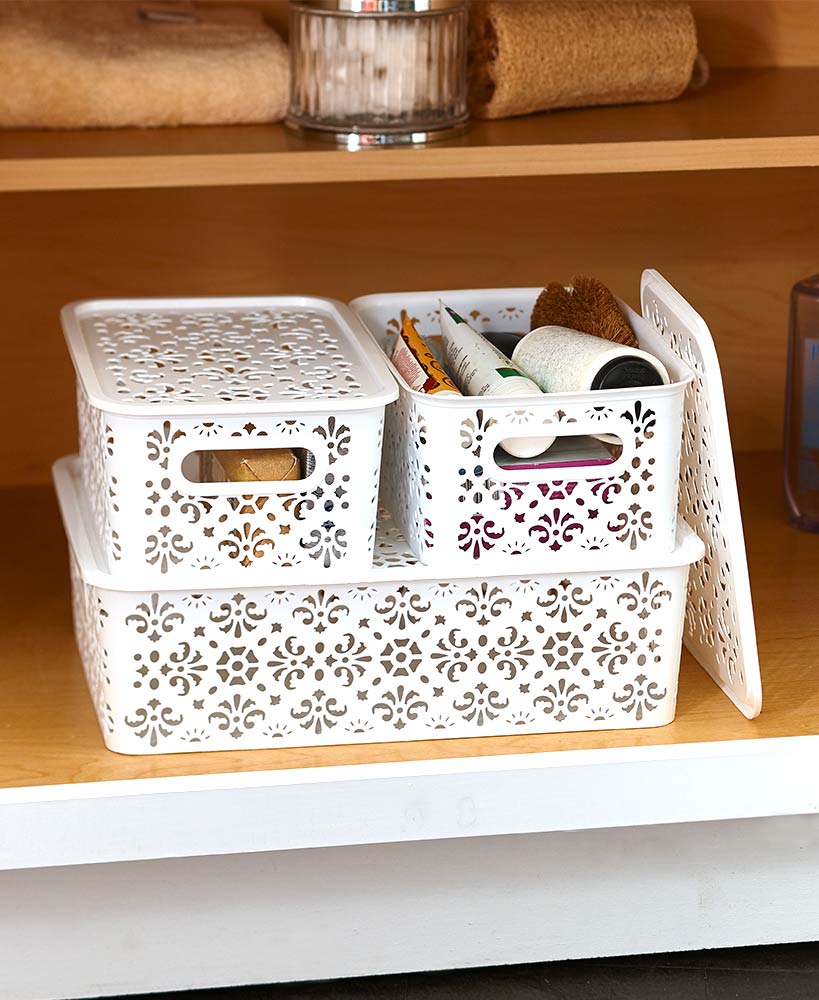 If you have a lot of items you want to keep under the sink, it's important to stay organized to avoid any clutter from piling up.
Use stackable bins with lids underneath the sink for your small bathroom storage. This will keep things neat and tidy while maximizing the small amount of space that you have. Clear bins are the most ideal in order to visually see everything you have; however, you can also use decorative bins for a clean look.
Keep your least used items in the bottom bins and place your most used items in bins stacked on top. This will make things more convenient to grab when needed.
Makes sure to also stay organized within each bin. Assign each container to a specific category of items and clearly label the outside of each one.
---
2. Store Bathroom Items On Tiered Shelves To Take Up Vertical Space Under The Sink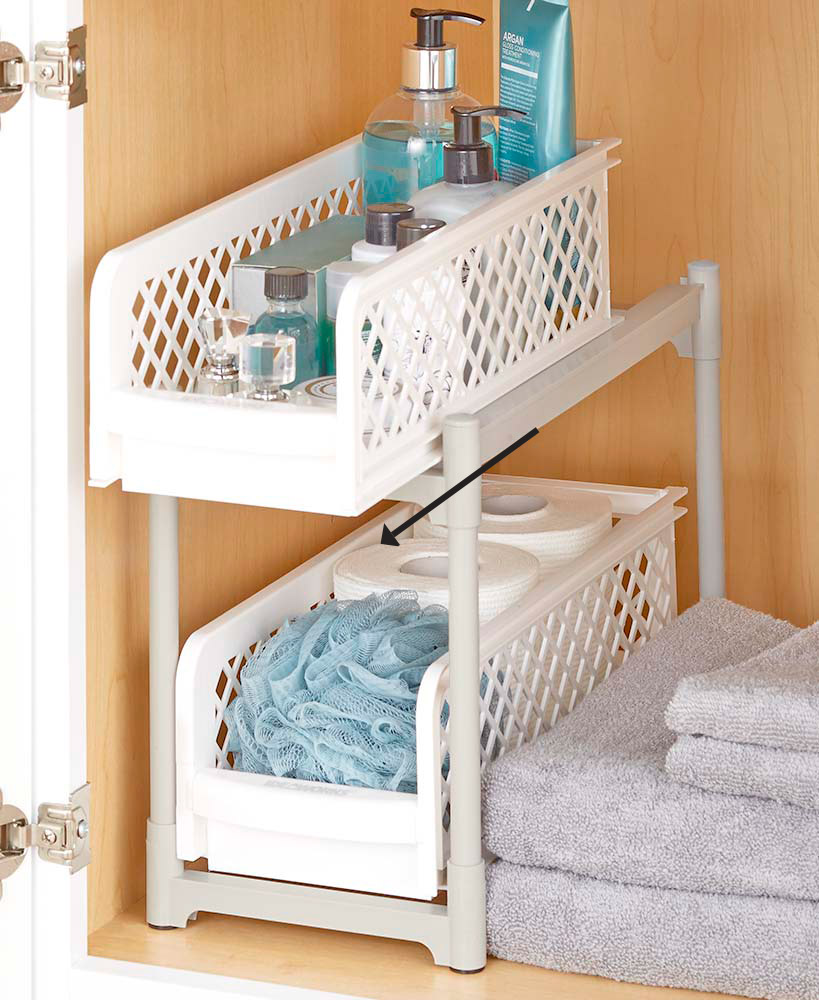 With any small bathroom storage, your space is limited, which means you have to find clever ways to maximize your space.
Use vertical space instead of horizontal to get the most out of your area under the sink. Vertical storage will give off the illusion of a taller and bigger area and will allow for some breathing room in the cabinet.
Tiered shelves are a great way to take advantage of the vertical space. Use a two or three leveled shelving unit that's fairly short but slim enough to conserve room.
These tiered shelves can be useful for storing toilet paper, lotions, skincare products, and any every day essentials that you need easy access to.
---
3. Utilize The Cabinet Door To Maximize Storage Space Under A Small Bathroom Sink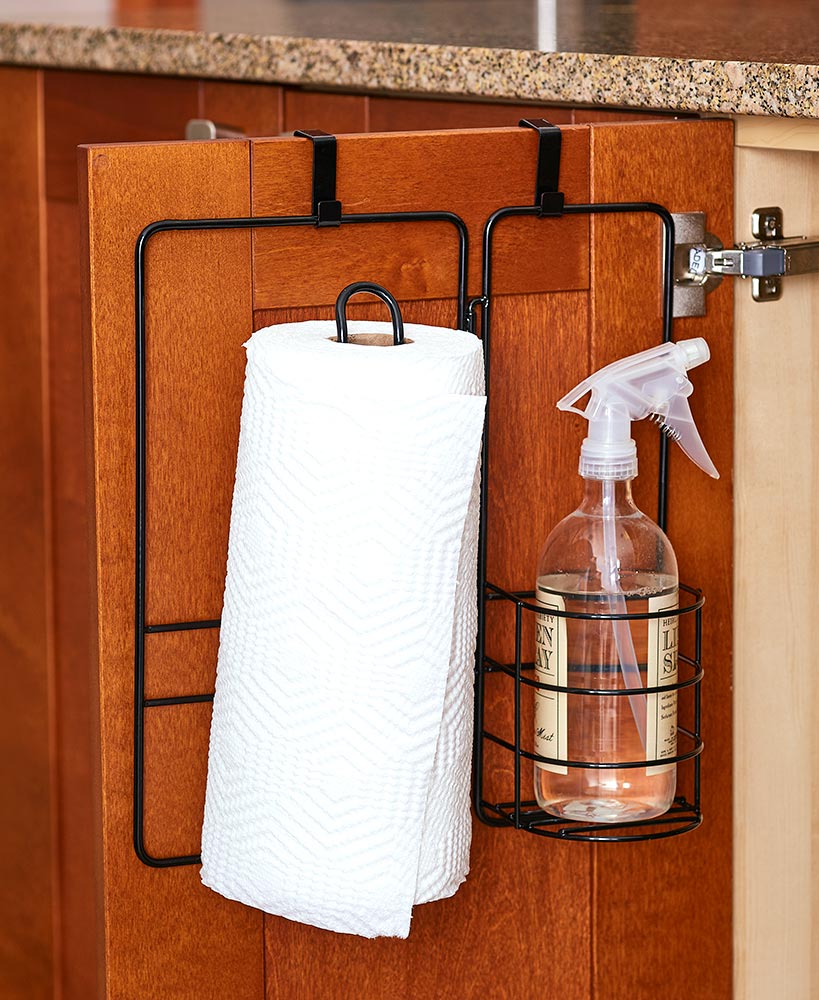 In order to maximize the space under your bathroom sink, you have to take advantage of every single area, even areas that you don't normally think about.
You can easily use an over-the-cabinet-door hook to hold some of your bathroom items. This will free up some much needed space for other essentials in the cabinet.
The door hook can be used for a variety of things, depending on what your needs are. Here are some small bathroom storage ideas for an over-the-cabinet-hook with baskets:
Hair dryer, hair straightener, curling iron, or other hair tools
Bathroom cleaning supplies
Makeup brushes or hair brushes
---
4. Organize Your Items Into Rolling Bins Under The Sink For Easy Access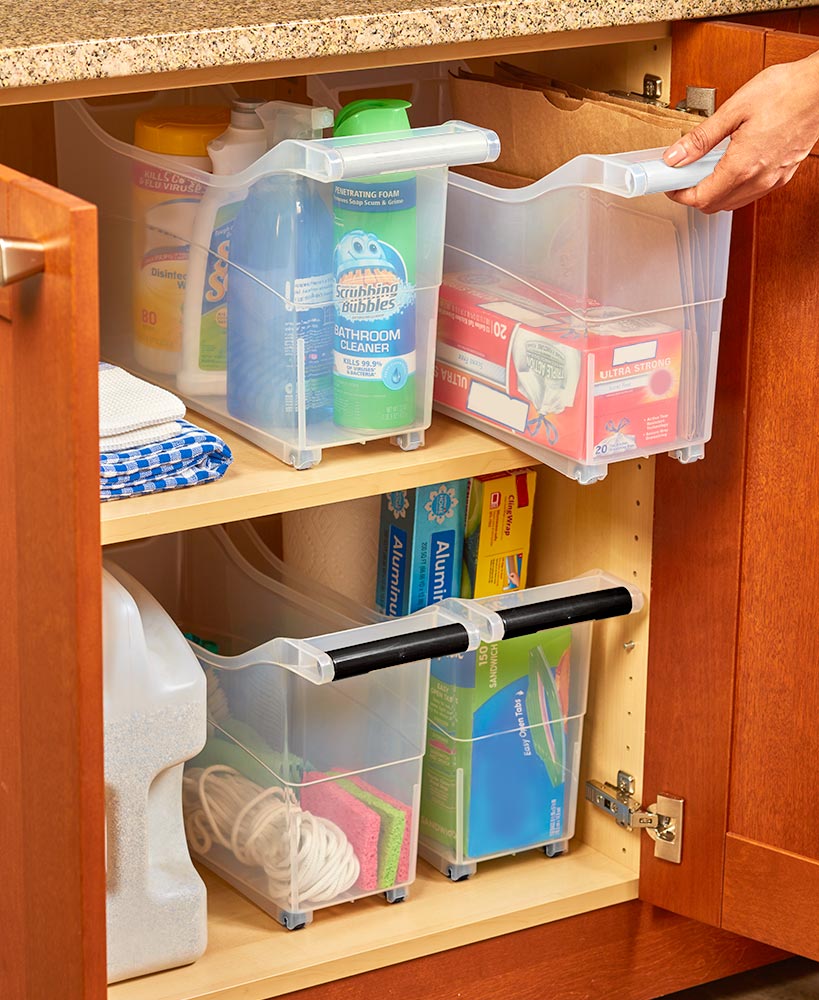 When your small bathroom has a cabinet that has more depth than width, it can sometimes be challenging to access everything that you need.
If you find yourself reaching far back into the cabinet or forgetting where you placed something, rolling storage drawers might be the best solution for you.
Slim rolling drawers are ideal for a small bathroom cabinet because they play on the depth while allowing for a sufficient amount of space.
Divide your items into categories for each rolling bin and label each one for even more clarification. You can use these bins for almost any products in your bathroom; however, they might be most useful for cleaning products and storage of excess items like extra soap and beauty products.
---
5. Store Everyday Bathroom Items On A Tiered Tray Or Lazy Susan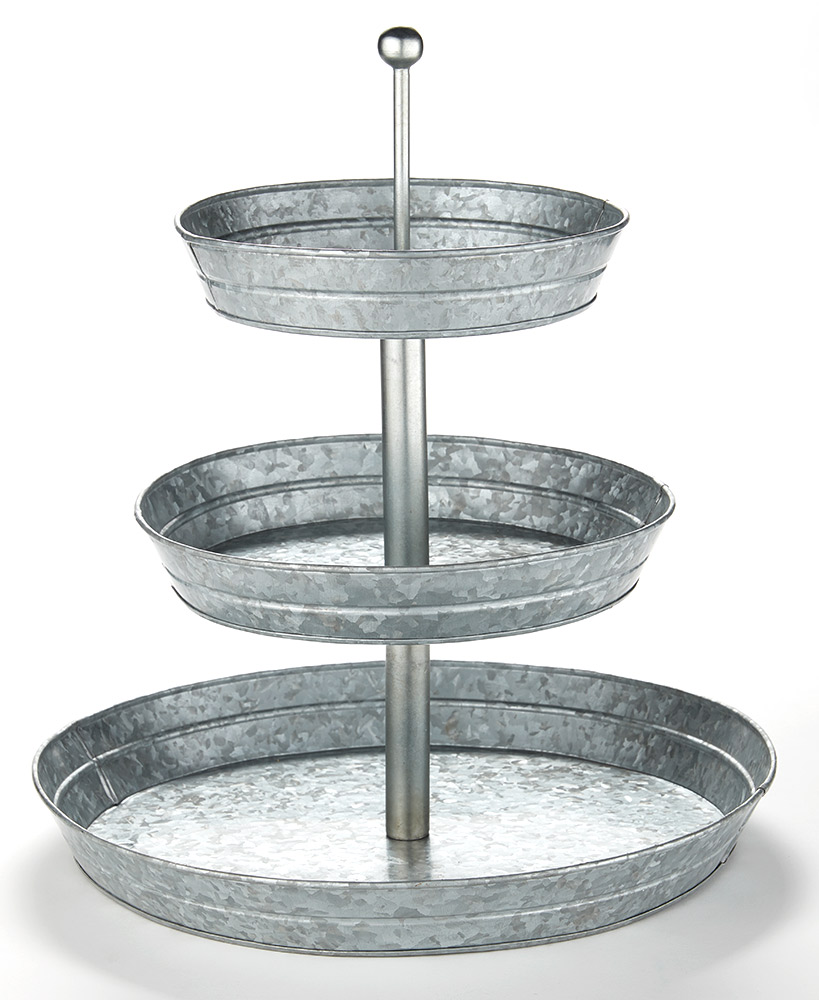 While you can build some shelves in your cabinet under the sink, there's probably not much room to do so in your small bathroom.
A tiered tray is another way to utilize the vertical space under the sink. The concept of an open tiered tray makes everyday items easy to grab whenever you need them.
In addition to a tiered tray, you can also use a lazy Susan, or a tiered lazy Susan to hold your items under the sink. This makes things even easier to grab – you simply spin it to get what you need without making a mess in the cabinet.
It's best to only put your most used products on a tiered tray or lazy Susan and store the rest of your items in stacked bins in the cabinet.
---
6. Place Bathroom Essentials Into Clear Canisters Under The Sink For A More Organized Space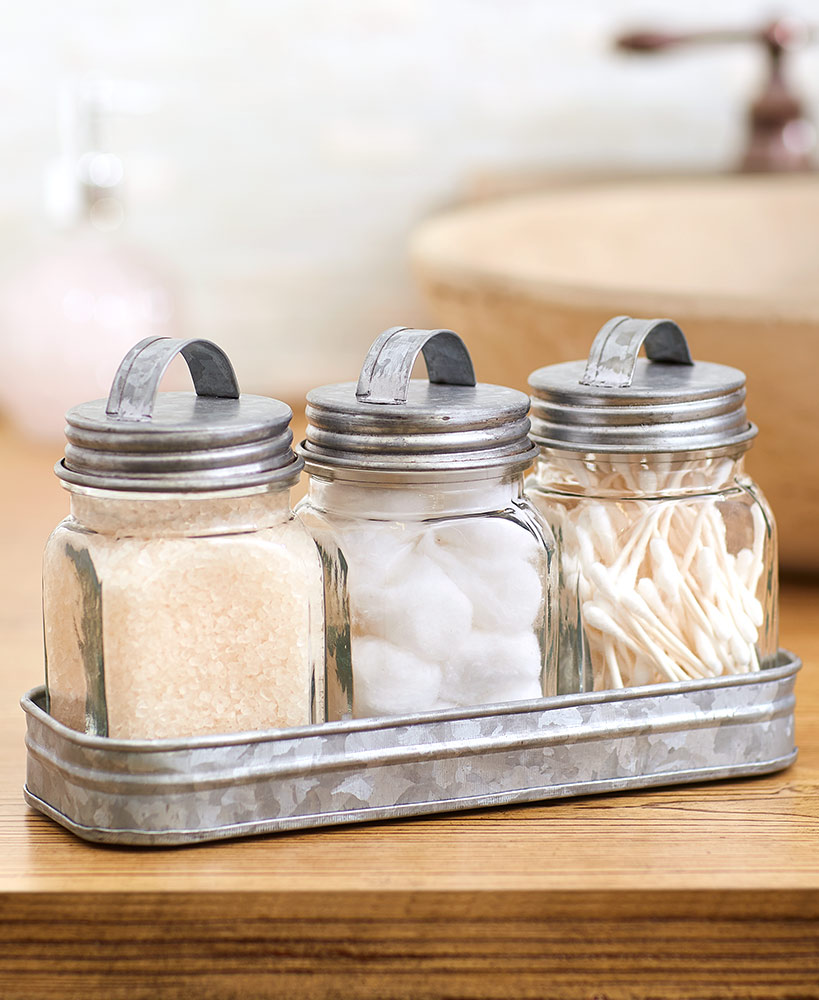 Many times, a huge part of being organized is being able to clearly see everything you have. That's where clear canisters, containers, and bins come in handy!
Instead of leaving products inside of their original bags and containers, empty them out into clear canisters when possible. Place the canisters inside of a tray. This will allow you to keep everything neatly organized under the sink.
There are many different products that you can place inside of clear canisters, but here are some ideas to get you started:
Cotton balls or cotton rounds
Bath crystals, bath bombs, or body scrub
Cotton swabs
Extra bars of soap
Makeup products
---
7. Group Bathroom Items Into Individual Baskets Under The Sink To Maximize Convenience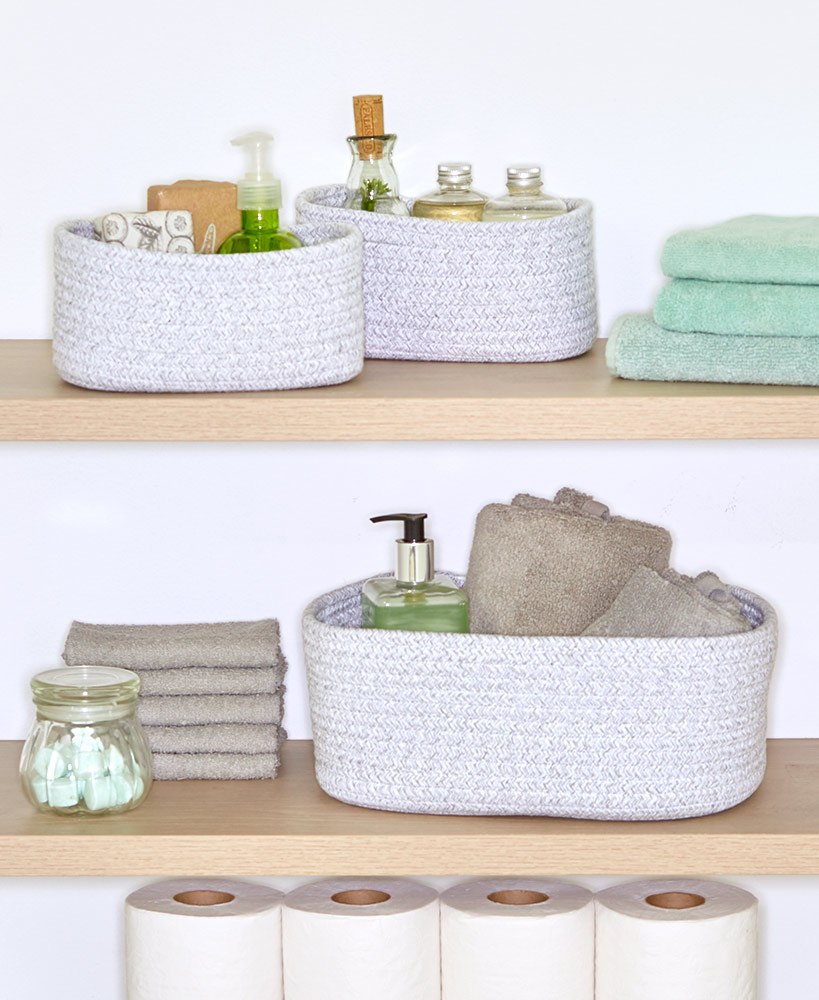 Last but not least, another simple small bathroom storage idea for under the sink is to organize your items into baskets based on category.
This method typically works if you have some depth to work with under your sink. Distribute your products into each basket in an organized fashion and then label each basket to visually see what you have.
If you have family members who share a bathroom, you can even divide up the baskets by person. Everyone gets their own basket for their products and you can label them with their names.
Small bath caddies can also work great for each person, especially if you have a small shower without much space for products. The under-the-sink caddies can easily be taken bath and forth into the shower when needed.
---
Looking for even more small bathroom storage hacks and home organization ideas? Shop our full selection of Storage Solutions to find useful storage items for every room in the house, including the bathroom, kitchen, closet, and more!
---
Read Next: How To Declutter Your Kitchen Counters