Tips for Making the Perfect Burger
This weekend just about everyone across the United States will be pulling out their grills and setting up picnic tables for the Great American Cookout. No Memorial Day cookout is complete without a few burgers on the grill — and we know how to make your burgers stand out for the crowd. Here are 5 tips for making the perfect burger.
Save the Salt When you're seasoning your meat, leave off the salt. Salt draws water out of meat and when it hits the grill it shrinks up, dries out and crumbles. However, salt is important for flavor — salt your meat when you put it on the grill to add flavor without drying it out.
Add Some Fat Everyone likes a moist, juicy burger and we don't like to think about it, but it's the fat that makes it so tasty. But as long as you're eating burgers, you're probably not thinking about fat content! To make your burgers as juicy as possible, mix in some olive oil (2TB/pound) or bacon fat. You will not regret this and your guests will be awestruck.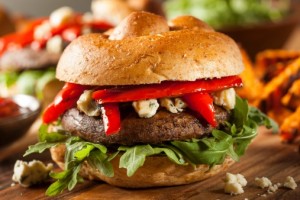 Warm Buns When you're plating your burgers, don't forget to give those buns a little love — throw them on the grill to warm them up a little bit before you add your patty. It doesn't seem like much, but a warm bun is the difference between a good burger and a fantastic burger.
Better with Butter Never underestimate the flavor power of butter. Add a pat to your bun just before you place the patty on it. You know how everyone loves bread and butter? Just imagine what everyone will love once they've had bread, butter and burger! Once you start, you will never go back to a butterless burger again.
Warm Bath If you're cooking for a crowd, don't be shy about cooking your burgers ahead of time — not hours ahead of time, but enough time that you'll be able to socialize and eat when your guests arrive. To keep your burgers hot, moist and delicious, keep a shallow pan of water on the grill — season it a little bit with beef base and stick your burgers in there when they're done cooking. When guests are ready to eat, throw a patty on the grill for just a second and serve. The only issue with this is the burgers will all be cooked thoroughly (but not in a well-done, overcooked way), so guests who want a medium-rare burger might be out of luck, but the warm bath will make the burgers tasty enough that no guest will be disappointed.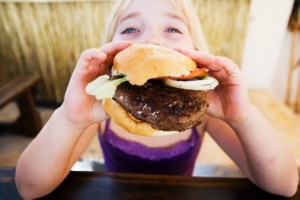 Remember that you can't please everyone all the time, so you may not be able to follow through on every request that comes your way at the grill. But burgers are the crown jewels of every Memorial Day barbecue — you can do them your way and still make it a memorable holiday for everyone!