Top 10 Places To See Christmas Lights In The USA
Going out and looking at Christmas lights is such an exciting holiday tradition that people of all ages can enjoy. The colorful, twinkling lights bring in that beautiful sense of wonder and magic during the winter time.
Whether you are traveling for the holidays and want to find an event or you live a drive-able distance from some of these areas, we broke down a list of the top 10 places to see Christmas lights in the USA.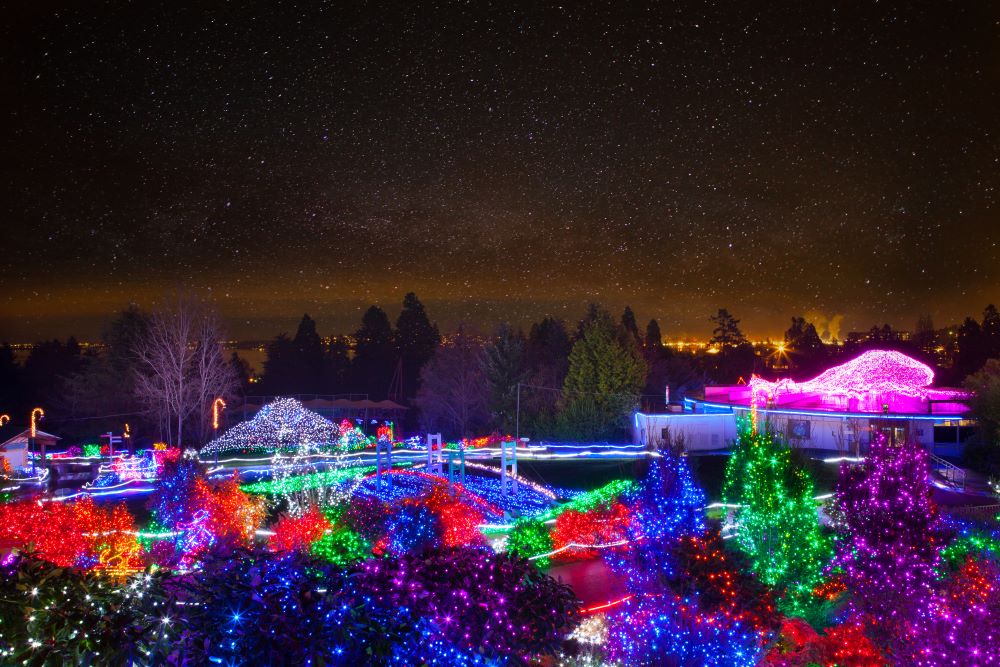 ---
1. Las Vegas Motor Speedway (Las Vegas, Nevada)
Visit the Las Vegas Motor Speedway this season to check out the beautiful Glittering Lights show. This Christmas lights show has you drive through and view over 500 animated displays in a unique location. The twinkling lights come with a good cause too – the speedway supports local charities including Speedway Children's Charity, Goodwill of Southern Nevada, and Boy Scouts.
Learn more about the event here.
2. Silver Dollar City (Branson, Missouri)
Visit Silver Dollar City in Branson, Missouri to bask in the glow of 6.5 million lights, over 1,000 beautifully decorated Christmas trees, and a stunning special effects tree with 350,000 LED lights. Along with their Christmas light spectacular, enjoy a musical train ride and special parade during the holiday season.
Learn more about the event here.
3. Christmas In Ice (North Pole, Alaska)
Celebrate the Christmas season in the most festively named place: North Pole, Alaska. Their Christmas In Ice festival features holiday ice sculptures and colorful Christmas lights to brighten up the night. The festival also has fun activities in their icy playground, including ice slides and more.
Learn more about the event here.
4. Daytona International Speedway (Daytona, Florida)
With both a drive through and walk through experience, the Magic of Lights event at the Daytona International Speedway is a spectacular Christmas wonderland. Drive through magical lighted displays and get out of the car to take a fun holiday selfie in the S'Elfie Tunnel.
Learn more about the event here.
5. Smithsonian National Zoo (Washington, DC)
ZooLights at Smithsonian National Zoo is a free event to check out during the holiday season. The zoo is filled with over 500,000 LED lights and even includes a musical laser light show. ZooLights also has special event nights throughout the winter with live music performances and food.
Learn more about the event here.
6. Zilker Park (Austin, Texas)
The Austin Trail of Lights event at Zilker Park in Austin, Texas is the 2nd largest event in all of Austin. Come view 2 million stunning lights through over 60 unique displays. The event features interactive displays, food trucks, live music, and more fun activities through the holiday season. Be sure to look out for the free admission nights that they offer.
Learn more about the event here.
7. Denver Botanic Gardens (Denver, Colorado)
The Denver Botanic Gardens hosts the Blossoms of Light event every holiday season, featuring a beautifully lighted winter wonderland to walk through and experience. The colorful event has giant displays, including a 360-degree immersive light experience. It's an exciting walk with something to see around every corner.
Learn more about the event here.
8. Snowflake Lane (Bellevue, Washington)
Snowflake Lane is an incredible and free event that takes place every night during the holiday season. It features a huge parade of sparkling lights, 300 performers, lighted floats, dancing, singing, and entertainment. It's a Christmas light display and a holiday show all wrapped up into one event.
Learn more about the event here.
9. Descanso Gardens (Los Angeles, California)
Walk through the Enchanted Forest of Light at the Descanso Gardens in Los Angeles, California. It features many interactive displays that allow visitors to change around the lights and sounds however they please. One of the interactive displays even lets guests play with a keyboard to light up the trees in rainbow colors. Nature meets magical and colorful lights in this walk through event.
Learn more about the event here.
10. Dyker Heights (Brooklyn, New York)
Unlike the others on this list, Dyker Heights is a neighborhood of homes whose residents display elaborate lights every year. The people in this neighborhood go above and beyond with giant inflatables, colorful string lights, and other unique displays. The streets are lit with incredible LED Christmas displays on each person's front lawn and house, making it a great place to walk through or drive through, especially if you live nearby.
Learn more about the lights here.
---
Festive Christmas Lights For Your Home
While you may not turn your home into an over-the-top winter show, you can still get into the holiday spirit by decorating your house with beautiful Christmas lights. Check out our selection of string lights to hang from your house or porch, Christmas tree lights, lighted yard stakes, and more. Your house will have a magical glow every night of the holiday season.
---
Get more holiday and Christmas inspiration including gift ideas, indoor and outdoor decorations, ornaments, and more by going to our Holiday Headquarters!