Valentine's Day: The Candy Connection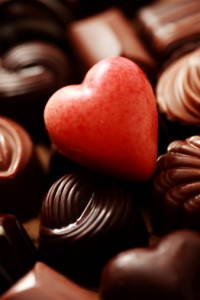 Candy — especially chocolate! — is one of our favorite things to eat so it's no surprise that Valentine's Day is an exciting day for candy and chocolate lovers. It's one day we throw our resolutions for disciplined diets out the window and we can indulge in our favorite treats. The tradition of candy and chocolates on Valentine's Day had to start somewhere, so we did a little bit of digging to figure out why we give our sweethearts sweets on Valentine's Day.
Romance We know St. Valentine as the Roman bishop who, in the third century, performed secret marriages for soldiers when it was forbidden. St. Valentine was jailed for this and wrote his jailer's daughter a letter and signed it "Your Valentine." This where it is believed the Valentine as we know it was born, but it was hundreds of years before candy became part of the tradition.
Sweets to the Sweet The idea of Valentine's was preserved through word of mouth and tradition for the next few hundred years — and then literature set the word in stone. Geoffrey Chaucer's 14th century poem "Parliament of Fowls" was the first literary reference to Valentine's Day, but it was Shakespeare who made the reference "sweets to the sweet" in Hamlet in the early 1600s.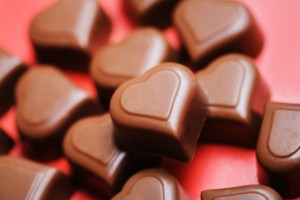 Food of Love Chocolate has a chemical in it called phenylethylamine. It's a stimulant that's released in the brain when people fall in love. The Aztecs, who discovered the cocoa bean, recognized this quality early on. In the early 15th century, Aztec leader Montezuma allegedly indulged in cocoa beans for his romantic  rendezvous. Aztecs also used it as gifts and served it at weddings.
Chocolates for Boxes After chocolate was introduced to Europe, it was initially only consumed as a beverage until the 1840s when manufacturers figured out how to make it into solid candies. Many credit chocolatier Richard Cadbury for Valentine's Day chocolates. It's a popular theory that he was the person behind the heart-shaped boxes when his father's chocolate recipe evolved from drinking chocolate to eating chocolate in the late 1800s. While Richard Cadbury did design elaborate boxes for fancy chocolates, the company doesn't claim he was the person who popularized Valentine's Day boxes of chocolate. However, according to the New York Times, confectioners started selling Valentine's Day chocolates in heart-shaped boxes in the 1890s.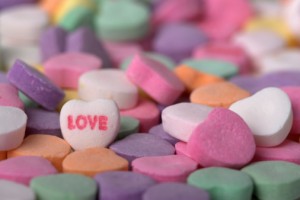 Candy Chat About the same time Cadbury was perfecting chocolate, a Massachusetts company was innovating other types of sweets. New England Confectionery Company (NECCO) designed the first candy machine in 1847. In 1866, they started producing "Conversation Candies," a precursor to conversation hearts. It was around 1902 Sweetheart conversation hearts began production. Those conversation candies are still made today with updated phrases. This year's new phrases include "BFF" (Best Friends Forever), "TE AMO" (I love you in Spanish), "JE T'AIME" (I love you in French), and "Pugs and Kittens" (for animal lovers).
While there may not be an actual connection between sweets and sweethearts, Valentine's Day is an excuse to eat chocolate and candy guilt-free. Whether you use the day to feed your sweet tooth or you take the day to honor your sweetheart, the tradition of sending Valentine's Day candy will live on.