White Christmas Tree Decorating Ideas
Are you dreaming of a white Christmas? Choosing a white Christmas tree instead of a traditional green one can help you turn your dreams into a reality. A white Christmas tree can create a beautiful winter wonderland theme or can help you create a more unique Christmas decor theme in your house.
There are many different ways to decorate this type of tree and there are a lot of ways to make the decor reflect your personal style and match your overall home decor aesthetic. Here are some white Christmas tree decorating ideas to get you started. Be sure to also check out how to decorate a winter wonderland Christmas tree for the ultimate holidy inspiration.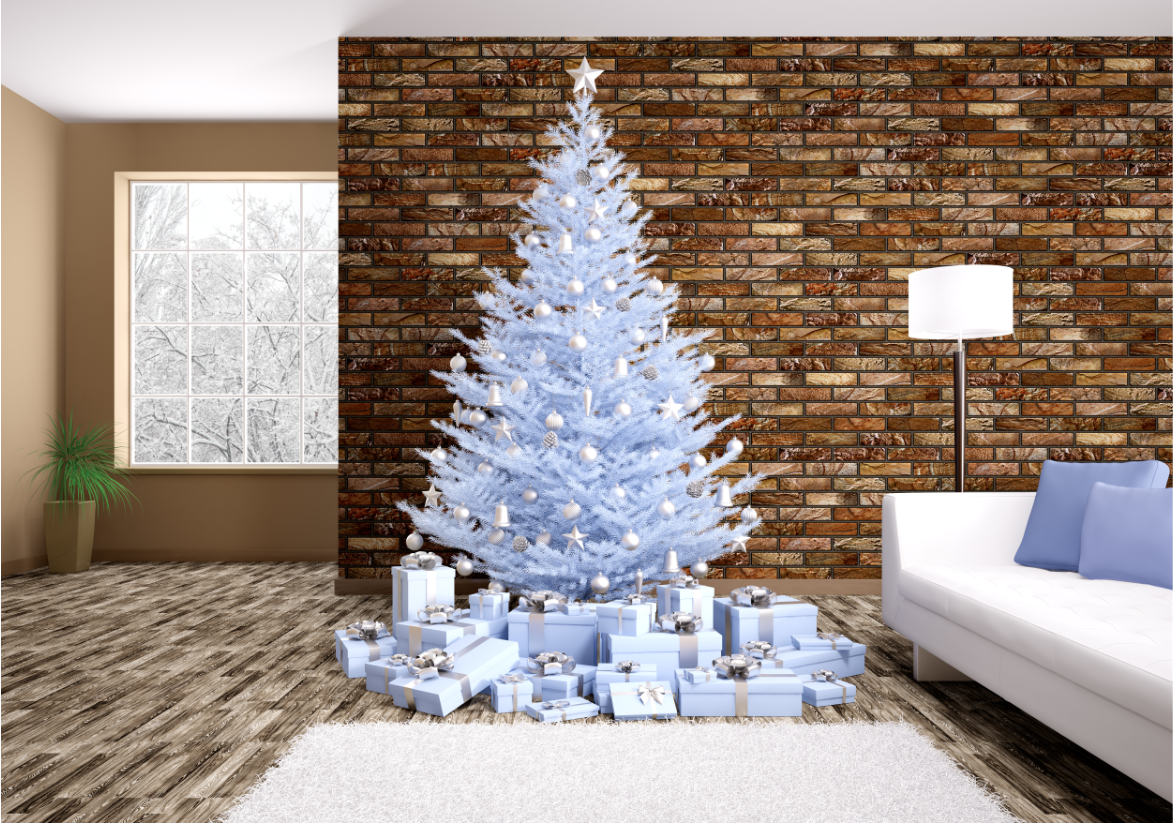 ---
Create A Wintry Theme For Your White Christmas Tree
If you want to turn your house into a winter wonderland with the use of a white Christmas tree, these wintry ornaments will help you enhance that theme. With the use of winter symbols such as snowmen and snowflake ornaments, snow related sentiments, glowing lights, and sparkle dusted ornaments, your white Christmas tree can be transformed into a beautiful winter scene.
Snowman Tree Topper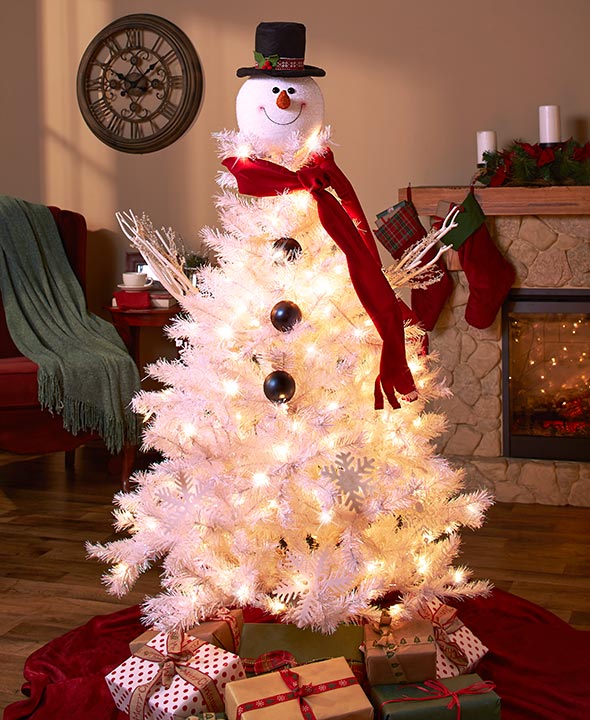 Turn your entire white Christmas tree into a snowman with this snowman tree topper.
Complete the look with a festive scarf, some ball ornaments for the snowman's buttons, string lights, and snowflake ornaments.
Monogram Ornaments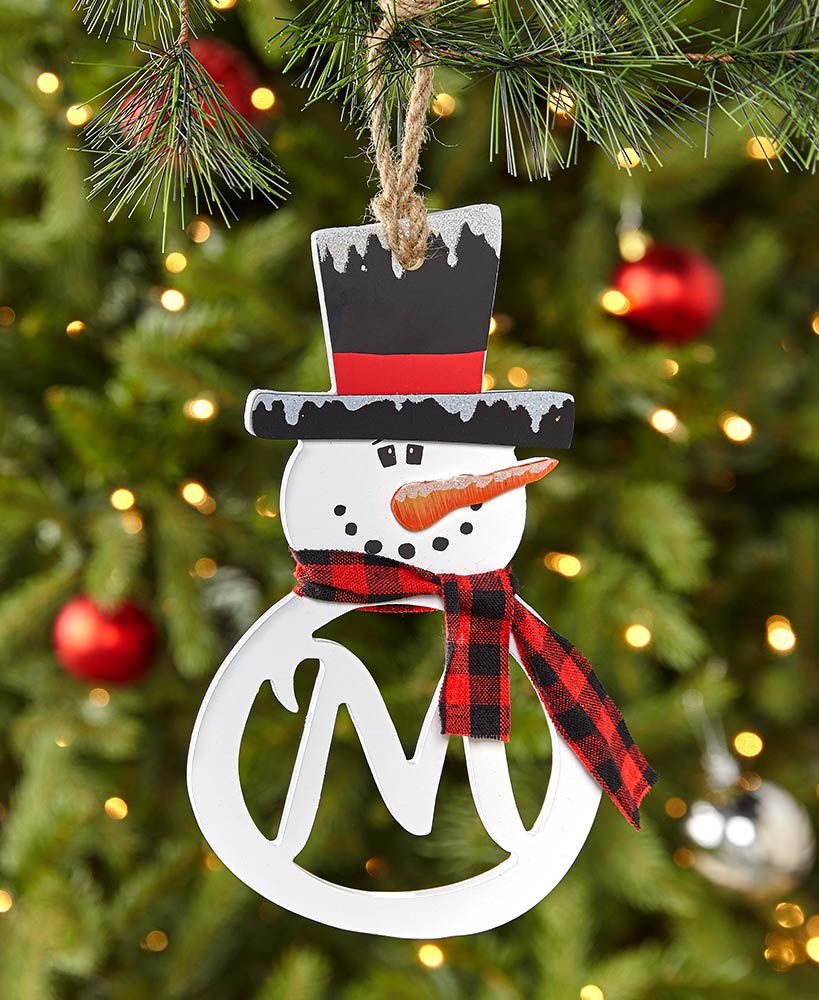 Create a snowman theme with the help of these snowman monogram ornaments.
Get one to represent each person in your family. To make these ornaments more noticeable on the white tree, combine them with colorful lights.
---
Decorate Your White Christmas Tree With Silver Ornaments For A Cold And Icy Appearance
To create an icy winter appearance, decorate your tree with an all silver theme. Make it interesting by using a mix of ornaments such as galvanized metal ornaments, shiny silver ball ornaments, and glittery silver ornaments. Silver will also stand out really well on your white Christmas tree and can make your tree feel more classy and simple while still being unique and appealing.
Galvanized Sentiment Sign Ornaments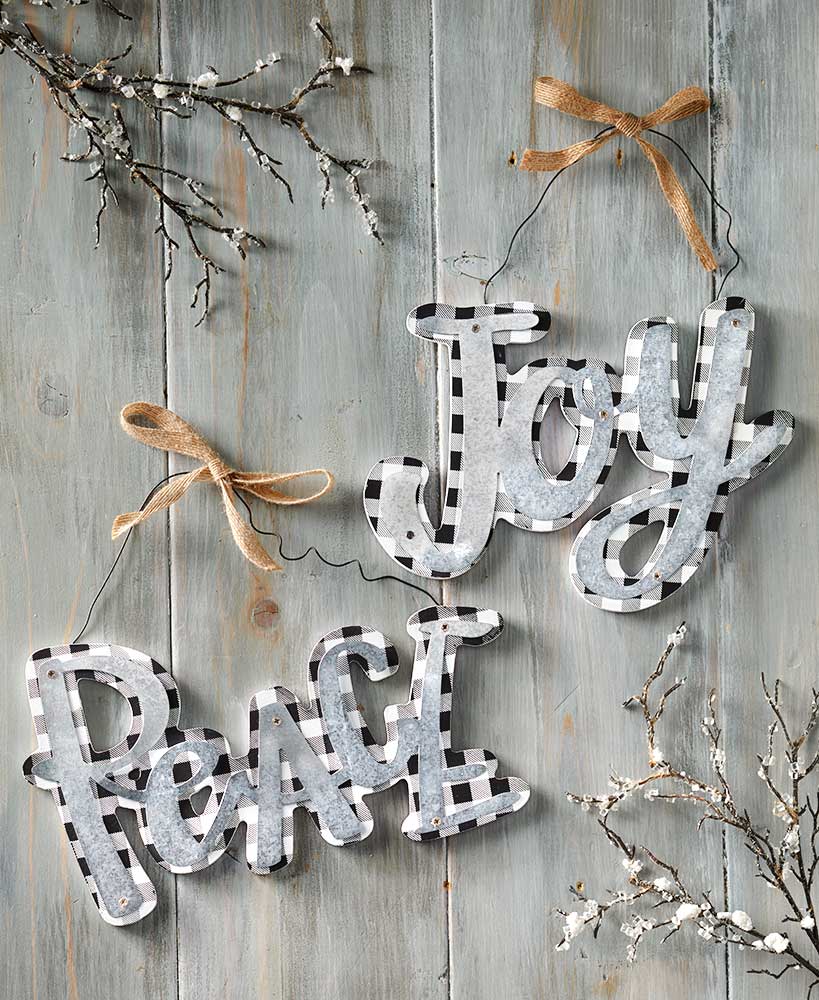 Bring some Christmas cheer to your white tree with these galvanized sentiment ornaments.
The black and white plaid outline also allows you to start a black and white theme on your tree. Choose from "Joy" or "Peace".
Set of 3 Galvanized Metal Ornaments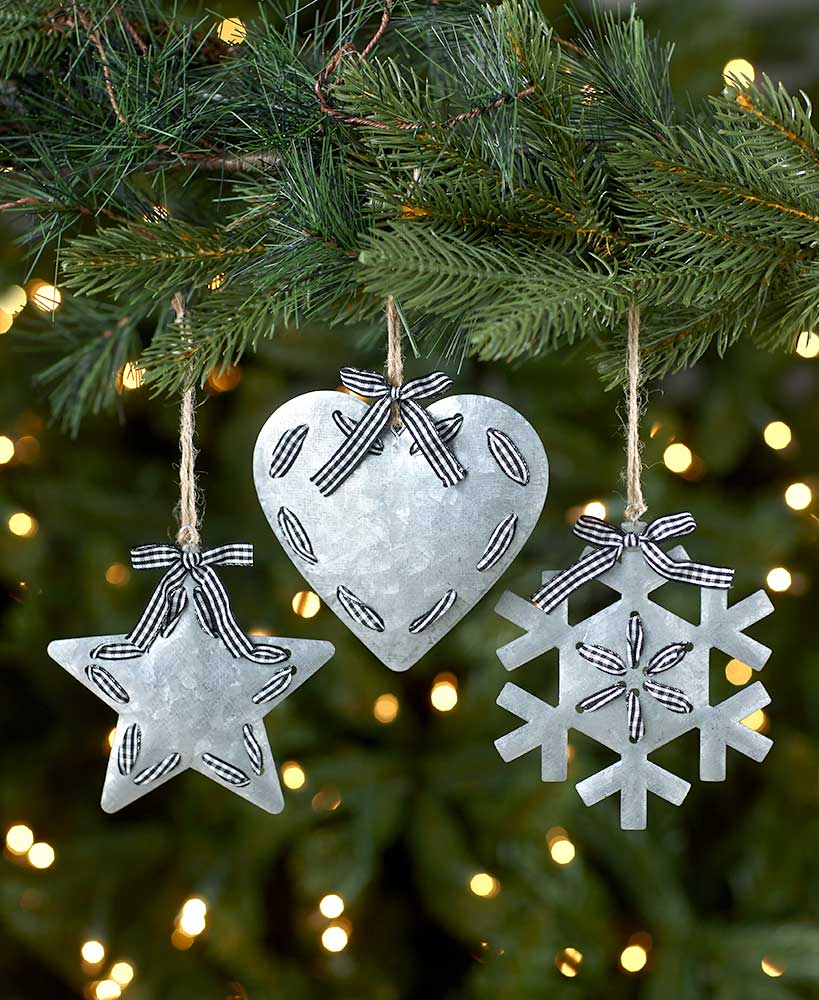 This set of 3 galvanized metal ornaments will look beautiful together or spread out on your tree.
The galvanized look can fit in well with a country Christmas theme. The set comes with a snowflake, a star, and a heart.
---
Add Some Pizzazz To Your White Tree With A Mix Of Colorful Ornaments
If you want to be more creative with your white tree, fill it up with colorful and whimsical ornaments. This decorating idea allows you to use a wide variety of ornaments; mix and match different styles of ornaments but make sure they all have bright colors. Use fun and magical icon ornaments such as unicorns or find traditional Christmas symbol ornaments with a colorful twist. Your tree will brighten up the entire room.
Set of 4 Bottle Brush Tree Ornaments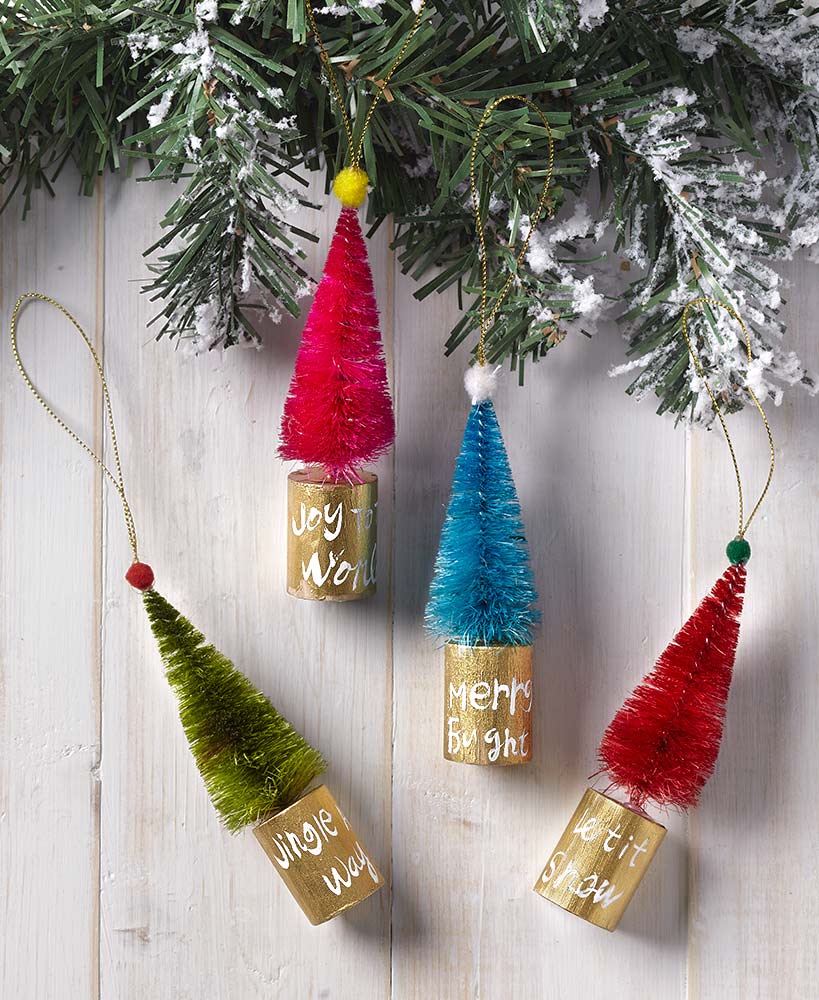 This set of 3 bottle brush tree ornaments include a red, green, blue, and pink ornament to brighten up your tree.
Each one features a cheerful Christmas sentiment including "Jingle All The Way", "Merry and Bright", "Let It Snow", and "Joy To The World".
Set of 12 Shatterproof Ornaments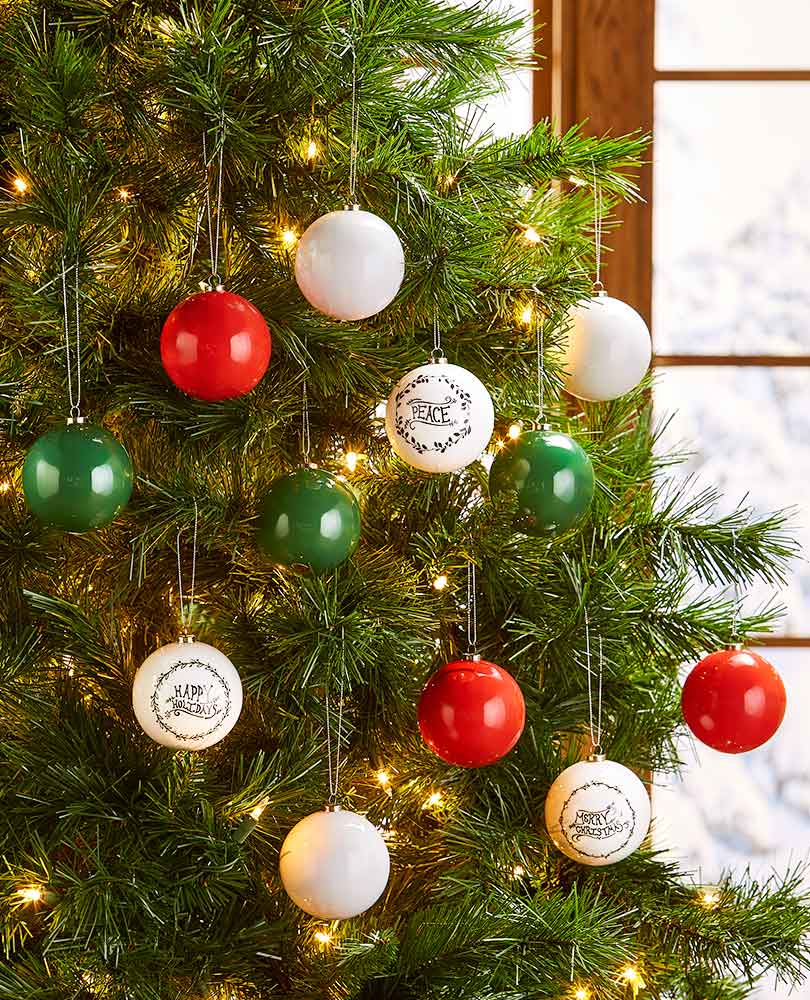 This set of 12 shatterproof ball ornaments brings a colorful & classic look all the way around your white Christmas tree.
Choose from a red and green set with white sentiment ornaments, a pastel colored whimsical set, or a brightly colored coastal set.
Color-Changing Lighted Unicorn Ornaments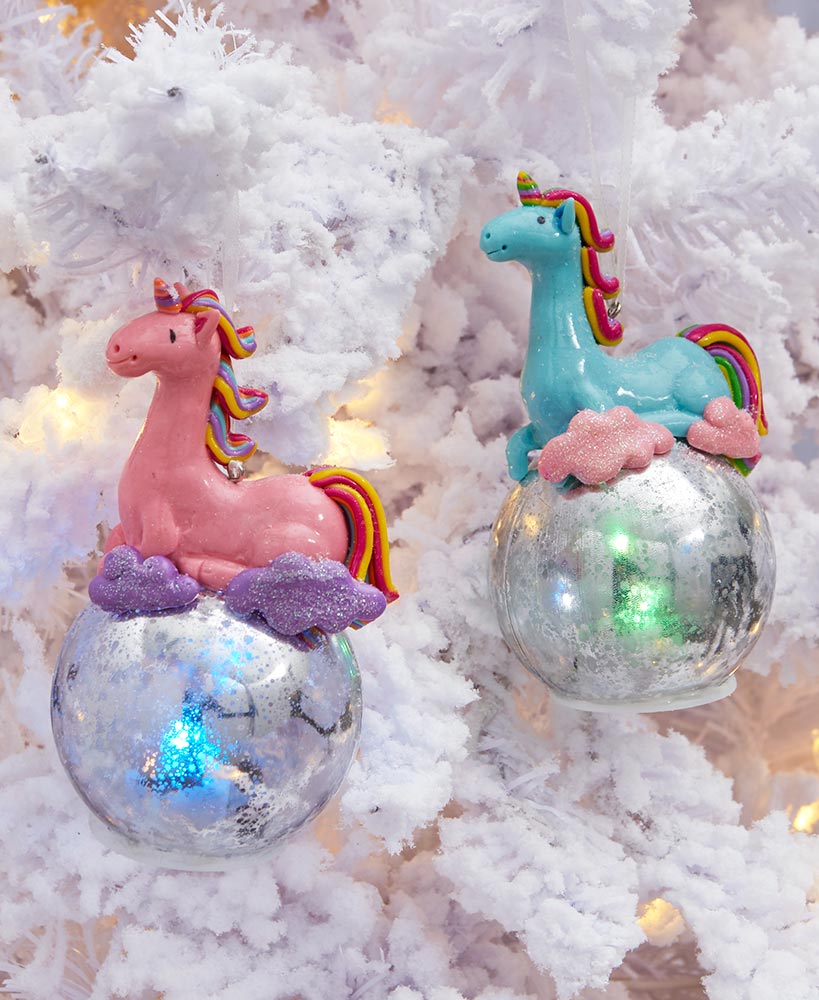 Bring some whimsical and beautiful magic to your white tree with these color-changing lighted unicorn ornaments.
Create a magical theme by combining these with other mystical creature ornaments. These unicorns come in a pretty pastel pink or soft pastel blue.
---
Looking for more Christmas tree decorating ideas? Our Holiday Headquarters gives you holiday decorating inspiration for your tree and your entire house!