12 Garden Statues That Will Liven Up Your Yard
Outdoor decorations can make your yard and garden feel fresh and stylish during the warm weather seasons. There are so many different types of outdoor decorations that can work for your space such as yard stakes, decorative planters, hanging signs, and of course, garden statues. Statues are a wonderful addition to your garden because they stand out nicely among your blooming plants and flowers. Whether they're whimsical characters, friendly creatures, or colorful displays, garden statues and sculptures will make your outdoor space feel unique and complete. Here are 12 garden statues that will liven up your yard this spring and summer season.
---
Add Personality To Your Yard With Garden Gnomes
Gnomes are one of the most classic springtime characters to add to your outdoor space. They can bring some quirky charm to your garden and add some fun personality to your backyard or front yard. Gnomes come in so many different styles with different colors, various outfits, and themes. You can even add some coordinating gnomes inside your home to continue the theme within all your spring decorations. Garden gnomes can also be combined with other characters to create a beautiful space filled with personality. Whether you set up a full garden of gnomes or let one gnome stand out on its own, these garden statues are a great addition to any spring space.
Garden Gnome Friend Statues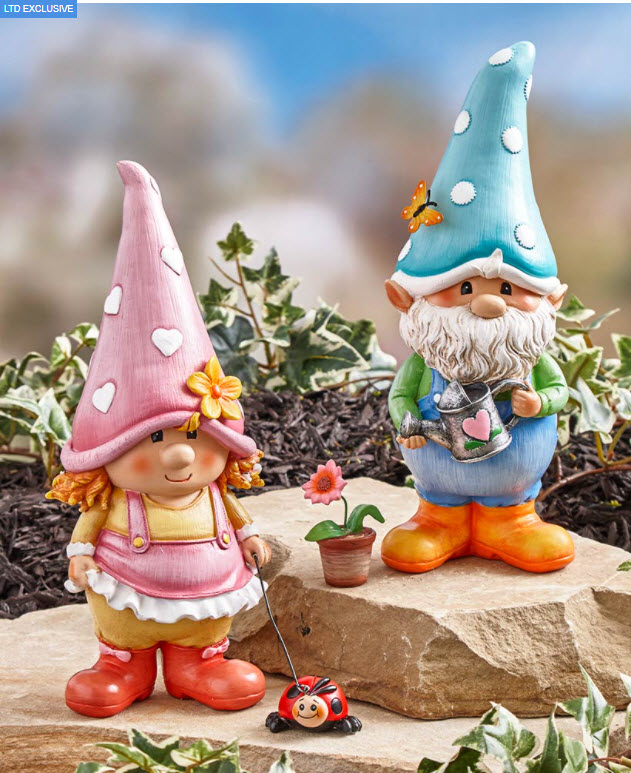 Bring some bright pastel colors into your garden with these Garden Gnome Friend Statues!
The Petunia statue is wearing an adorable pink dress and has a ladybug pet, while the Gnorm statue has blue overalls and is featured watering a plant.
Set up these gnomes on top of garden rocks at the base of a tree or display them along a stone pathway to your garden.
Gnome Couple on Bench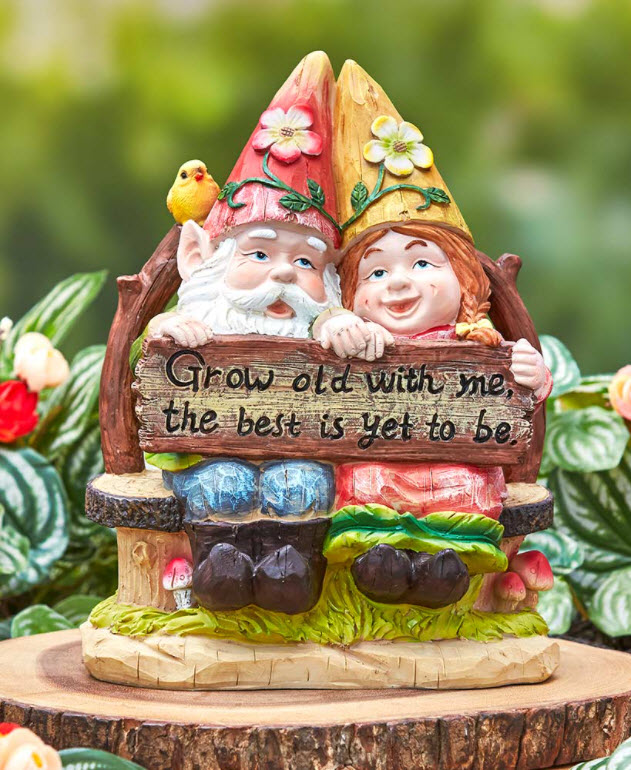 Represent your love with your significant other with this cute Happy Gnome Couple statue!
The ceramic statue features a sweet gnome couple on a bench holding a sign that reads "grow old with me, the best is yet to be". Their bright colors will stand out in your garden.
Display this couple on your front porch steps or place it on your patio next to some planters and pots filled with flowers.Unlinked
Garden Gnome Statues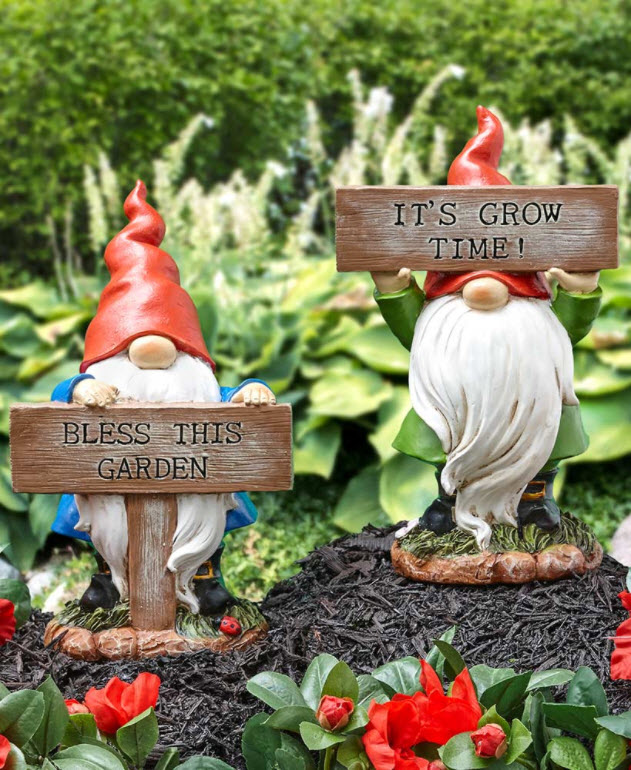 Mix sentiments and charm with these playful and fun Garden Gnome Statues!
Each white-bearded gnome is holding a quirky garden sentiment sign. One sign reads "bless this garden" and the other says "it's grow time!" They stand about 10 inches tall.
Place one of these gnomes in the middle of your growing garden or even in the middle of a large flower pot to add a whimsical touch.
---
Light Up Your Garden At Night With Solar Statues
In addition to the magic of gnomes, solar decorations can add a magical glow to your garden and outdoor space. Combining solar lights with a decorative statue is a great way to make your garden feel more complete. Not only do these statues look nice in your yard while they're soaking up the sun all day, but they also light up at night for a unique display. You'll want to sit and relax outside every night this spring and summer to view your beautifully lighted garden! These solar figures and characters are sure to add tons of personality to your garden and yard, no matter what your outdoor theme is.
Solar-Lighted Gardening Kids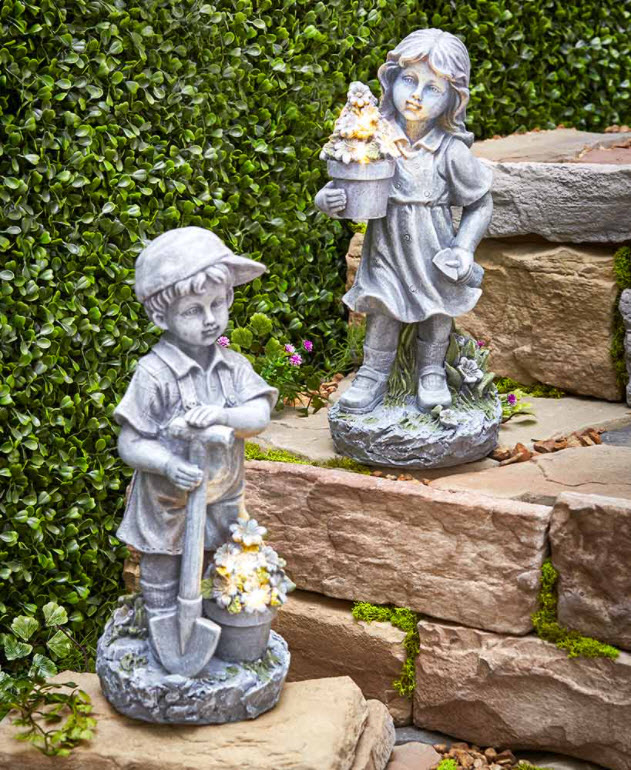 Represent your children or grandchildren by displaying these sweet Solar-Lighted Gardening Kids!
Both the boy and the girl statue are about 12 inches tall and they're displayed with a flower pot. The solar fairy lights add a magical touch.
These gardening kids will look nice displayed on your patio next to your planters or on the ground along the pathway to your garden.
Serenity Solar Collection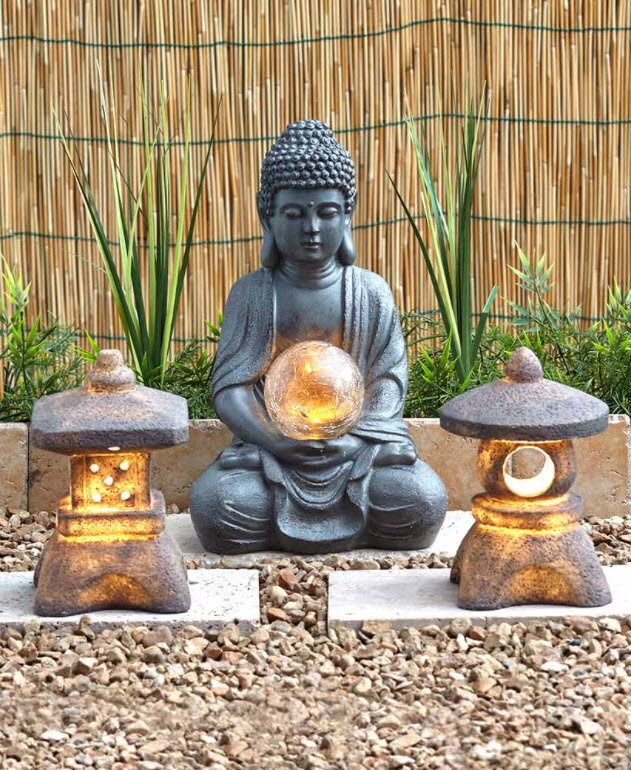 Bring some tranquility to your garden with this collection of Serenity Solar statues!
Add zen to your yard with the help of the solar Buddha statue. Combined with the solar lanterns, you can easily create a unique display.
Set this collection up underneath a tree or in the middle of a rock garden with some bright green plants and colorful flowers.
Solar Girl Bird Bath Sculpture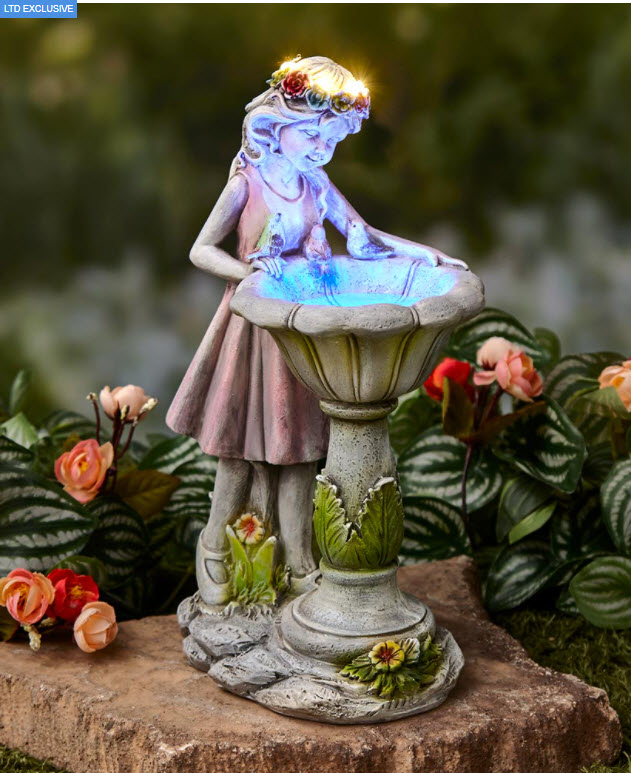 Add a unique decorative accent to your garden and yard with this Solar Girl Bird Bath Sculpture!
This beautiful sculpture features a young girl looking at a glowing bird bath fountain with charming little birds on the ledge.
Place this statue on a raised platform to stand out your garden or set it up on your front porch steps with other solar decorations.
---
Bring Some Creatures & Animal Statues To Your Garden For A Fresh Spring Look
When springtime comes, animals, insects, and creatures emerge to take in the beautiful warm weather. Creatures such as birds, butterflies, ladybugs, bunnies, and more have become iconic symbols of the blooming spring season, so it only make sense to represent them in your outdoor decorations! You can create a specific theme in your garden by decorating with just one symbol throughout your yard, or you can set up an entire forest wonderland with a variety of creatures and characters. These statues will bring some life to your yard this springtime and will look nice in the midst of your growing garden.
Colorful Metallic Bird Decorative Statues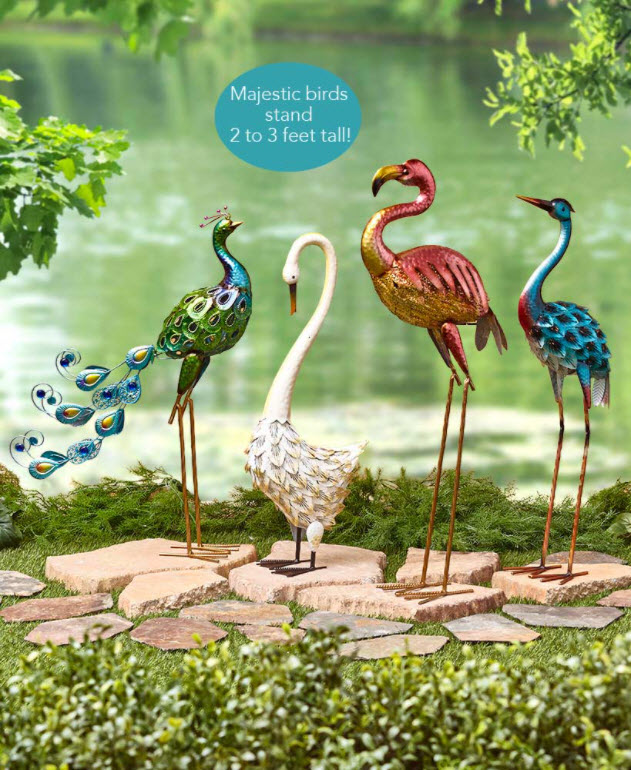 Add some tall springtime sculptures to your yard with this Colorful Metallic Bird Decor!
These iridescent metal sculptures come in multiple choices including flamingo, heron, peacock, and swan. Get them all for a full display.
Place these birds along your garden pathway, put one on your patio, or set all four of them together in the middle of your garden.
Ants Metal Garden Statue Collection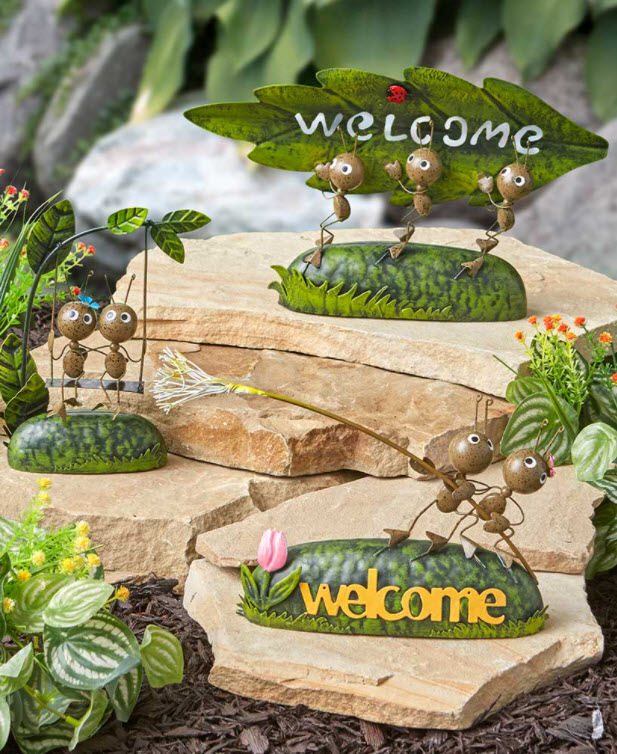 Bring a playful and fun accent to your yard with the Ants Metal Garden Statue Collection!
Each small metal statue showcases some charming ant figures doing whimsical activities with a "welcome" sentiment to finish it off.
Display these charming statues on top of rocks in your garden or show them off on a side table on your patio or front porch.
Boxwood Dog or Cat with 4 Seasonal Collars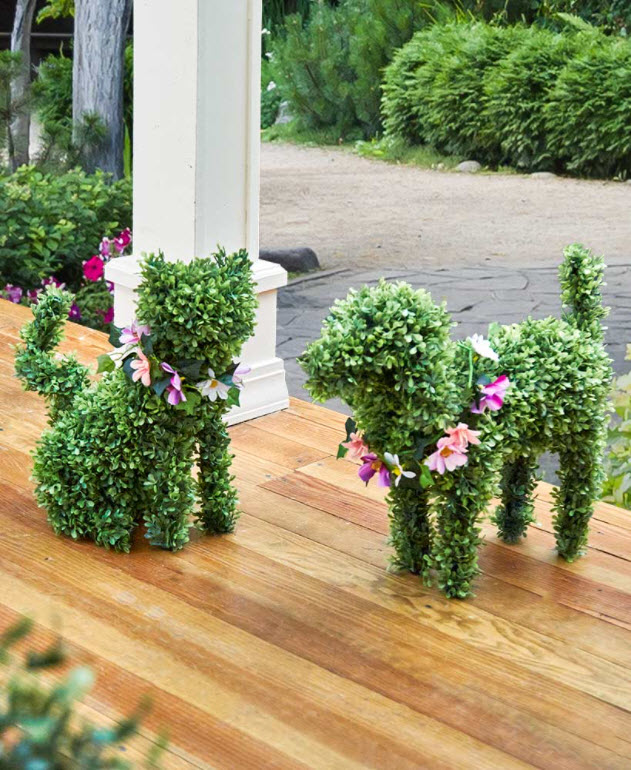 Represent your pets all year with a fun Boxwood Dog or Cat with Seasonal Collars!
Both the dog and cat come with collars to swap out throughout the year. It includes floral collars for spring, summer, fall, and winter.
Put these cute animals in your garden in the spring and summer, and then move them to your covered front porch when the weather gets cold.
---
Combine Function & Style With Decorative Statue Planters
Another great way to decorate your outdoor area is to combine style and function to achieve a clever garden space. The best way to do this is by using decorative statue planters. These types of statues allow you to display your plants and flowers while showing off a unique appearance in your yard. Whether the planter is an animal statue, a decorative figure, or a unique sculpture, they are sure to make your garden feel special and charming. Statue planters can really add that extra touch of personality and character to your garden and freshen up your yard when springtime arrives!
Colorful Metal Bird Planters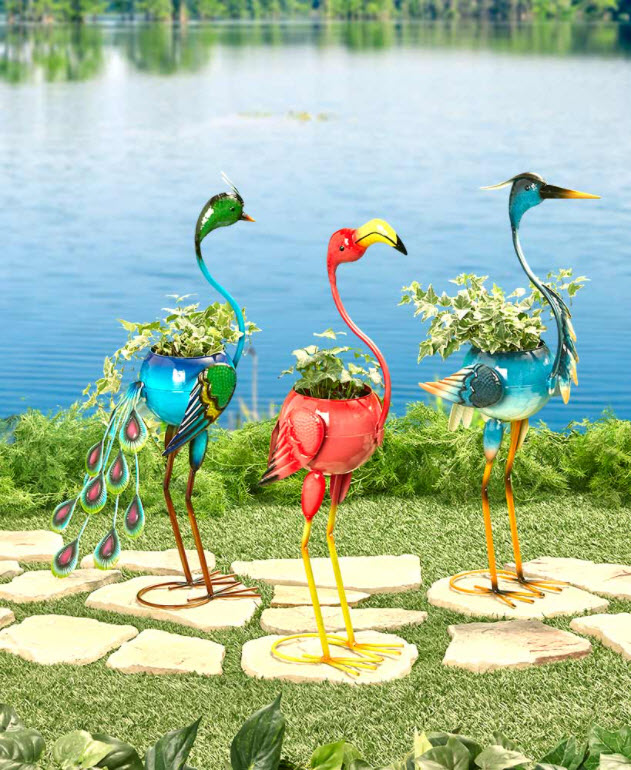 Brighten up your garden in style with the help of these Colorful Metal Bird Planters!
Each of these vibrant bird planters stand at about 28 inches tall and come in beautiful colors. Choose from the flamingo, heron, or peacock.
Display one of the planters on your patio or get all 3 of them and showcase them along your garden pathway with bright and bold plants or flowers.
Head Sculpture Planters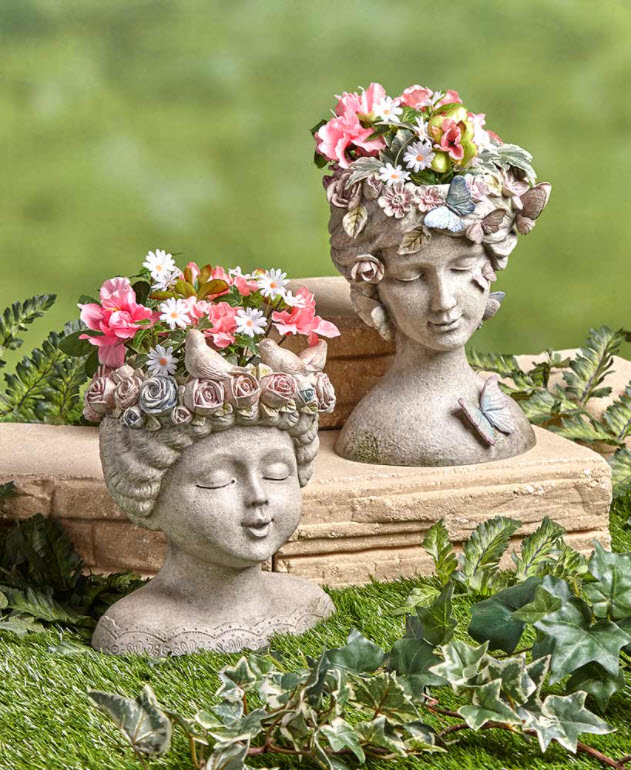 Add some beauty and class to your yard with these Head Sculpture Planters!
The planters are elegant sculptures of a woman's face with room for a plant on top of the head. They're detailed with birds and butterflies.
Place these planters on top of a display stand in your yard, or set them up on your front porch with other planters nearby on the steps.
Solar Faucet Sculpture Planters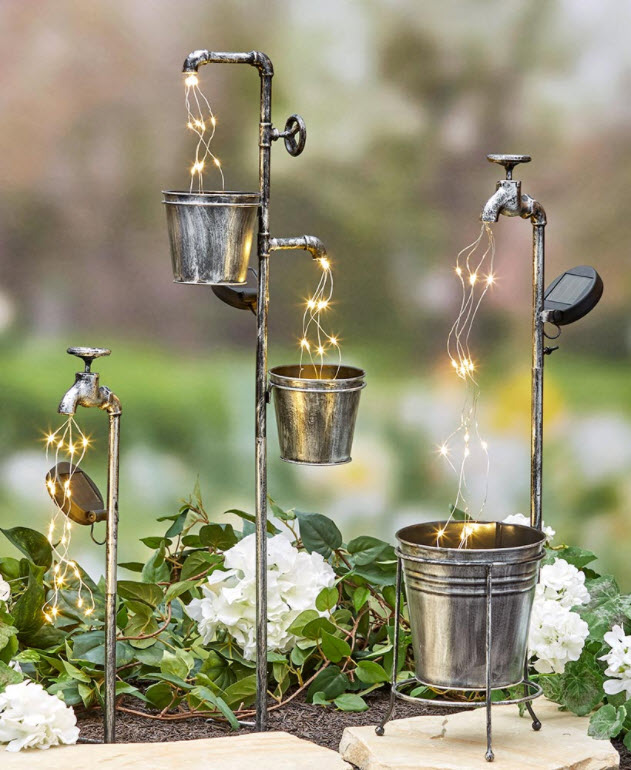 Bring a magical glow to your garden with these Solar Faucet Sculpture planters!
These metal garden planters feature fairy lights hanging into buckets to represent flowing water. The bucket can fit small plants and flowers.
Show off these solar faucet sculptures on your patio or front porch with other solar decorations throughout your yard.
---
Now that you've gained some inspiration with these garden statues, check out our full selection of Outdoor Decor for your yard! Find even more statues along with planters, garden flags, solar lighting, wall decor, and much more.