7 Spring Porch Decorating Ideas To Freshen Up Your Space
Spring is here, which means it's time to brighten up your outdoor space and create an area you can relax in all season long. Your front porch is a great place to sit down and breathe in the fresh spring air; why not decorate it accordingly! With the help of comfortable seating and pillows, themed accents and wall art, beautiful planters and solar lighting, you can easily transform your porch into a cheerful spring setting. Here are 7 spring porch decorating ideas to freshen up your space.
---
1. Amplify Your Spring Porch Comfort With Outdoor Pillows
Comfort is incredibly important when it comes to outdoor relaxation on your porch. Combining comfort with style can be made easy with the help of decorative pillows!
First, start with some comfortable seating on your porch. This can be anything from a simple wicker chair, an elegant metal bench, or even a small hammock. Even if you have a small porch, you can incorporate some type of seating to fit your space.
Then, add your pillows. Opt for throw pillows with bright spring themes such as florals, butterflies, bees, lemons, bunnies, and birds. The brighter the colors, the more they'll stand out on your porch.
You can also add cushions to your chairs or bench to make the seating even more comfortable. Simply match the colors to your throw pillows or coordinate a varied color scheme to brighten up your porch even more.

16″ Indoor/Outdoor Floral Pillows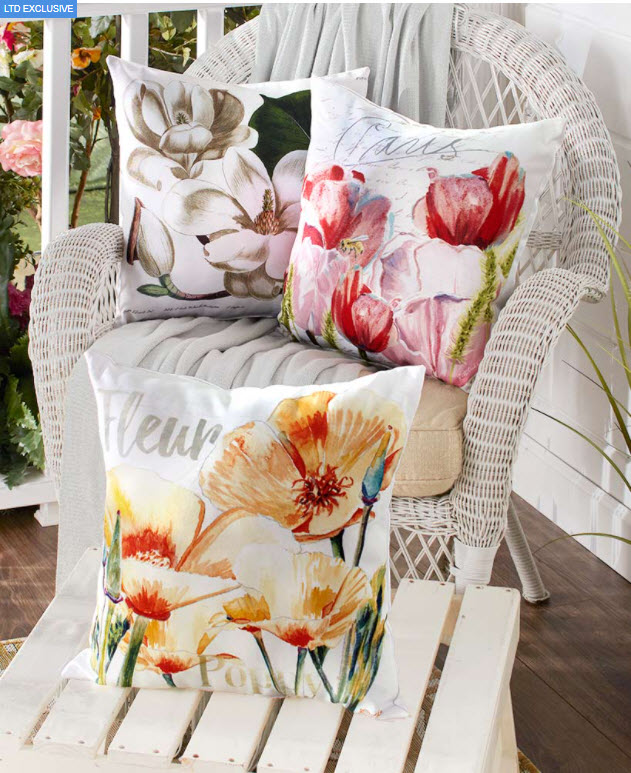 ---
2. Welcome Your Guests With A Bright Spring Doormat
When decorating your porch for spring, you can't leave out of the most important porch accessories: the doormat! Your doormat should be an eye-catching element on the porch that welcomes guests in style.
Swap out your current doormat for a fresh spring one to amplify your space. Find a doormat with pastel spring colors, floral patterns, fun critters, and cheerful sentiments.
Once you choose your spring doormat, you can hang a coordinating spring wreath on your door. Choose similar colors and patterns for your wreath to make your space feel complete.
You can also use your doormat as the base for your porch theme. For instance, if you have a pink pickup truck doormat with florals, you can add other pink country themed accents to your porch to match.
Spring Truck Doormats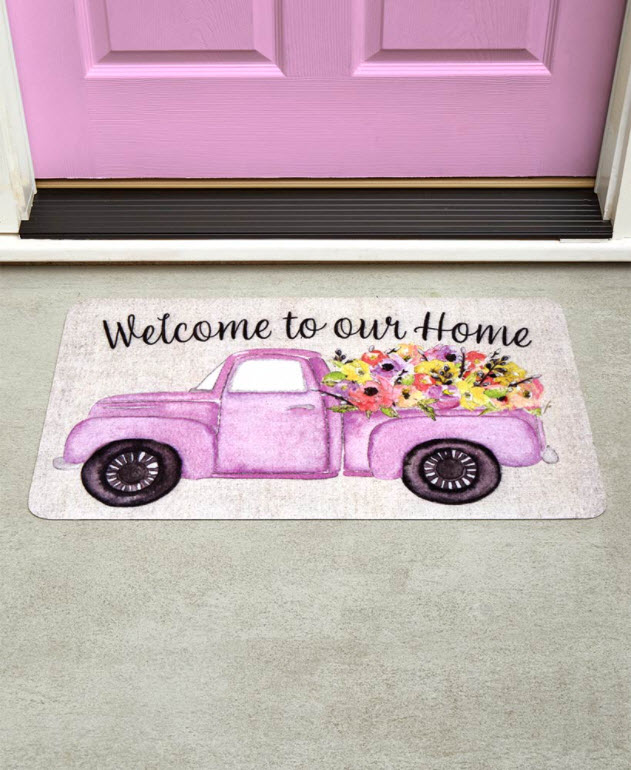 ---
3. Use Interchangeable Seasonal Decor For A Festive Porch All Year Round
Interchangeable seasonal decor is a great way to make your porch feel welcoming and festive all year round! Opt for an interchangeable decoration to keep up for spring and every season.
These interchangeable seasonal decorations can include anything like a faux plant, doormat, door wreath, outdoor pillow, welcome sign, or any other type of accent.
For the spring, find interchangeable decor that includes floral themes and bright, fresh colors. You can easily coordinate this with the rest of your porch decorations.
This adorable boxwood dog or cat each come with 4 seasonal collars to display on your porch all year! The spring collars featured purple, pink, and white flowers, perfect for brightening up your outdoor space.
Boxwood Dog or Cat with 4 Seasonal Collars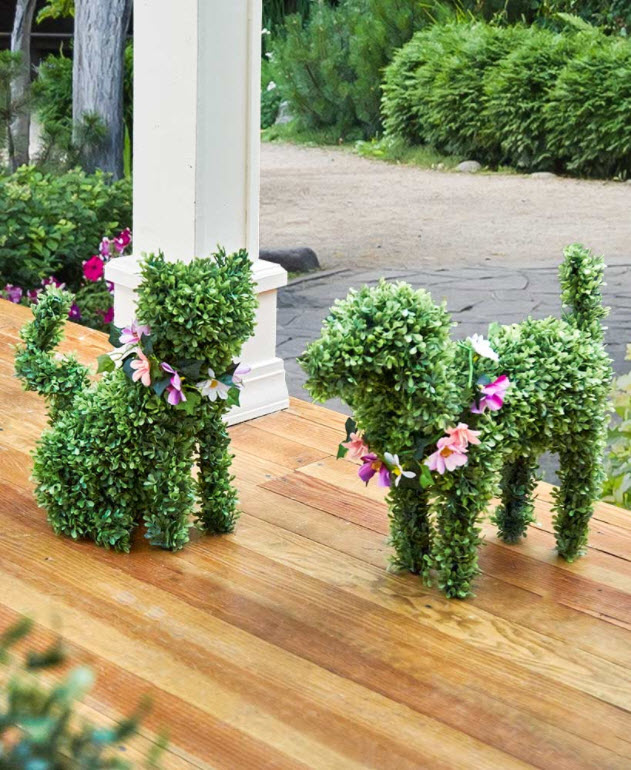 ---
4. Add Planters To Your Porch For A Floral Touch
It wouldn't be spring without fresh flowers! Add planters to your porch this spring to fill your space with beautiful bright colors and delightfully fresh scents.
Find planters that fit well with your porch decor style and color scheme. If you want a country look, opt for rustic wood planters, if you're looking for a more simple style, go for terra cotta pots.
Remember that you can also fill your planters with colorful flowers, so even if you go the more simple route, the actual flowers will shine through and add a lot to your porch.
Depending on the types of flowers you choose, you can either place your planters on your front porch steps or you can place one on each side of your front door. Just make sure that your flowers get the proper amount of sunlight that they need to grow.
Sets of 2 Urn Planters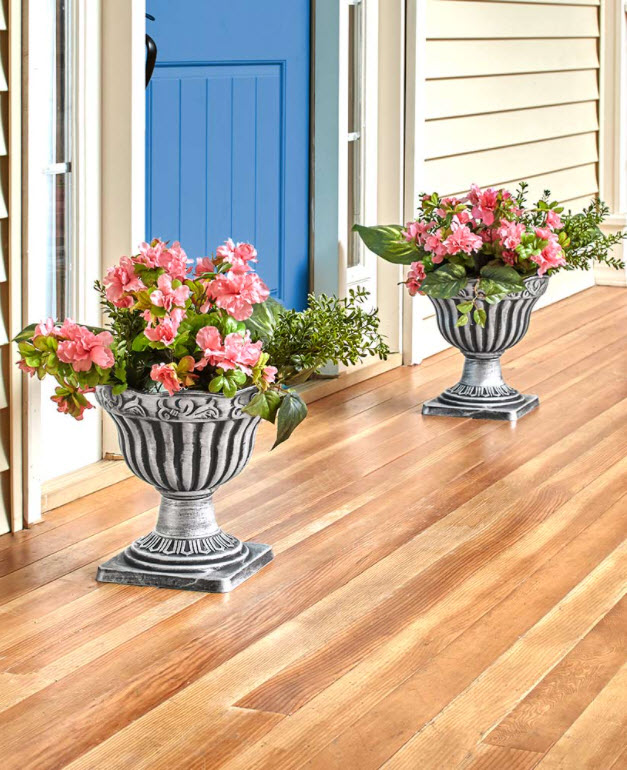 ---
5. Use Wall Hangings For A Decorative Spring Porch
Wall hangings are a unique and unexpected way to amplify your outdoor space. Add some fun hangings on the outside wall of your house to make your porch even more decorative for the spring.
You can easily add some hooks to your outside wall to hang up spring decorations. Use adhesive wall hooks to make it even easier on yourself and to remove during the cold seasons.
Hang up cheerful wall decorations such as metal flowers, bees, butterflies, and birds to make your space look cute. Incorporate spring sentiment signs and other sayings to create a festive theme on your porch.
You can alternative display a leaning wall sign if you have limited wall space. A large leaning welcome sign can look bright and cheerful next to the front door.
Garden Flower Wall Art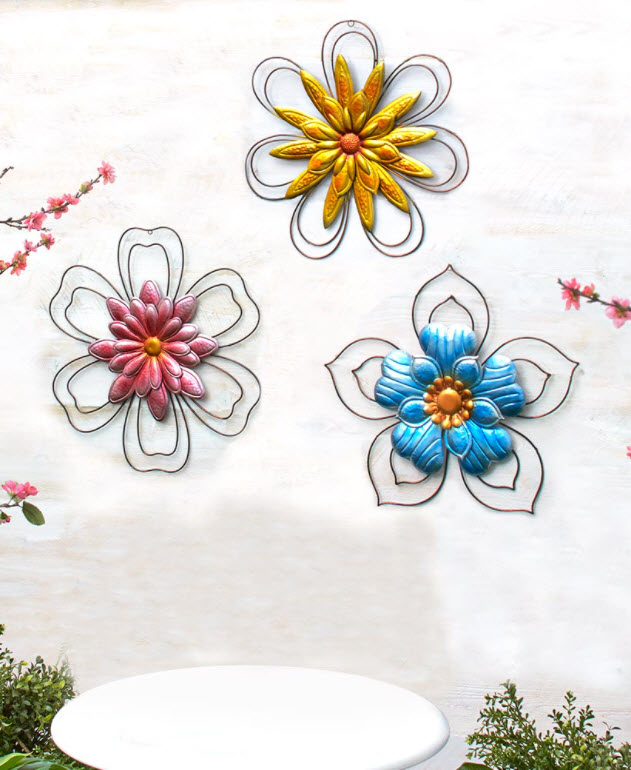 ---
6. Display A Spring Garden Flag By Your Front Porch
Flags aren't just for independence day! You can create a beautiful spring themed area with the help of a large garden flag on your front porch.
Display a flag with bright spring colors such as yellow, green, teal, and coral. Find a flag with floral patterns and spring sentiments or with spring creatures and critters for some extra charm.
Use a personalized garden flag to make your space look even more unique. Display your family name loud and proud or represent your kid's sports team in style.
If you don't have a flag hanger on your porch, you can instead use a flag garden stake to display in your front yard right in front of your porch.
Personalized Double-Sided House Flags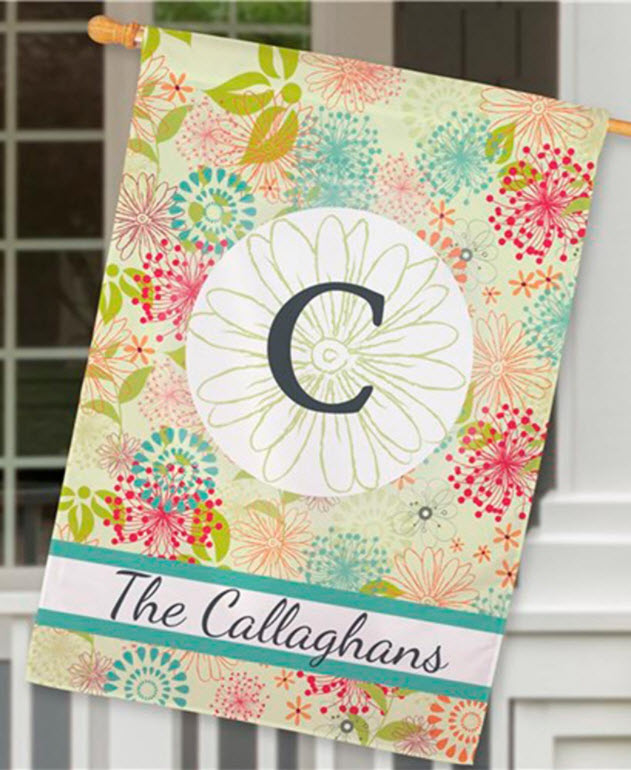 ---
7. Light Up Your Porch At Night With Solar Decorations
While your porch is a great place to relax during the day, you also want it to shine at night. Whether you're relaxing during a spring evening or just want your home to stand out at night, solar lighting is a great addition.
You can incorporate solar lighting on your porch through different decorations. That way, you can combine function and style for a space that looks nice during the day and during the night.
Display solar decorations on your porch such as lighted planters and statues. You can also wrap solar string lights around your porch railing or hang up decorative solar lights from hooks.
Additionally, you can even place solar stakes leading up the pathway to your porch. Not only will this give your space a magical glow, but it'll also help guests find their way to your door in the evening. This, combined with the other spring porch decorating ideas, will make your area feel complete.
Glass Globe LED Solar Light Mobiles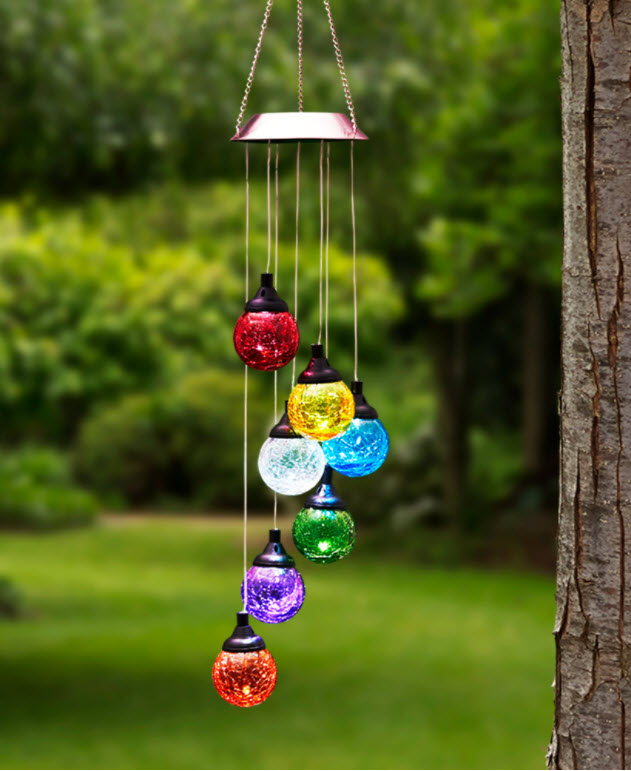 ---
Inspired by these spring porch decorating ideas? Find even more inspiration by checking out our selection of Outdoor Decor! Shop porch decor, garden stakes, solar decorations, planters, and much more for the ultimate spring space.
---
Read Next: 7 Solar Garden Decor Ideas To Light Up Your Space