12 Snowman Decorations That Will Spread Winter Cheer
The winter season is filled with snow, comfy jackets, warm blankets, and cheerful snowmen. A snowman is one of the biggest defining icons of wintertime, making it a great symbol to use in your decorations.
Are you ready to spread some winter cheer throughout your home this season? Here are 12 snowman decorations to add to your home.
---
Lighted Snowman Decor To Brighten Up Your Winter
Twinkling lights are a perfect element to include in your winter decorations because they represent the magical, sparkly snow. These lighted snowman decorations can be placed in any room of your house to create a cozy and beautiful environment during those cold winter nights.
Handpainted Lighted Glass Accent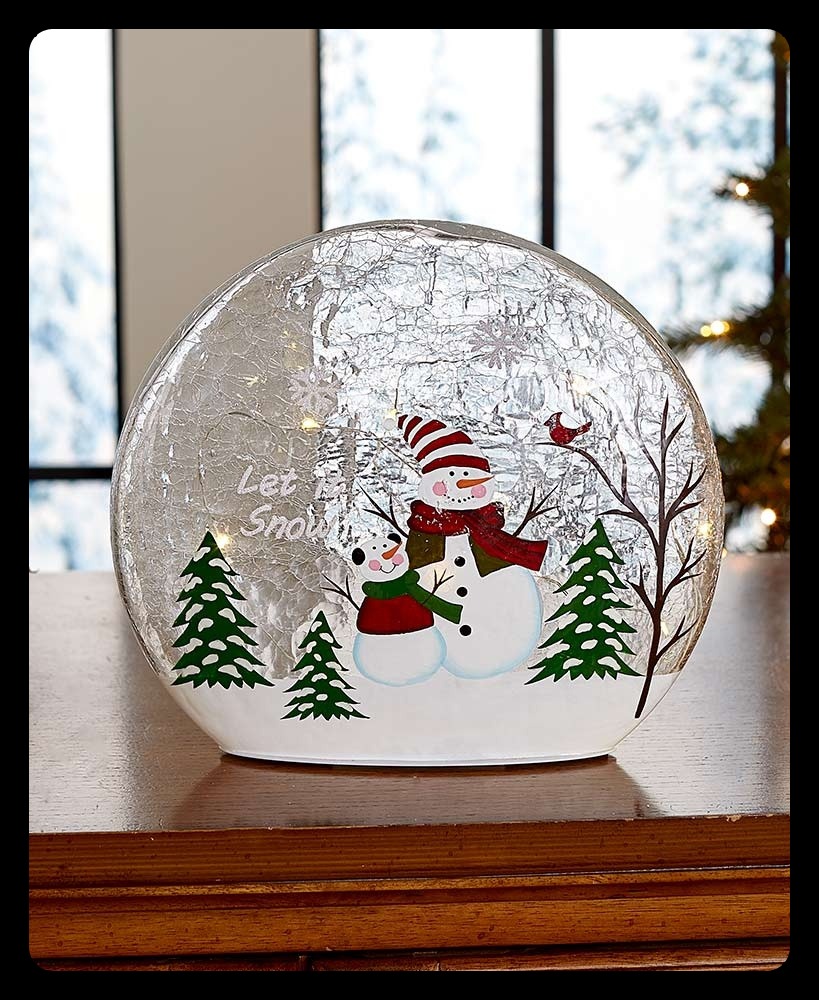 Bring holiday cheer to any room in your house with this unique handpainted lighted snowman glass accent.
It shows a snowy winter scene with the words "Let It Snow". This beautiful glass piece has the look of crackled glass and contains a strand of LED fairy lights.
Lighted Snowman Candle Snow Globe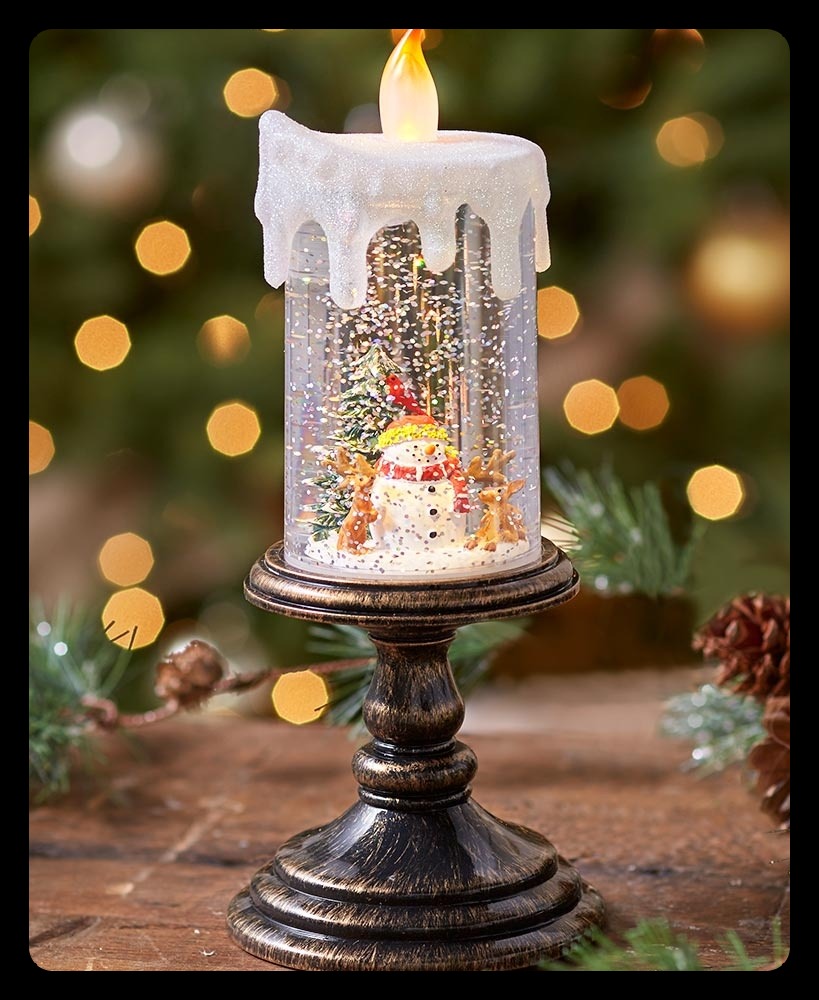 Add a touch of Christmas magic to your mantel or tabletop with this snowman candle snow globe.
The LED candle snow globe has a cute little snowman with a tree and reindeer. The glitter inside and outside gives it a magical snowy look.
---
---
Snowman Signs For Any Room In Your House
Signs and plaques are great options for snowman decorations because they are easy to hang up, lean against the wall, or sit on top of a table. These snowman signs will look festive on any wall in your house, on top of your mantel, or displayed on your dining table or counter top.
Snowman Decor Collection – Snowman Accent & Sign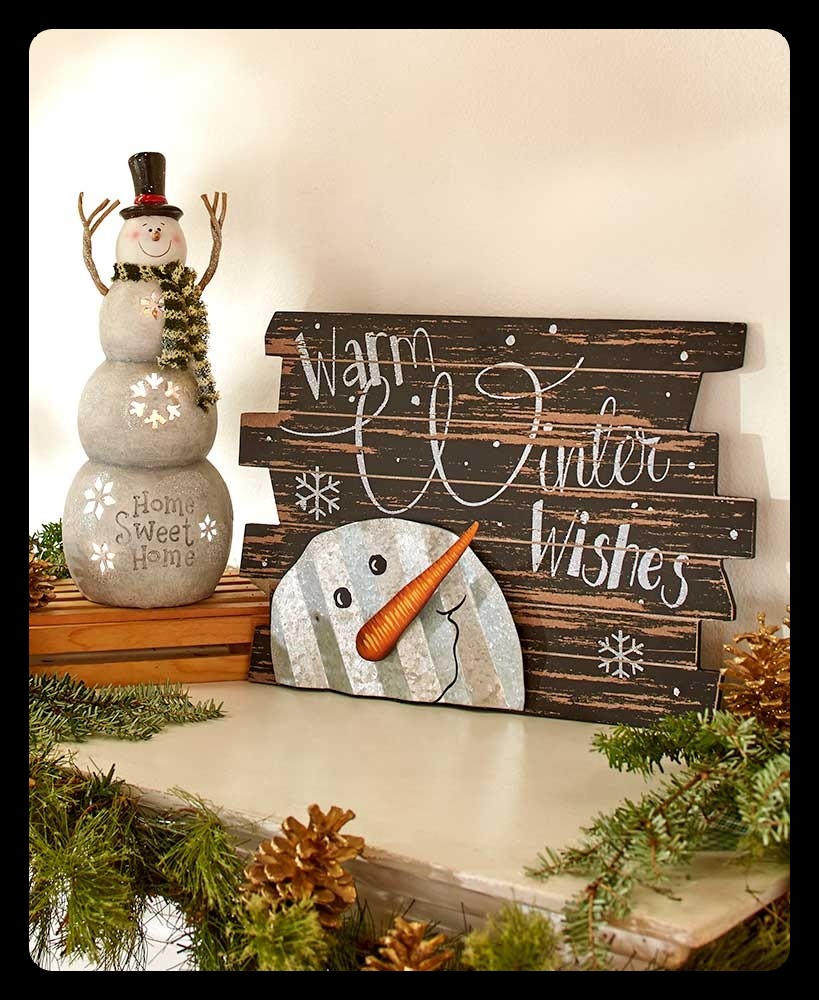 This snowman decor collection will fit in perfectly with other rustic or wooden Christmas decorations.
Choose from the wooden Warm Winter Wishes sign or the cheerful Lighted Tabletop Snowman, or get both to display together.
Snowman Holiday Welcome Plaque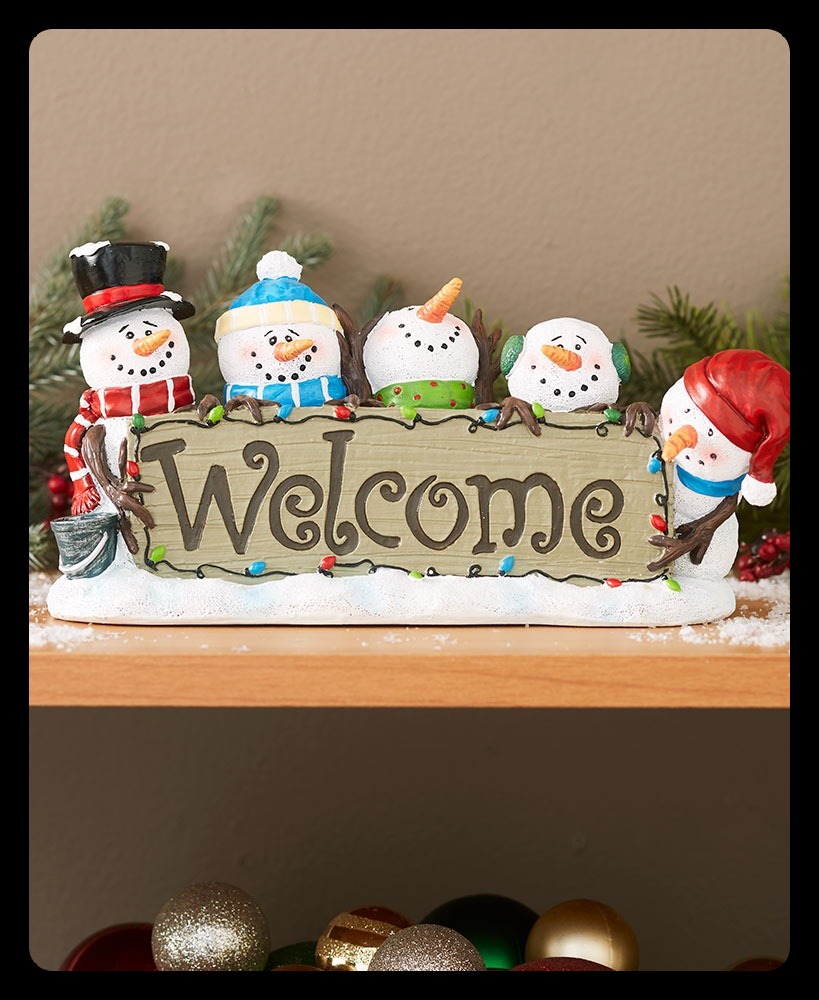 Greet your guests all winter long with this cute and festive snowman welcome plaque.
Display these snowmen on a table or shelf near the entryway, or place it on the mantel with other winter and Christmas decor.
---
---
Outdoor & Porch Snowman Decor To Bring Festive Cheer To Your Yard
Front yard and porch decor will always look cheerful and bright underneath the falling snow. These outdoor snowman decorations will transform the front of your house into a fascinating winter wonderland that will intrigue your neighbors as they walk or drive by.
Reversible Seasonal Greeter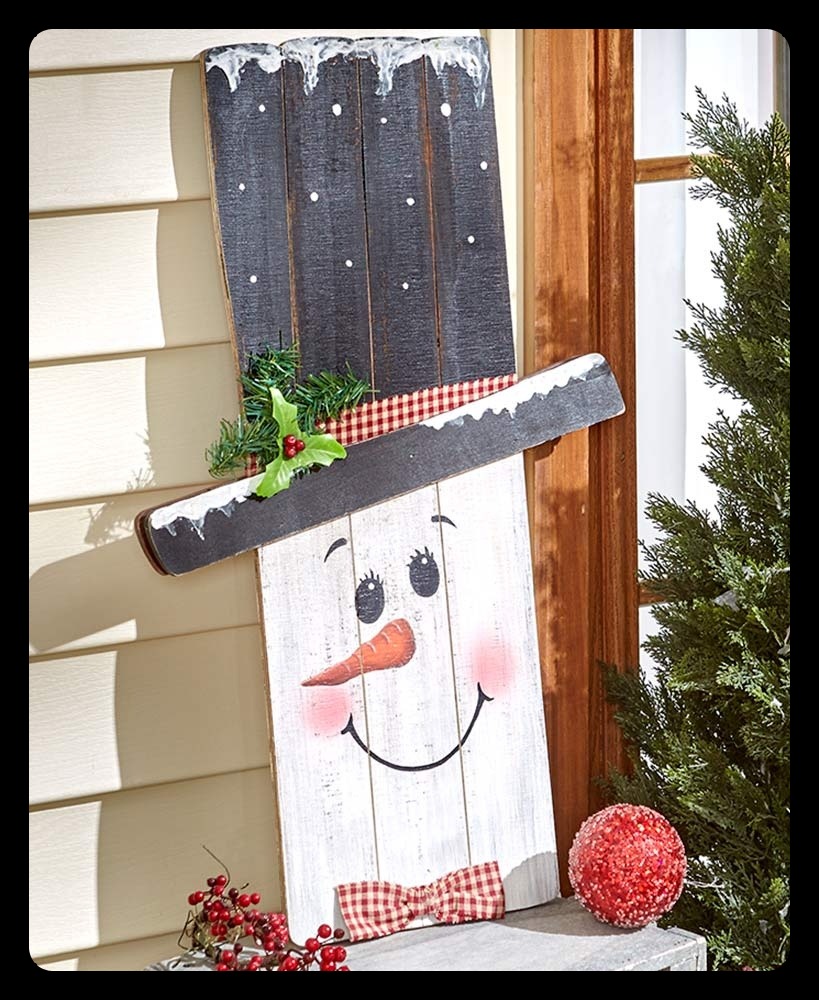 Add some winter cheer to your front porch with the reversible seasonal greeter.
Featuring a happy snowman with a bow tie, you can lean this winter greeter against your house for guests to see. As a bonus, the other side features a scarecrow, making it easy to reuse for next fall.
4-ft. Snowman Inflatable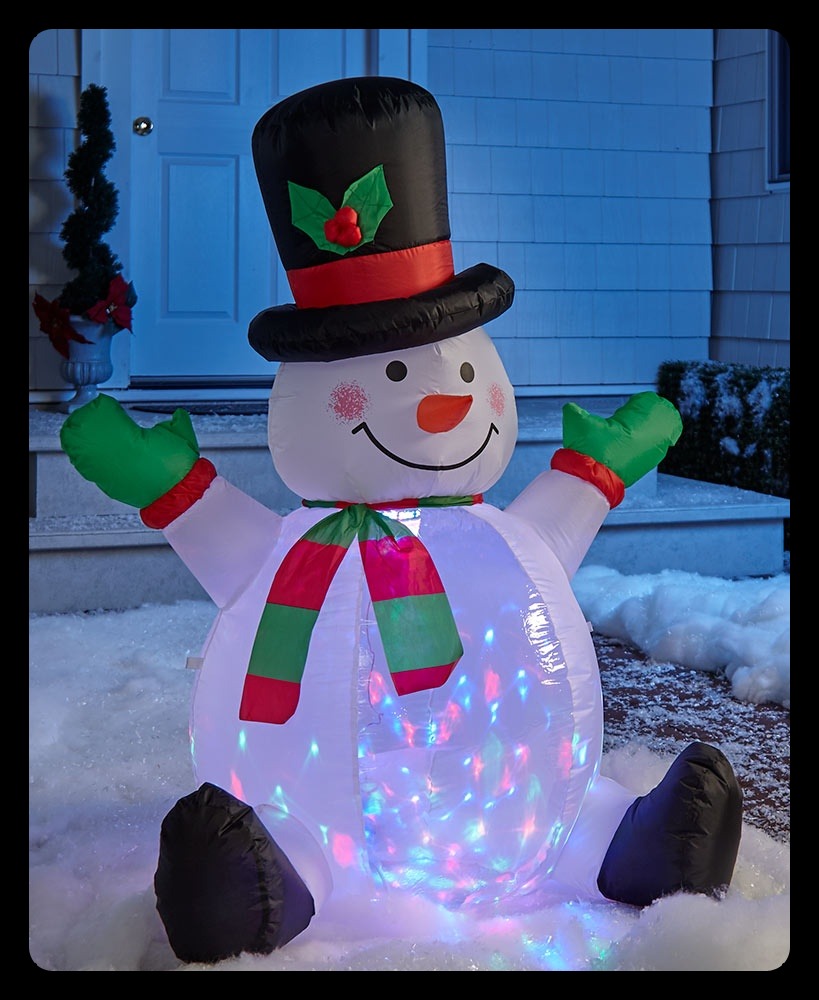 Be the most festive house on the block with this light and motion snowman inflatable.
The large snowman can sit in your front yard. Neighbors will walk by at night and see the colorful, moving light display. This inflatable will look great with your outdoor Christmas lights and other porch decor.
Snowman Snow Gauge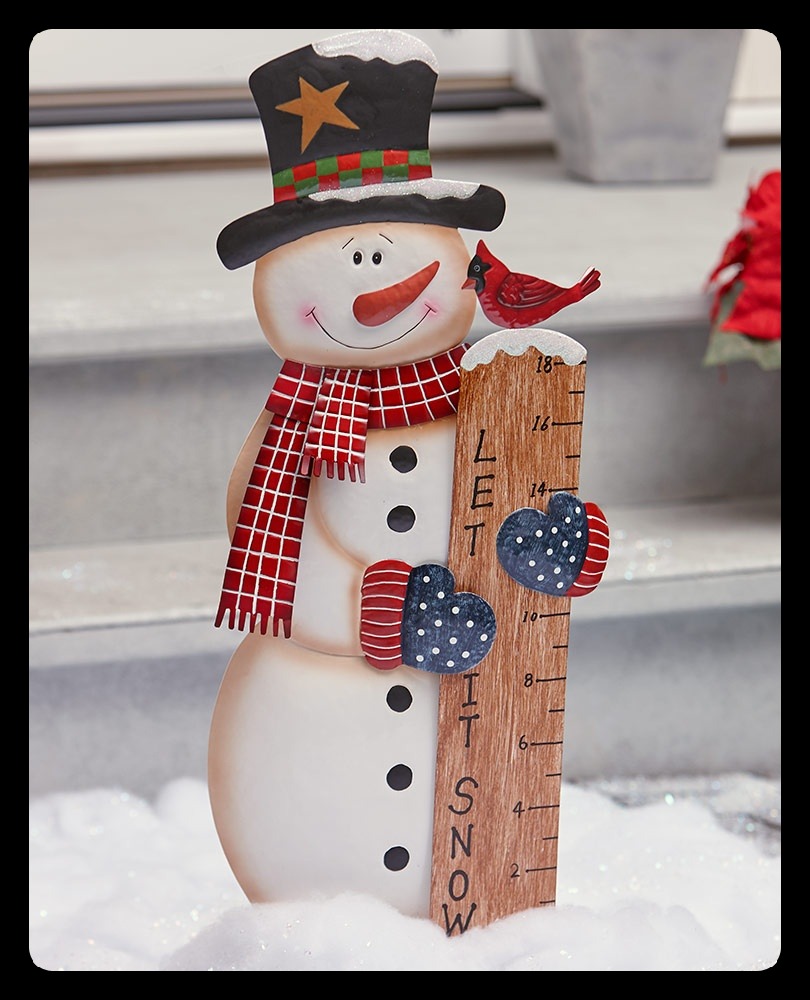 Make the winter even more fun for you and your kids with this snowman snow gauge.
The snowman is placed into the ground and holds a ruler to measure the amount of snow that has fallen. The snowman's wide smile and festive top hat will bring a little cheer to your home this winter.
---
---
Cute Snowman Accents To Add Personality To Your Kitchen
Don't leave your kitchen out of the holiday fun this season! Adding cute snowman accents to your kitchen will give the room some personality and flair with minimal effort. These snowman decorations make it easy to style your kitchen for the winter months.
Snowman Ceramic Cookie Jar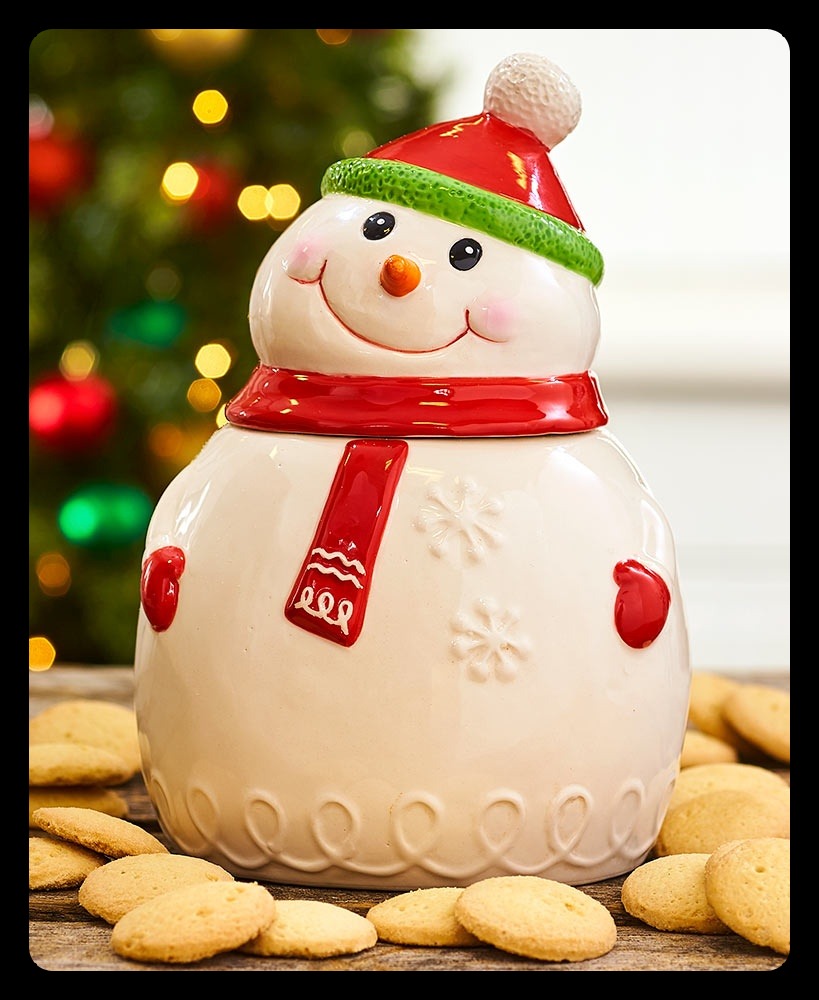 Display this adorable snowman cookie jar on your counter to add some personality to your kitchen.
The cookie jar comes with delicious sugar cookies, making it also great to give as a gift to someone.
3-Pc. Snowman Place Setting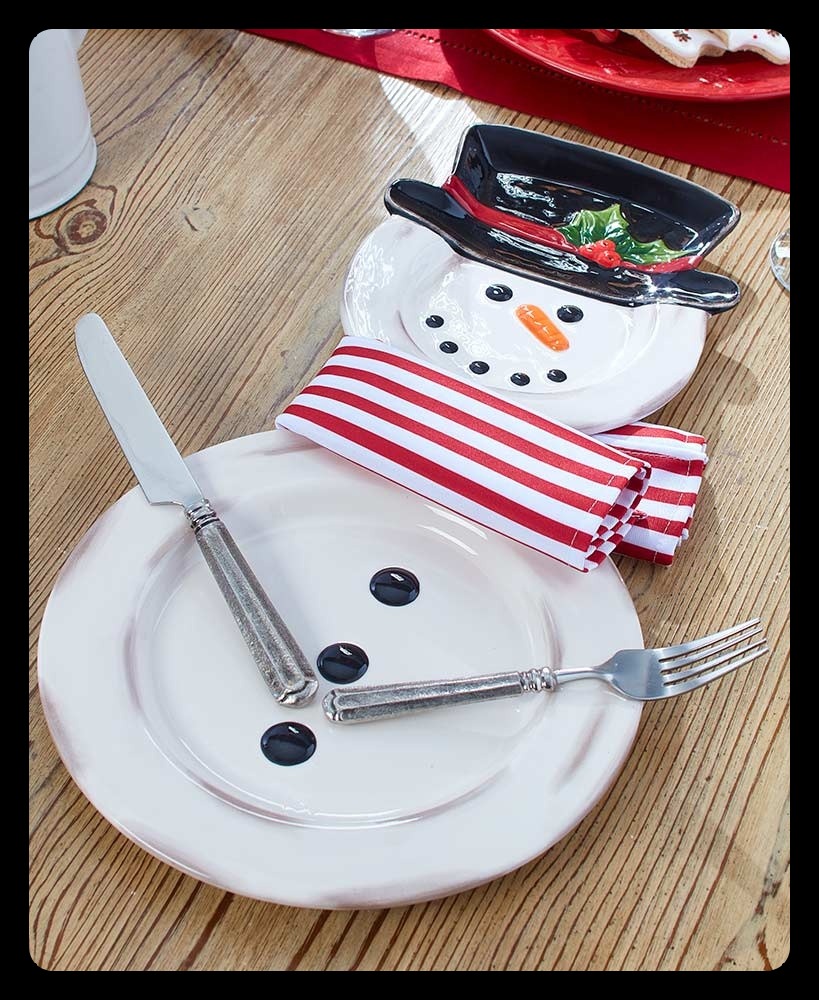 Set up your kitchen table for the winter with this 3-piece snowman place setting.
The set comes with a dinner plate, a salad plate, and a napkin that wraps up as the snowman's scarf.
---
---
Visit our Holiday Headquarters for other holiday decoration inspiration, Christmas gift ideas, and more!