Christmas Inspiration: 7 Buffalo Plaid Decorating Ideas
When decorating for the holidays, you want your home to feel cheerful, warm, and welcoming. Buffalo plaid is a common pattern to display in the wintertime because it gives off a comfy cozy feeling. From table linens to ornaments to bedding and more, here are 7 buffalo plaid decorating ideas for the Christmas season.
---
1. Decorate Your Christmas Dining Table With Buffalo Plaid Linens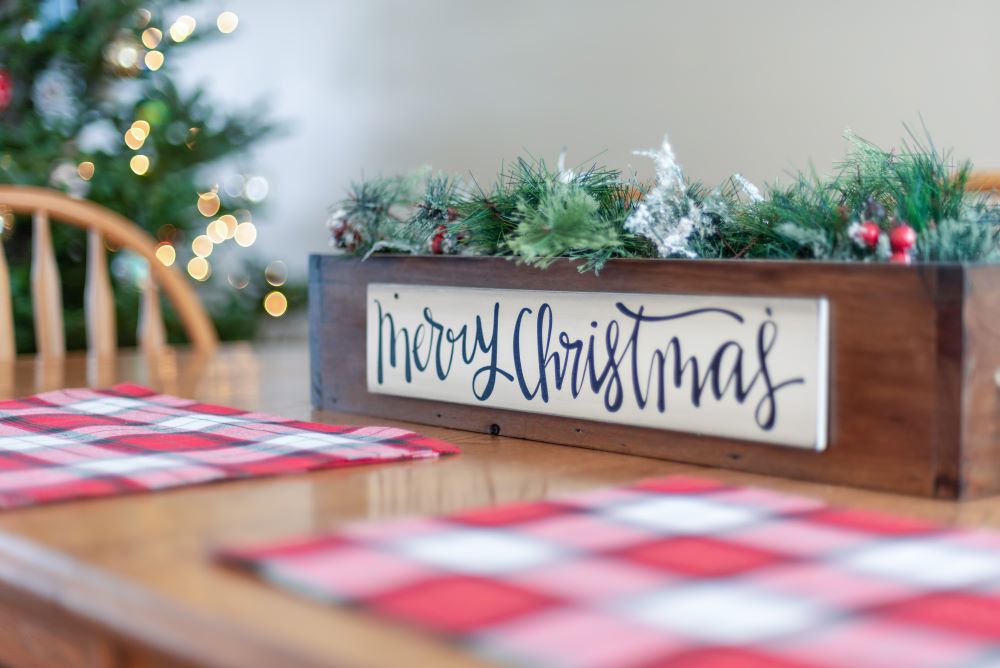 Setting up your dining table for the Christmas season can make your home feel extra festive and bright. Start decorating by setting up some table linens to act a as base for the rest of your table decor.
Bring in the buffalo plaid through place mats, a tablecloth, or a table runner. Make sure to not overdo the pattern. If you choose buffalo plaid place mats, opt for a solid colored table runner or tablecloth, and vice versa. A red and white or red and black plaid are typically used for the Christmas aesthetic; however, you can choose a different color scheme to be more unique.
Once you add the buffalo plaid linens of your choice, you can decorate the rest of your table with Christmas cheer! Choose a main centerpiece decoration, such as a long wooden box filled with pine greenery. Then, add other festive accents and plates, along with string lights or lighted decor such as lanterns. Your dining table is all set up for the holidays!
---
---
2. Fill Your Christmas Tree With Plaid Ornaments & Ribbons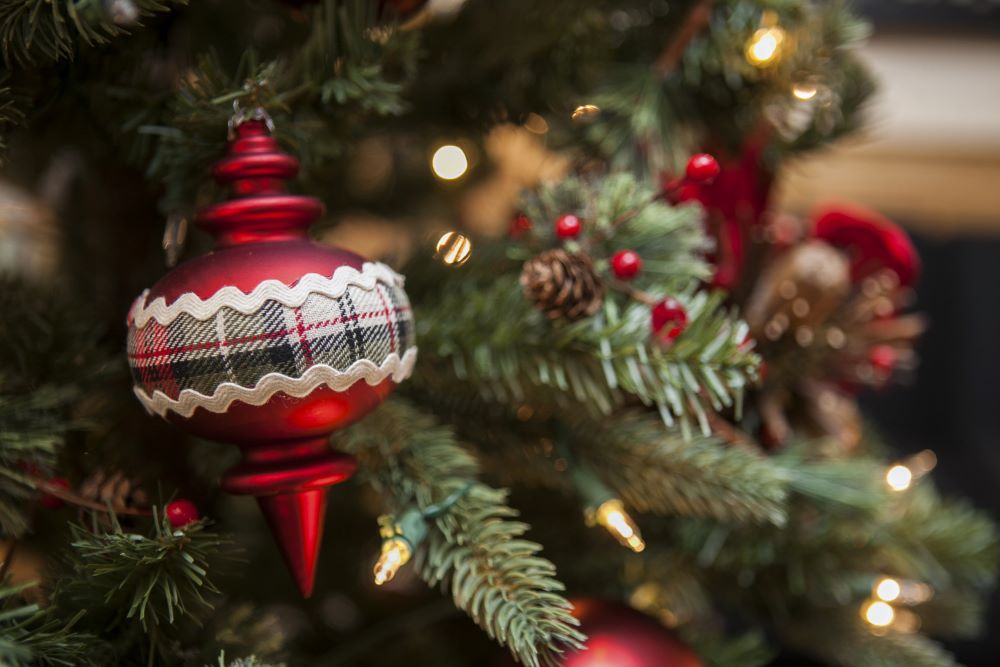 Another way to decorate with buffalo plaid this Christmas is by accenting your tree with it! You can create a warm and cozy theme in your living room by making your tree stand out with the plaid pattern.
Start by filling your tree with buffalo plaid ornaments. Feel free to play around with ornaments of different shapes, sizes, and materials to give the tree some unique variety. Next, wrap some buffalo plaid ribbon around the tree to complement the ornaments.
Lastly, lay down a buffalo plaid tree skirt and place a buffalo plaid star on top of the tree. You can also add in some red or white string lights to tie the look together. Bring in some buffalo plaid accents throughout the living room to match the tree and make the room feel complete.
---
---
3. Add A Plaid Throw Blanket To Your Bed To Create A Christmas Theme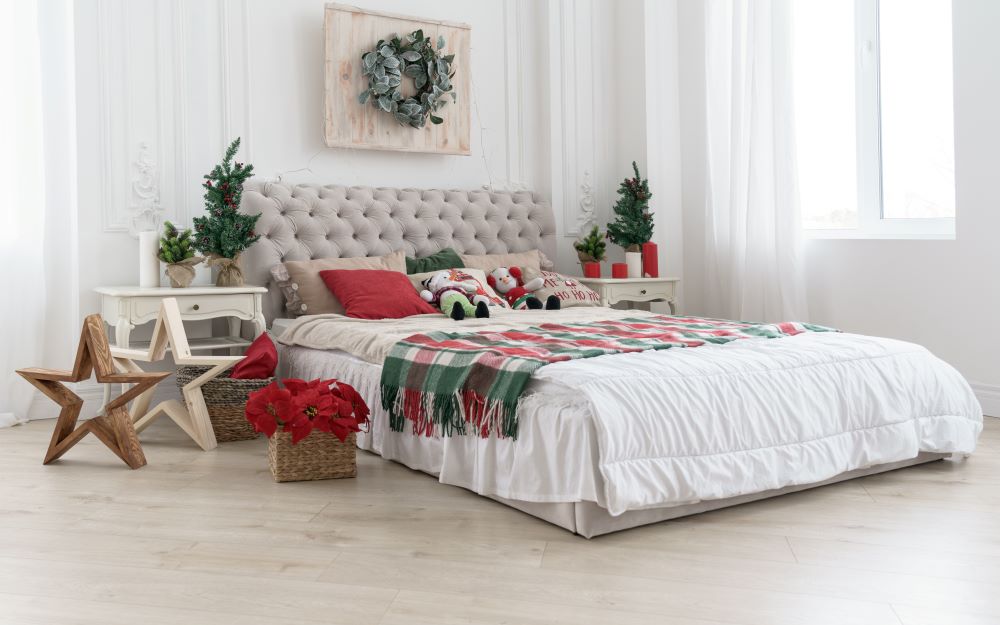 Your bedroom is a great place to decorate for Christmas because it's the one area of your home that you want to feel extra cozy and special. Buffalo plaid can help you easily transform your bedroom into the Christmas theme!
One simple way is to add a buffalo plaid throw blanket to your bed. Spread the blanket out on top of your comforter to fully display it or fold it neatly on the end of your bed for a nice decorative touch. Bring in some matching throw pillows to make it all feel balanced.
If you want a bolder look for Christmas, you can instead change up your entire bedspread. Use a buffalo plaid comforter with red sheets and Christmas sentiment throw pillows. This will help you set up an extra festive look that can act as a base for the rest of the decor in the room. Check out how to decorate your bedroom for Christmas for ideas and inspiration!
---
---
4. Accent Your Home For The Holidays With Plaid Pillows & Slipcovers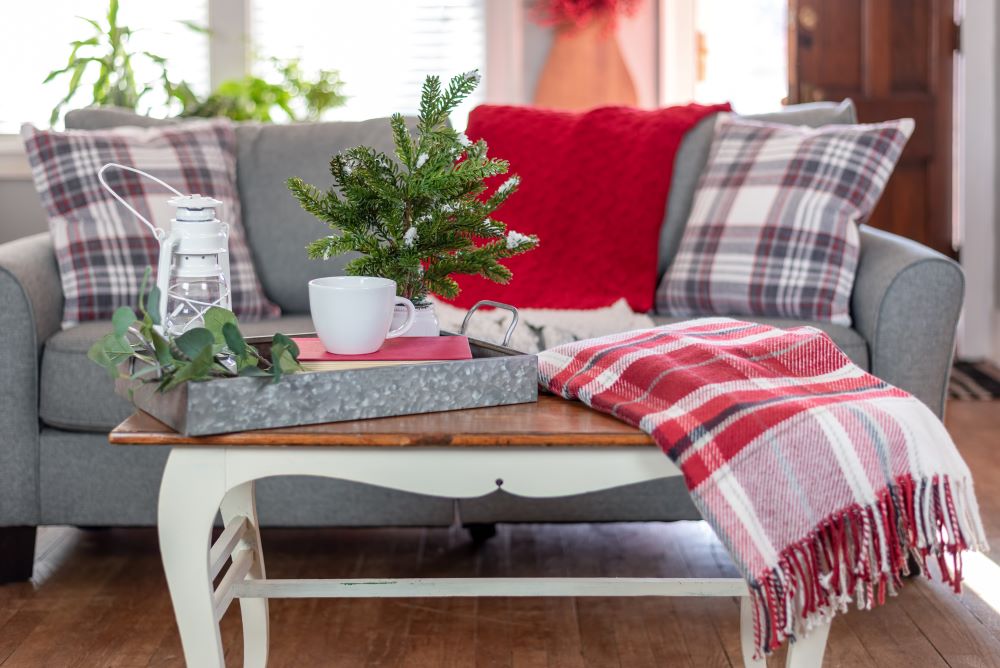 The comfort of buffalo plaid is best represented through soft accents and linens. Incorporating these types of decorations throughout your home is a great way to create the ideal Christmas spirit!
Start by adding some buffalo plaid throw pillows to your couch, bed, entryway bench, or front porch bench. You can also give a Christmas themed look to some of your furniture. Use buffalo plaid cushions for your kitchen chairs or front porch bench, and use a buffalo plaid slipcover to create a whole new look for your couch.
Complete the look by bringing in the soft buffalo plaid element throughout your home with different accents such as throw blankets, rugs, and polyester decorations.
---
---
5. Decorate Your Home With Buffalo Plaid Rugs & Window Curtains For The Christmas Season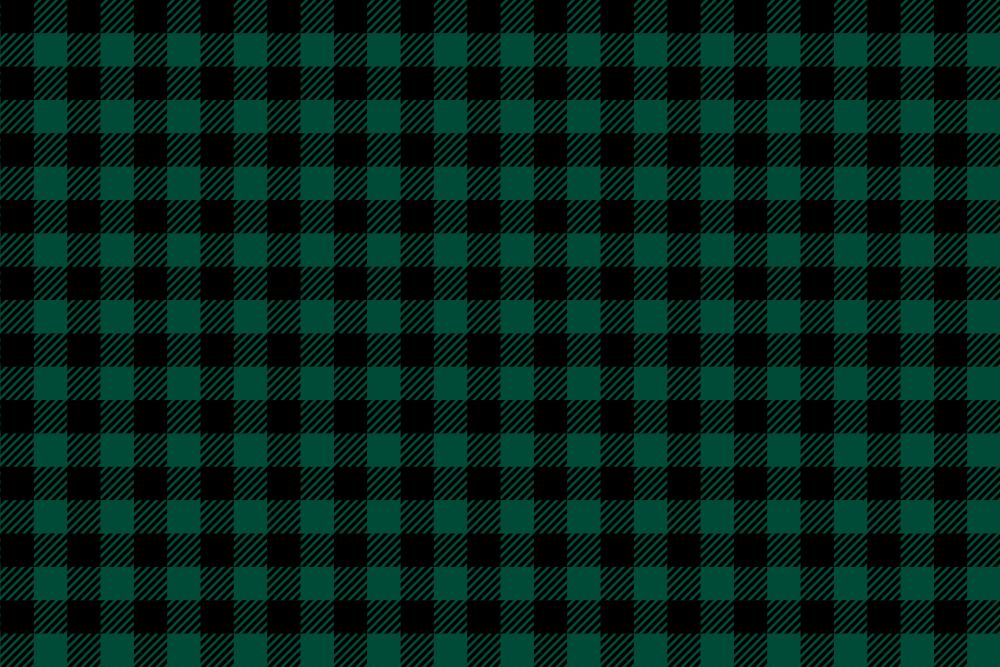 When combined with the other buffalo plaid decorating ideas, this one will help you create a full bold look. With the use of rugs and window curtains, you can instantly transform your home in the winter for a look that can even be displayed after Christmas is over!
You can add buffalo plaid rugs and curtains to many areas of your home. Here are some simple ideas to get you started:
Add a large buffalo plaid area rug to your living room with matching curtains on the windows
Place a small plaid rug near your kitchen sink with a coordinating window valance
Use a plaid bath mat in your bathroom and hang up a matching shower curtain
Display a plaid doormat by your front door
Set down a plaid runner in your downstairs hallway
---
---
6. Display All Your Christmas Gifts With Buffalo Plaid Wrapping Paper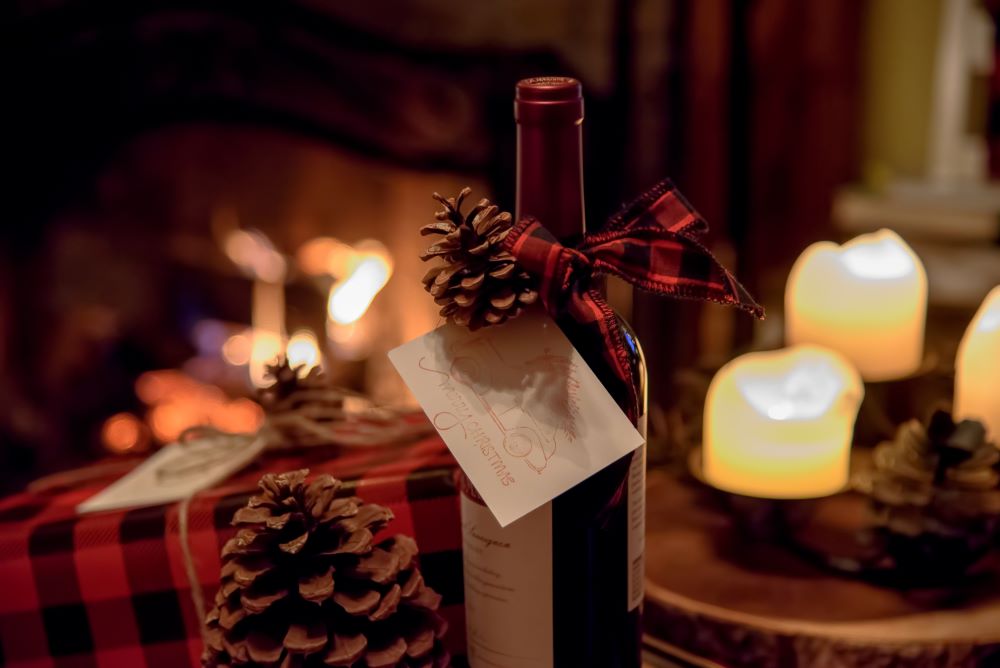 When decorating with buffalo plaid, sometimes you have to think outside of the box and go beyond typical decorations!
Wrap all your gifts with buffalo plaid wrapping paper or place them in buffalo plaid gift bags and gift sacks. Displaying this array of plaid underneath your Christmas tree will add a strong element of beautiful holiday comfort to the room.
Your plaid themed gifts will look nice with a Christmas tree decked out in the same pattern. Spread the buffalo plaid pattern throughout the room with other decor such as throw pillows, wall art, and small accents on top of the mantel or coffee table.
---
---
7. Fill Your Home With Decorative Plaid Christmas Accents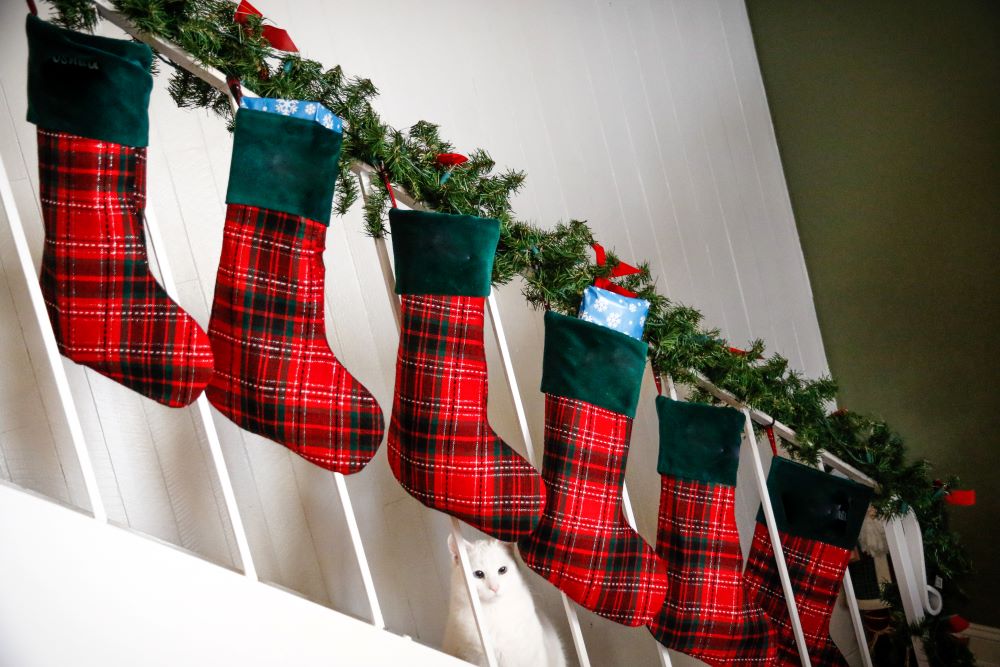 Once you've incorporated some of the bigger buffalo plaid decorating ideas into your home for Christmas, you can bring in smaller accents to make the entire aesthetic feel more complete.
Buffalo Plaid Decorative Accent Ideas
Stockings, gift bags, and ribbons
Festive wall signs
Character figurines that contain the pattern such as Santa, reindeer, and snowmen
Decorative containers to hold potpourri
Candles and candle holders
---
---
Looking for more buffalo plaid decorating ideas and inspiration? Shop our selection of Christmas Decor & More to find festive accents, wall art, bed and bath collections, kitchen linens, and other decor for the holiday season!
---
Want even more charming Christmas inspiration? Learn How To Decorate A Farmhouse Christmas Mantel!