Home Decor Tips: How To Mix Patterns In A Room
Decorating your home with patterns is a great way to add some extra style and unique charm to any room. Whether you want a funky space or a traditional and elegant style, using patterns wisely can help you amplify the look. While you can decorate with patterns freely, there are some simple guidelines you should follow if you want a balanced and clean decorative space. From color choice to pattern selection and more, here are some easy home decor tips on how to mix patterns in a room.
---
1. Figure Out Which Patterns You Should Never Mix Together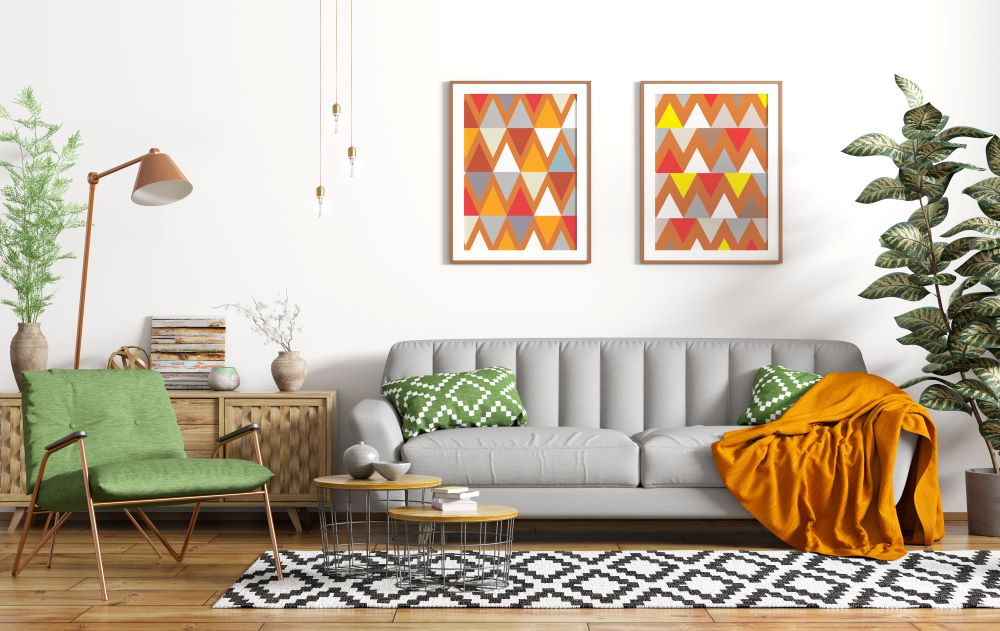 Before you start diving into the world of decorating with patterns, you should make a point to learn which patterns typically complement each other and which ones tend to clash. There are certain patterns that are more simple and can be paired with bolder patterns. On the other hand, it usually doesn't work to combine multiple bold patterns together because it'll make the space feel too busy and overwhelming.
Patterns You Should Never Mix Together
A room can feel too dizzy if you mix too many bold and busy patterns. For instance, you never want to mix together multiple patterns that have a lot of lines and geometric patterns. This would include patterns like chevron and plaid. Additionally, if you add too many patterns from the same category, it can make the room look too messy. A good example of this would be if you tried to mix together too many animal prints in one space. Stick to one bold pattern in each room and complement them nicely with simple safe patterns.
Patterns That Complement Each Other
While there are many patterns that should never be mixed together, there are plenty that work well together. If you want to know how to mix patterns in a room, you should keep in mind some of these great pattern combinations:
Damask and stripes
Florals and polka dots
Paisley and herringbone
Polka dots and stripes
Chevron and polka dots
Plaid and florals
Side note: While these patterns can set the stage for what blends together nicely, mixing patterns is also a form of art. You can break some rules here and there if you personally like the way certain patterns look together!
---
---
2. Stick With A Cohesive Color Scheme When Decorating With Patterns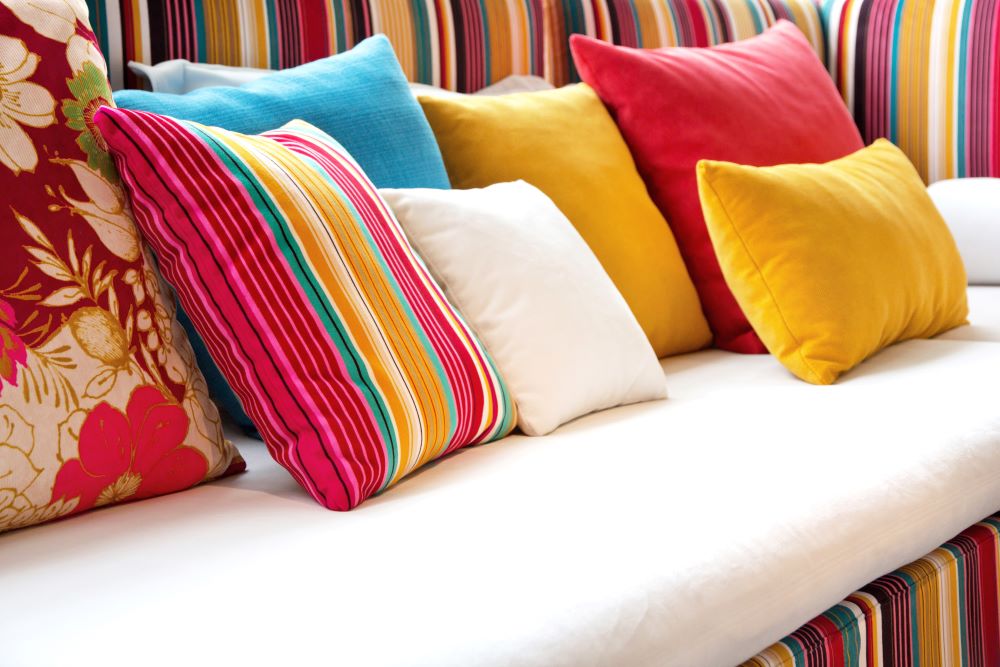 Another important thing to remember when mixing patterns in your home decor is to stick to a cohesive color scheme. If you start bringing in too many different colors with your patterned decorations, it'll make the room feel too mismatched and unsettling. Stay consistent with your colors throughout the room to make everything flow nicely.
Stick to about three colors maximum to maintain a stylish space. If you already have an established color scheme in the room, make sure your patterns can blend into the room nicely. Whether you're using varying shades of the same color, or a different color palette spread, you can make a mix of patterns look stylish with the use of colors.
Additionally, it's important to balance out your colored patterns with some solid colored decorations in the room. For instance, if you have a selection of throw pillows on your couch, you can combine patterned pillows with solid colored pillows to give your couch a polished appearance. Having a healthy balance of these elements can reduce the busy feeling of the patterns and make the space feel more complete.
Check out these tips for How To Incorporate More Colors Into Your Home!
---
---
3. Balance Out Your Patterns With Neutral Colors In The Room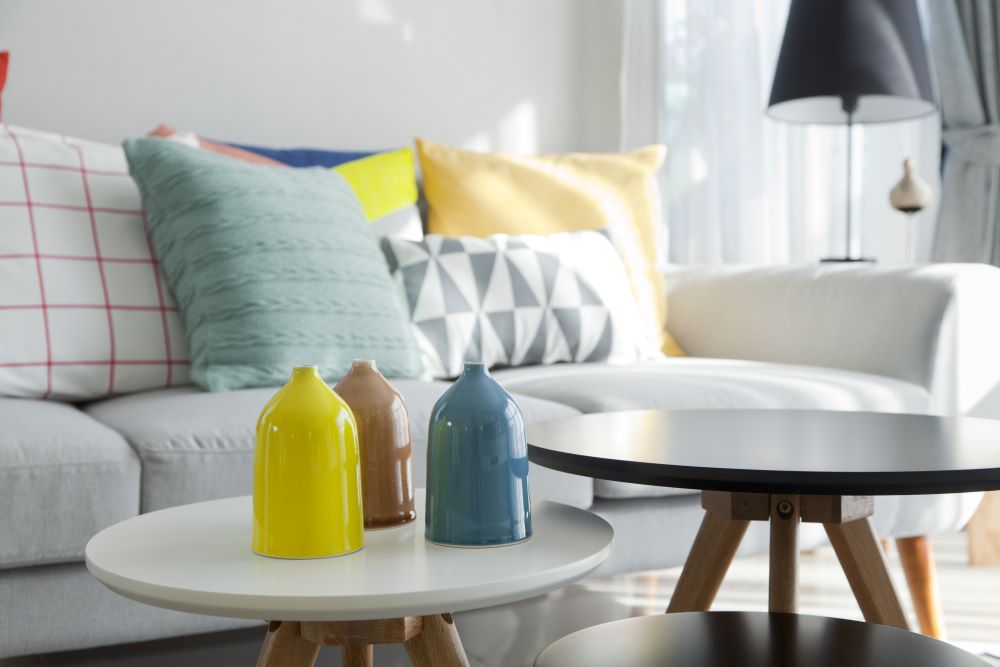 If you don't already have an established color scheme, or if you want to bring in some more bold colors through your patterned decorations, it's best to start with a neutral surface. Having too many colors in the room with all your patterns will make the space look too overwhelming and not as homey. Balance out your colored patterns with large neutral pieces in the room.
How To Use Neutrals With Colored Patterns
Optional: start with neutral colored walls such as white, beige, or gray.
Make sure all your main furniture pieces are neutrals. This includes things like a couch, coffee table, dresser, bedframe, kitchen table, and more.
You'll also want most of your large decorations to be fairly neutral as well, including area rugs and curtains.
Once you've established your neutral space, you can have fun by bringing in colorful patterned accents!
---
---
4. Decorate With Three Or More Patterns For A Stylish Look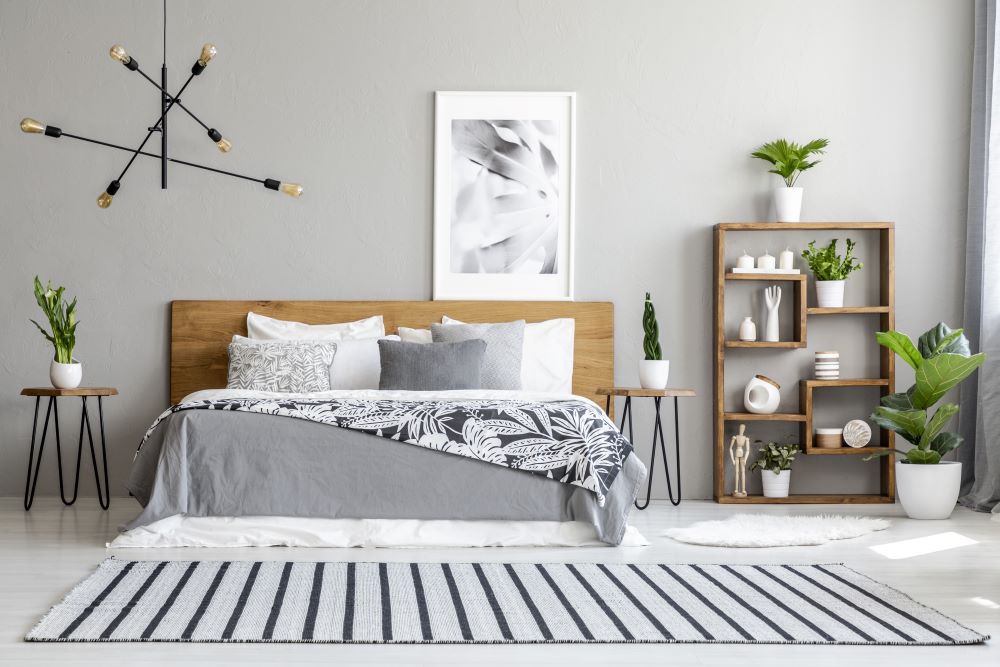 Another thing to keep in mind is the number of different patterns you use in a room. If you want to create a stylish mix of patterns, consider using a total of three patterns or more. Odd numbers are especially useful in creating a fashionable look because it can make it easier to set up a balanced space.
How To Decorate With 3 Patterns
While you can use more than three patterns in a room, it's much easier to start with three. There are many different ways to use three patterns in a room, but here is are some general steps on how to create your space:
Start by choosing your three patterns. For this example, let's choose florals, stripes, and polka dots.
Next, decide which one will be your main pattern. This is the pattern that will be showcased the most in the room. Let's say the main pattern here is floral.
Then, choose your second main pattern. This one will show up slightly less than floral – let's go with stripes.
To decorate, you'll want to start with florals (main pattern) and incorporate it into bigger decorations such as bedding, large pillows, and bold artwork or wallpaper.
Bring in the second pattern (stripes) through decorative accents such as rugs and smaller wall art.
Finally, add the third pattern (polka dots) through smaller accents like various throw pillows, tabletop decorations, and other subtle details.
---
---
5. Balance Out The Room By Using Different Scales Of Patterns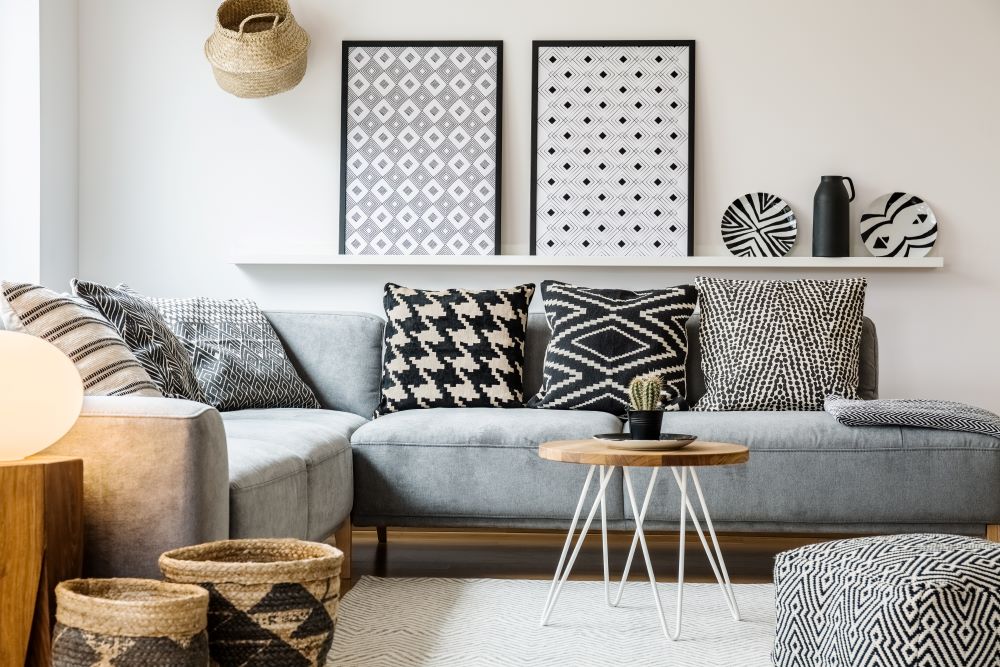 Lastly, another way to create balance when mixing patterns in a room is to be mindful of sizing. It's important to have a good variety of sizes when it comes to patterned decorations because it'll add to the stylish and crisp feeling. Plan out your room with different scales of patterns to mix them together in an organized fashion.
As mentioned earlier, your main pattern should typically be seen in your large scale decorations while your other patterns should be seen in smaller accents. Make sure to include a sufficient amount of patterned decorations in each size. If you have too many large scale patterns, it'll be harder for you to have a seamless mix in the room. On the other hand, if you have too many small scale patterns it'll be too subtle of a look.
Take note that you should also be careful with using certain patterns in a large scale. Busy patterns like chevron can sometime be too overwhelming on a larger scale. In this case, you might want to use chevron as your accent pattern and choose a simpler pattern for your main decorations. The idea is to make sure the room is as comfortable and stylish as possible.
---
Now that you've learned some simple tips on how to mix patterns in a room, shop our selection of Home Decor to get started! Find home collections, curtains, rugs, wall art, and much more to add style and flair to any room.