How To Decorate A Farmhouse Christmas Mantel
A farmhouse Christmas theme can make your space feel homey, charming, and warm for the holiday season. There are so many ways to make this theme come alive with the help of warm lighting, rustic accents, farm animal decoration, and much more. Setting up a mantel with the farmhouse style for Christmas is a great way to establish this theme nicely. Whether you want your mantel to stand out, or if you want to complement the style throughout the rest of your living room, you can easily transform your space. If you're not sure where to begin, here are some unique ideas for how to decorate a farmhouse Christmas mantel.
---
Add Some Warmth To Your Farmhouse Christmas Mantel With Lights
---
Every farmhouse Christmas mantel needs some warm elements to look extra welcoming and charming. One of the best ways to warm up your mantel is to include lighting for a magical and homey appearance.
One of the easiest ways to light up your mantel in style is to use decorative string lights. You can display the lights across the front of the mantel to accent your space nicely. String lights also look especially beautiful with your Christmas stockings.
In addition to string lights, you can also incorporate other lighted decorations throughout your farmhouse mantel. For instance, include things like:
LED candles on rustic candleholders
Lighted farmhouse Christmas sentiment sign
Light up rustic frame with family Christmas photo
Christmas wreath with fairy lights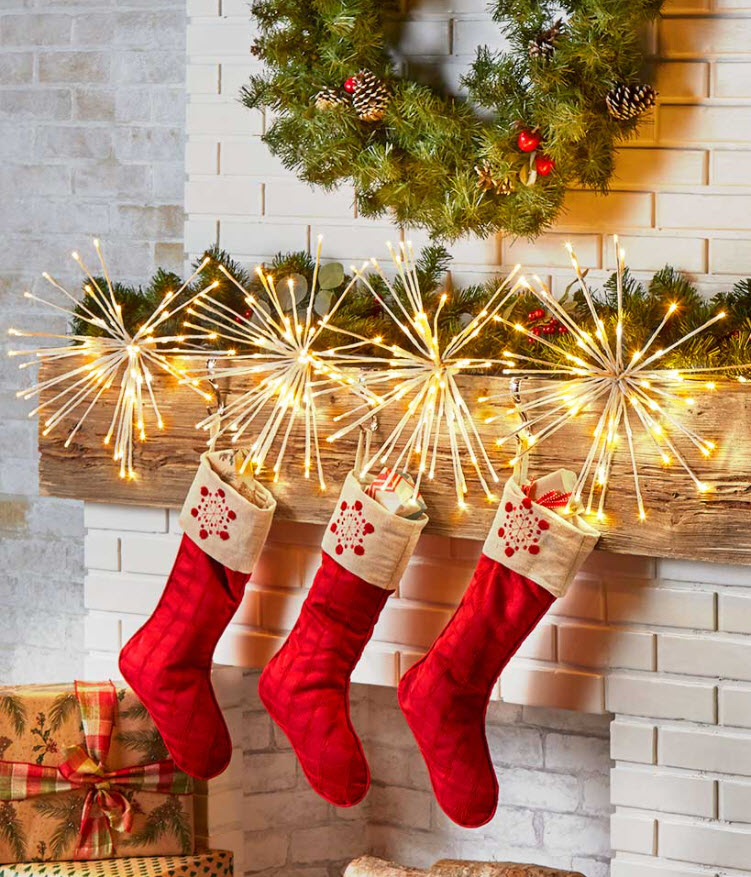 ---
Use Interchangeable Decor On Your Mantel For Christmas & All Year Round
---
Interchangeable decorations are always a great way to accent your space for any season or holiday. These types of decorations typically feature a removeable piece to represent a new holiday or time of year. Displaying interchangeable decor on your farmhouse Christmas mantel can make it even easier to decorate!
When it comes to interchangeable holiday decor to fit your theme, look for anything with rustic materials, charming sentiments, and warm color schemes. Check out some ideas below for inspiration.
Interchangeable Decor Ideas
Wooden box planter with floral display and interchangeable holiday sentiment
Rustic wood block sign with interchangeable sentiment
Charming farm animal statue with interchangeable holiday outfits
Galvanized metal wall hanging with interchangeable holiday symbols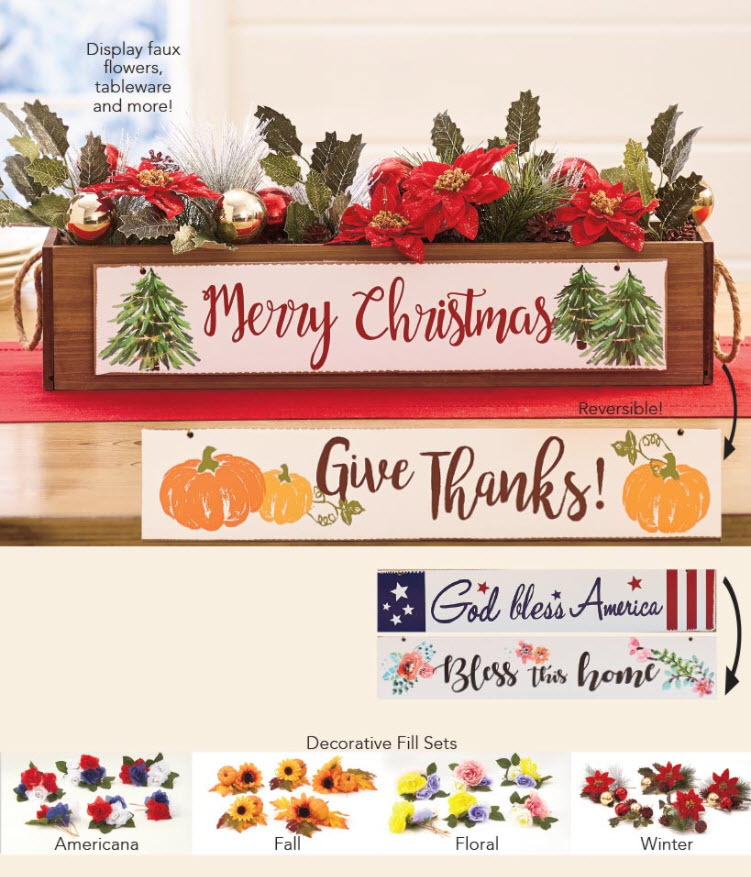 ---
Decorate Your Farmhouse Christmas Mantel With Rustic Accents
---
A big part of the farmhouse theme is the rustic materials that give off authenticity and charm. This can include materials like distressed wood, galvanized metal, brick, and unfinished stone. Incorporate these materials with accents on your farmhouse Christmas mantel.
The more rustic accents you add to your mantel, the more vintage and charming it'll appear. If you want a more modern farmhouse look, consider adding only a few rustic elements to not overload your space.
There are many different ways you can include rustic accents on your farmhouse mantel this Christmas. Whether you want a spread of small decorations or a few large pieces, you can include things such as:
Rustic metal holiday themed lanterns
Distressed wood candleholders
Burlap Christmas wreath or garland
Chicken wire cloche with brush trees displayed inside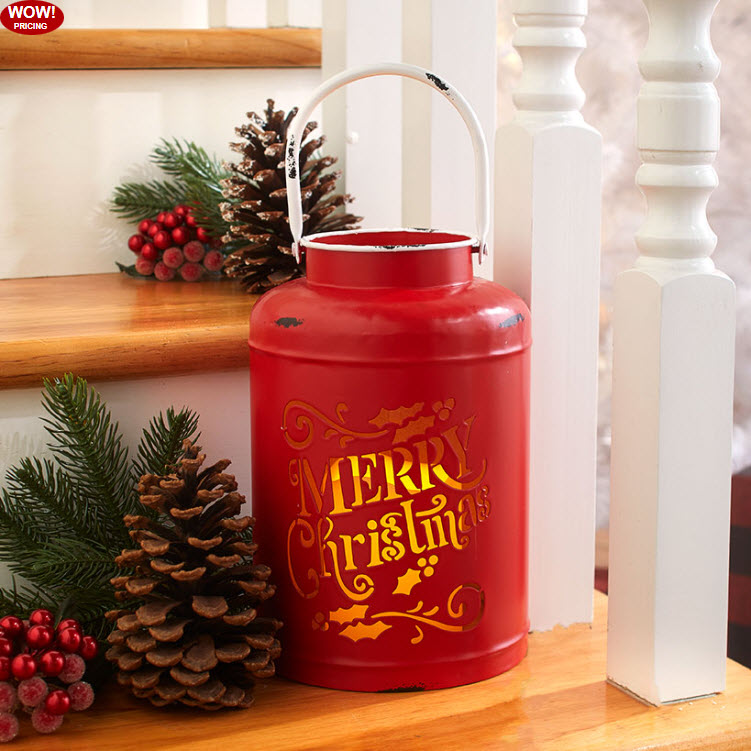 ---
Incorporate Plaid On Your Farmhouse Christmas Mantel
---
In addition to rustic materials, another element of the farmhouse and country Christmas decor style is plaid patterns. Plaid is also very fitting for the Christmas season because it represents warmth and cheer. Decorate with plaid accents to make your farmhouse Christmas mantel come alive.
There are many ways to incorporate plaid into your decor spread to create a festive and cheerful mantel. While you can find plaid patterns in so many types of decor, check out some popular ideas below to include.
Plaid Decor Ideas For Your Mantel
Plaid patterned farm animal figurines
Christmas wall hanging with plaid patterns
Plaid table runner or mantel scarf across the mantel surface
Buffalo plaid ball ornaments hanging from a garland
Plaid patterned ribbons on a wreath above the mantel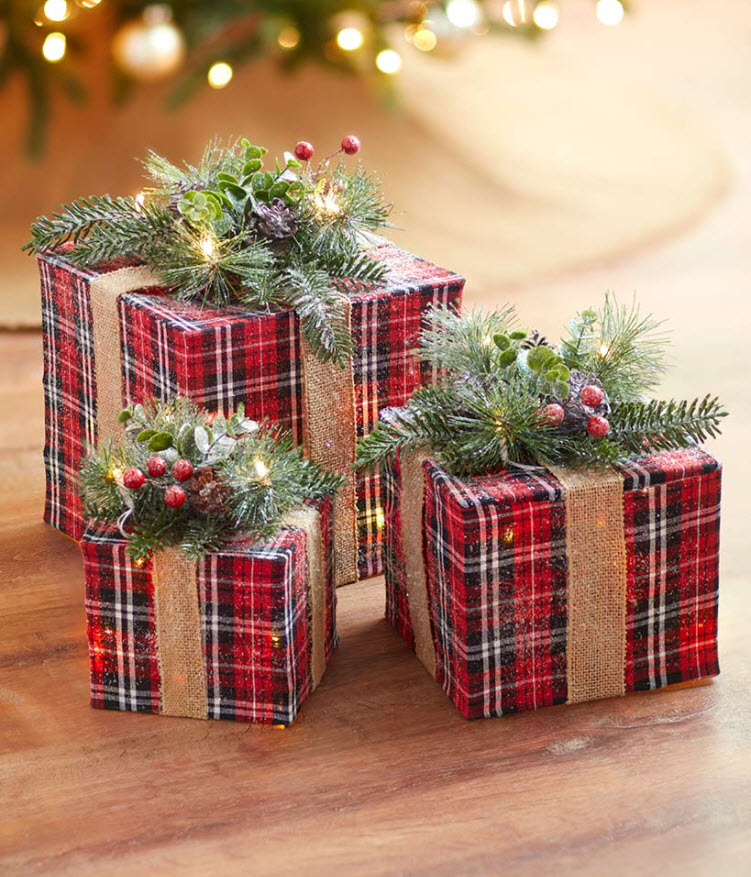 ---
Decorate Your Farmhouse Christmas Mantel With Farm Animal Accents
---
Another must-have element on your farmhouse Christmas mantel is the addition of farm animals. Farm animals are a big part of the charm and rustic appeal of this decor style, so it's only fitting to include them in your decor spread.
You can feature almost any type of barn animals within your decorations, but some of the most popular include chickens, cows, pigs, and sheep. Use a mix of animals for more variety or choose just one for a more solid theme.
The easiest way to incorporate these animals is through Christmas and winter-themed figurines. You can easily find ceramic statues of farm animals with Christmas and holiday adornments to display on your mantel.
In addition to figurines, you can also find other farm animal themed accents like wall hangings, ornaments to hang from a garland, candleholders, and much more. Get creative with your animal decor for a unique display.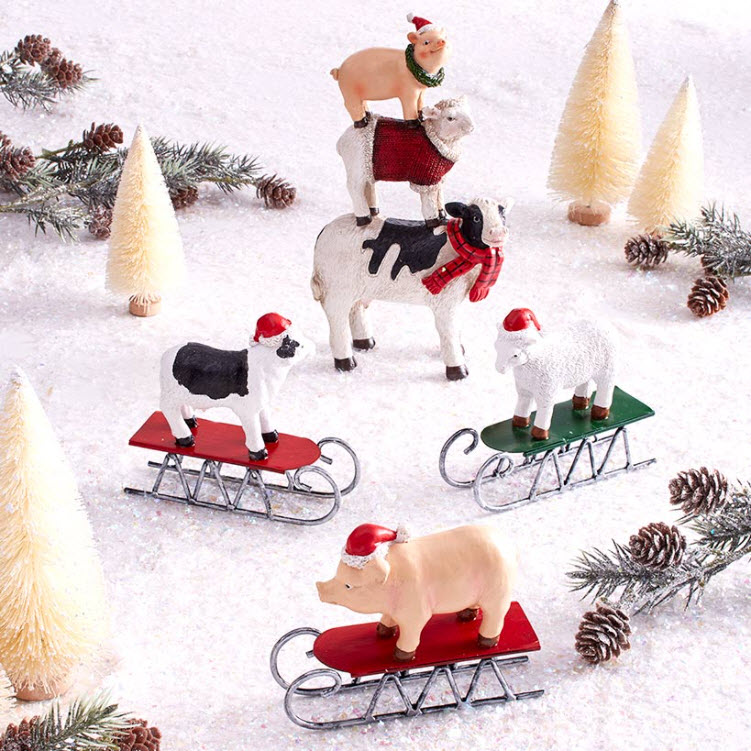 ---
Display A Christmas Town On The Farmhouse Mantel With Miniature Houses & More
---
If you're looking to add even more charm to your farmhouse Christmas mantel, consider setting up a mini Christmas town with ceramic house figurines and other cute accents. This little town will transform your mantel into a warm and cozy space, very fitting for the farmhouse style.
You can set up a mini Christmas town in an endless amount of ways, based on your personal style and the amount of space you have. Check out some general steps below for inspiration.
How To Create A Christmas Town On The Mantel
Start with a snowy surface; lay down some decorative snow and greenery.
Add some mini ceramic lighted houses. Use a variety of house types for a more unique look.
Bring in some small brush trees around the houses.
Add some small people figurines alongside some animal figurines.
Finish it off with some small pinecones and extra lights if desired.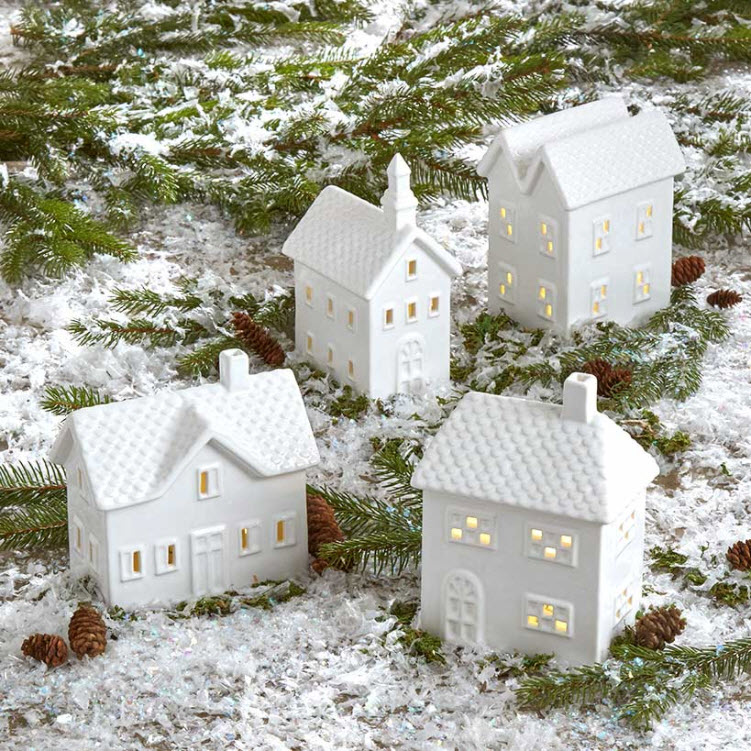 ---
Add A Mini Christmas Tree To Your Farmhouse Mantel
---
Another great way to amplify your farmhouse Christmas theme on the mantel is to add a mini Christmas tree. Even though you probably already have a full-sized Christmas tree in the room, adding a small one to the mantel can make your space look extra festive.
Use a mini Christmas tree inside of a planter for more stability on the mantel. Once you have your mini tree set up, you can add farmhouse themed ornaments to dress it up in the charming style. Check out some ideas below for how to decorate the tree.
Mini Farmhouse Christmas Tree Decor Ideas
Warm fairy lights
Farm animal ornaments
Rustic ball ornaments
Farmhouse sentiment sign ornaments
Mini galvanized metal star tree topper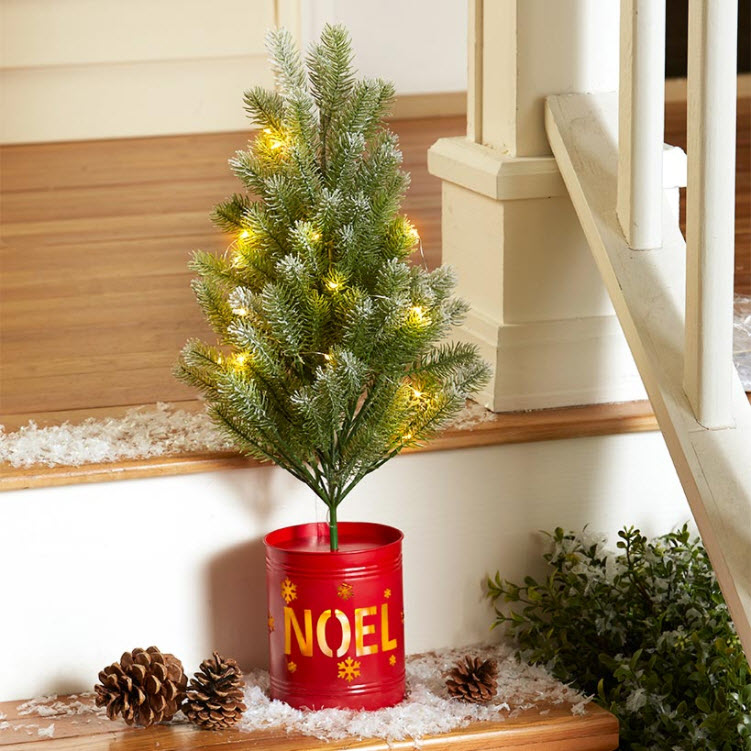 ---
Now that you've gained some ideas on how to decorate a farmhouse Christmas mantel, check out our selection of Christmas Decor & More to get started! Find tree ornaments, festive accents, holiday wall hangings, garlands and wreath, and much more to transform your space for the Christmas season.