How To Make Your Porch Cozy For Fall
There's no better feeling than staying warm and cozy during the chilly weather of the fall season. Creating a comfortable porch for the fall is a great way to set up a welcoming space that you can enjoy relaxing in all season. Not only can you make it look festive for the fall with warm colors, pumpkins, and seasonal flowers, but you can also add elements that will help you feel extra cozy. From fabrics to furniture to lighting and more, here are some easy tips on how to make your porch cozy for fall.
---
Add Pillows, Blankets, & Other Fabrics To Make Your Fall Porch Comfortable
---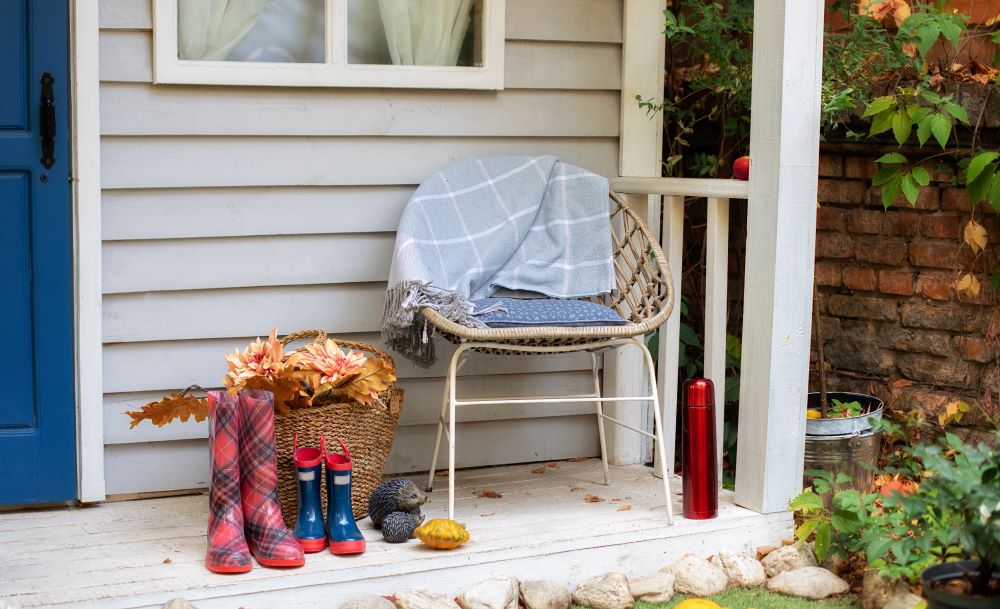 Fabrics will always be the main source of coziness on your porch because of their warm and soft appearance. The best go-to fabrics for your porch are throw pillows and blankets for your bench or chairs. Pillows and blankets not only give you warmth and comfort when you're using them, but they can also make your porch look extra inviting all season long. Using fall themed pillows and blankets will also amplify the festive harvest feeling on your porch.
In addition to pillow and blankets, adding other fabrics to your porch can instantly cozy up your space. Whether you add these fabrics in a more subtle way or in a bold fashion, you can easily achieve the level of comfort and warmth that you want on your porch for the fall time. Check out some ideas below for inspiration on adding fabrics to your porch.
Fabric Porch Decor Ideas For Fall
Use comfortable cushions on all your seating.
Add fabric pumpkins to your side table.
Use a burlap or ribbon wreath on your door.
Hang outdoor curtains on your porch for a secluded space.
Display fabric baskets filled with pumpkins.
Decorate with polyester statues.
Use a hanging basket chair or fabric hammock under a covered porch.
Wrap faux leaf garlands around your porch railing.
---
Use Wreaths & Florals For A Cozy Fall Porch Scene
---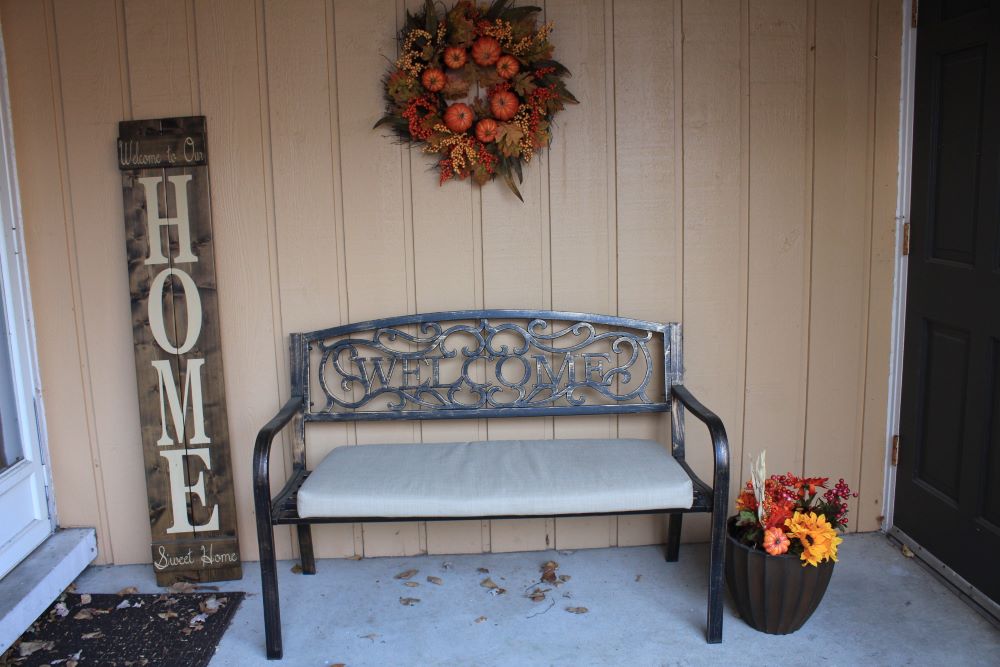 Another big part of making your porch feel cozy is adding warm, vibrant colors to your space. One of the easiest ways to do this is through the use of florals and wreaths. Fall flowers and harvest wreaths can really pop on your porch, making your home look extra bright and festive. If you really want to amplify your front porch for fall, be sure to include a lot of florals.
While you can go the simple route and plant some flowers in a pot and hang a small wreath on the door, you can also take it to the next level. Displaying wreaths and florals in a more creative way can make your porch feel unique for the fall season. Check out some ideas below for some harvest inspiration.
Fall Wreath & Floral Ideas For The Porch
Create a wreath filled with mini pumpkins for a bright pop of orange on the door or wall.
Display faux flowers inside of a carved out pumpkin.
Plant fall flowers inside of orange baskets or orange pots.
Fill lanterns with faux leaves or fall flower petals.
Wrap a fall floral garland around a leaning welcome sign.
Display throw pillows with fall floral patterns.
Decorate with faux fall trees on each side of the door.
---
Make Your Fall Porch Feel More Welcoming With Rustic Furniture & Decor
---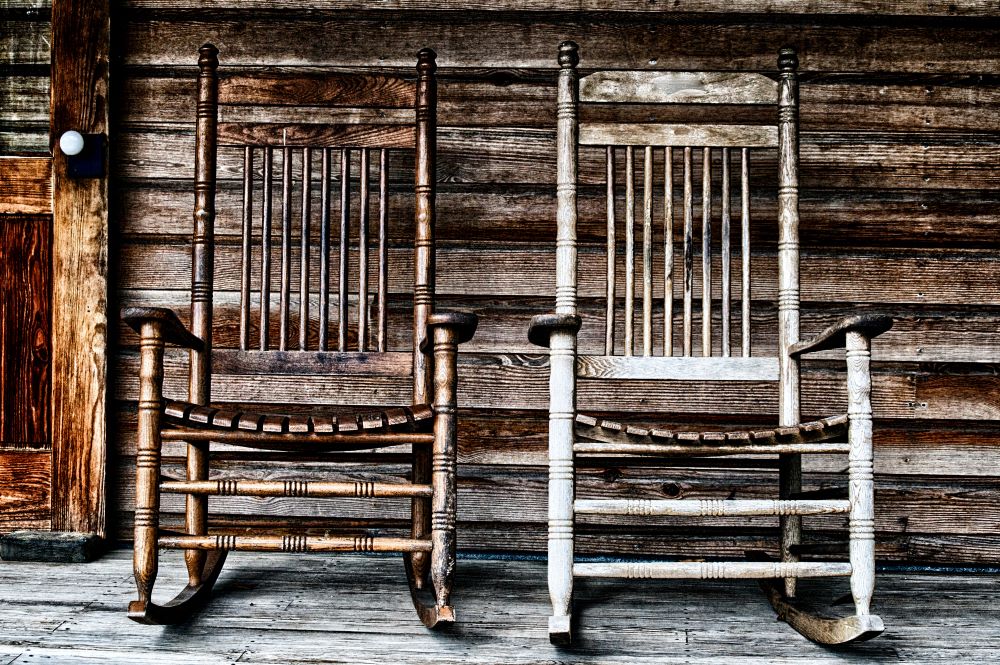 If you're looking to make a big porch transformation this fall, consider changing up the entire style of your porch decor. A rustic style theme is a great choice for the fall season because it provides a natural sense of warmth and comfort. Setting up your porch in this style will instantly make your space look extra cozy and and welcoming.
One way to create a rustic fall porch is to change up your furniture. Typically with a rustic style, you want to have wooden furniture for a charming and rugged appearance. Display a wooden bench or rocking chairs, and a wooden side table to get the full rustic look on your porch. Make sure to pair this furniture with comfortable cushions and throw pillows for an added touch of warmth and coziness.
In addition to wooden furniture, you can also add to the rustic fall look with other decorations. Decorate with wooden accents, along with galvanized metal accents, to create that worn and weathered appearance. For instance, you can display metal lanterns on the porch steps, you can use a wooden box planter to display fall flowers, and you can lean a distressed wood fall sentiment sign on the porch. Having a strong mix of rustic decorations with fall themes can help you create that comfy harvest feeling in your outdoor space.
---
Create Layered Looks On Your Porch For The Ultimate Cozy Fall Look
---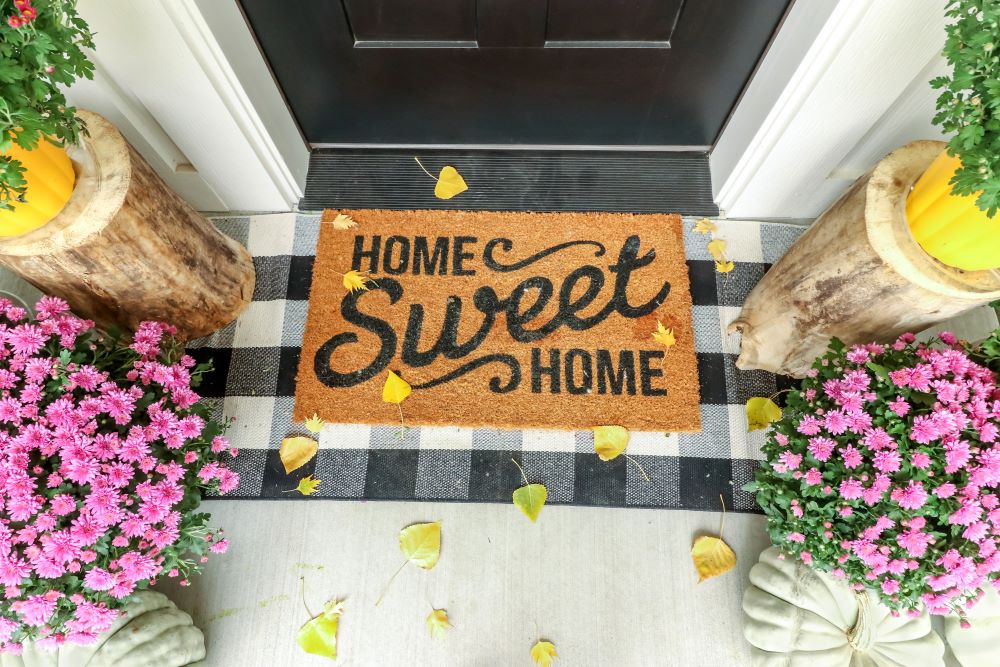 Another way to make your porch cozy for fall is to create a layered look on your porch within your decor spread. Layers are such a strong element of warmth in the fall season, and bringing that to your porch can amplify the coziness even more. When you think of layers, you probably picture fabrics layered on top of each other. While this is the easiest way to create layers, you're not limited to just that ideas. There are many other ways to create different types of layers on your porch. Check out the list below to get some layering ideas for your fall porch.
Ways To Create Layers On Your Fall Porch
Layer your doormat with a larger fabric rug underneath.
Display throw pillows in a variety of patterns for a mixed and layered look.
Create a hay stack display with pumpkins stacked on top of each other.
Hang up a fall sentiment sign on the door with a wreath layered on top of it.
Display a mix of sentiment block signs on the porch side table, with some overlapping others.
---
Decorate With String Lights & Lighted Decor For A Warm & Comfy Fall Porch
---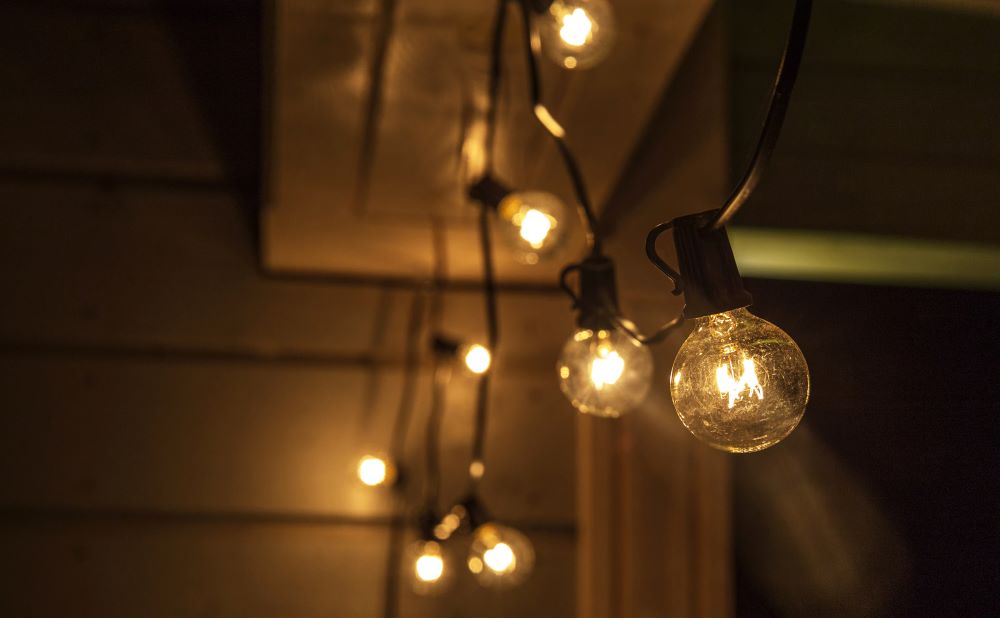 Lastly, another simple and effective way to make your porch cozy for fall is to use warm lighting. Lighting up your porch in a decorative way can make it feel more homey and calm. Solar lighting is the best choice for your outdoor space because it can save you money on electricity. Consider using solar lighted decorations for an efficient way to decorate your porch.
Whether you add string lights or a variety of lighted decorations, you can easily create the look you want for the fall season. If you need some inspiration, check out some fall porch lighting ideas below for a creative and comforting space.
Fall Porch Lighting Ideas
Wrap string lights around leaf garland to display on porch railings.
Use LED candles inside of decorative lanterns on the porch steps.
Display lighted pumpkin decor around your porch.
Hang up lighted wall sconces on each side of your front door.
Wrap string lights around a leaning porch sign.
Showcase LED candles on top of your porch side table.
Use lighted throw pillows on your porch bench or chairs.
Display fall themed lighted yard decorations to complement your porch.
---
Now that you've been inspired by how to make your porch cozy for fall, check out our Fall Harvest Decor section to get started on decorating! Find pumpkin decorations, solar lighted decor, wreaths and florals, festive doormats, and much more to transform your porch for the fall season.

---
Want even more fall inspiration? Check out these 9 Fall Porch Ideas For A Festive Home!