Summer Fun: Tiki Party Ideas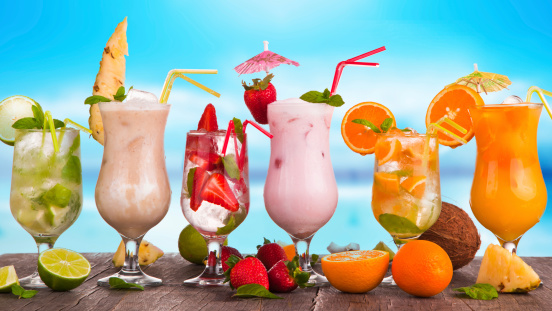 We can't fit enough parties into our summer schedules — we have to take advantage of the weather while it's sunny and warm! But we don't want our parties to be that run-of-the-mill backyard barbecue — we want it to be memorable! For that, make it a tiki party — here are a few ideas to get you started.
Food Tiki has Polynesian roots, so Polynesian food and tropical fruit — pineapple, papaya, mango — are what you want to put on the menu. Though there are New Zealand influences in Polynesian food (the Polynesian Islands are roughly halfway between New Zealand and Hawaii), tiki party menus are mainly made up of Hawaiian food. You can make a version of slow-roasted pig known as Kalua pig. If you need fish on the menu, try the raw fish called "poke." It is similar to sushi only cut into bigger chunks. If you want to keep it simple or your guests aren't adventurous eaters, you can make teriyaki chicken or beef, baked mahi-mahi (fish). Rice, potato salad or baked sweet potatoes are good accompaniment to anything you serve. For dessert, shave ice is a must.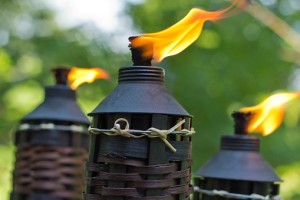 Drinks The drinks might be the highlight of your party — with or without alcohol — because it's all about the presentation. You can serve your cocktails in high ball or tulip glasses, in a tiki mug, a pineapple, or a coconut — the only thing you *have* to add is an drink umbrella. For the drink that goes into your chosen glass, it should be rum-based with tropical fruit juice and spice to add to the flavor. Mai tai, hurricane and Bahama mamas are favorites.
Decor Tiki decor is pretty easy to put together. You'll need lots of bamboo in most forms, candles and tropical fruit. Use tiki torches to line walkways and to surround your backyard. A good fire pit might be in order, but if you really want to give your party a tiki flare, put up a temporary tiki bar. Check out Follow the Highline Home's post on how to build one using wooden pallets.
Activities If you have a fun-loving crowd, you can't go wrong with a game of limbo. To give it tiki style, make your limbo set up out of bamboo. If you're feeling particularly active, you can hold a hula hooping contest to see who can spin their hoop on their hips for the longest. If you need a team game, play pineapple bowling — use a coconut in place of a bowling ball and use pineapples as pins.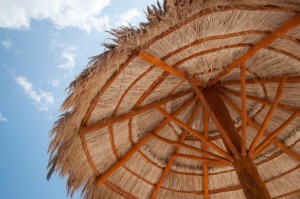 Attire There is a fine line between the idea of tiki and Hawaiian — and for a party, it's safe to have your guests dress in grass skirts and Hawaiian shirts. Though we're months away from Halloween, it's always fun to play dress up — especially if there's a party involved!
LTD has products and ideas to make every party unforgettable! Whether you're putting together a tiki party to celebrate summer or a cocktail party for the holidays, shop LTD for products priced for fun.